The Real Downsides of Airbnb Wedding Venues in Northern California
Your wedding could get cancelled, fined, or even shut down

Airbnb has revolutionized the travel industry since 2008. Instead of relying on hotel rooms and hostels, travelers can now sleep in real homes for a fee comparable to traditional accommodations. Many people exclusively use Airbnb now for travel accommodations because of the authentic vibe as opposed to a stuffy hotel room. From mansions and castles to studios and hosts that craft a hot breakfast, there is something for everyone to enjoy at any price point.
Some Airbnb's even allow parties, or up to a large number of guests, which entices wedding couples to look into Airbnb's for their wedding venue. These rentals are not typical wedding venues and don't have ceremony and reception spaces, so they come with limitations that you wouldn't experience at a traditional wedding venue. So if you're thinking about planning an Airbnb wedding, consider these pros and cons before you make a final decision.
1. The Airbnb owners can cancel without notice in the weeks or even days leading up to your wedding, so you could be without a venue with little to no notice.
Airbnb gives the hosts the ultimate freedom to cancel on guests. It's important to understand that a property owner can tell you yes right now, but then at any time leading up to your wedding cancel and decide they don't want to rent to you. A few weeks ago, this happened to a bride on The Knot Forum who chose a VRBO wedding rental in Northern California and they canceled on her 2 months before her wedding. You don't have a contract with an Airbnb owner like you would at a wedding venue – you simply have a reservation, and they can cancel your reservation at any time, with or without cause. Do your homework before you look into Airbnb wedding venues in Northern California.
2. You'll need to hire rentals and figure out the logistics of getting them there.


That includes tables, chairs, linens, plates, utensils, etc. 

In one case, the groom's friends put all the linens in the linen bags.  Another friend who was hauling the trash thought it was trash, and took it to the dump.  So saving money by not having enough staff ended up costing many times what staff would have cost.
3. You'll need to hire additional waitstaff for dinner.
4. You'll need to rent outdoor restrooms or porta-potties.
5. You'll need to figure out where all of your guests will park.
6. You won't know who your neighbors are and if they'll call the police on you for your party.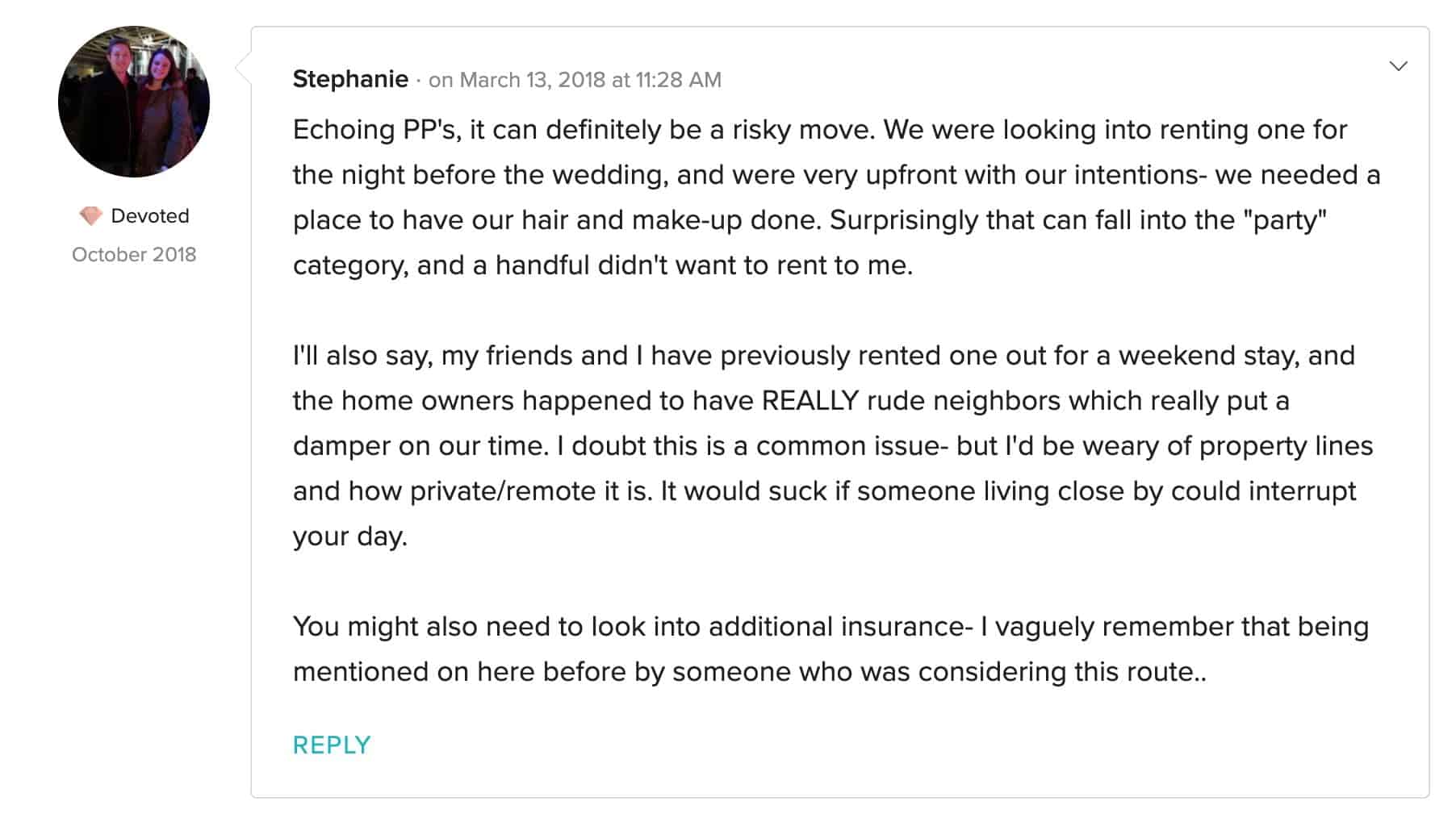 7. Some neighborhoods have noise ordinances that you'll need to adhere to, or your wedding may get shut down.
So many towns have restrictions against events in residential neighborhoods. You should be cautious and check the local restrictions. Just because the property owner is okay with your wedding being hosted at their Airbnb doesn't mean the neighbors or even neighborhood association might not call the policy anytime before or during the wedding to get it to shut down.
8. Your Airbnb may not be able to handle the power load for your lights, entertainment, DJ, sound system, and more.
One example most wouldn't think of that happened to a guest who rented an Airbnb wedding venue in Northern California is that the power demand was too large and they kept blowing out the circuits, killing lights and music repeatedly, which was very disruptive to the reception.
9. You'll need to purchase additional insurance.
10. You likely won't have a large dumpster to take your trash, so you'll have to haul it off property elsewhere after your reception.
11. You won't have a team of professionals to set up or clean up.
12. You'll have to pick up and haul their own trash. Just think about waking up after your big day and having to search the bushes for trash, glasses, pick up cigarette butts, etc.
13. Without a traditional venue, you won't have staff to clean the place so that you leave it exactly as you came into it.
14. You will need to figure out a backup plan inside the Airbnb in the event of rain. 
15. You'll need to figure out the liability for serving alcohol to your guests and plan an area to do so.
16. You'll need to find out if thee Airbnb has an industrial kitchen; otherwise, you'll need to pay your caterer extra to bring it to the property and keep it warm.
17. You may be liable if a guest or vendor is injured on the property.
18. You may end up spending more time and money deciding how to decorate a nontraditional wedding space. 
Because you're going with a non-traditional property without a wedding venue manager, make sure you check in several days early to play around with your floor plan. If you're having your party inside, you may need to enlist family and friends to move furniture. If you're having your ceremony and reception in the same area that requires a space flip, make sure you have a game plan around rental storage. All of this can be avoided if you choose a wedding venue indeed of Airbnb wedding venues in northern California.
Your wedding is a very special occasion, hopefully just once in your lifetime. That is a huge responsibility and you don't want to have any disasters or surprises. An Airbnb wedding venue in California may end up costing you more time, money, and stress. We do think Airbnb is a great option after your reception, but it's not the best place to host your wedding.
The Latest from Our Journal
We cover everything from relationship advice to researching wedding venues Northern California and resources to make your wedding planning stress-free.
The Pros and Cons of Throwing a DIY Wedding
If you're getting married sometime soon, congratulations! This is undoubtedly an exciting and very busy time in your life with a lot of plans and decisions to make. One of those many decisions is whether to throw the wedding party yourself or to hold it at an established wedding venue.
In this article, we'll take a look at the pros and cons of throwing a Do it Yourself wedding. The good and the bad, the pluses and negatives. When you're done you'll have a much better grasp on what needs to be done to host your wedding party. (Hint: it's a lot.) Since knowledge is power this article will give you the power to make the right decision, one that best fits your needs and desires. Enjoy.
Part 1- It's All About the Location
Without a doubt, one of the most costly expenses of any wedding is the location that will play host. This is the cost that most couples planning a DIY wedding are trying to avoid. In 2019 the average cost for a wedding venue was $6000 and, for some of the more expensive venues, you can easily spend upwards of $10,000 or more.
With these kinds of prices in mind, it's no wonder some couples want to throw a DIY wedding. But, here's the rub; wedding venues are inherently prepared to host wedding parties and have all of the necessary parts in place, if you will, to do it right.
What Wedding Venues Offer
Wedding venues have large parking lots, for example, to handle all the cars your guests will arrive in. Many already have large kitchen areas to prepare meals for 50, 100, 150 people, or more. Many also have all the chairs, tables, umbrellas and a carefully selected collective of preferred vendors, all of whom can help to make your wedding party a smashing success.
Most wedding venues also have contacts with all the different types of wedding vendors, such as wedding DJs, bands, planners, florists, caterers and so forth. They usually also have contacts with companies that will provide flowers and special table arrangements as well as wedding photographers and videographers.
Frankly, the reason most people use a wedding venue is that it cuts down on the myriad tasks that will need to be performed if they don't. (We're going to talk about those tasks in a moment.) In short, they give the couple-to-be time to concentrate on other, more important pre-wedding tasks and reduce the wedding stress. (Like figuring out where Aunt Ethel should sit and making sure Uncle Bob isn't at the same table. You know, important stuff.)
One last important benefit that a wedding venue offers is that the weather won't be a factor (at least in the majority of cases). Rain or sun, blazing heat or bitter cold, inside your wedding venue the temperature will always be perfect.
What a DIY Wedding Offers / A Friend or Family Member's Home
OK, we now know what a wedding venue offers so let's take a look at who (and, more importantly, where) would have something similar to offer when throwing a DIY wedding. For example, let's say that your grandparents have a large house with a large backyard and they've offered it to you for your wedding party. That's wonderful, no doubt, but is it feasible? Let's look at some of the logistics.
What About Space?
First, do your grandparents have a kitchen that's large enough, with enough room for a team of cooks to prepare food for all of your guests? Is there access from the road in the front of their home to get to the back when rental companies deliver all of the chairs, tables, dance floor, and possible large tents that you will need?
Avoiding a Yard-mageddon
Furthermore, is your grandparent's yard truly a large enough space to set up everything you're going to need, Including those aforementioned chairs, tables, dance floor, and tents? Is the lawn in good enough shape for dozens of people to walk all over it for an entire afternoon? Is there enough space for a dance floor? Do your grandparents understand that dance floors and umbrella bases can kill a lawn in only a few hours?  Is there plenty of access from the side of their home or will people have to walk through their home to get to the party?
All the Special People
Let's say, for the sake of argument, that the answer to all of those questions is a definite yes. The next thing you need to consider is that you will have to hire all of the different specialists that will provide everything you need. A rental company for the tables, chairs, dance floor, wedding arbor, and tents. A catering company for cooking and preparing the meal. Another company with people to serve and clean up afterward. That's a lot of people, no doubt.
Weathering the Weather
Then there's the weather. Let's say, for the sake of example, that you're holding your wedding party in springtime. If the weather suddenly turns sour, what will your options be? If you're under tents in the yard, will that yard stay usable or will it flood and turn into a muddy mess? Is there space enough inside your grandparent's home for all of your guests, just in case? If not, and the sun decides to come out blazing, what will you have available to keep your guests cool? (Or warm if the weather turns cold?)
As you can see, there are more than a few tasks you'll need to do, order, plan, and prepare for when you throw your wedding party at a family member's house. That's not to say that it's impossible and wouldn't turn out incredible, far from it. It's simply to say that you must be aware of all of the extra work, and different possibilities, that a DIY wedding at a family member's house, or on a friend's property, brings.
What a DIY Wedding Offers / A Public Place – A
irbnb Wedding Venues Northern California
OK, so let's say that you decide to have your DIY wedding at a public location like a beach or park. That could be a lot of fun, no doubt, with sunshine and fresh air and openness that you just can't get with a closed wedding venue. Getting a permit to have your DIY wedding in a public place usually isn't all that difficult or expensive either (although you likely will need one, so don't forget it.)
But (and this is a big but) you still face all of the essential tasks that you would if you threw your wedding party at a family member's home. Plus you lose the ability to control what's happening.
What Can Go Wrong at DIY or AirBnB Wedding Venues Northern  California?
For example, you've no doubt seen videos on YouTube of things that went wrong at a public wedding. High winds that have blown people and tables all over the place. Strangers walking through the wedding party and grabbing food. The tension between wedding guests and the general public due to who has the right to things like beach space, picnic tables, and so forth.
How About That Weather?
And don't forget the weather which, if it decides to go to heck, could ruin everything. If you're at the beach, for example, and the wind decides to start howling, you don't have very many choices to move the wedding party or escape the sand being whipped around. If it suddenly starts to rain cats and dogs at the local park, or a local dog gets off its leash and decides to start jumping all over the married couple or their guests with muddy paws, it could cause quite a problem.
Then There's the Parking (or… not)
Another consideration when holding your wedding at a public place is equally as valid as when holding it at a family member's home; parking. One rule of thumb to keep in mind is that, for every three people, there will be two cars. Plus you will also need room for all of the service people like caterers, musicians, staff, and of course the wedding officiant. And, once all of those people are parked, there still needs to be enough room for emergency services vehicles to be able to get in and out (heaven forbid but you never know).
Don't Forget Food Preparation and Serving!
Here's a true story from a wedding a few years back. It was held at a beach in Panama City, Florida and, when the food was being prepared, a huge amount of seagulls started attacking. (No injuries or deaths were reported, thank goodness.) The fact is that if you have an outdoor wedding at a public location you still need to feed your guests and serve them drinks and, with most public locations, that will be done completely outside. You'll be open to the real risk of losing your food to any sort of beastie that happens to fly, run, or if you're in some locations, crawl or slither by.
In short, having your DIY wedding at a public location, while it could be amazing, also poses a vast amount of unknown possibilities, many of which aren't exactly on the positive side. It's a risky proposition which, while it could save you some money, could also end up being a nightmare for you and your guests.
Part 2- All of the Other Considerations
We've looked at the difference between hiring a wedding venue and throwing a DIY wedding party somewhere private or public. Now let's take a look at all of the other things that you need to think about and prepare for when you throw a DIY wedding party.
Grandma's in a Wheelchair
If your wonderful Grandma (or any other family member) is confined to a wheelchair, a wedding venue by law will have wheelchair accessibility. At a family member's home that probably won't be the case. It also might be much very difficult to bring Granny to the actual party, or the bathroom. More importantly, who gets that responsibility?
Here's the thing, sometimes things go wrong. When they do it can lead to dangerous situations. A fire in the kitchen, a heart attack, or someone getting drunk, falling, and hitting their head. You need to be prepared for all of these possibilities including having someone around that knows CPR, having access to fire extinguishers and first aid kits, and again having space for emergency services vehicles to get in and get out.
Not Vendors but "Friendors"?
In the wedding industry, a vendor is someone who provides a service when you throw a wedding party. If you're throwing a DIY wedding party you will undoubtedly consider hiring friendors to do it. Friendors are friends or relatives that can provide some of the services you need like MC-ing or DJ-ing your party, preparing and serving food, creating flower arrangements, playing music, and so forth.
Friendors can, in many cases, save you a little bit of money. On the other hand, hiring a friendor can lead to unseen circumstances and, in some cases, even end your relationship.
For example, let's say you hire your friend Greg to be your DJ, and, during the wedding party, Greg gets drunk as a skunk and throws up all over the place. (It's happened.) Or maybe you hire your cousin Stephanie to prepare the food and, when everyone sits down to eat, it's simply atrocious. Undercooked, overcooked, or burned to a crisp – or so plain it's like eating cardboard – it's happened. Or even worse yet, due to Stephanie's lack of knowledge on preparing food for a large group, she fails to practice safe food handling techniques, and everyone ends up in the emergency room.
One last example (based on a true story). Let's say you hire your best friend to prepare all of the flowers and table arrangements for your wedding. Then, rather than follow your specific instructions, she prepares the flowers that she wanted (but never got) instead. That's bound to cause quite a bit of friction between you and your (now former) best friend.
What About the Children?
Inviting children to your DIY wedding probably seems like a great idea and, in many cases, it might work out just fine. On the other hand, it could be a complete disaster. (By the way, we really do love kids.) Let's say, just for the sake of argument, that you hold your wedding at your mom and dad's house and they have a pool or hot tub in the backyard. Will someone be able to keep an eye on the children during the entire wedding to make sure that nobody drowns? (Sadly, it's happened.)
When guests at your wedding party start to become a bit inebriated and rambunctious, who will be in charge of making sure that the children are protected from anyone being ridiculous? Will you have the ability to entertain the children while the adults are having a good time? This isn't to say that you shouldn't let your family and friends bring their children, just that you need to be prepared to entertain or handle them so that everyone has a good time and the children remain safe.
Food (and Drink) for Thought
We've seen small wedding parties where everyone brought food, a kind of potluck wedding, and they were fantastic. On the other hand, if you're planning a DIY wedding for 50, 100, 150, or more people, preparing the food is not something that can be taken lightly. Sure, grandma makes a mean potato salad but can she make enough potato salad for 100 or more people and, if she can, where will she store it until the party starts?
You also need to think about food safety which is one of the most regulated parts of the wedding industry, and for good reason. If some foods are handled incorrectly they can easily cause many of your guests to become sick.
To Hire or Not to Hire a Professional Wedding Planner?
Something that many couples planning a DIY wedding seem to forget is that wedding planners are hired because planning weddings is difficult. The truth is, a professional wedding planner with experience and expertise can usually save you more money than they cost. They will also, in most cases, tell you things that you might not want to hear but need to hear (and will be thankful you heard after the wedding is over).
Flowers Flowers Everywhere
If you want to hire a friendor to create all of your flower arrangements and bouquets, so be it. He or she might be wonderful. Just keep in mind that they need to have a professional space to do that and not use the space or location that you, or the caterer, are using. Creating flower arrangements is a complex art that takes time, energy, and lots of space. It also creates a ton of debris and garbage that you don't need around on your wedding day. (You're going to have enough as it is.)
Garbage, Debris and Waste, Oh My!
Another factor that is sometimes forgotten when planning a DIY wedding is that, even if it's small, the amount of garbage and waste that is produced is sometimes massive. It can be even more if you're using disposable plates and cups and so forth. It may take more than a couple large garbage cans, and many municipalities require the debris be sorted into the various recycling cans.  Sorting trash – not a recommended after-wedding activity.  Lastly, if you have a lot of leftover food (or a massive amount of it) do you have the refrigerated space to store it?
Don't Poo Poo the Poopoo
This might seem silly but it's quite serious. If you have a large number of people at a wedding party you will have a large number of people that need to use the facilities. The question is, do you have enough to handle all that poo? Some homes do not have the septic system to handle a large group of people and, if that's the case, you'll need to rent porta-pottys, which will add to your expense. You also need to provide all of the toilet paper, soap, and hand towels that will be needed, and decide on a staging location that's close enough to the party, but far enough for the odors to not intrude.
Something else to consider is the number of facilities, toilet paper, hand drying towels, and femine hygiene disposal.  The rule of thumb is that 50 people will require two toilets that they may use three times during the event.  Add an additional toilet for each addition of 50 people, and remember the count should include all the staff as well.  Another consideration is that guys with a few brewskies in them don't have the best aim, so clean up and restocking during the day needs to be provided.
Don't Forget the Photogs
This is another 'vendor or friendor' situation. The truth is, yes, you can certainly ask your Uncle Fred to take all of your wedding pictures and videos. But, if you want photographs and videos that you can look back on years from now with joy and pride, a professional videographer and/or photographer is your best choice.
Many couples today are hiring photographers and videographers who are not the same person. That's because one person can only be in so many places at once. Plus, a great wedding photographer might not be a great videographer and vice versa. A really good videographer will be able to splice and dice your wedding videos to create something beautiful and moving.
Maybe your Uncle Fred is a pro who can do that (and maybe not) but, as a guest and a friendor at your wedding, the risk that he gets a little soused and makes a mess of things is a real one. (And maybe he shows up looking like he just fell off the back of a turnip truck.) (Yup, it's happened.)
Here's a true story: a couple planned their DIY wedding and hired one of their relatives to take the pictures. He did and everything seemed to go off without a hitch…until he lost the memory card from his camera. It was never found and all of their photographs and videos were lost forever.
Are Your Neighbors Neighborly?
If you decide to throw your DIY wedding at a family member or friend's house, here's a question; Do you know their neighbors and, more importantly, are they friendly people who won't mind that you and your guests make some noise and get rambunctious for a single evening? If not, you run the risk that somebody calls the police and they come out and put an end to your good times much earlier than planned.
This Ain't No Booze Cruise
One of the last things we want to talk about when planning a DIY wedding is alcohol. More specifically, the laws and rules about serving alcohol. Remember, if you serve alcohol at your wedding reception, you're legally opening yourself up to a lot of risks. One suggestion is that you purchase insurance specifically for your wedding as well as hiring a professional bartender to serve your guests.
The difference a professional bartender can make is the difference between having a lovely wedding and having a frat party that looks like it came right out of the movie Animal House. Heaven forbid that someone gets so drunk that they hurt themselves or gets behind the wheel of the car and hurts someone else. Alcohol is serious stuff and needs to be treated that way so that you and your guests have fun but stay safe.
In Conclusion – A
irbnb Wedding Venues Northern California
At this point, you might be thinking to yourself that we are not fans of DIY wedding parties. Nothing could be further from the truth. We understand that some couples want to save money and, in those cases, throwing a small, intimate wedding for a handful of close friends and relatives is a fantastic idea. Throwing a bigger DIY wedding? Well, that's simply going to take more than most couples can do on their own.
That being said, if you're planning on inviting more than, say, 30 people to your DIY wedding, hiring a wedding planner, and taking their sage advice, is a no brainer. This goes double (maybe triple) for wedding parties of 50, 100, or 150 guests. An experienced wedding planner can give you a wealth of advice and knowledge that will not only save money but also prevent your DIY wedding from turning into a disaster that gets 1 million views on YouTube (for all the wrong reasons).
We hope you enjoyed this article and that it gave you all the answers you were searching for when it comes to planning a DIY wedding. If you have more, need advice, or want to leave a funny story about a DIY wedding you've been to, please do! And, once again, congratulations! Best of luck with everything!