Are You Searching for Barns for Wedding Receptions or Rustic Wedding Venues?
Here's what you need to know when searching for a barn wedding venues California.
In this blog, we're going to discuss some facts about rustic barn weddings and true stories from weddings we've attended at rustic barn venues California.
Why are barn weddings so popular?
Most people never get the opportunity to visit a barn or farm during their typical day-to-day lives. The tranquility, rolling hills, and open sky are inviting and romantic. At your wedding, you want every moment captured forever and to enjoy time with that special someone on your big day.
A farm or barn wedding venue offers a rural setting that is quiet and quaint – perfect for your big day.
Your guests will be able to enjoy the beauty of nature while you exchange vows at sunset and when darkness falls later in the evening. Farm and barn weddings offer an idyllic location with plenty of rustic charm to keep everyone entertained all night long!
What is a Barn?
This section is for those of you who have never been to a real barn or farm. The information below tells you why it's important that you work with an actual wedding venue that has a "barn," not an actual working barn on a farm that is cleared out posing as a wedding venue.
A barn is usually located on a farm and is where livestock is kept: everything from cows to sheep, horses, pigs, llamas, and other farm animals.
A barn is also where hay and different types of food for farm animals are kept, usually in vast quantities. Finally, farm equipment is kept in barns, including tractors, balers, sprayers, plows, and combines.
A barn is used to house animals, store their food, and store farm equipment.
Because of this, the typical barn also comes with:
Rats
Mice
Spiders and spiderwebs
Birds
Bees
Animal excrement and urine
Moldy hay
Flies
Snakes
Owls
Bats
Wasps
Germs and bacteria
Toxic Chemicals like Strychnine (rodenticide) and DDT (pesticide)

Please double-check that the ranch wedding venue has rustic barn vibes and is not an actual working barn or farm.
If you were lucky enough to have your wedding in a barn that was recently emptied, it might look nice. But there's no way to completely clean all of those above-mentioned 'extras' out of any barn. It would be practically impossible, especially if it is a working barn when weddings aren't held there.
Host your wedding at a wedding venue, not a ranch or barn posing as a wedding venue.
When you're searching for your perfect wedding venue, please ensure that the property was built as a wedding venue, not a barn or farm property that makes extra money on the side with weddings.
Mountain House Estate offers rustic elegance in a picturesque location.
Mountain House Estate has all the rustic charm and ranch vibes for your outdoor ceremony and reception, but without all the risks, smells, and hazards of an actual barn or farm.
On our 40 acre property, we operate exclusively as a wedding venue and event center and have all the gorgeous rustic elements for your wedding photos.
Our venue has multiple outdoor ceremony locations including in front of a barn, Oak Tree, and redwood forest. Wedding couples love the Oak Tree ceremony spot and background of rolling hills in wine country.
What kind of risks run with farm and barn weddings?
Do you still think a barn venue would be the right choice for your rustic wedding? If yes, let's take a quick look at all the possible risks you'd face, some more deadly and disgusting than others.
1. A barn is made of dark wood, making terrible wedding photos.
Ask any pro wedding photographer or videographer, and they'll likely tell you the same thing; barns are an awful place to shoot photographs. The wood in a barn absorbs light so much that they usually need to bring in special lighting to ensure the results are up to par. It's more work for them and, for weddings held in that barn, more expensive. 
Plus, those bright lights won't be pleasant for your wedding guests. As bright as they need to be, they'll definitely detract from the rustic charm you're hoping to achieve.
2. Farm and barn weddings remain trendy for a rustic wedding vibe, but they come with safety concerns.
Unlike a house or apartment where people reside, a barn located on a farm may have been built before many safety rules and regulations were enacted. They may not have had any building codes to follow and might be structurally unsound in many cases – definitely not a safe place to host weddings!
Wall Street Journal: Barn Weddings Are Hot—and Smelly, Muddy, and Prone to Four-Legged Crashers
READ: Growing wedding barn business sparks safety concerns
Old barns were built before fire alarms, earthquake retrofits, ADA regulations, and safety exit signs.
An old barn may make a cute photo, but many are just flat unsafe for large groups of people.
Farmers also store all sorts of chemicals in barns all the time.
Weed killers, lead-based paints, and strychnine are just some of the nasty, deadly chemicals you'll find in a typical barn on a working farm. Plus rusty, exposed nails, roofing that's lightweight and leaky and creaky, leaky doors and windows.
If children are coming to your barn wedding, you'll need to keep a close, constant eye on them. Barns don't have to be earthquake-proof either. One good California shake, and who knows what might happen at your barn wedding.
Especially if you're in an older barn that's been through many seasons of wear and tear, and earthquakes can happen at any time, without warning.
3. Barns present a fire safety hazard at your wedding.
It doesn't take much to start a fire at an old, dry barn. We hate to rain on your rustic wedding parade, but this is a fact: dry wood, dry hay, dust, and the chemical residue are a fire waiting to start. Just imagine if someone knocks over a candle or tosses their cigarette butt in the wrong spot.
Have you seen pictures of barns where there is light streaming between the boards? Unfortunately, that old wood is flammable, and the light showing between the boards lets in the air to fan the flames into a fire that is unstoppable. This could easily happen before your wedding day or even on the day of your wedding.
Here are the other fire safety hazards of a farm or barn venue.
Since most barns don't have to follow regular safety laws, most of them don't have fire extinguishers, let alone sprinkler systems. Getting out of a barn could be difficult, too, as most don't have ADA-compliant door handles that are easy to open. We don't even want to think about what could happen.
Here are three actual instances of fires and smoke in California ruining a wedding day.
If you think we're being pessimistic, we're not. These things actually happen. At a wedding in 2019, we witnessed a cigarette butt thrown to the ground near the barn. The barn and farm house burnt down, and of course, the wedding was ruined.
Thank goodness nobody was hurt. And then there were two weddings down the road from us that were disrupted and had to end because of the smoke of a fire on the farm.
That's not how we envision a gorgeous, rustic wedding for you.
4. Farms and barns are home to lots of critters (including rats).
This next section might make you gag. But it's something you'll want to consider if you're having a rustic wedding on a farm or barn.
No matter where it's located, every single barn has one thing in common; rodents and other critters. They might not make an appearance during your wedding festivities (emphasis on might) you can be sure that their poop is still all over the place, even if the barn has been cleared and emptied for your rustic wedding.
That includes the barn's rafters, which, if you look up when you're there, are right over your head. That means they're also right over the tables where you and your wedding guests will be eating and drinking.
Here's an actual instance of critters ruining a wedding we attended.
This next instance is not for the faint of heart. One of the nastiest things we've seen happen was at a rustic wedding in California at a barn where a warm summer breeze blew into the barn, and it suddenly started raining rat poop onto the food and drinks below.
Yes, it was from the rafters above. You can't make this stuff up. It was an unmitigated disaster since the menu had recently been served, not to mention all the poop on every guest's head and clothing. Ick. That venue ended up shutting down.
5. Barns may have lead-based paint and asbestos.
Have you ever seen a rustic patina on a red barn or at a farm house? Maybe there's some flaking paint. As the barn is old, and before the restrictions on lead-based paint, flaking paint may be dangerous to you and your wedding guests.
The soil can be contaminated.
People don't think about it much, but what happens to those flaked-off paint chips? They fall to the ground and are ground into the soil, so it's contaminated with lead as well. So just walking through the dirt surrounding a barn on a farm can be problematic.
Did you know that some of the old-timers would buy white lead by the bucket, and mix it with mineral oil to make paint? It saved the rancher money when painting his fences and barns at his farm.
And if the farmer did buy paint for his barn (decades before you were born) some paints included asbestos as a component of the paint. Asbestos was used in all sorts of materials before it was found to be dangerous. You saw those commercials growing up, right?
6. Agricultural wells can't be trusted.
A nasty little secret about some farm and barn wedding venues is the water is contaminated. What!? Can people get sick by simply drinking the water? Yup.
Barns are agricultural buildings and are frequently serviced by agricultural wells.
Back in the old days, wells didn't have to have sanitary seals. What does this mean to you? Well, remember the lead, asbestos, animal feces, agricultural chemicals we've mentioned? The side of the well isn't sealed, so the winter rainwater can run all those chemicals down the well and into your drinking water.
Here's an important question to ask the ranch venue.
Here's something to ask, "Does the caterer have to bring water to the venue?" If the answer is "Yes," the venue has a contaminated water problem. If the farm or barn venue doesn't have potable water (safe to drink), it also likely doesn't have permits to operate as a barn wedding venue.
You have your answer; you should really look for another wedding venue no matter how picturesque the rural venue location is. Don't let those rolling hills and vibes fool you. It's unsafe.
7. Often, that picturesque red barn venue doesn't have the proper permits and licenses to host weddings.
We mentioned earlier about a beautiful barn that burnt to the ground during an event and, not surprisingly, that venue did not have the correct permits to hold events. Matter of fact, the venue didn't have any permits at all and were completely unlicensed to host any weddings or events, including a ceremony and reception.
That's a problem because, without those permits, you can be sure nothing in their beautiful ranch barn wedding venue has been professionally inspected or engineered for safety. That includes, for example, railings on the mezzanine section that many beautiful barn wedding venues feature.
Meant to store hay, you can be sure the railings on these sections aren't strong and have gaps wide enough for children to fall through easily. You'll also find electrical wiring and fittings aren't up to code and, in many cases, exposed in a barn that's simply to be expected. It's a barn, after all.
Here's an actual instance of an unpermitted rustic ranch venue that endangered guests.
In one Marin County ranch venue case, the roof blew off during the wedding. No one was hurt, thankfully. Can you imagine if that happened to you on your big day? I wonder what the guests thought about the couple's choice? What's worse is that this "rustic" wedding venue continues to hold weddings.
There are hundreds, if not thousands, of "rustic" ranch wedding venues that are unpermitted.
Even if the location is picturesque in the country, has acres of gorgeous property and a beautiful rustic barn, it's not worth the risk of you endangering your guests or ruining your big day. Always ask the venue if it holds the proper permits and licenses to host weddings.
8. Barns usually don't have (human) bathrooms.
If there's one thing that you'll rarely find in a barn, it's a bathroom. Yes, the cows, horses, sheep, and other animals (and rodents) go wherever they please in the barn, but as for a proper human bathroom, there's none to be found. What that means is you'll need porta-potties which, in our honest opinion, are kinda gross.
You'll need to fork out extra cash for luxury portable toilets or porta-potties.
Of course, you can always hire luxury portable toilets on trailers, which aren't bad, but they'll also set you back a few bucks. Plus, that forces your guests to navigate around outside on the acres of the property, at night where horses, cows, and other farm animals have likely already gone to the bathroom. So, outdoor lights to avoid 'meadow muffins' are a must. 💩
Even if they do have toilets, they can be a stinky mess for weddings.
And don't get us started on unpermitted venues for weddings and event centers that have installed their own toilets. From absorbent flooring to septic systems that don't follow any California codes, they're an unmitigated and nasty disaster waiting to disrupt weddings and mortify your wedding guests.
Here's an actual instance from a venue for weddings that installed their own toilets and septic system.
There were about 150 people at this wedding. Of courses, they had full bellies and bladders from the reception catering and drinks all night. Toward the end of the right, the septic tanks were overflowing with sewage through the fields, flooding a couple of acres. What's worse? This venue still hosts weddings!
9. Many barn owners are looking for a quick buck from weddings.
They've seen other weddings held at neighbor's barns and think, "Heck, I can use our old barn for that." They put the word out through unscrupulous wedding planners, telling them they'll get a kickback for booked weddings.
Their name gets around through Facebook, and other social media platforms, and soon they are having dozens of weddings, boasting about their country vibes and vast a. Some unpermitted California barn wedding venues even advertise on WeddingWire, Here Comes the Guide, and The Knot.
Here's an actual conversation we had with a ranch and barn owner that hosts weddings.
While talking to one barn wedding venue owner, she expressed her annoyance at the guests who were complaining about the flies. You see, it was a barn and they allowed the cows to graze around it during the week. On the weekends, the cows were moved to other fields, and cars were parked where the cows once roamed.
No parking lot lights were provided, so meadow muffins became a reality. She just couldn't understand why anyone would complain, saying, "it's a barn, after all." Not a pretty picture for weddings or your wedding day!
Barns weren't made for people, let alone 150 or more of them.
Now that you've read this, you've seen and recognized that red barn posing as a ranch wedding venue and event center. You know it can be unsafe and, frankly, rather gross (unless you're a farmer who's used to that, of course). Barns simply weren't made for people. More than that, they weren't prepared for weddings or celebrations, one of the most important days of your life.
There are too many things that can (and often do) go wrong at weddings held at a ranch or barn.
From rodents to cow poop, overflowing toilets and fires, and the occasional stench, barns should be the last place you should ever consider to hold your all-important nuptials and reception.
More importantly, if the barn where you plan to hold your wedding isn't licensed and doesn't have permits, there's also a good chance it won't have access to emergency vehicles if something unexpected happens.
All Northern California wedding venues have to have a Use Permit that provides for weddings and events.
Many of the Use Permits have specific requirements of how many people are allowed, how many weddings and events per year. The neighbors are provided notice that the wedding venue exists and what to expect.
A few instances we've seen regarding unpermitted venues or venues that host larger weddings than permitted.
We've seen instances where the venue has exceeded the number of events or didn't even have a Use Permit, and was shut down just before or during the wedding. There is no notice, no recourse against the County.
In many cases, we've seen the wedding displaced, and no refunds are given. Our advice, if the venue looks the least bit sketchy, run, don't walk. They've been there for years, have done many weddings, but don't guarantee you that they are permitted.
Your entire wedding budget is at risk. We've received panicked calls from couples that just learned their venue was closed by government action, two weeks before the wedding day. We hate getting those calls, and they happen every year during wedding season.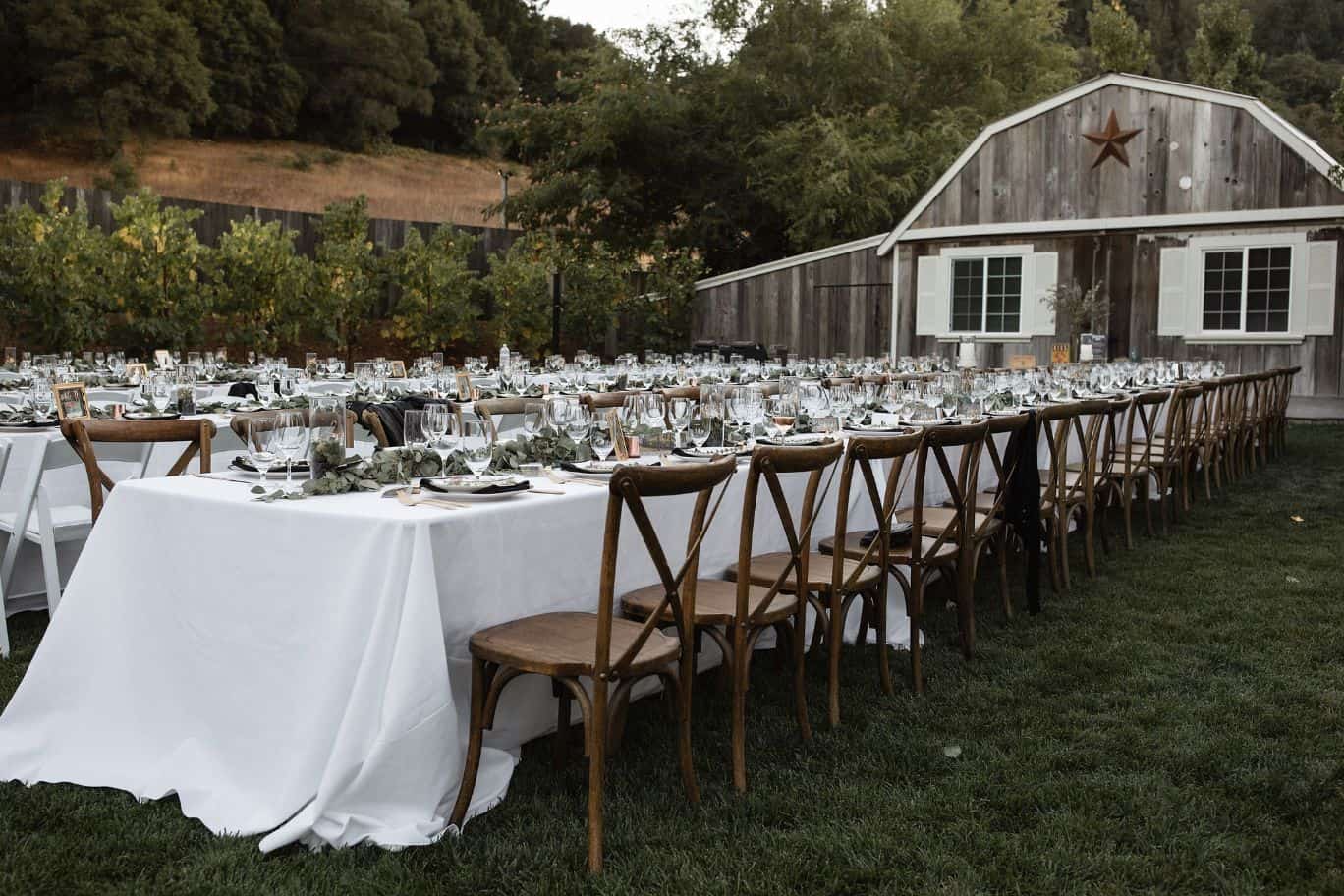 What you want for your wedding is rustic elegance.
In California's Sonoma wine country, explicitly made, there are several Northern California wedding venues where rustic and elegance meet. Locations with the licenses, permits, and safety factors you need, with the beautiful, emotionally charged rustic charm you desire.
Mountain House Estate is legally permitted to host weddings and embodies rustic elegance and charm
Mountain House Estate is an intimate, private setting that wholly embodies rustic elegance and charm. From the old-timey oak barrels and antique tractors to the rustic decorations and barn wood accents,
Mountain House Estate has all the rustic charm with none of the drawbacks of a shelter explicitly made to house farm animals. You know, a barn ;)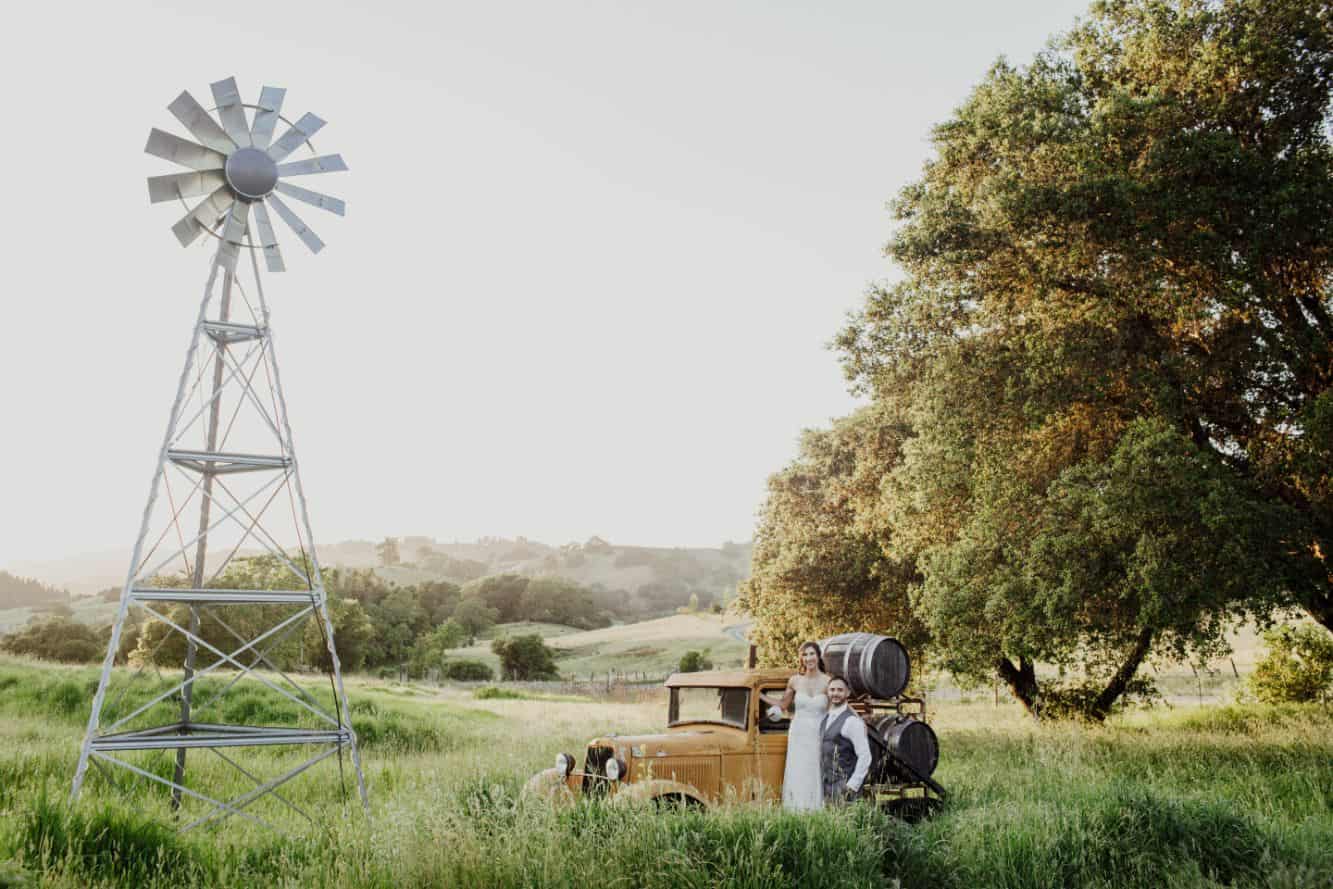 If you want rustic elegance without the bee stings and rodents, skip the actual barns.
If rustic is what you want, skip the barn and choose from a number of barns for wedding receptions, rustic weddings venues, barn wedding venue California, country barn wedding venues, and Northern California wedding venues that offer the rustic charm without the rancid and revolting.
Years from now, when none of your wedding memories feature cow poop, fires, overflowing toilets, and bats getting stuck in your hair, you'll thank us.
Searching for barns for wedding receptions, rustic weddings venues, barn wedding venue California, country barn wedding venues, barn wedding venue Northern California, and Northern California wedding venues?
Private Ranch and Barn Wedding Venues Northern California
So maybe you're rethinking those barn wedding venues northern California or having your rustic wedding in a barn. You can still have all of the rustic elegance you want without any of the smells or sights of a barn at our Northern California wedding venue
Ranch and Barn Wedding Northern California
Plus, among hundreds of barn wedding Northern California venues and farm wedding venues in Sonoma County, we always promise to be upfront with our inclusions and pricing.
Ranch and Farm Wedding Venues in Sonoma County
You won't be surprised by any hidden fees or shocks before or on your wedding day. And we're pretty relaxed about a lot of things other barn wedding northern California venues aren't – BYOB or bring in food trucks if you'd like, it's your wedding day after all.
With multiple ceremony and reception locations, a groomed landscape, and maintained structures, our private estate offers you rustic elegance and comfort that country farm wedding venues in Sonoma County simply can't offer.
filed under: barns for wedding receptions, rustic weddings venues, barn wedding venue California, barn wedding venues California, country barn wedding venues, barn wedding venue Northern California