We have talked about Mountain House Estate wedding ceremonies at our incredible Oak Tree Terrace, but that is not the only location option available for an outdoor wedding ceremony.
Our incredible front lawn is a beautifully manicured space, surrounded by flower beds mature shade, and evergreen trees. In one direction you see our rustic barn, while the other direction offers sweeping views of the property as well as our pond with koi, goldfish and a floating lighted fountain.
Our front lawn is a large blank canvass for creating the wedding ceremony of your dreams.
A large number of our couples choose to have their wedding ceremonies facing the pond. We have seen a wide variety of décor and ceremony structures to mark the space where couples will exchange their wedding vows.
Arbors of every size, shape, and color can be used to make your wedding ceremony a reflection of you. Rustic barrels topped with beautiful flowers can add a beautiful pop of color to the beginning of your aisle, or simply add some floral touches.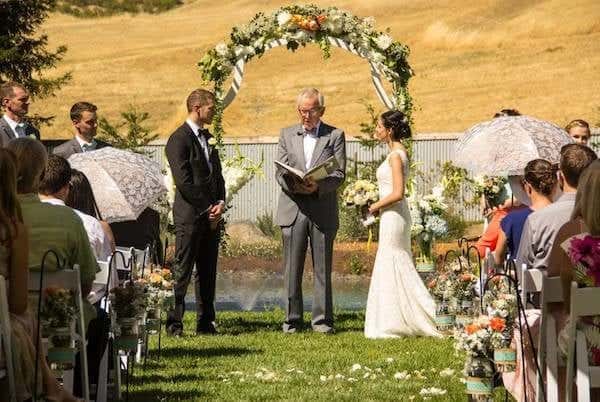 We have had quite a few couples choose to center their wedding ceremony in the middle of the lawn, opting for a ceremony in the round.
We have even had couples choose to face our beautiful rustic barn to exchange their wedding vows.
Regardless of what direction you choose to face for your wedding ceremony, our front lawn is yours to personalize. Large umbrellas and parasols can offer shade for your wedding guests while offering pashminas is a beautiful touch for weddings in colder weather.
Mountain House Estate offers couples lots of indoor and outdoor options for their wedding ceremony, as well as the cocktail hour and reception to follow.
We invite you to call our Mountain House Estate site managers to discuss your wedding day and arrange your site visit.