California BYOB Wedding Venues & BYOB Wedding Venues California
For a large number of couples, serving alcohol from Signature Cocktails to Champagne toasts can be a big part of their wedding celebration. As one of the few BYOB Northern California County wedding venues, the Mountain House Estate team has implemented rules around the service and consumption of alcoholic beverages.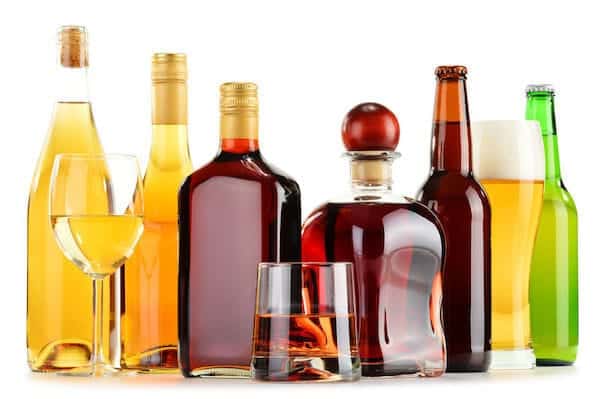 What are the rules around alcohol?
Clients host their own beverage service for the event, including beer, wine, and liquor, with no corkage fee or minimum purchase from Mountain House Estate required.
Properly licensed and insured bartending staff is required for all bartending services.  Many of the catering companies working at Mountain House Estate offer bartending services.
If you wish to serve liquor or provide more than one alcoholic-containing beverage per guest, a security person is required at a guard-to-guest ratio of one per 100 guests.
Additionally, if hard alcohol/spirits are served, the couple is required to provide a shuttle service to and from the venue for their guests.
Hard alcohol may not be served "straight", but in mixed drinks only.
Self-serving of alcoholic beverages is not allowed, meaning any open bottles on reception tables.
Wedding and event vendors are not permitted to consume alcoholic beverages at any time while on Mountain House Estate property.
Drinking of alcoholic beverages is not allowed at the wedding rehearsal.
Beverage Service at Our Beautifully Designed Bar –
Truly Unique Among California BYOB Wedding Venues
Adjacent to the Grand Ballroom is Mountain House Estate's bar. This room is beautifully designed with tile floors, a wooden barrel ceiling, and two incredible built-in bars.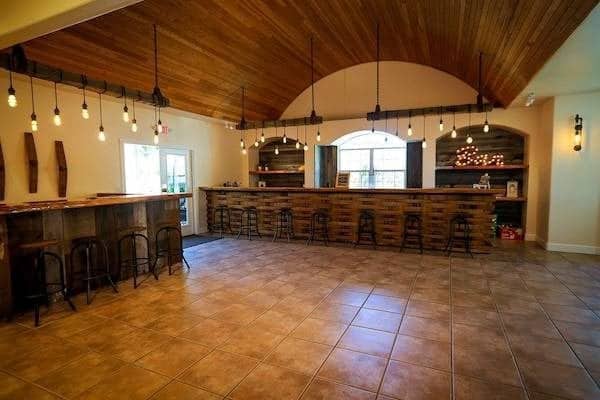 The main bar is 21 feet long and has a live-edge Redwood top. Behind the bar are a commercial three basin bar sink, kegerator, and a wine refrigerator. Our built-in kegerator holds two pony kegs. Beer may also be provided in cans or bottles. Mountain House Estate does not permit full-sized kegs, Jockey Boxes, and beer trucks.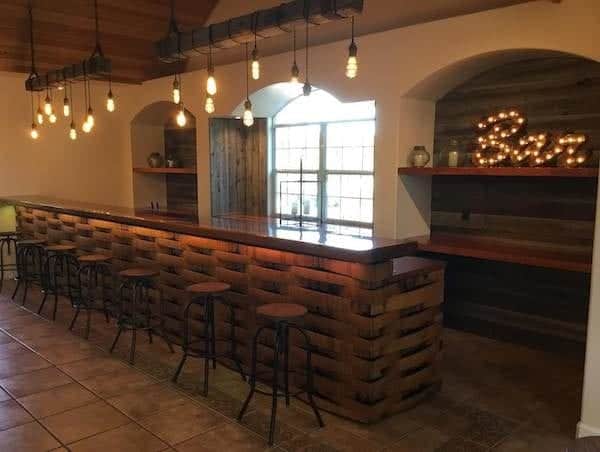 The second bar is 14 feet long with a live-edge Redwood top and is often used for an appetizer buffet during cocktail hours or amazing dessert displays. For events that include children or abstaining adults, this is the perfect location for a non-alcoholic bar. Here you can offer sparkling and flat water, as well as an alcohol-free version of your signature cocktail.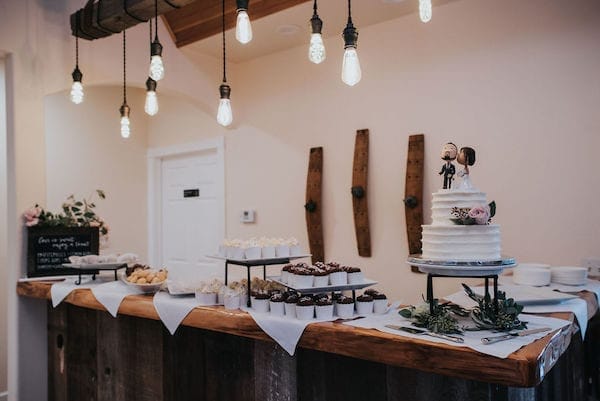 How to purchase beer, wine, and alcohol for your wedding
You may purchase your beer, wine, and alcohol from the store of your choice. We have found that couples often purchase considerably more alcohol than they need, so referring to online resources to determine the amount to purchase is wise.
However, you know your family and friends. Online guides and even recommendations from liquor stores offer general recommendations. Take a look at your guest list and whether you have a group that is into beers, are wine drinkers, or are more likely to consume one particular kind of liquor over others.
You can also choose to use a caterer who holds a Liquor License and can provide both servers and a full bar. Another option is to hire a bar, such as Duke's in Healdsburg, to provide all the alcohol and servers for your celebration.
Whatever beverage option you may choose for your wedding or event, know that our Mountain House Estate team takes your safety, as well as the safety of your guests very seriously. We urge you to celebrate responsibly at any California BYOB Wedding Venues!