Our Vision
In working to develop Mountain House Estate as one of the most premier Northern California wedding venues,  several things were key and needed to happen. First, we created a beautifully landscaped property designed to host one event at a time to ensure privacy and an intimate feel. But, we also created a Sonoma County wedding venue that offered multiple locations for couples to host their wedding ceremony, cocktail hour, and wedding reception, each with its own style and personality.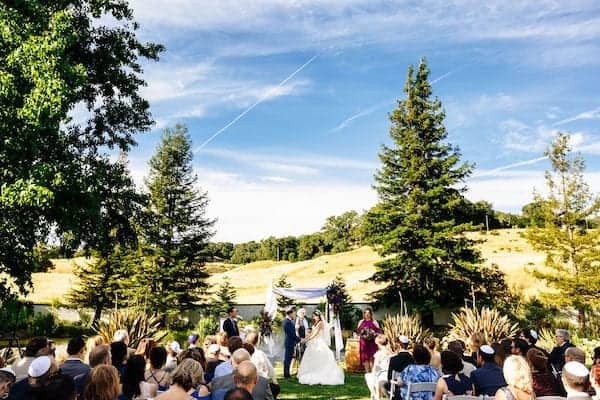 "Everything is smartly built for flexibility and creativity. If you're looking for a venue, look no further. Book it now!" –  Dodie (MOB)
Another part of that flexibility is being able to customize your wedding day, and the wedding vendors you eventually hire. While our Mountain House Estate team is happy to share our Preferred Vendors with couples under contract with Mountain House Estate, couples can also choose their own properly insured wedding vendors.
We understand that couples are looking to bring in their own craft beers, local wines, and alcohol. They also want to add on additional hours to extend their wedding reception and bring in late-night snacks for their family and friends. These are all options we offer our couples who host their wine country wedding with us.
We chose to have our wedding at Mountain House Estate because we wanted to have a wedding that we could customize and make into our own. We saw several lovely venues during our search, but so many didn't allow us to make many decisions or tailor the day to our own interests. Enter MHE…just what we were looking for and beautiful too! We were able to choose our own vendors with some preferred vendors provided to help guide us when needed, bring our own alcohol, set our own hours, select from many spaces where we would have the ceremony versus reception, and even bring in a second late night food vendor (i.e. a taco cart set up right on the patio)." – Jennifer
"My husband and I had heard of MHE through a mutual friend and wow, just wow! We were so in love that we cancelled all other venue tours and booked right away after our first visit. Looking for a venue that replies ASAP? Looking for a place that is constantly in communication leading up to your wedding? Looking for a place that allows to go past midnight? Looking for a place that allows you to book any vendor to truly make your day your own?" –Amy
Are you considering Mountain House Estate?
If you are looking for a California wine country wedding at a Sonoma County wedding venue that is truly a reflection of your personalities, we invite you to reach out to our Mountain House Estate team at [email protected].