Table of Contents:
Explore Northern California venue options, including Mountain House Estate.
Lake Tahoe is a beautiful destination wedding location. Most people who are considering a Lake Tahoe wedding do not live near Lake Tahoe. So, have you considered all the destination wedding locations in Northern California?
California wine country is both gorgeous and affordable, with AMAZING sweeping views. If you want a relaxed, adventurous wedding, we recommend our venue, Mountain House Estate, in Cloverdale, CA. We're a short drive from the Bay Area.
Here's why you'll love mountain house estate:
– 40 private acres with rolling hills & redwood/oak trees
– your wedding, your way. BYOB & byo vendors (including food trucks)
– outdoor and indoor ceremony and reception locations
– gorgeous dressing suites
– custom-designed lighting, decor & rentals
– unlimited photo opportunities
Wedding Ceremony Locations
We have over five wedding ceremony locations, including the Oak Tree terrace, vineyard terrace, Redwoods and more.
Ballroom Wedding Reception
Our outdoor reception options are fantastic, but if you want an indoor reception, you'll love our Grand Ballroom.
Keep on reading to learn more about Lake Tahoe wedding venues!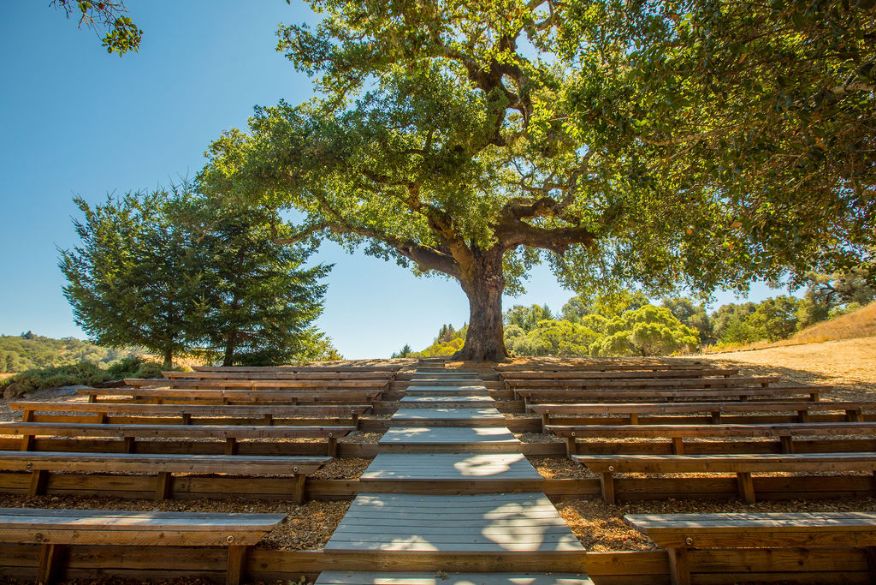 Our natural amphitheater and a favorite ceremony site are Pictured above: The Oak Tree Terrace.
Expand your search in Northern California to find more rustic and unique wedding venues
Northern California is expansive and includes many major cities and towns: San Francisco, Oakland, San Jose, and more.
The Bay Area is the area just north of San Francisco. It includes Oakland, Berkeley, and other cities close to the bay. The bay is a body of water that separates the San Francisco peninsula from Marin County and other Northern California coastal areas.
The Sacramento River runs through the Central Valley, which is where most people think of when they think of California. The Central Valley is where many major cities are located, including Sacramento and Stockton.
The Sierra Nevada mountain range runs along the eastern border with Nevada. Lake Tahoe is located in the Sierra Nevada, as you probably know :)
As you can see, there are tons of places you can search for a wedding venue, especially if you are not married ;) to the location.
Rehearsal Dinner Locations
You can host your rehearsal dinner at Mountain House Estate, making things easier for you rather than booking a separate venue.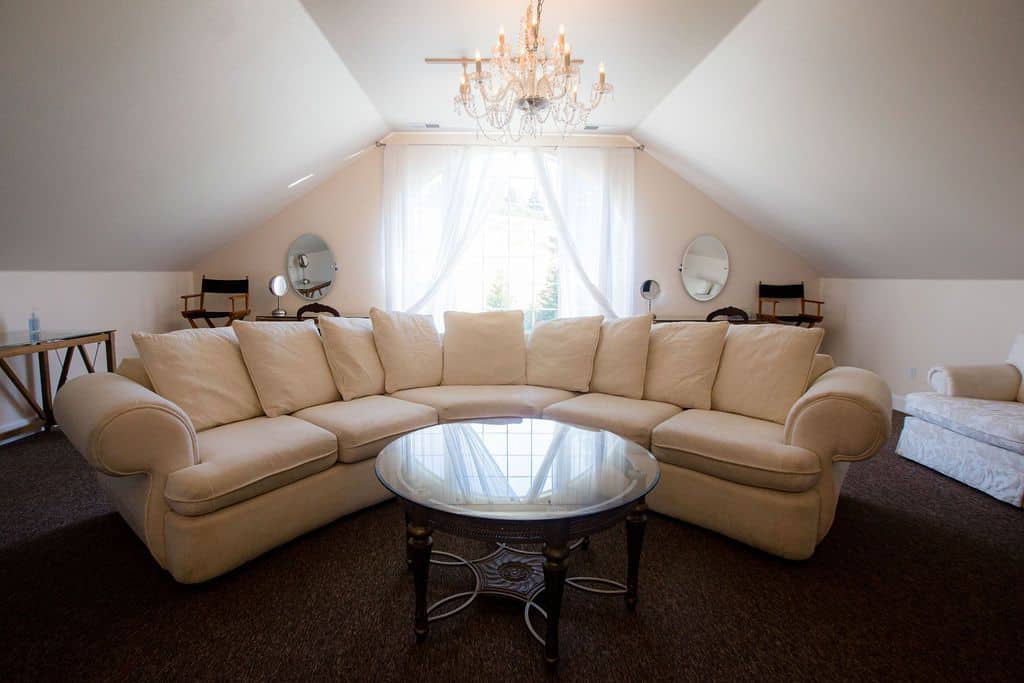 In short, we offer:
Outdoor and indoor reception/ceremony options
No hidden fees. Ever.
BYOB, and we also allow food trucks
Gorgeous bridal suite (ready room)
No other private events on your wedding day. We only do one event per day or weekend.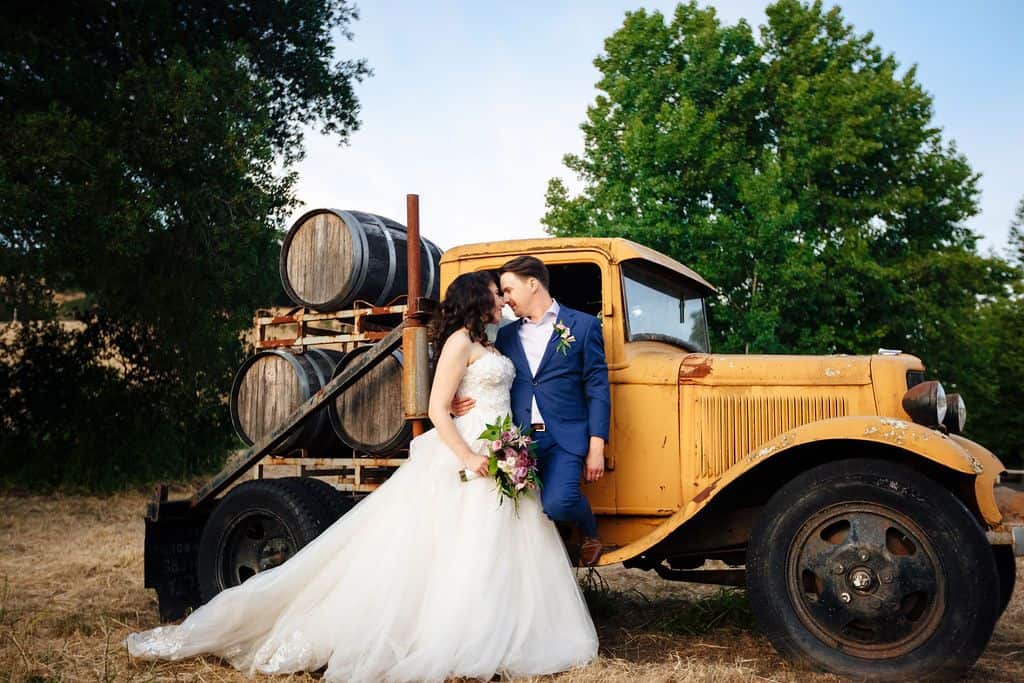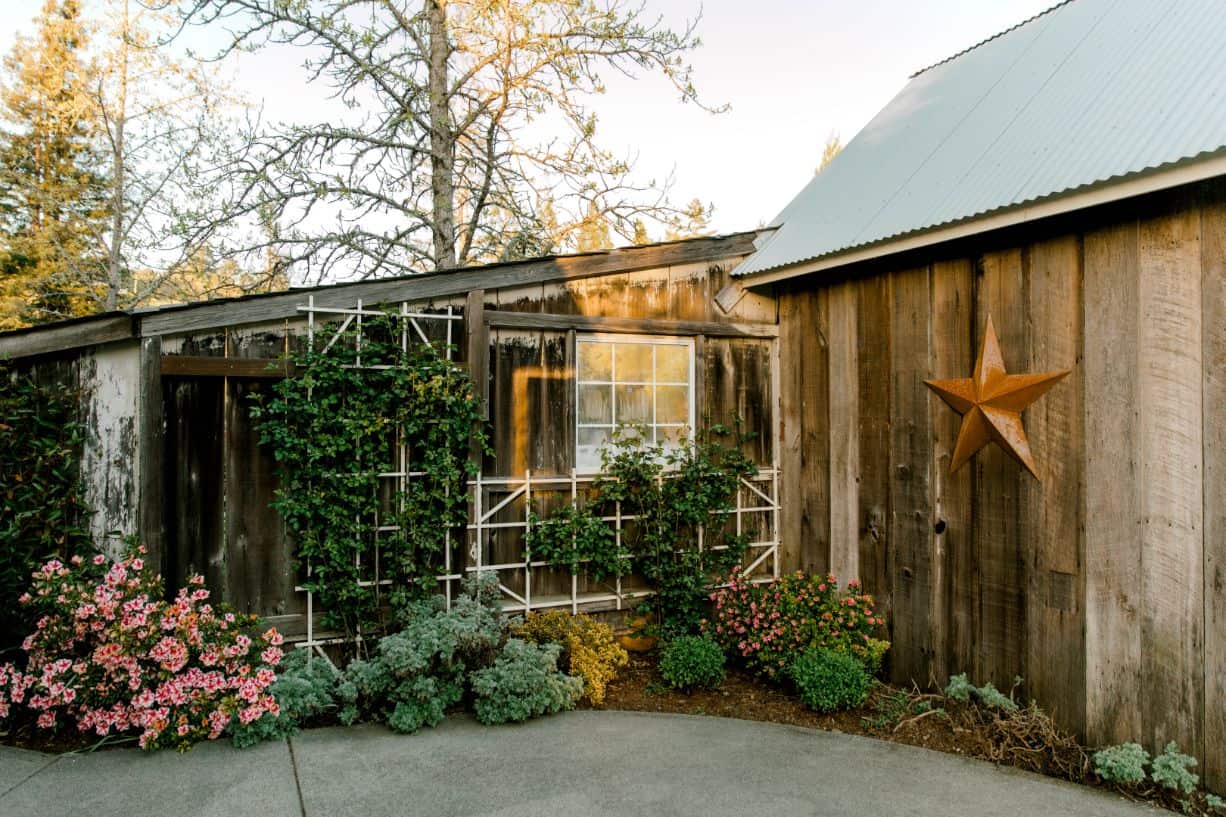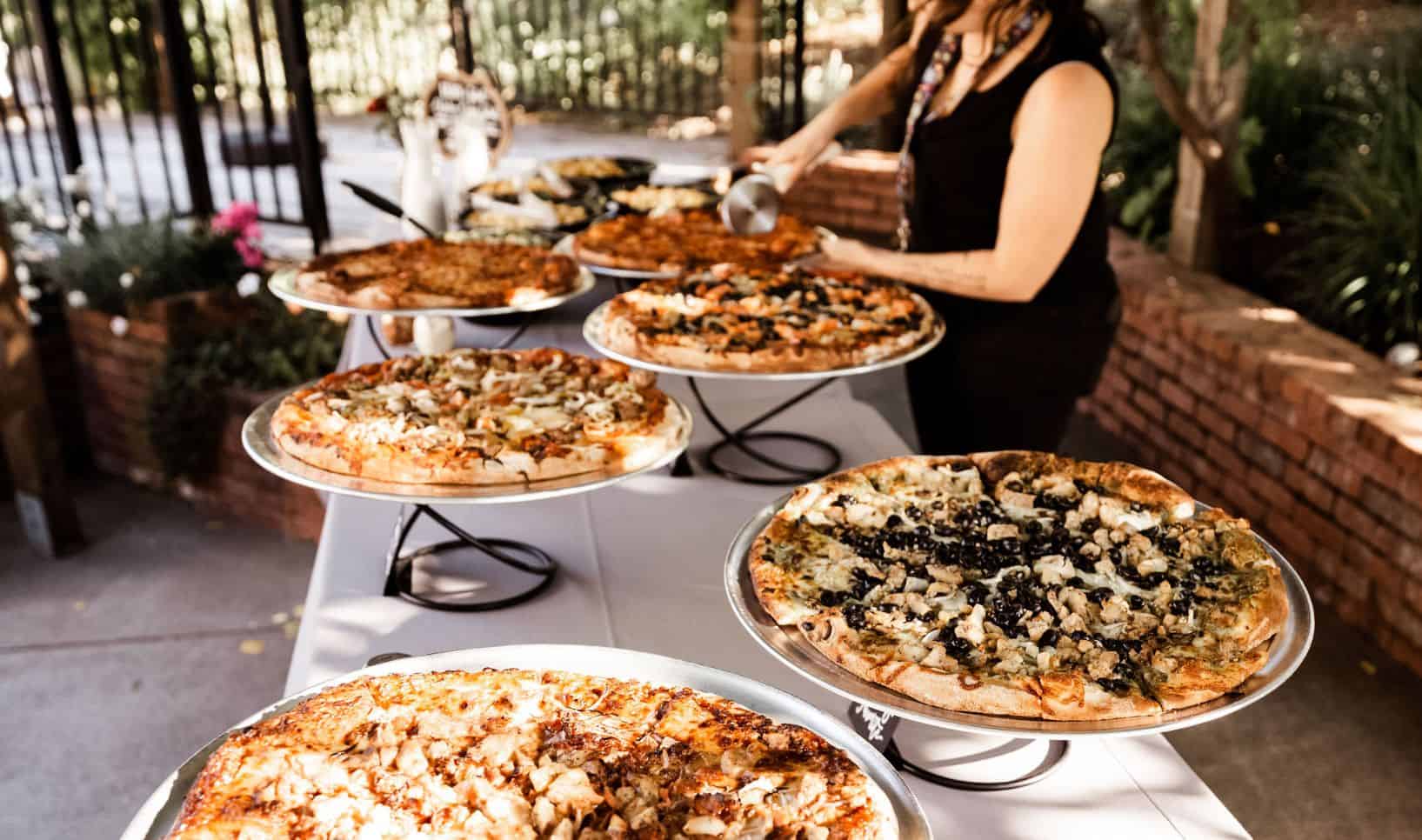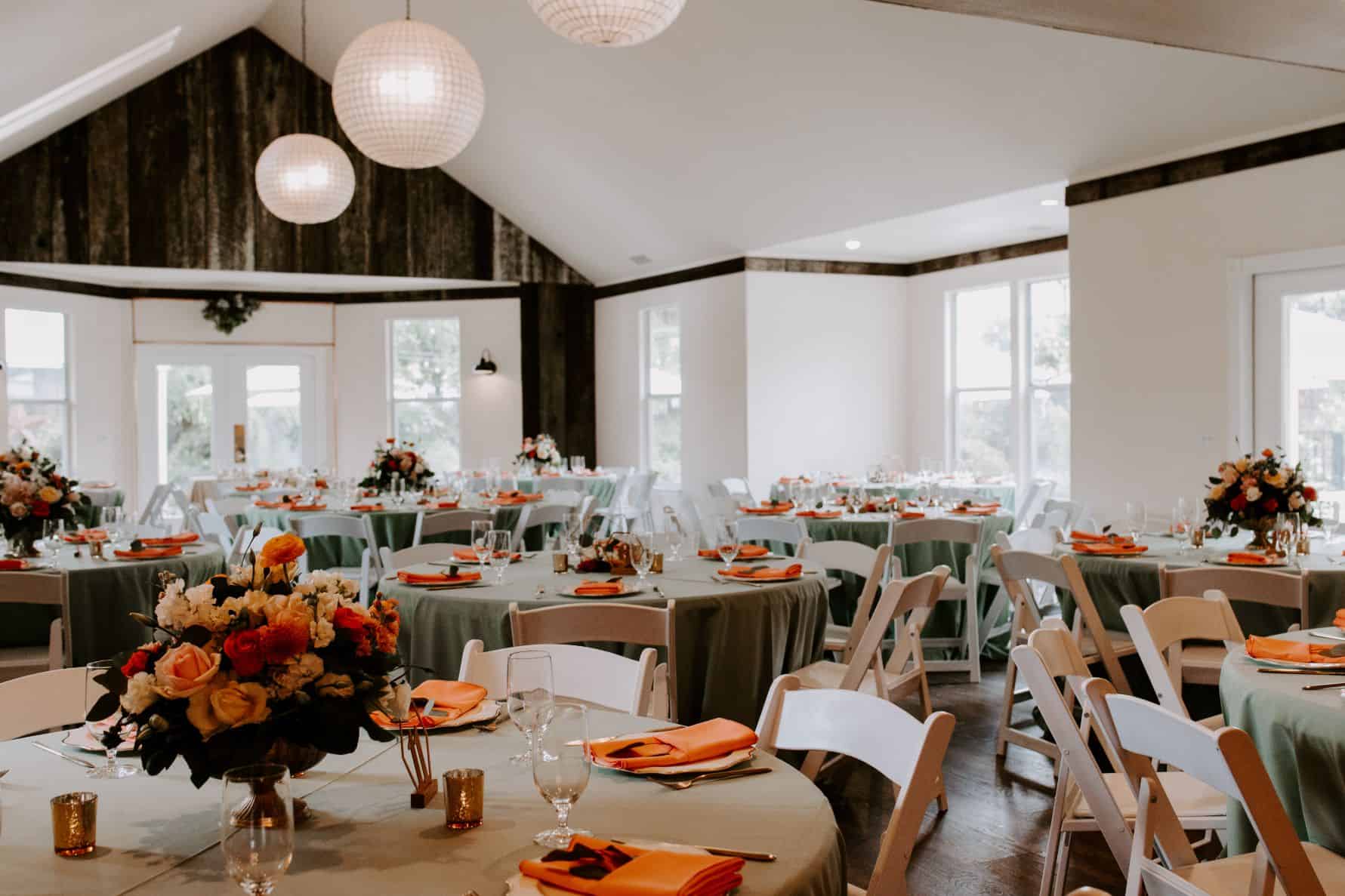 We only host wedding ceremonies and receptions, so our event venue is customized to fit every part of your big day – we're not a hotel or banquet hall that focuses on stuffy corporate events.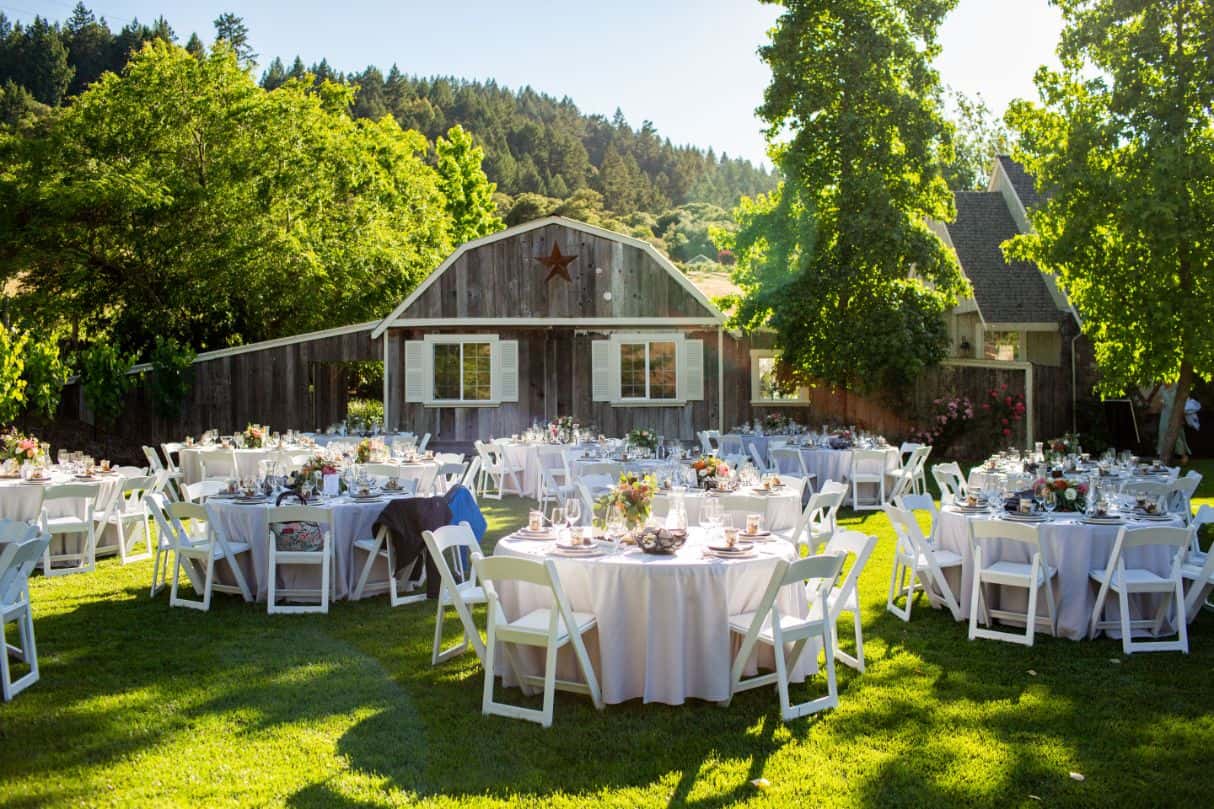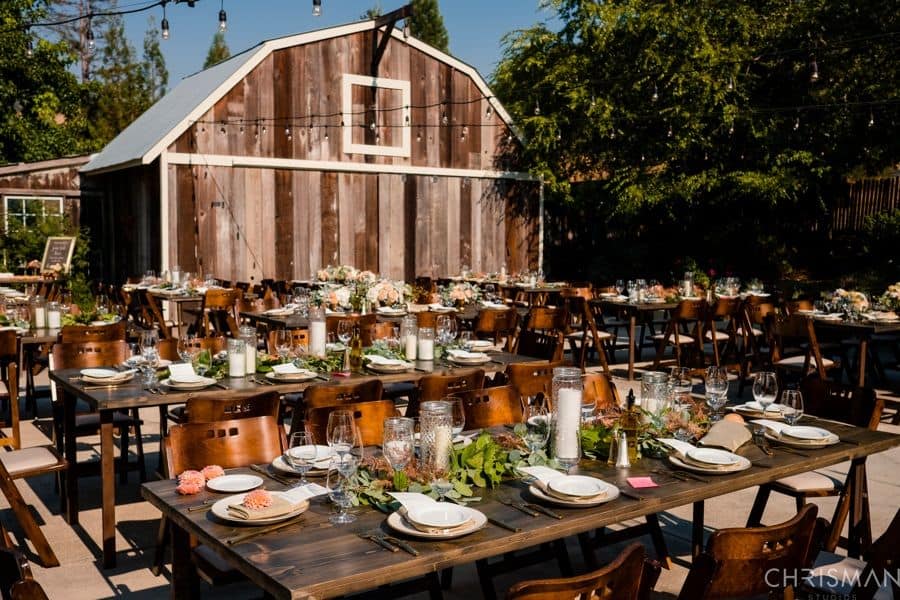 We have a list of top-rated vendors that are very familiar with our venue including wedding planner options.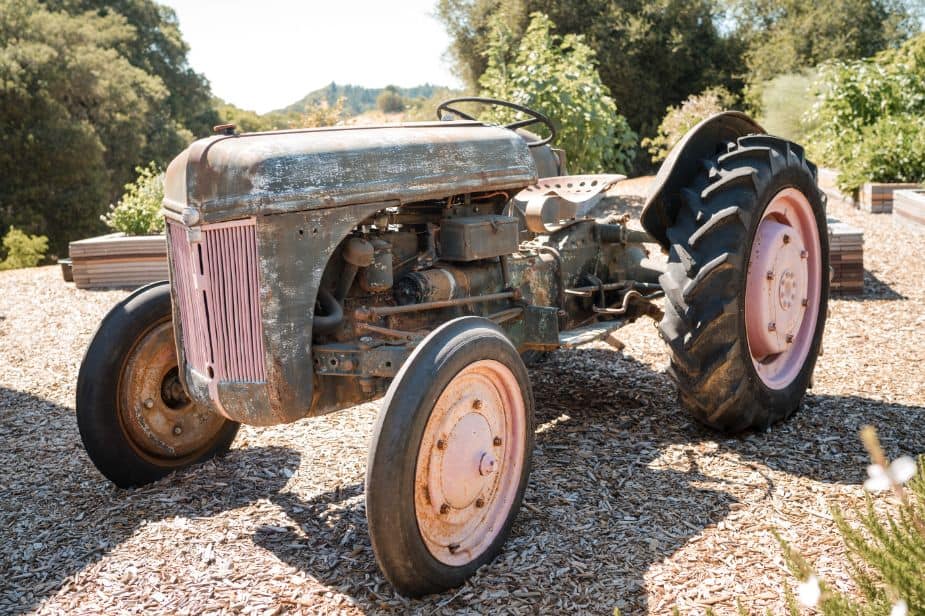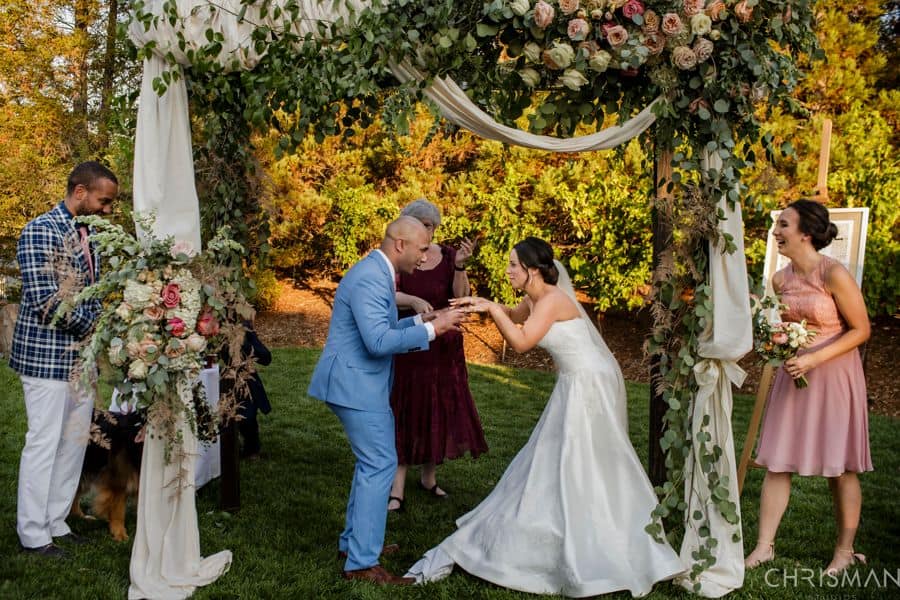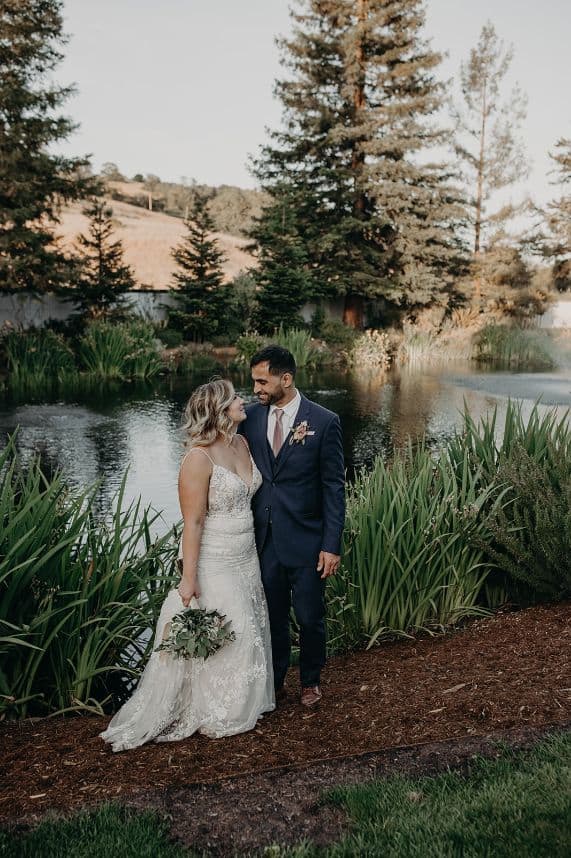 Suppose you're coming from downtown Sacramento, Auburn CA, or even the Tahoe area. In that case, you can make your wedding at Mountain House Estate a destination wedding weekend and include many local activities to make it a unique experience.
If you picture your wedding at a unique venue, you'll love Mountain House Estate.
We make the wedding and planning process easy, so you can relax and enjoy the flexibility of our event center.
Elopements, Proposals, and Adventure Weddings
If you dream it, we can do it. We host lots of elopements, can host proposals, and are a great location for an adventure wedding if you like hiking, mountain biking, and the coast.
Close Proximity to San Francisco Airport
If you're flying into the Bay Area, we're only about an hour away, making things much easier for you and your guests.
Unless you live in Lake Tahoe, you're probably looking at having a destination wedding at wedding venues in Tahoe.
Many couples flock to Tahoe for a destination wedding. There is no shortage of venues, but they're often expensive and booked out.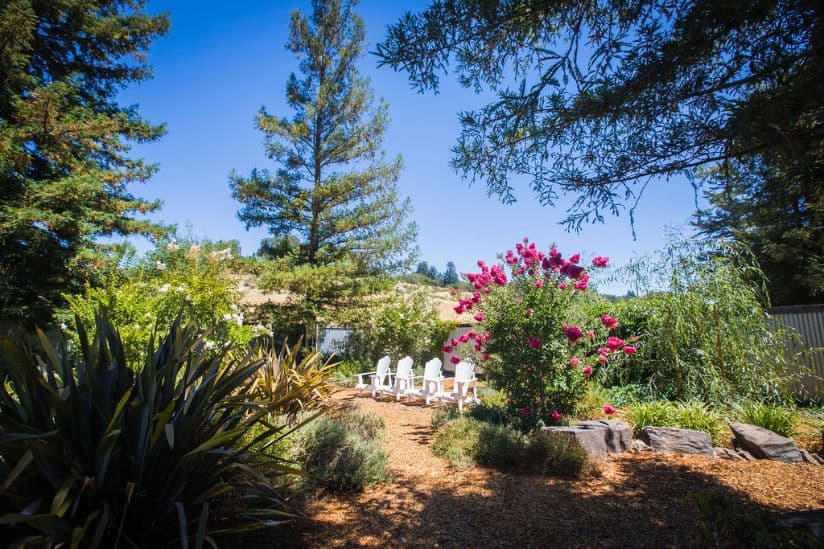 Lake Tahoe is beautiful, but it's expensive.
Lake Tahoe is a gorgeous location for a vacation, but is it the best place for your wedding venues? The average price of a 5-star hotel room on a Saturday night is around $300, without a view. Are your guests ready to shell that out?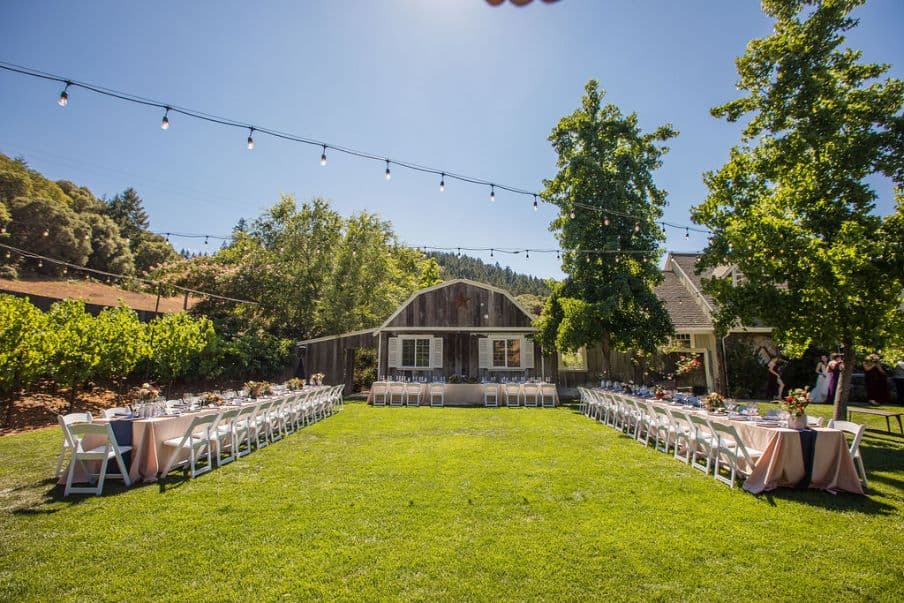 If you wanted to hold your wedding reception at the Hyatt Regency Lake Tahoe on a Saturday night, your guests would pay over $1,000 for their rooms alone.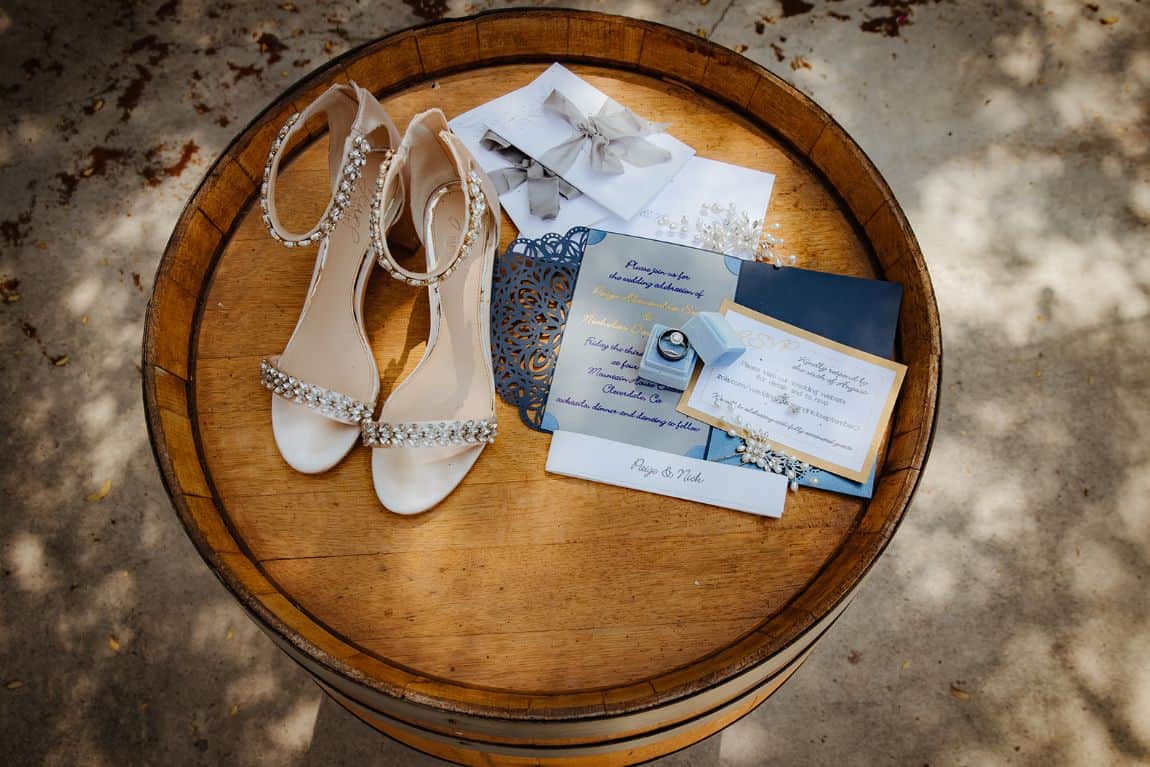 Lake Tahoe is beautiful and world-renowned. Is that the best choice for your wedding?
The Sierra Nevada mountains are gorgeous. The lake is an international destination for many, so why is it not necessarily the place for weddings?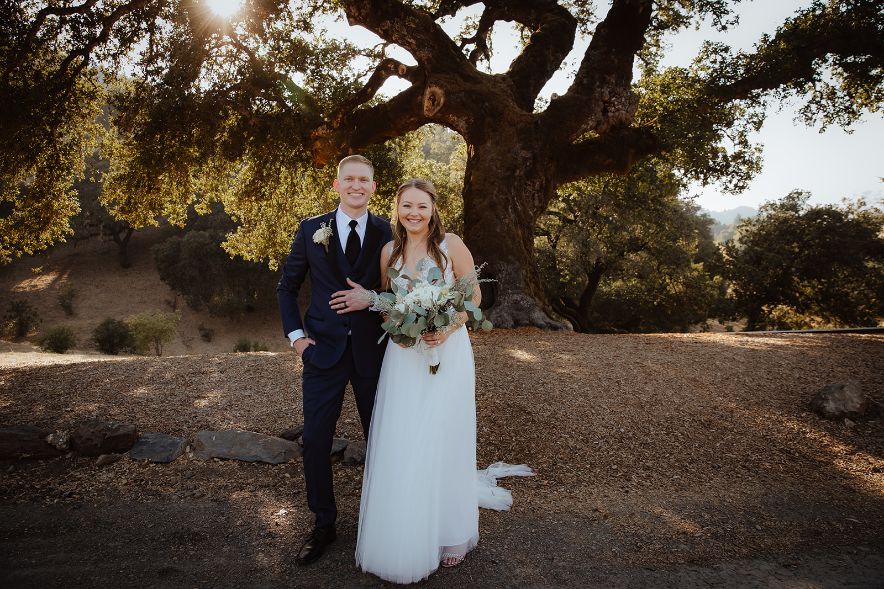 Top Wedding Venues Tahoe CA
There are only a few hotels and venues on the lake, so if your wedding is on another day or you have out-of-town guests who aren't staying at a hotel, they will have to drive for over an hour just to see your wedding site.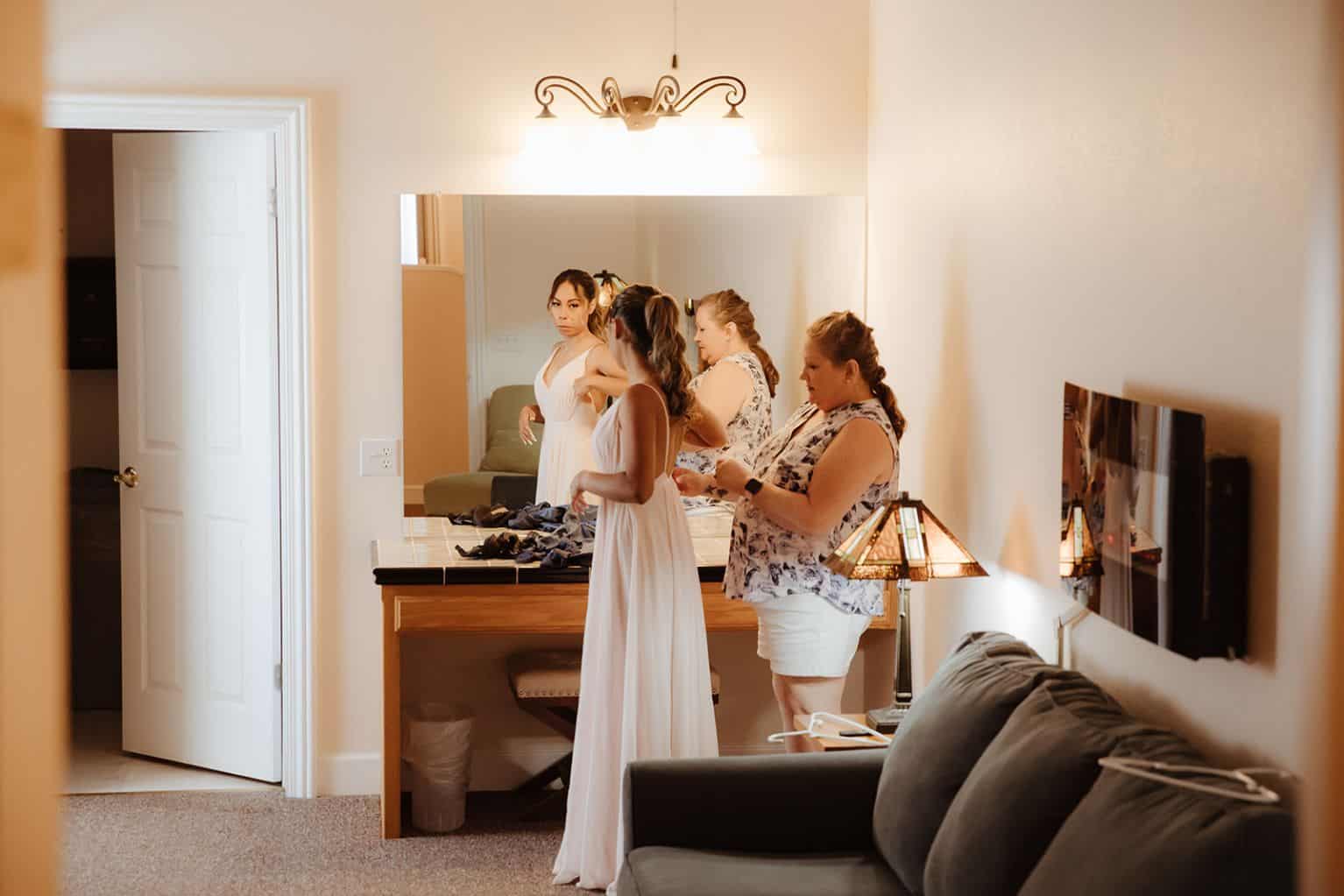 And once they get there? They will likely have to pay another $25 just to park and can run late to your ceremony.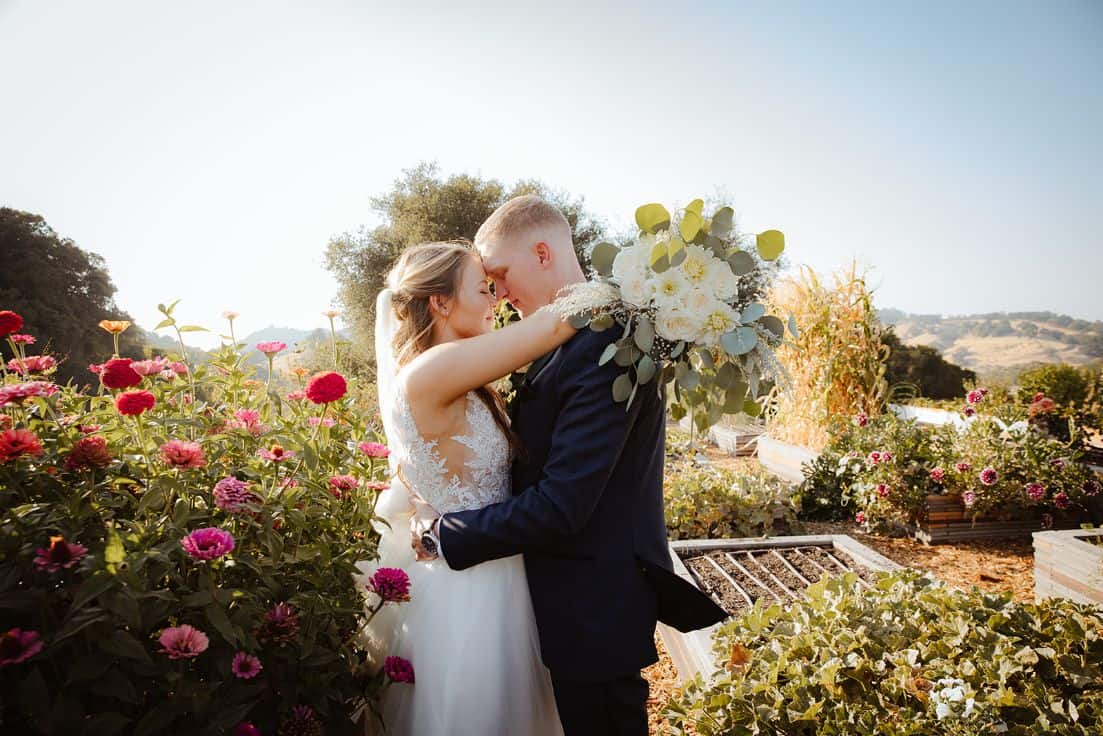 If your wedding is in the fall or spring and you don't like snow, you may be in for a surprise.
6-foot storms? You read that right. Lake Tahoe is notorious for sometimes receiving up to SIX FEET of snow overnight. What does that mean for your wedding? It's probably not going to happen. If you're in the summer, you'll likely be safe from a snowstorm.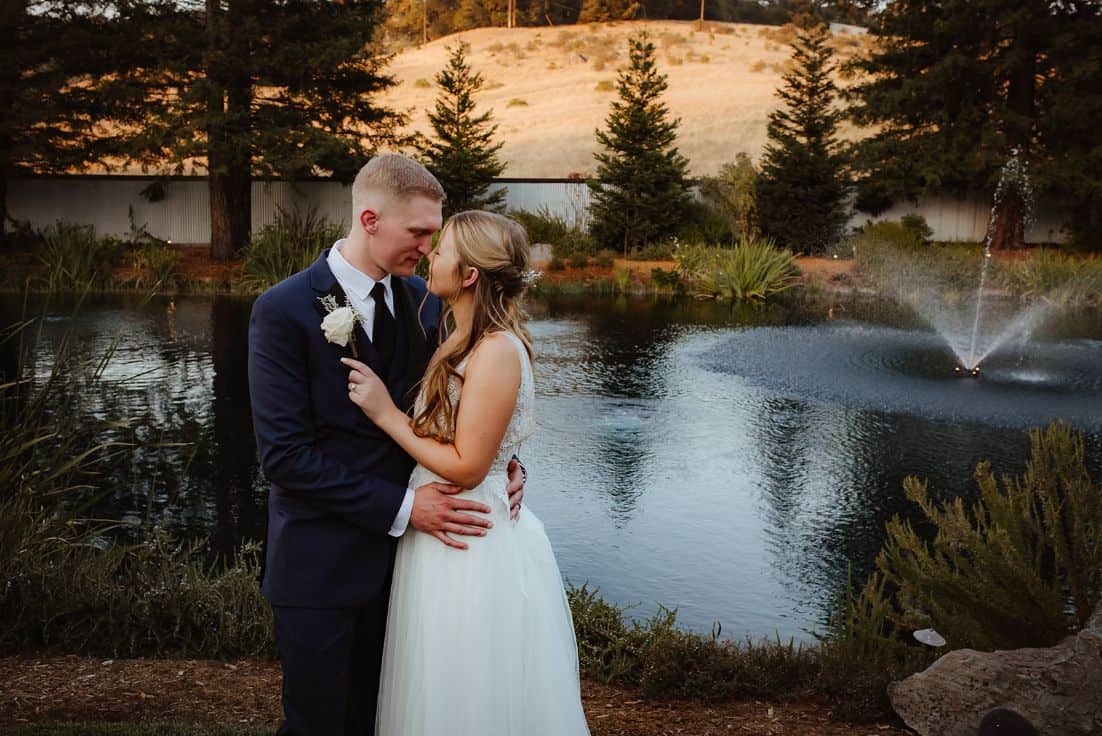 It's a two-lane highly trafficked road all around the lake, so you can quickly get stuck in traffic.
Lake Tahoe is a vast area. You could drive from the North Shore and Tahoe City to South Lake Tahoe for half a day just to get anywhere. Speaking of high traffic…
Most areas are very touristy, so expect to experience huge crowds.
Why not skip the headache and choose a wedding venue that's more relaxed and gets you more bang for your buck? Outdoor wedding venues are great because they have great views, are often cheaper than hotel and ski resorts, and are easier to get in and out of for any guests who live far away.
North Tahoe Wedding Venues
Outdoor wedding venues are better for guests who don't live close to the wedding location, and your outdoor ceremony will be much more laid-back and romantic. North Tahoe wedding venues are abundant but as we mentioned above, it will be hard for your guests to get to your wedding on time.
Wedding Venues in Tahoe California
We've talked a lot about wedding venues in Tahoe, California, so we'd like to chat more about Mountain House Estate in wine country!
Mountain House Estate's features and amenities promise a relaxed and stress-free wedding. Bring in your alcohol and food trucks if you'd like. Get beautified in the comfort and privacy of the upstairs bridal suite with your bridesmaids.
Wedding Venue Pricing and Cost
Our wedding venue is upfront and transparent about our pricing. Just send us an inquiry!
Wedding Reception Locations in Lake Tahoe CA: Do they offer this flexibility?
Choose where you'll exchange your vows from several of our breathtaking indoor and outdoor locations.
Mingle and relax with signature cocktails and hors d'oeuvres in the contemporary bar area.
Dine on the beautiful patio or inside in air-conditioned comfort. Dance the night away under a blanket of stars.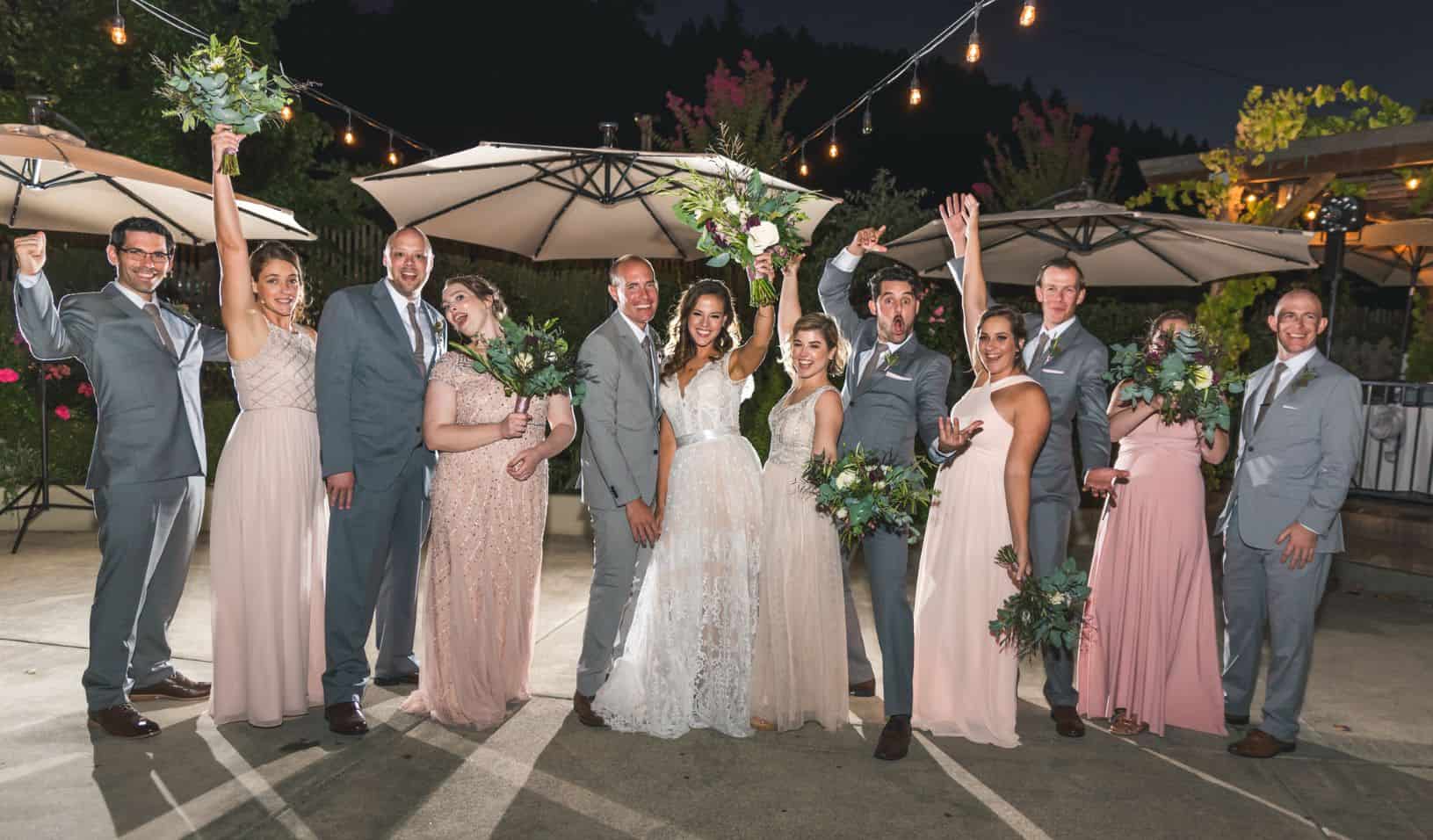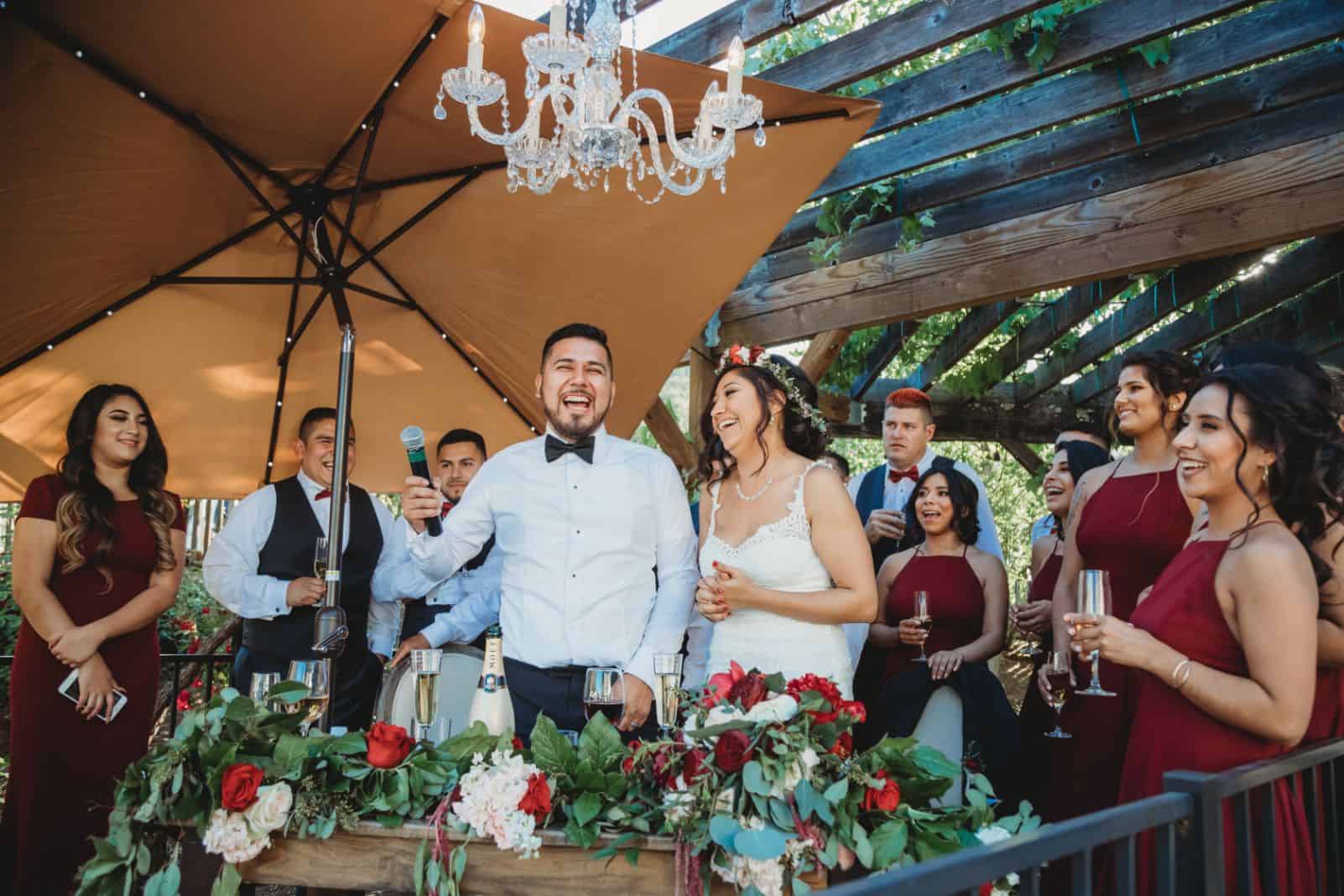 We'll take care of you and ensure everything is exactly how you want it. Here's what you'll love about our venue.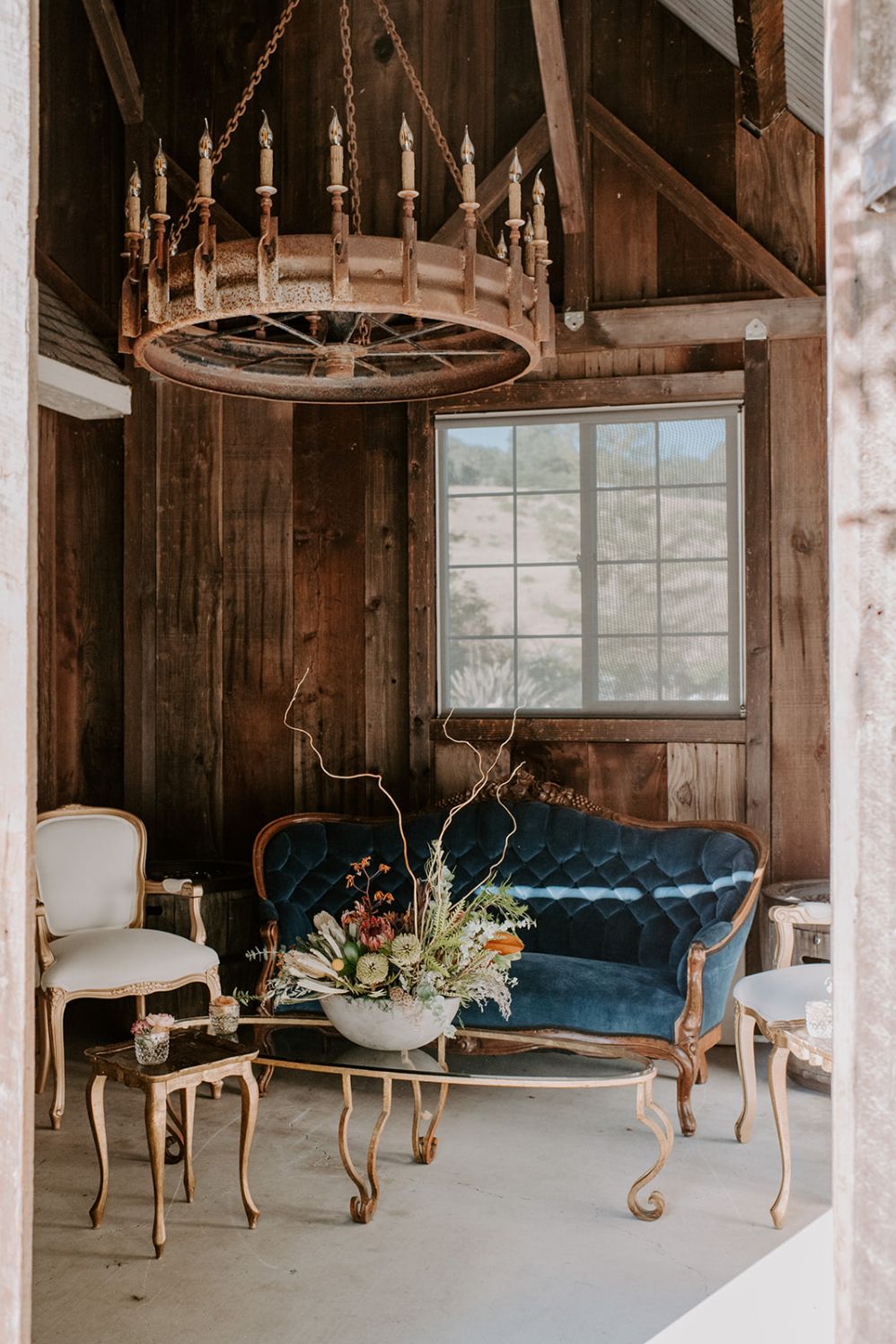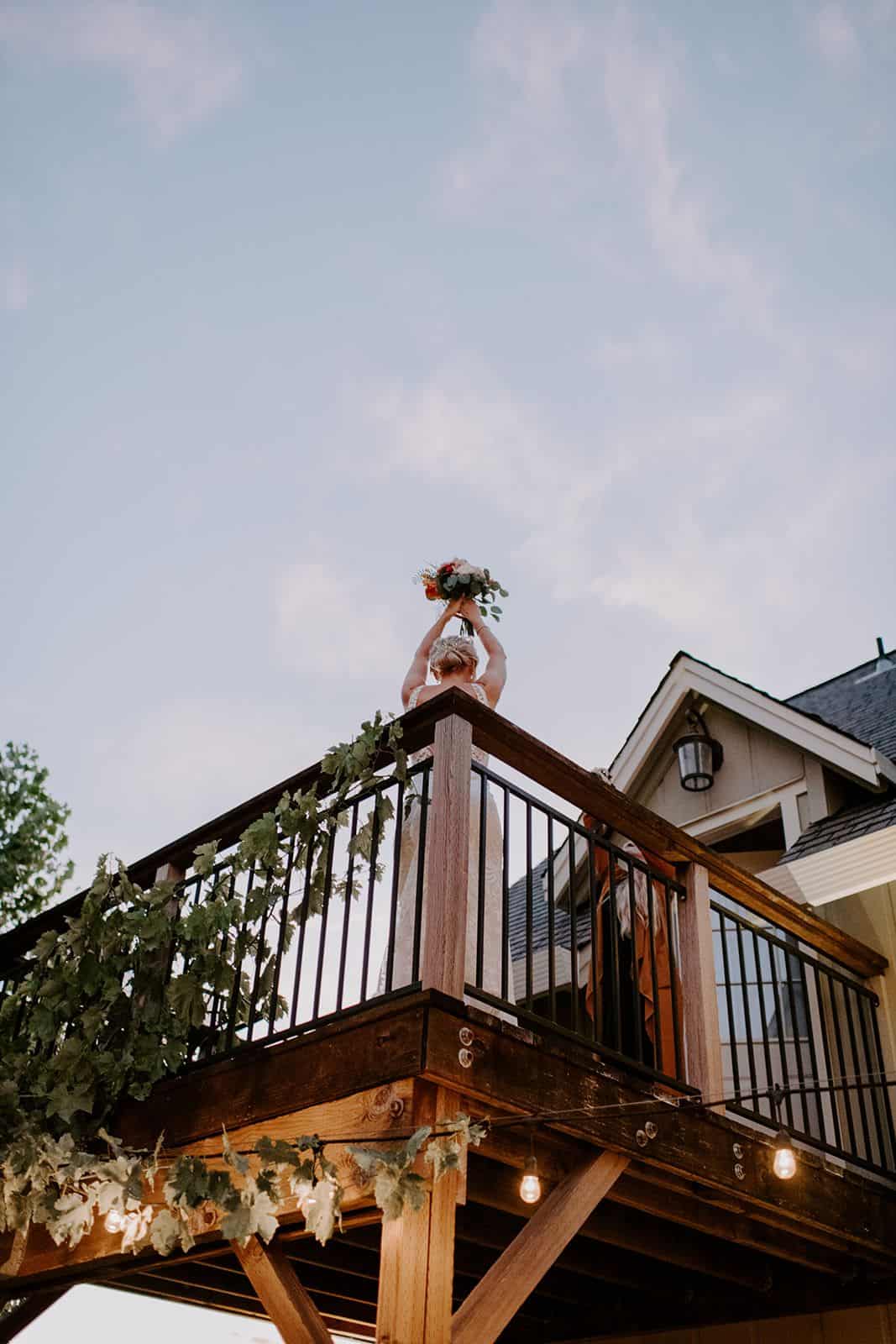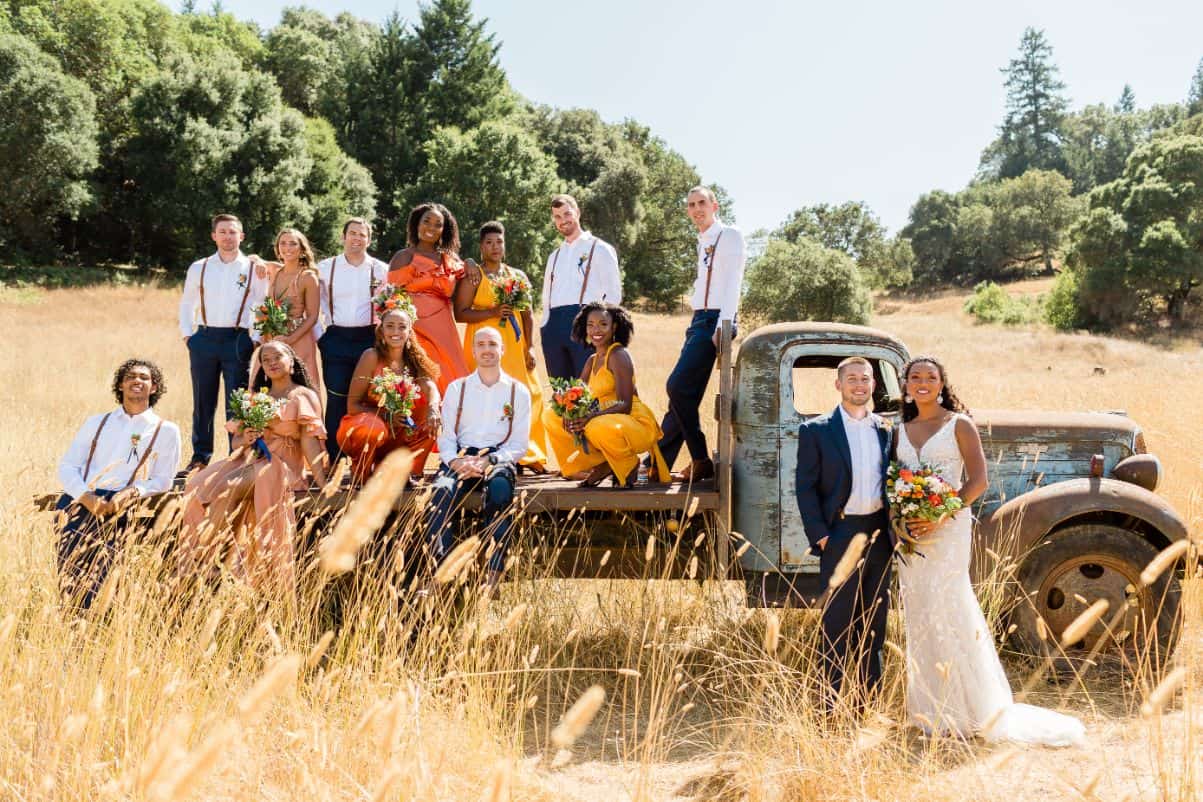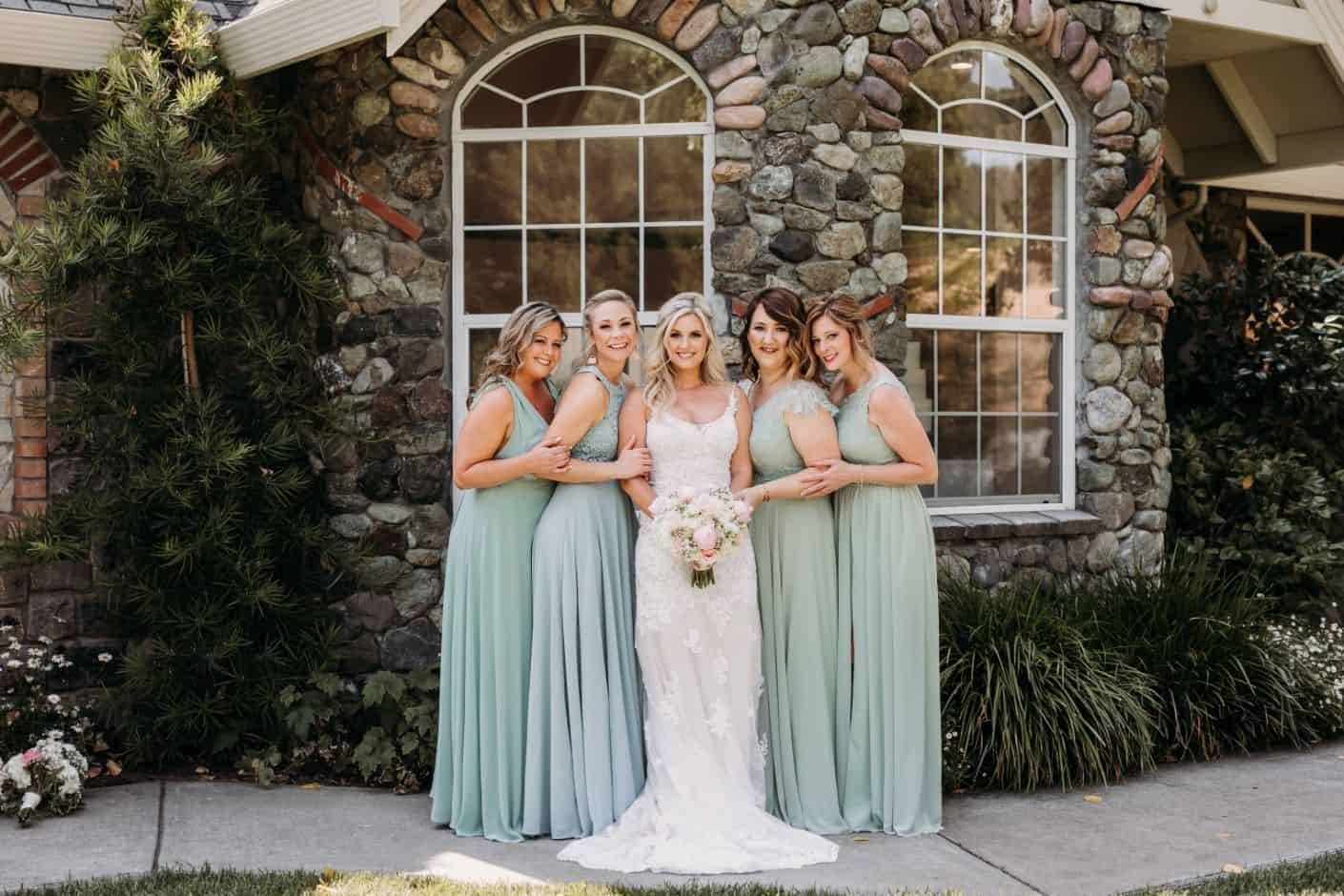 The beautiful Sierra Foothills and Auburn Valley Weddings make for undeniably gorgeous photos, but these outdoor space/event space options also experience some of the same issues as Lake Tahoe; traffic and crowds.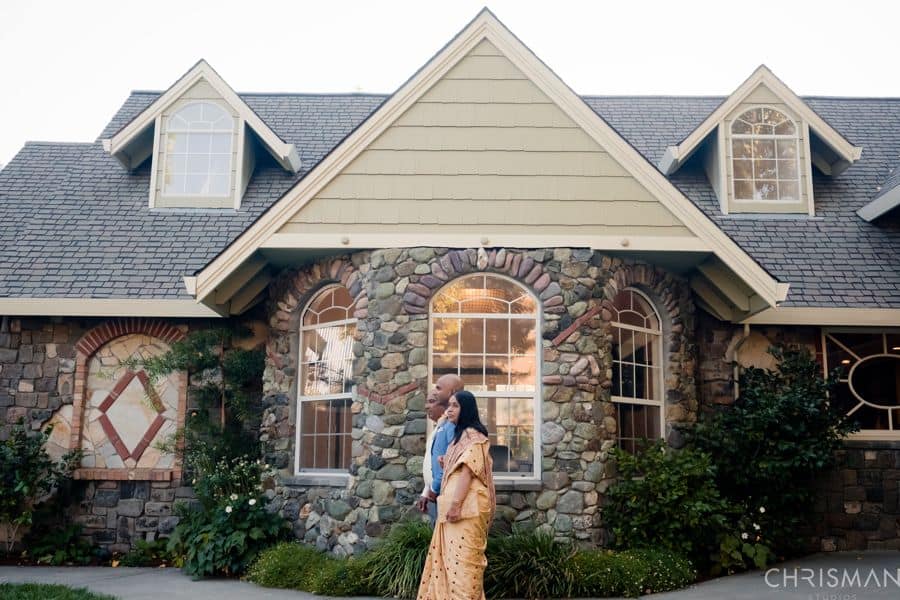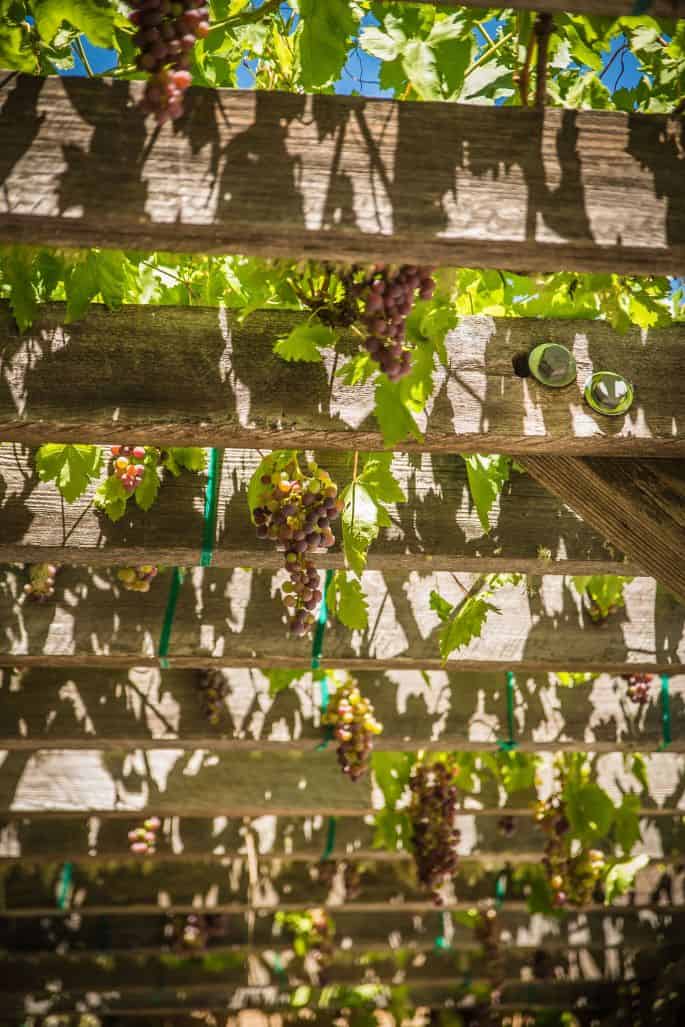 Included Services Saving You Up to $12,000 (and Peace of Mind)
You have exclusive use of our 40 acres (priceless). Exclusive use of all ceremony and reception locations. No other weddings on your day.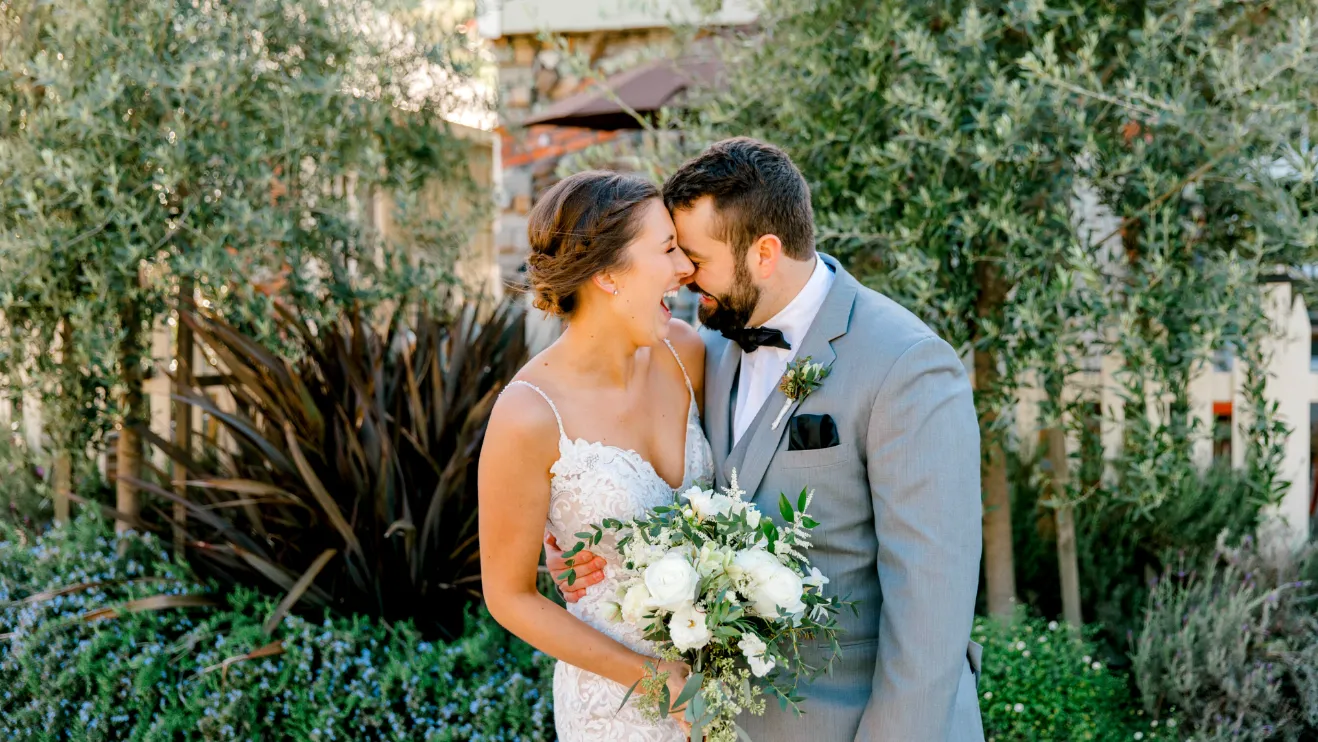 We accept monthly payments. Not many venues offer this. We accept all forms of payment, including credit cards. There's a $1500 first payment, and the others are divided over the months until the wedding. Most couples put in their form of payment, and each month the payment is automatically billed. The last payment is the $1500 security deposit made 30 days before the wedding. This amount is fully refundable as provided in our Agreement.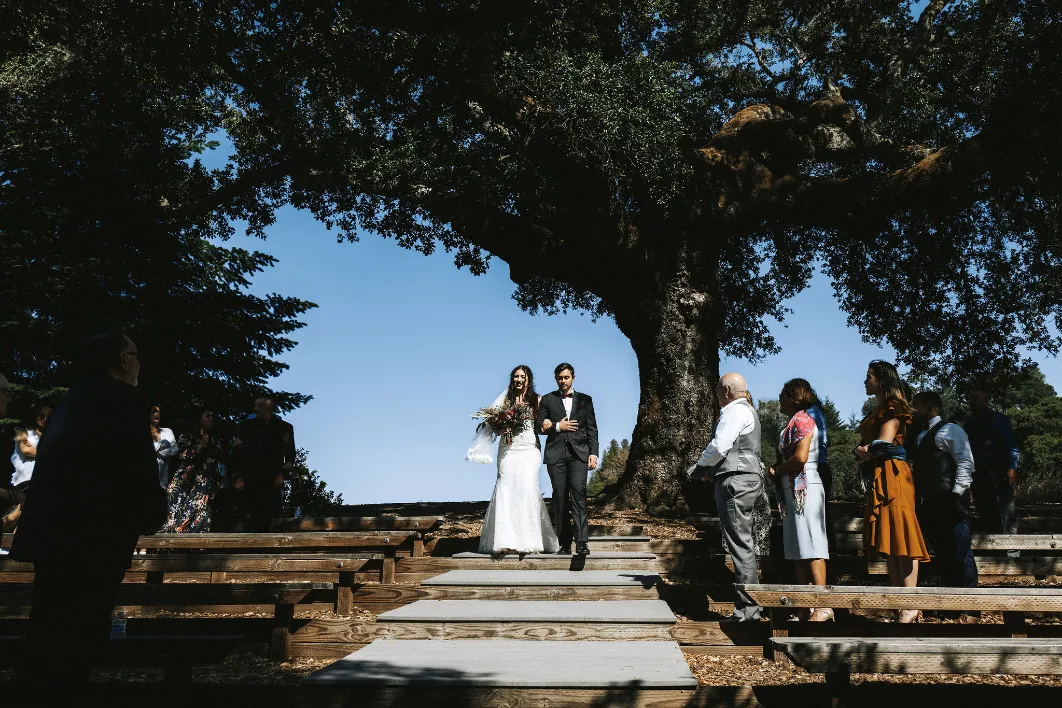 We are BYOB (even spirits). Bring your own, including spirits (aka hard liquor – mixed drinks only): no corkage fee, no necessary purchases. Unlike other venues like wineries, we do not have a public tasting room where you have to pay additional amounts for the winery to close during your event. Worse than that, some wineries try to sell your guests wine or ask them to sign them up for a wine club. We believe it's your wedding, not their sales opportunity.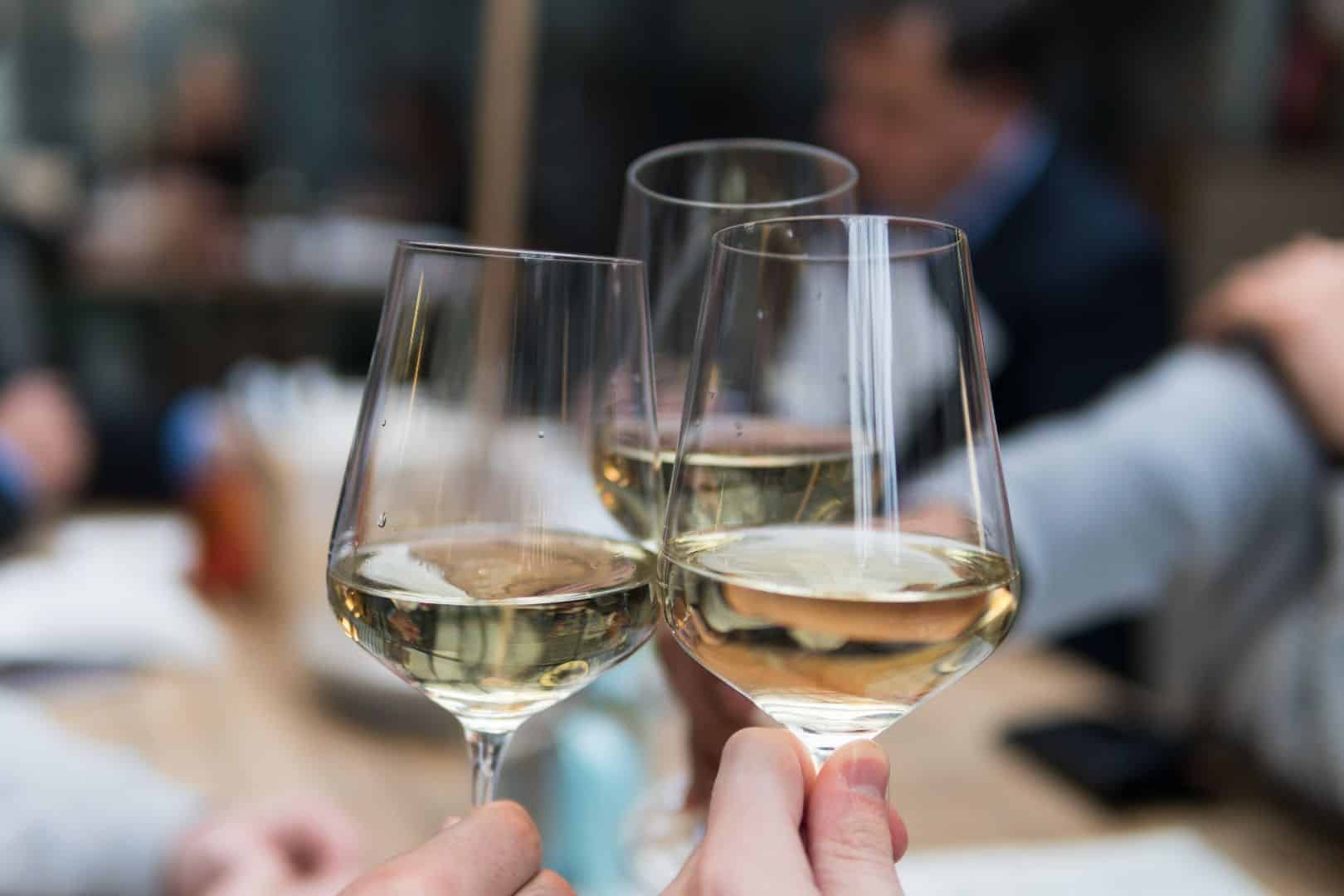 We have a state-of-the-art event planning platform at no cost to you. We use Allseated, a software you and your wedding planner can use to create floor plans to scale, seating charts, tables, chairs, decor, manage guest lists, and much more. It's so easy to use and doesn't cost you a penny.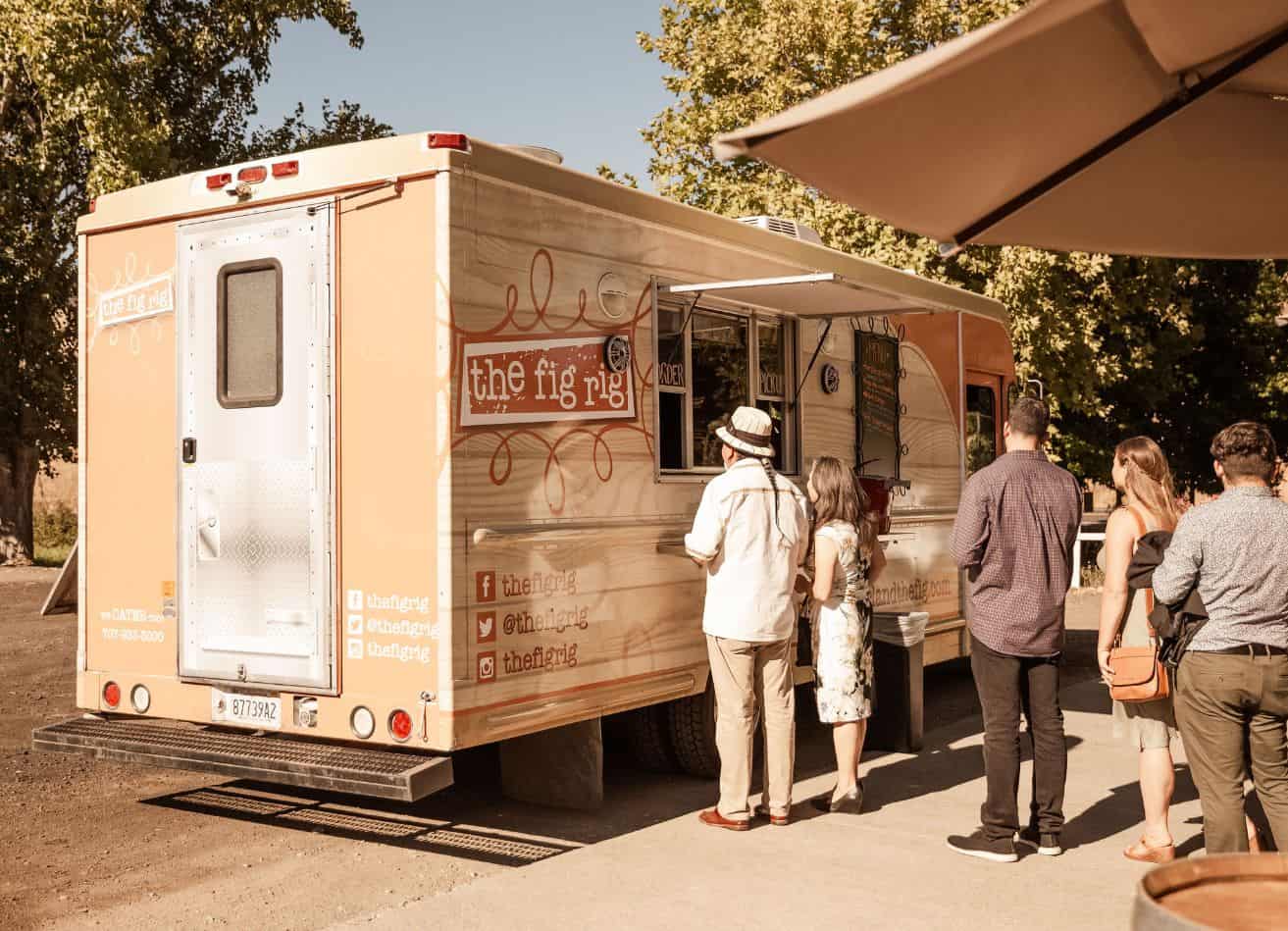 We have a carefully curated list of wedding professionals and allow you to bring in your vendors of choice. Vendors must earn this way onto our list based on professionalism, licenses, insurance, and how they've treated our past couples, guests, and other vendors. Clients can choose vendors not on the list but should discuss it with us first. Some vendors have been here and done subpar work. We keep notes of the good and the bad. Our goal is to allow you the freedom to choose while providing accurate information.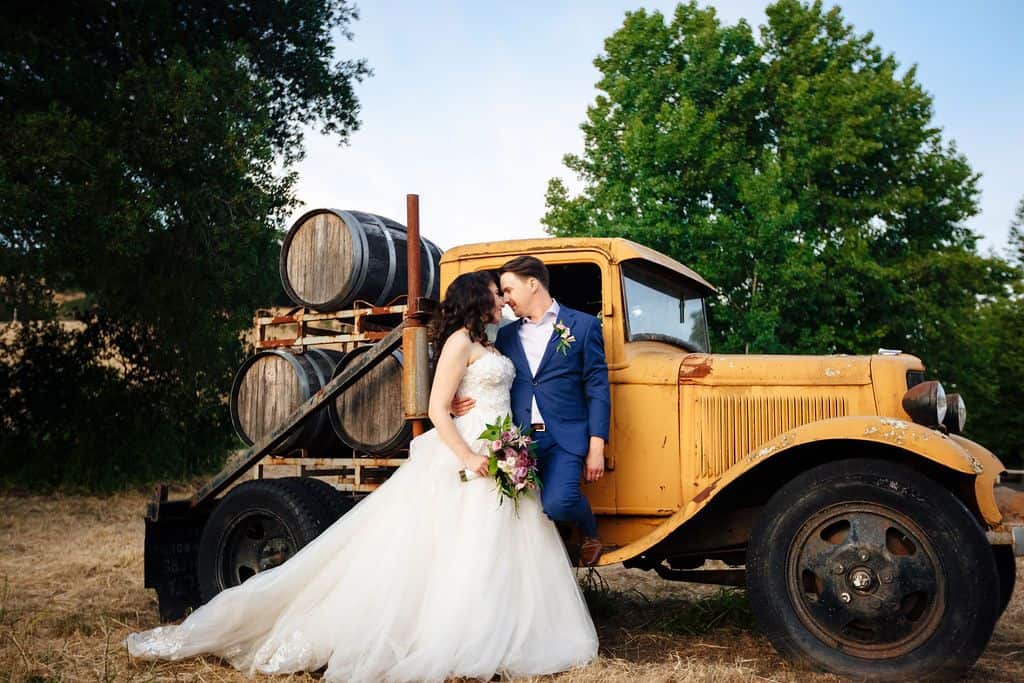 We have many memorable photo opportunities around the property, including a 1932 Ford truck with wine barrels, a vintage flatbed truck 1937 Chevy with a 12′ bed for pictures of larger groups, a 1941 Ford tractor, a Windmill, custom wood and wrought iron arch on the pathway leading to Oak Grove (made from upcycled redwood trees), a wrought iron topper (recycled), Adirondack chairs are set around the pond, so photographers can use them for pictures no matter where the sun is, rock seating areas, barn with vintage hubcap collection, Blooming vegetable and flower gardens, Gorgeous fruit orchards, balcony overlooking the patio, gorgeous trees, and landscaped gardens, vineyards, an open field, a large pond with floating up-lit fountain, small lighted fountain by the front doors with multiple pools and a waterfall, an oak grove with bench and wine barrel privacy fence, the rustic arch near The Grove (This area features a bench movable by photographers to set up the perfect photo in the oak trees or the surrounding fields. A wall of wine barrels stacked two high provides a unique image, engagement, or elopement backdrop.), The Oasis, and The Hangout. Just to name a few!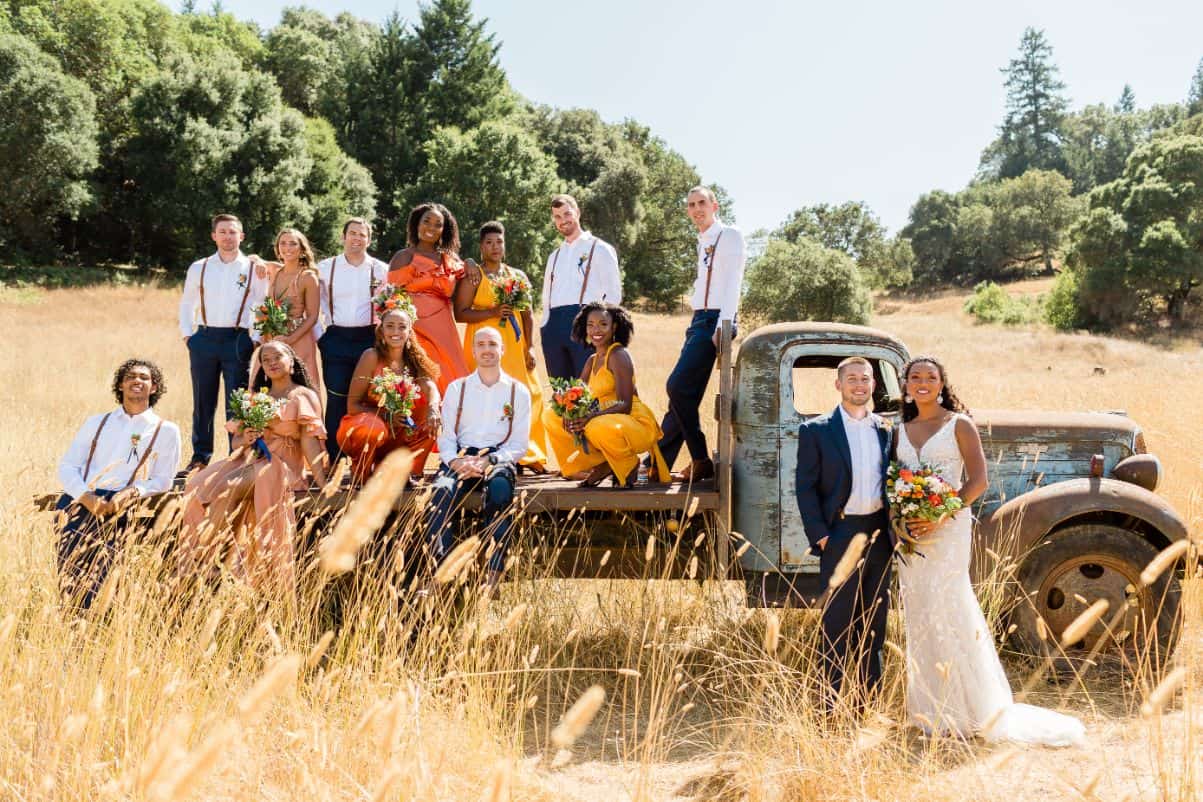 We offer WiFi throughout the event spaces. Yes, you can have amazing high-speed internet for all your guests (or have an unplugged wedding).
You can Livestream your ceremony for free. Simply log in with your Facebook password, and you can Livestream your wedding from your phone or other devices. Some venues charge $1,000 – $3,000 to do this.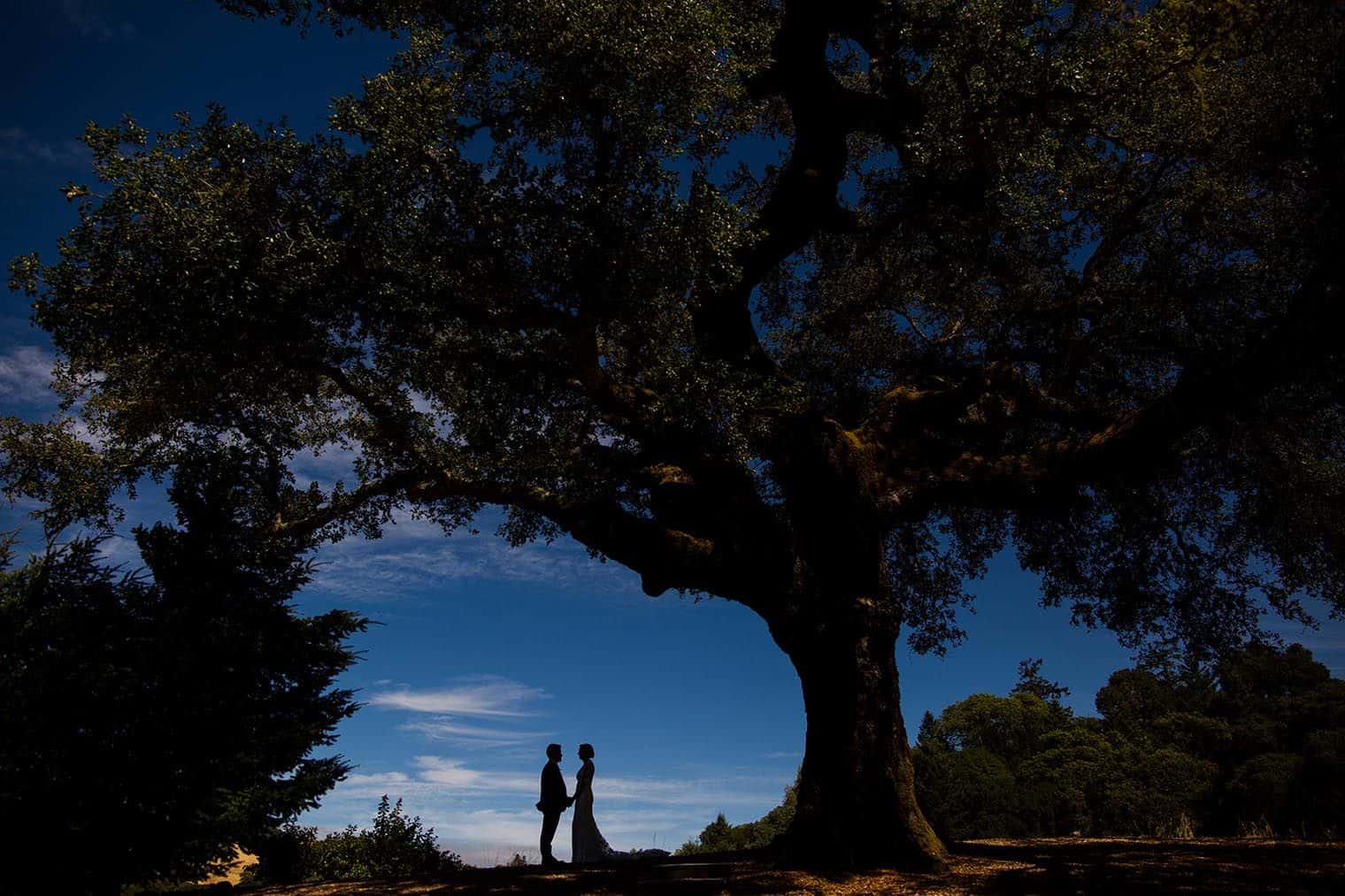 Although we are private and remote, we have cell service. All event areas of the property have access to Verizon cell service. Areas on the west side of the event center have ATT or other services available.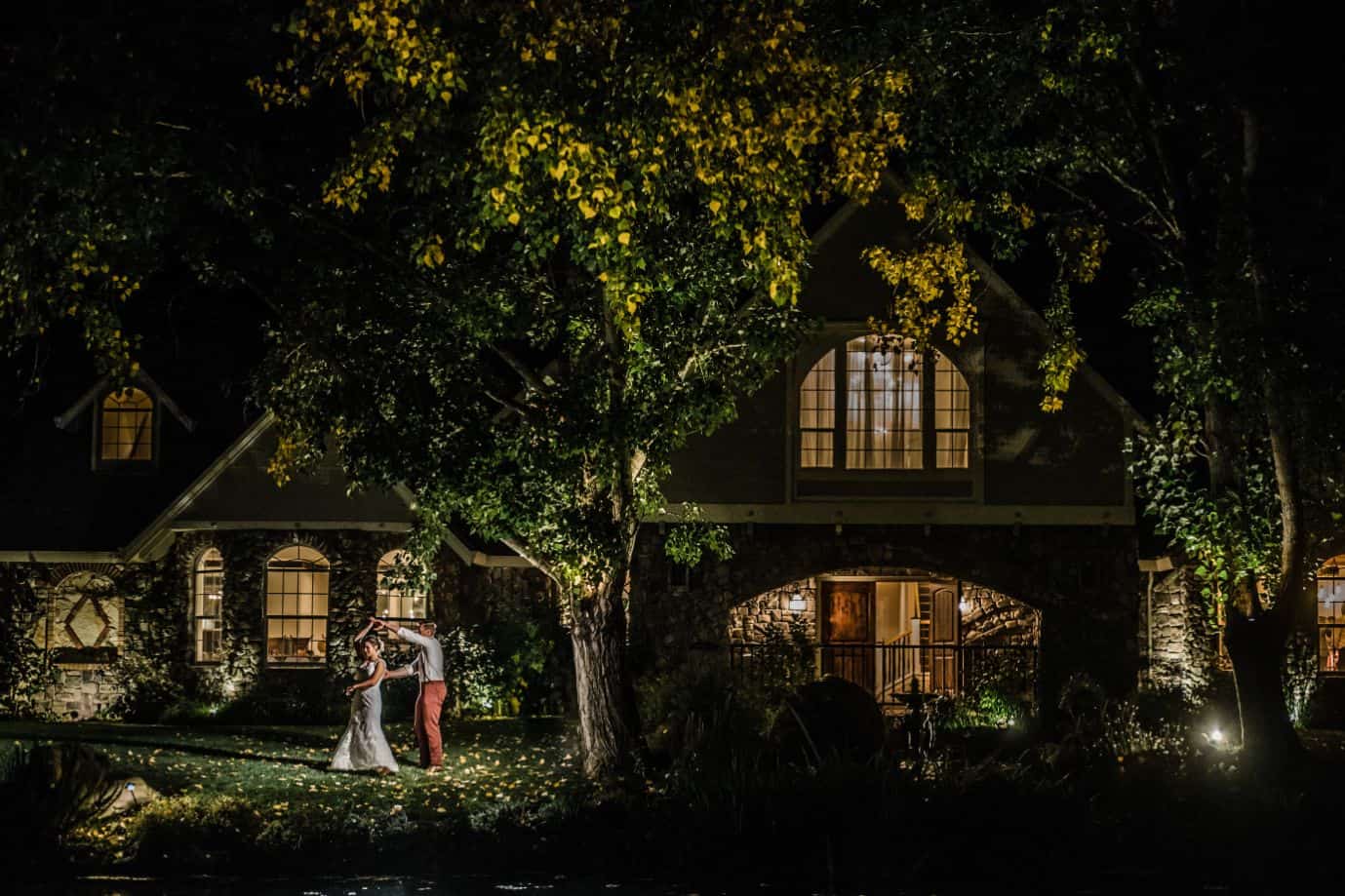 We are a legally permitted wedding venue (and this is why it's SUPER important to you). Up to 25% of wedding venues in the greater area do not have the proper Use Permits. What does that mean for you? It could get shut down, your wedding canceled, and possibly no money back. Reorganize, and replan everything. Ouch! We get calls from panicked couples every year when the venue goes out of business or is shut down by governmental action. They have a date and have already invited everyone; they call us to see if we can help. We do our best, but we don't want this to happen to you. Do you notice the lighted exit signs, emergency lights, fire extinguishers, first aid kit, AAD, and lever door handles at our venue? These are all County requirements that all venues should have for the safety of your guests.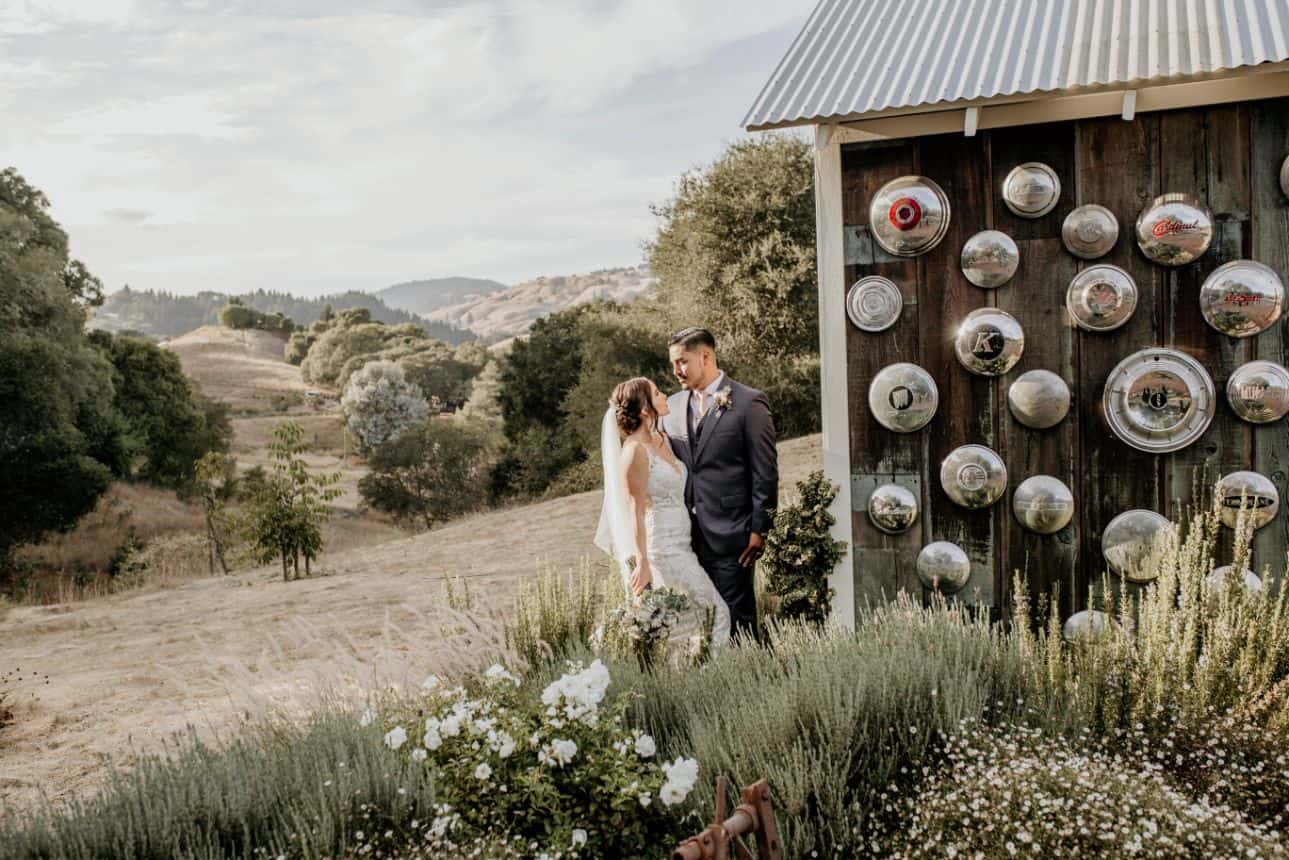 We can keep the party going if the electricity goes out. Yes, we thought of everything. We have a sizeable 15KW backup generator that automatically starts if the power goes out. Ten seconds after the power goes out, the party continues.
We have no noise concerns or bad neighbors. Our closest neighbor is 1/4 mile away from our 40-acre venue. Some wedding venues have issues with their neighbors calling the cops because of noise.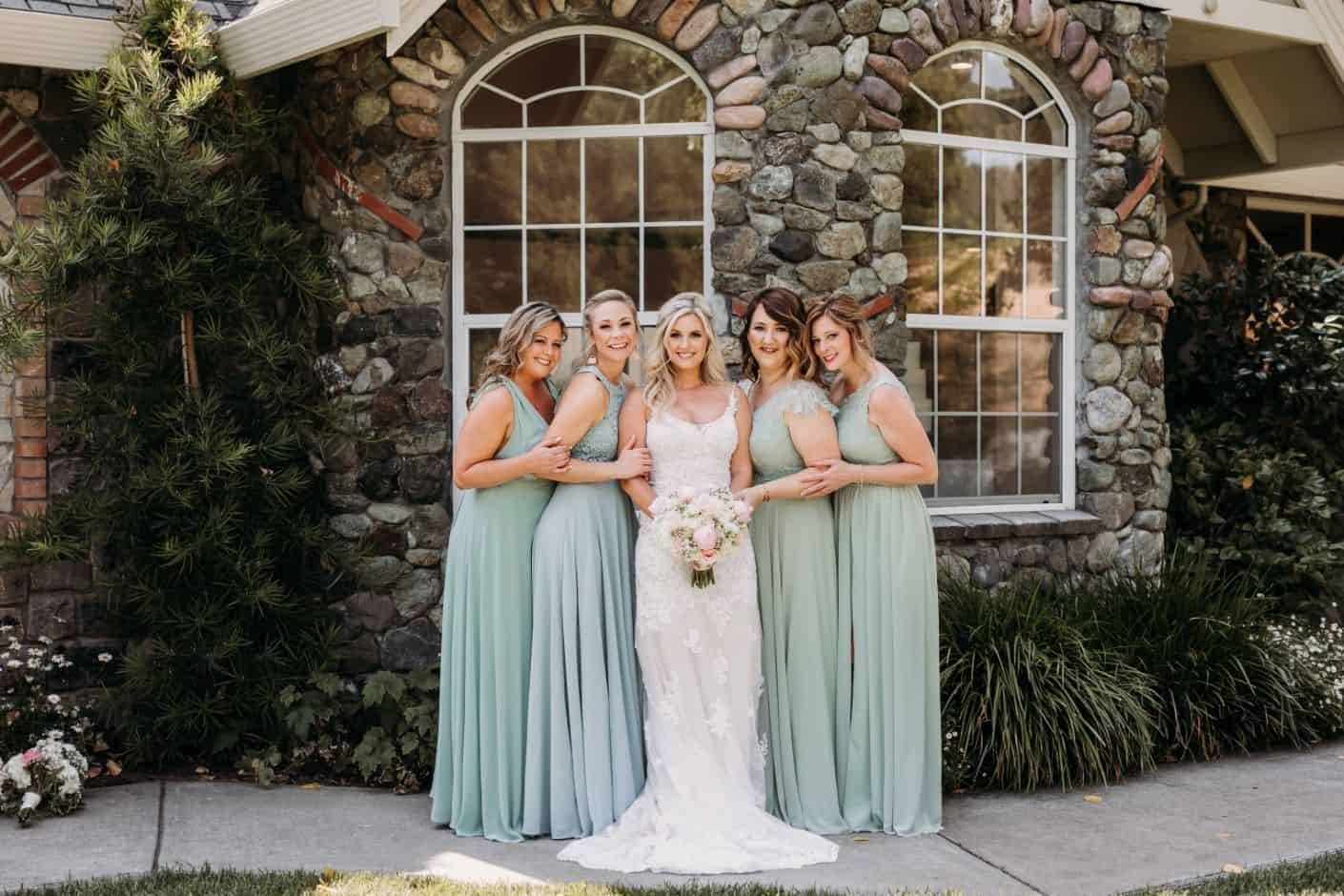 We offer complete privacy. We have controlled gate access, and our 40 acres are completely private. Unlike some venues, our exclusive use of the property ensures your wedding will not be interrupted by the public looking for a tasting room, picnic areas, bathrooms, etc. This ensures your event's privacy and is one reason celebrities have been married at MHE. The event areas are surrounded by 1 mile of fencing, mostly hidden in the tree line. The electrically operated gate allows two cars to pass when they enter and exit the Estate. Large pole lights on both sides of the gate are LED and emit light to make the entrance easy to find but not enough to interrupt your wedding day.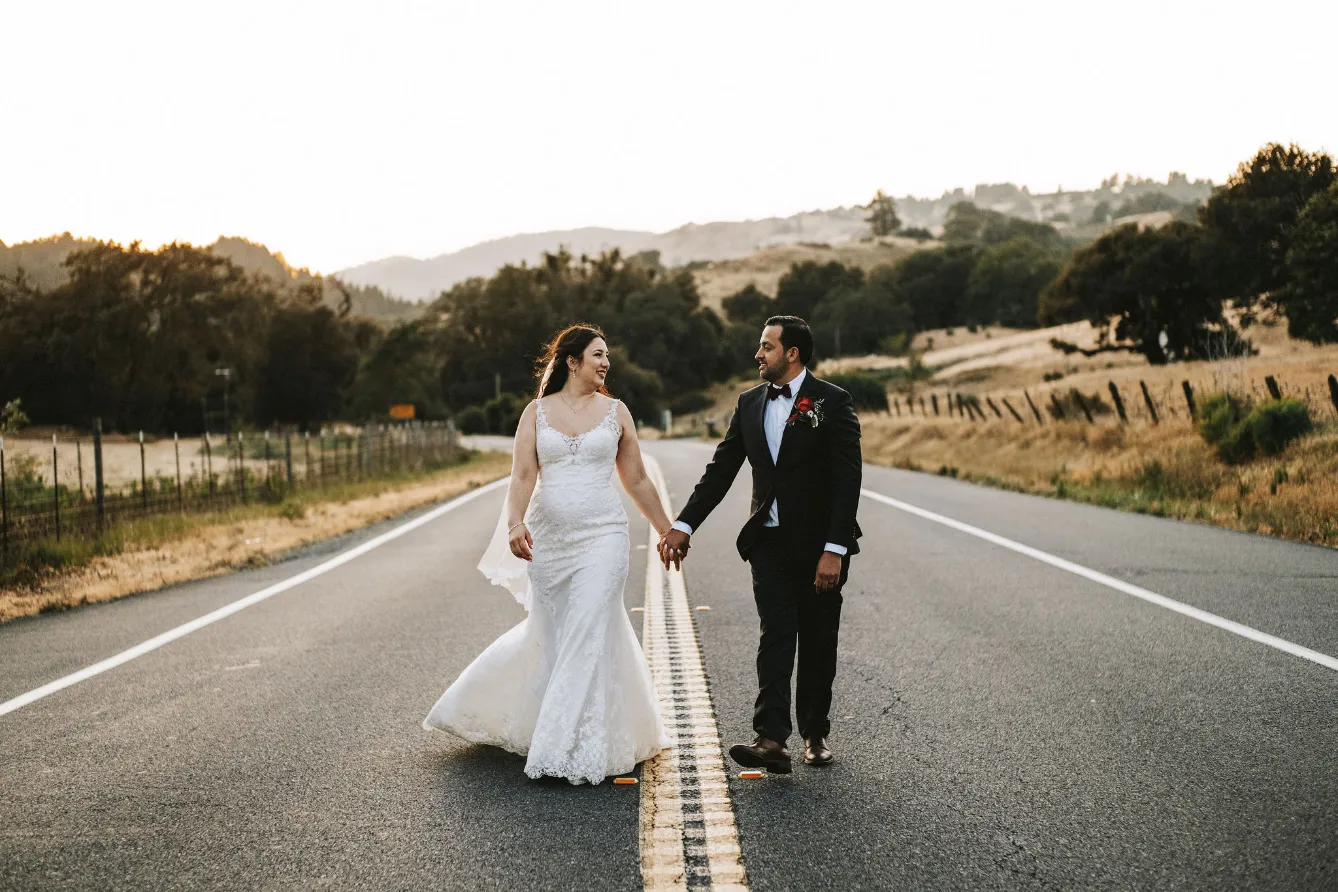 We have plenty of parking. Guest parking is sufficient for your guest count of up to 250 with additional vendor parking. Circulation is built-in for shuttles and vendors for ease of access. Some venues, especially in downtown areas or hotels, are hard to find parking, or worse, it's paid, which is stressful for you and your guests.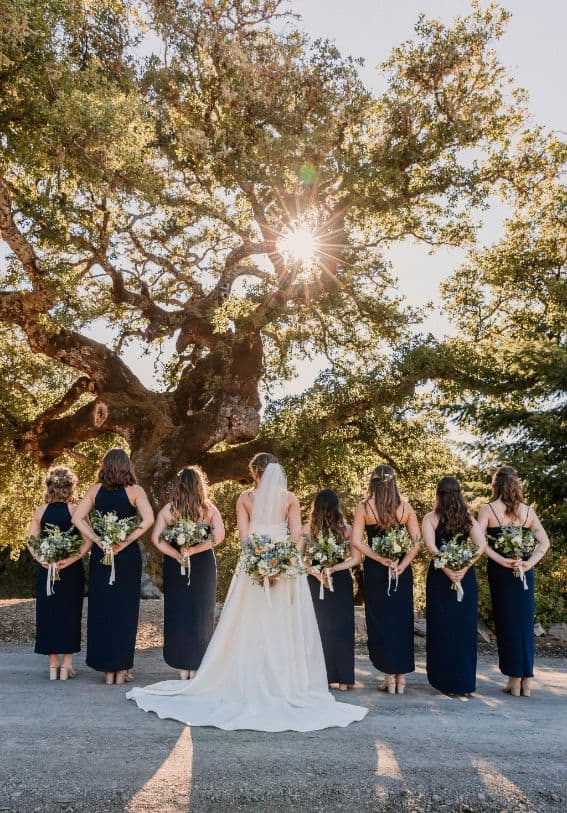 We keep communication organized and easy for you. We make it seamless for you to communicate with us during the wedding planning process. We also help you access past emails and documents and help organize all payments.
We carry excellent insurance. MHE carries commercial (not homeowners) insurance, and we require all vendors and couples to provide evidence of liability insurance. Our goal is a safe and fun event, but having insurance can be critical to the couple's future if something does happen. Some venues do not require this, and if the worse happens, you can be liable for thousands of damages.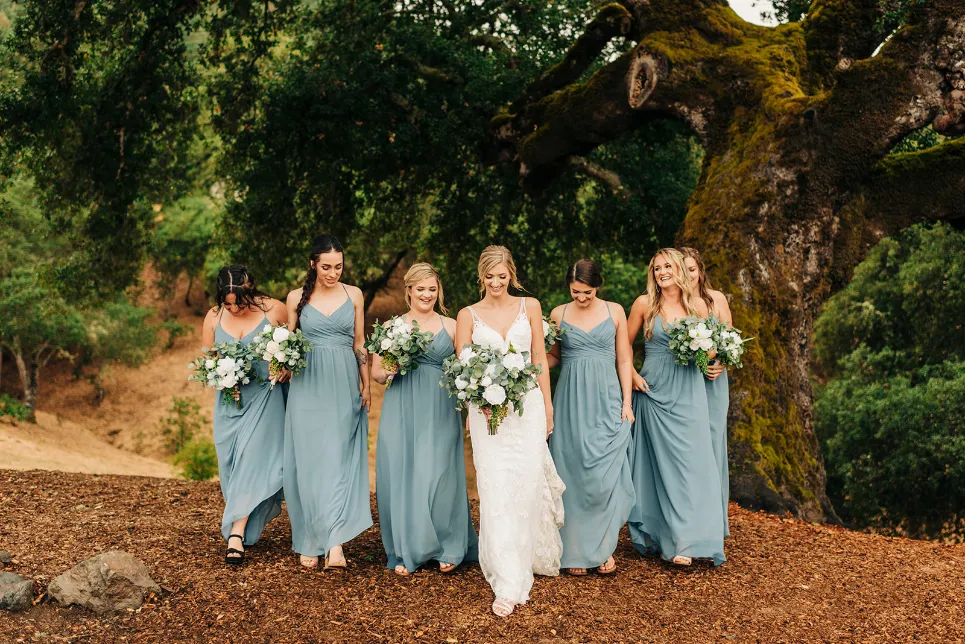 We offer overtime availability until 2:00 am or you can start your event earlier in the day for an additional fee. Some venues cannot provide overtime availability, so you must find a separate venue.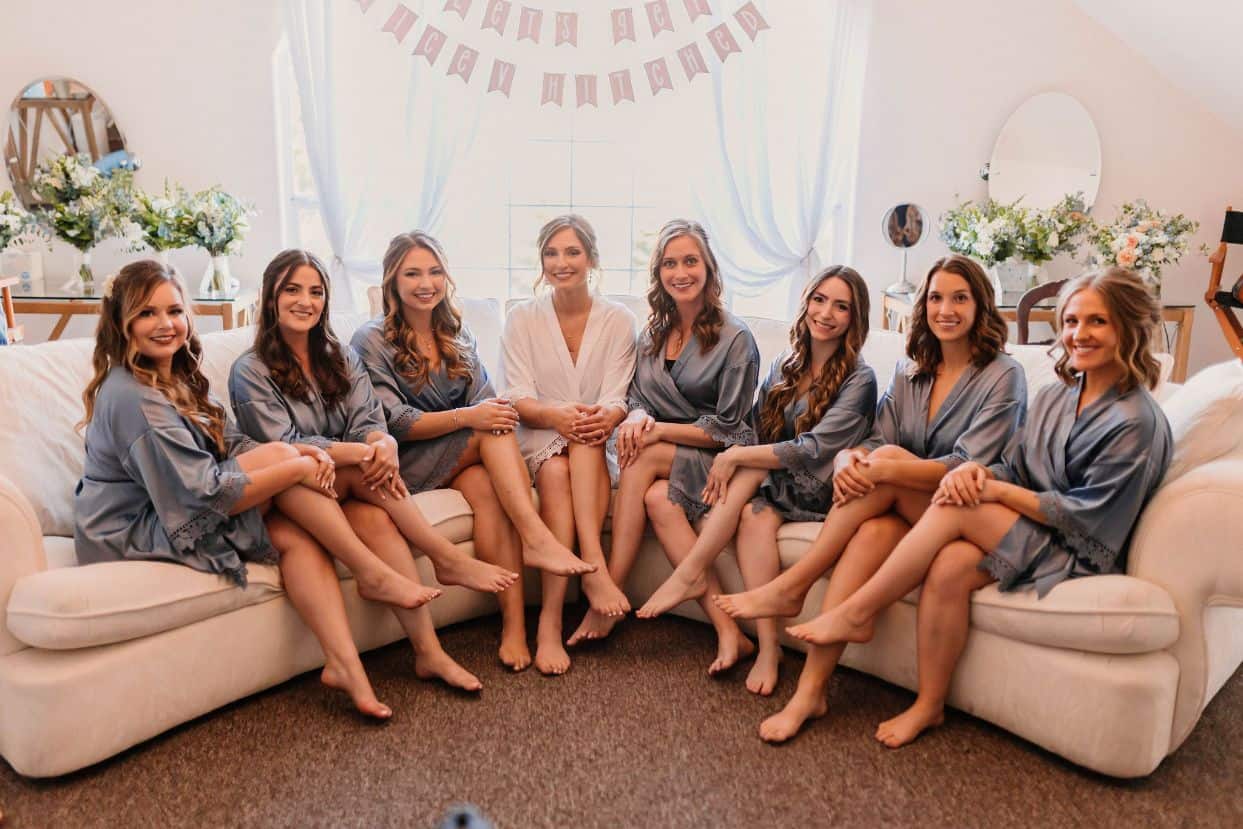 We're located next door to overnight lodging if you want to spend the night, and nearby hotels and wine country Airbnb, all ranging in style and price. Before and after your wedding, our team works tirelessly around the property to ensure everything is where it needs to be and takes care of last-minute details. After your reception, we tear everything down and have a crew handle all the details. For this reason, we don't offer onsite lodging because we want you to get a good night's rest and not be kept up by workers on the property. Spending the night at your venue isn't always the best option, which is why we offer a lodging option next door.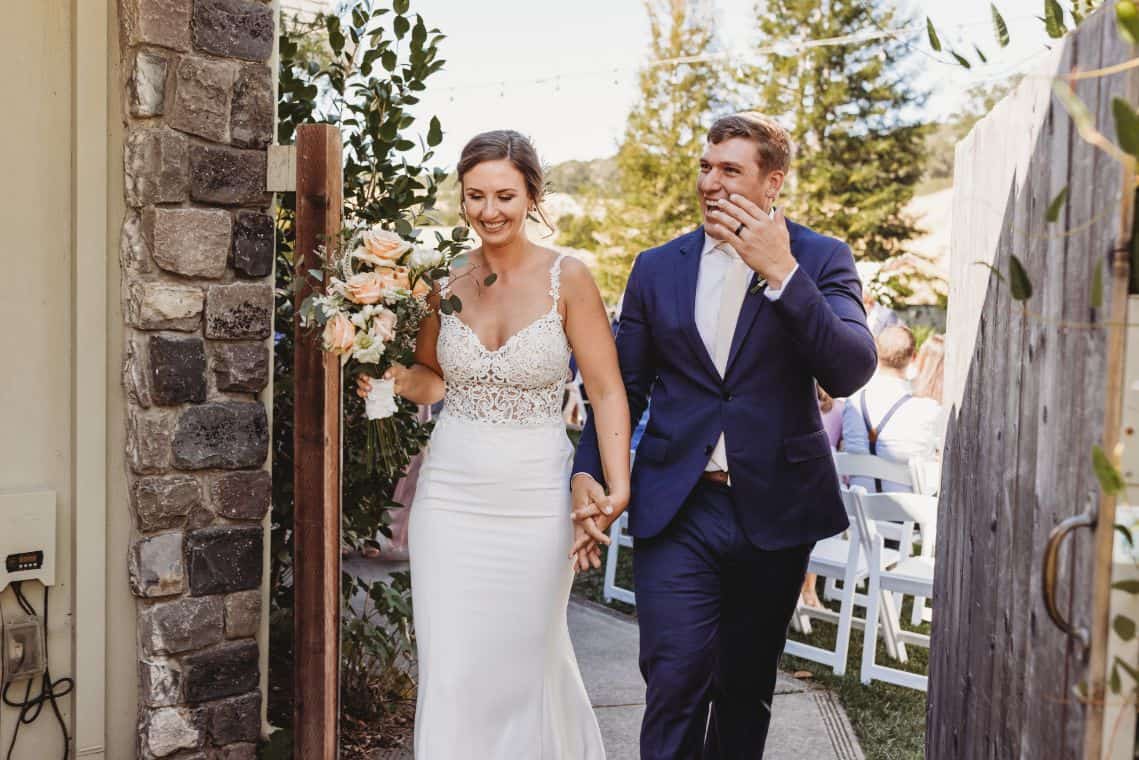 We use sustainable practices on our property and upcycle materials when we can. Many upcycled materials are repurposed around the property. These materials, both indoors and outdoors, provide fantastic photo opportunities. These materials include: a windmill pumping air into the pond to deter algae, vintage trucks, composted gardens, upcycled hubcaps, and reused wine barrels. The main barn is clad in reclaimed redwood Barnwood from the 1800s on our property. We implement some sustainable practices: kegs and c02 cylinders are recycled, and a water drip system is controlled via WiFi with automatic sensors. Multiple barn owl and bat boxes exist for organic and renewable bug and rodent control. We use several species of fish to remove mosquito larvae from the pond. Organic bacteria-enhancing products remove algae, and therefore odors, from the pond. The pond has four bottom aerators that pump 2400 CFM of air into the pond 24/7 to prevent algae and give the fish a great environment to thrive. There are 15 raised beds constructed of recycled materials. Each bed is planted with various flowers and vegetables, rotated based on the season. Each bed has drip irrigation and is on timers with sensors that automatically turn them off when it rains. Water conservation is employed in all gardens on the property. We use primarily organic methods to care for the gardens. We have compost piles for all our trimmings, and much of the composted plant material is reused on the property.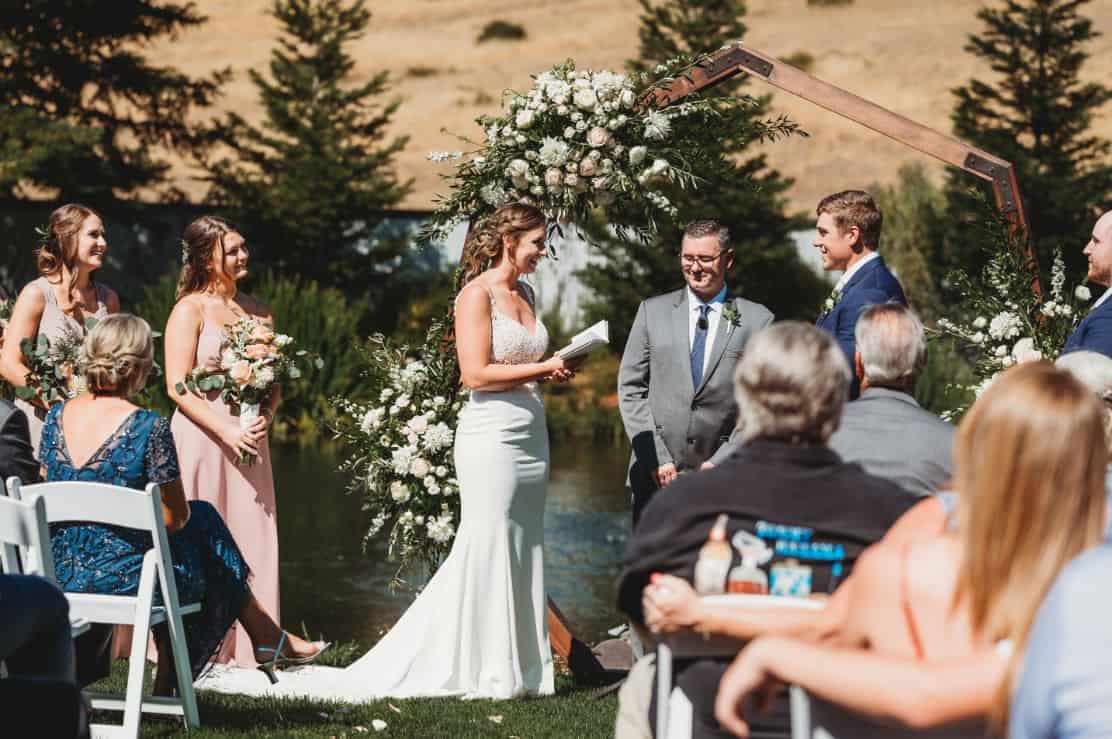 We are prepared for any emergency (priceless). No one wants an emergency event to happen during a wedding, but MHE is prepared. The staff is CPR and AED certified. MHE is centrally located between Anderson Valley Fire Department, Hopland Fire Department, Cal Fire Cloverdale, and the Cloverdale Fire Department. Many emergency services providers have toured the Estate to know the layout, and all are within 9 miles of the Estate. An additional two fire services are located within 20 miles of the Estate. Here are some other details about our emergency preparedness: First aid kit, Emergency Trauma kit, AED (Automatic Electric Defibrillator), and Emergency phone numbers; there are three different routes in case of an emergency where people need to be evacuated. East towards Cloverdale and Hwy 101. North towards Hopland and Hwy 101. West towards Boonville Hwy 1. MHE has its fire truck, and it's a great photo op; a 1962 Chevy Brush Truck with twin-powered hoses, onboard water, and more.
MHE worked with the Anderson Valley Fire Chief to place the 16 Fire Extinguishers in the optimal locations for safety. Light exit signs and emergency lights come on if the power goes out. There is a 15KW generator on an automatic switch that comes on during power outages – so the party continues in less than 10 seconds. A hidden 500-gallon propane tank feeds the generator. MHE features seven fire hydrants under gravity-fed pressure. One draft hydrant, tested by Anderson Valley Fire, takes water from the 300,000-gallon pond. We often collaborate with the local fire department, and they selected us to place emergency maps and other materials, such as information about roads, houses, and water sources.
Included Amenities Saving You Up to $20,000
We offer a Selfie Photo Booth ($500 – $1,000 in savings) The selfie photo booth is great for entertainment at your reception and a lovely keepsake.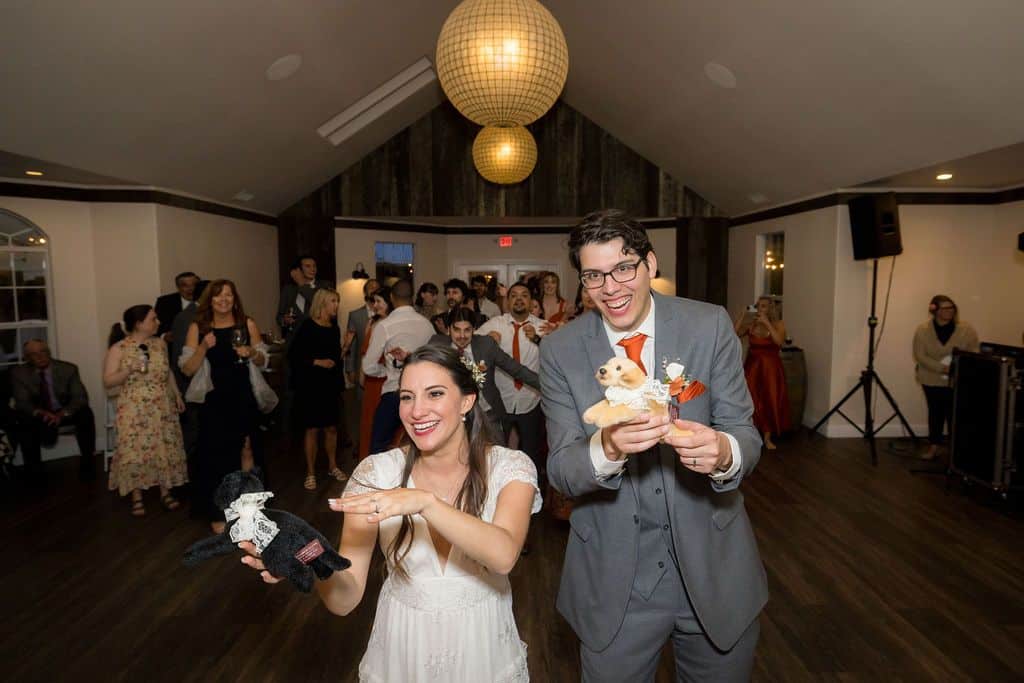 We have three changing areas so you can get ready on-site (priceless). All spaces have bathrooms and are heated and air-conditioned. Getting ready on-site saves you from being late due to traffic or other circumstances. It's for your peace of mind and to reduce wedding day stress. That is priceless. Some venues do not offer ready rooms or are small and an afterthought. Ours were carefully planned out to make your day more enjoyable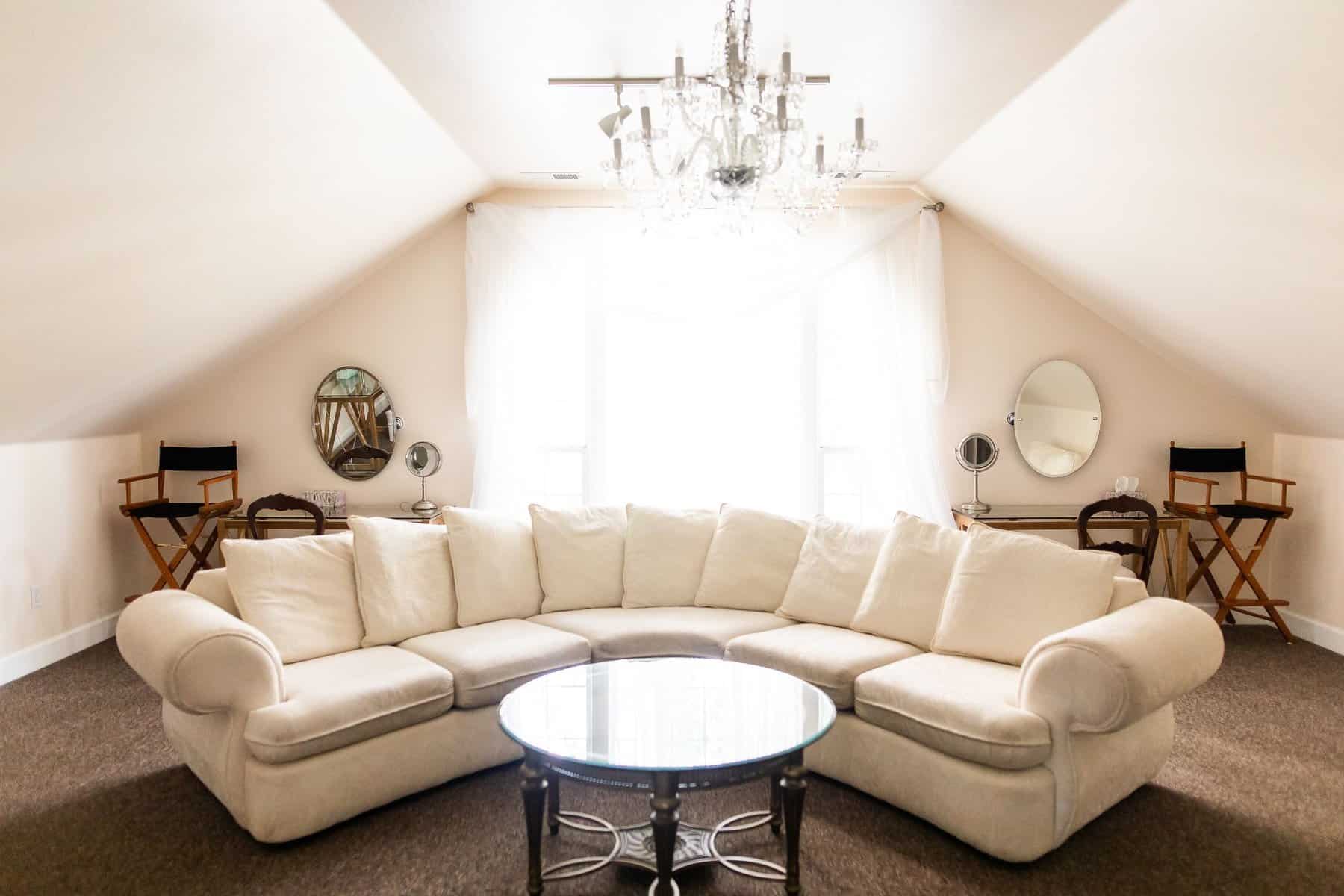 The Oasis – Spacious prep room with a circular couch and round table, crystal chandelier, three-sided full-length mirror, two easy chairs, four make-up stations, privacy screen, bathroom, closet with extra high rods for long dresses, iron with ironing board and steamer iron. Additional folding chairs inside the cabinet. Small refrigerator.
The Hangout – This room is a super-fun additional prep room. Includes poker table, shuffleboard table, foosball table, three TVs – one with Xbox and four Xbox controllers, two custom-built benches, two couches, iron with ironing board, and steamer iron; sliding mirrored doors, mini-fridge, and more, including a private bathroom And the best thing? Lockers from the Cordelia Fire Station for the storage of your personal items.
The Juliet – So named for the balcony that overlooks the party patio and bandstand below. It's located in the main building and is frequently used by parents and grandparents as a private space or a place to sit and relax. And oh yes, it has a private bathroom as well.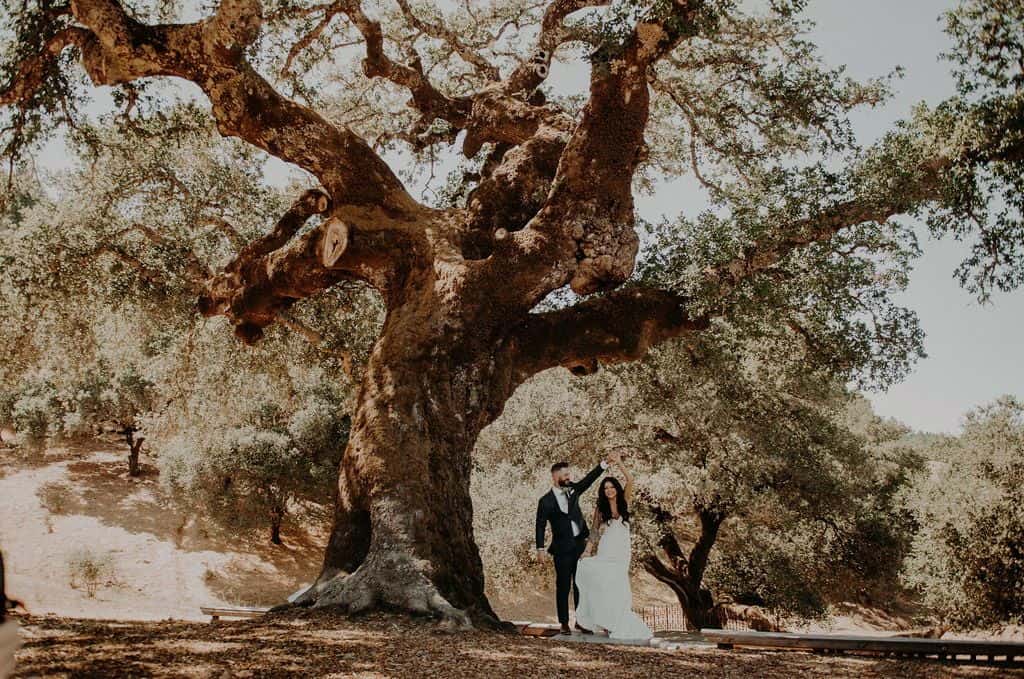 Ten ceremony locations include decor, saving you between $2,500 – $5,000. We have multiple hidden areas leading to the ceremony so you can make a grand entrance. Here are some of our ceremony spots:

Oak Tree Terrace (our most popular ceremony spot). Benches will seat 200 people, plus an additional area for chairs or standing room. Steps leading to redwood deck with Victorian-era cast-iron fencing. Four wine barrels and a wine barrel bar for decor. Rustic barn with overhang area for beverage service. Raised-bed garden with vegetables and flowers.
The Grove (also great for elopements or photos). Custom arch leading into an Oak grove. Custom wine barrel wall. Opens to a pastoral vista.
Ceremony spots surrounding the main lawn: The Barn, The Vineyard, The Redwood Trees, The Pond with or without fountain(s), Trees and boulders around the pond, and a small fountain.
Ceremony spots surrounding the patio: The Gardens and The Grape Arbor.
Indoors (or Backup Rain Ceremony Spot): The Ballroom. The heated and air-conditioned Ballroom is large enough to seat over 200 for the ceremony.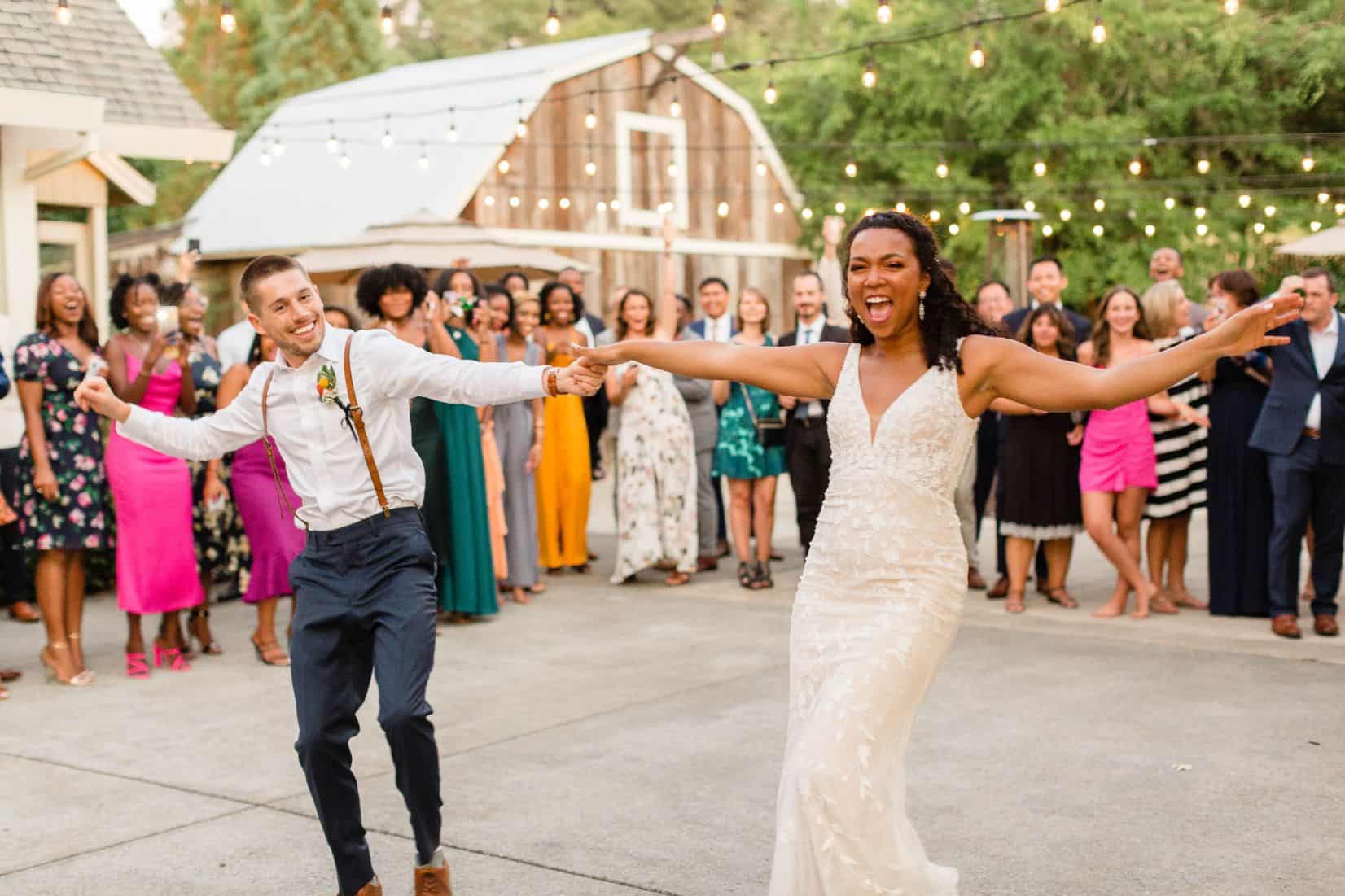 Four reception and cocktail hour areas include decor, saving you between $2,500 – $6,000.

Patio – surrounded by gardens and grape arbor, seats up to 250 at tables, raised area for the head table, buffet serving line, or dessert table, a bandstand with four 20 amp circuits for a sweetheart table or DJ, concrete dance floor, barn with indoor room for the photo booth, lounge, dessert bar, bistro lights, and secondary lighting,
Two Lawns – 1,000 and 5,000 square feet, large lawn seats up to 250 at tables with bistro lighting. The pond, lawn, and building all have built-in landscape lighting, and a beautiful path is around the pond; bistro lights over the 5000-square-foot lawn.
Raised-bed flower and vegetable garden area near The Barn. The photo opportunities around here include an antique tractor and hubcap collection.
Ballroom: Seats up to 124 at tables or 250 standing, Hidden TV that you can use for a slideshow, selfie Photo Booth (included in rental fee), excellent design for buffet service, custom lighting, including cake lighting options, plenty of room for dancing and DJ, built-in hidden party sound system.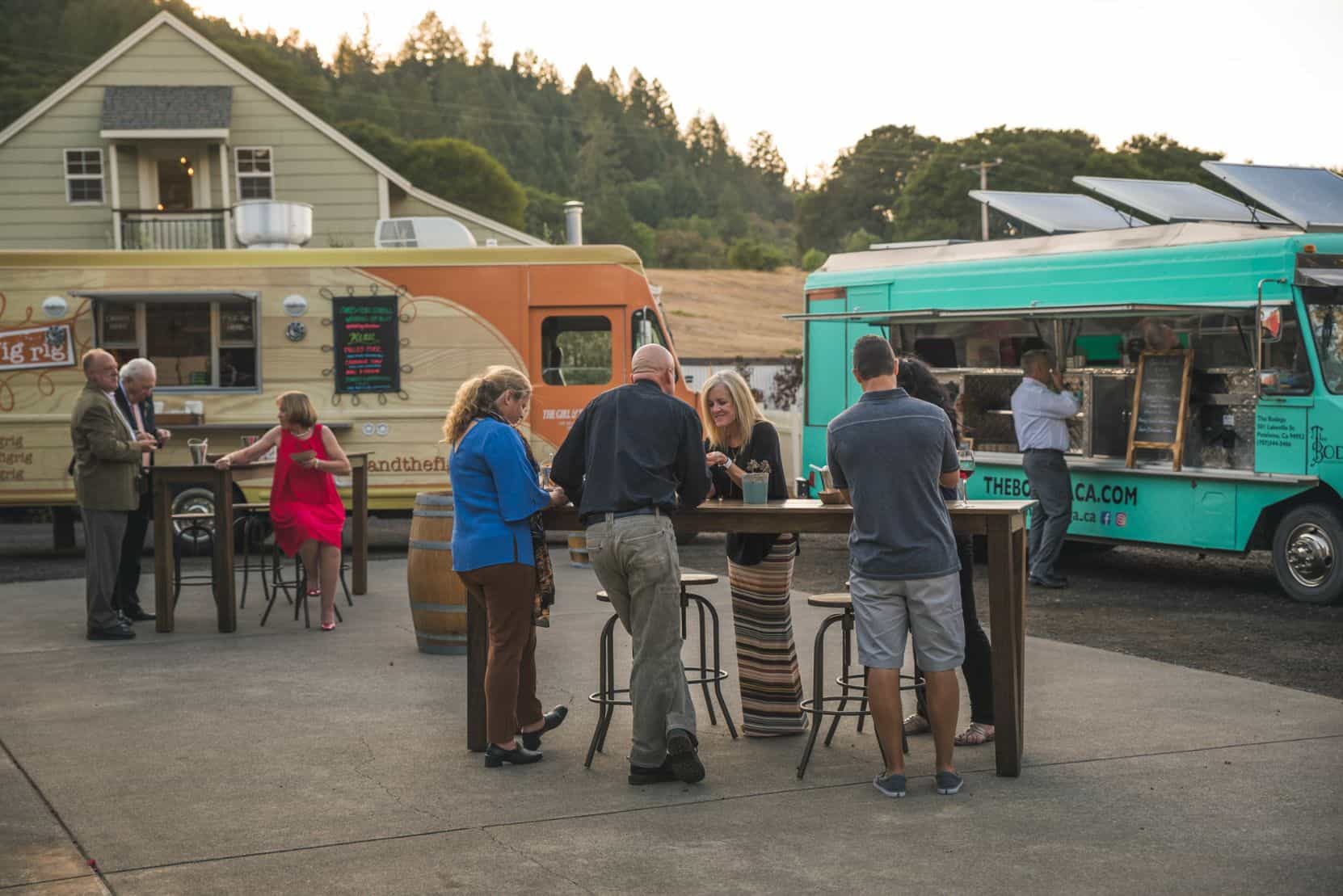 P.S. We allow food trucks, BBQ, wood-fired pizza, and other fun opportunities. Our additional outdoor cooking areas are perfect for caterers that like to put on a show, including wood-fired pizza, BBQ, food trucks, and paella prep. We have a designated space for these caterers to set up.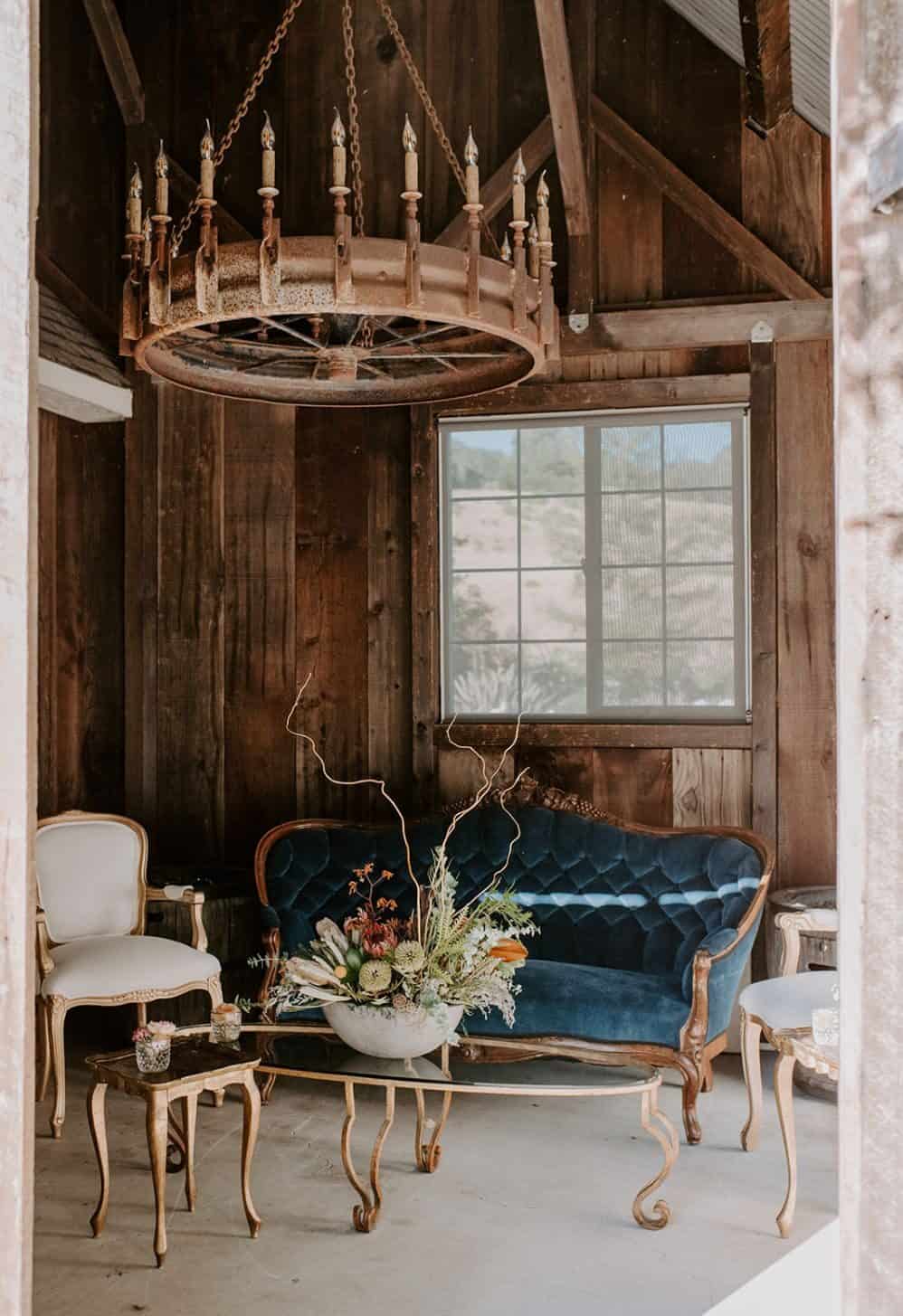 Tables, chairs, and lounge decor($4,000- $5,000 in savings), Fifteen 60″ round tables, Four 72″ round tables, Four 8′ x 30″ rectangular tables, twenty 6′ x 30″ rectangular tables, four 4′ x 30″ rectangular tables (use for sweetheart table, guest book, cake, displays), five 30″ round by 42.5″ tall cocktail tables, 150 white resin chairs on rolling carts, 15+ wine barrels that can be used as décor or cocktail tables, 10 market umbrellas on mobile bases + 1 rectangular on a bandstand, 2 propane fire pits on casters (propane is provided), 5-Piece metal lounge furniture (inside or outside), two 4-piece wicker furniture sets (loveseat, two chairs + coffee table, and one 7'10" x 10′ area rug.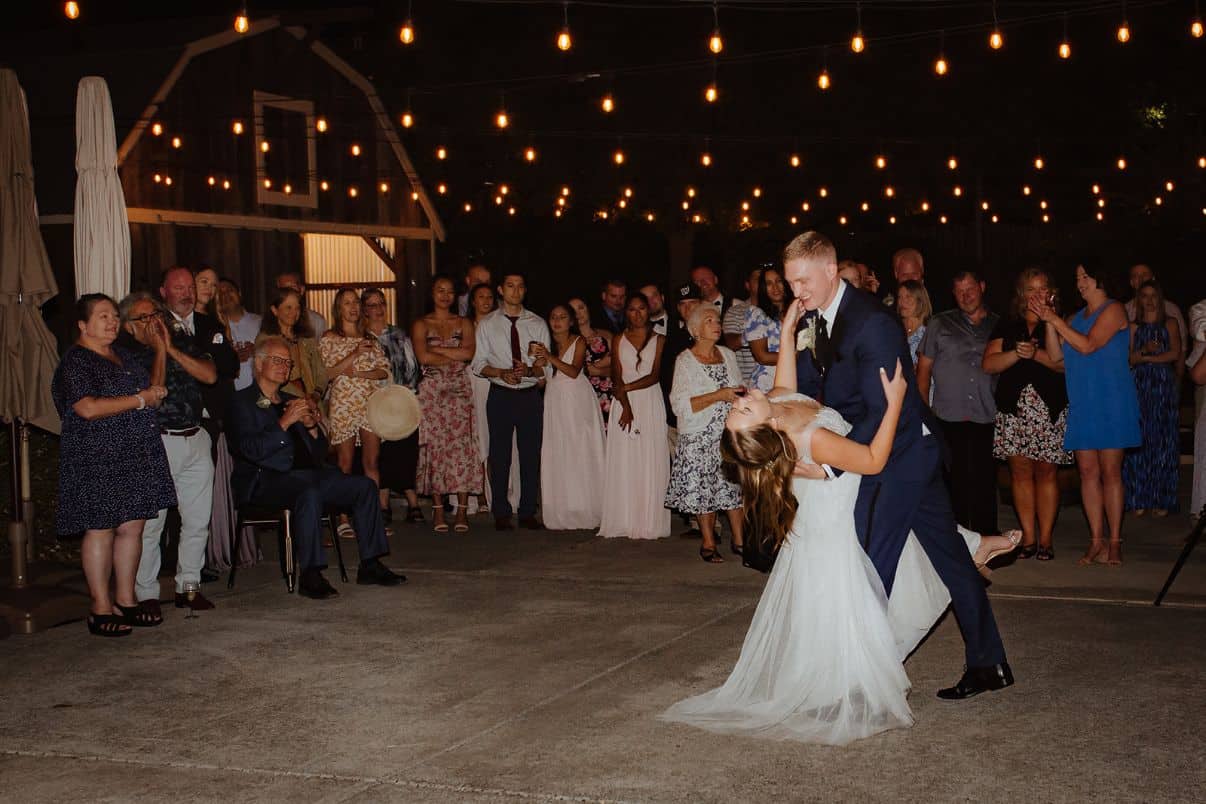 Outdoor lighting: $1,000 – $2,000 in savings. Bistro lights on dimmers over the entire patio area, bistro lights on the lawn, bistro lights in Smokin' Olive Lounge, up-lighting on trees, vineyard, barn, buildings, and fountains, parking lot lighting, custom lighting in the barn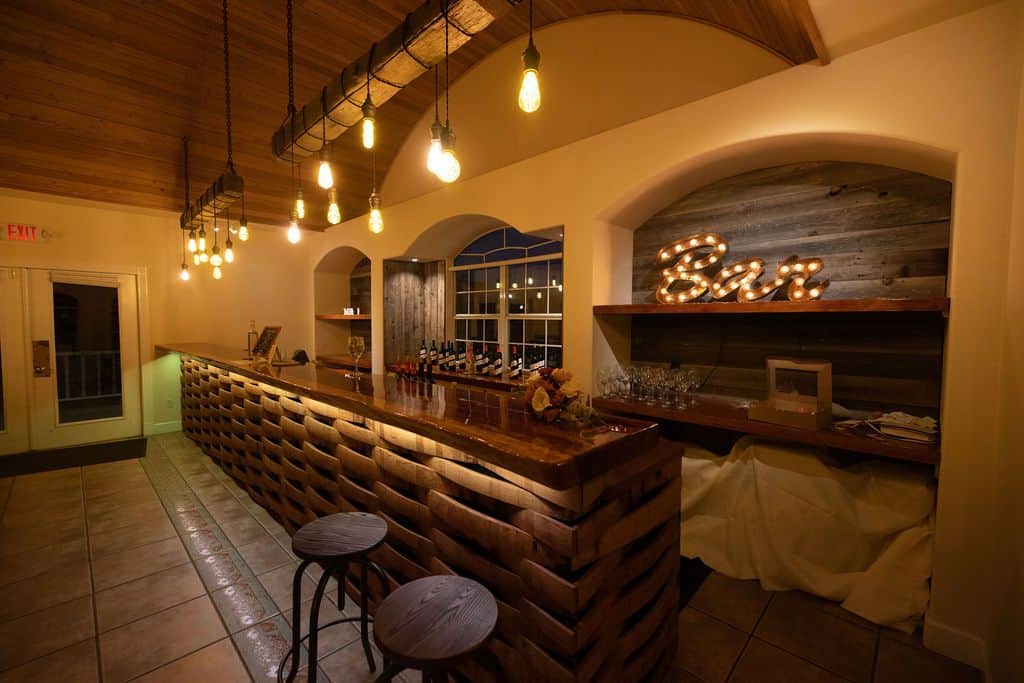 Indoor lighting: $1,000 – $2,000 in savings. Custom lighting over the bar is on dimmers, custom lighting in the entry is on dimmers, and lighting in the Great Room is on dimmers.
Restrooms (it can cost $1,000 – $3,000 to rent luxury porta-potties at other rural venues). We have restrooms on the main floor, in the Oasis, Hangout, Juliet, and the studio. Our restrooms are ADA accessible, gender-neutral, and adequate for 250 guests. As some venues require, you won't have to pay extra or rent porta-potties.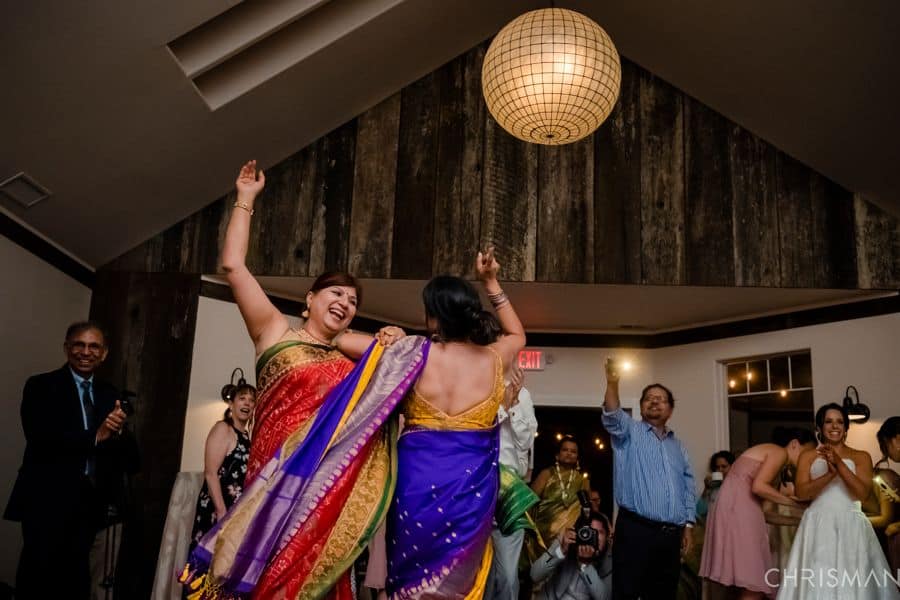 Our built-in speakers keep the party going and save you money. Electrical outlets at all ceremony and reception locations for DJ's use, built-in professional speaker systems for use by our trained DJ companies. All systems can be used for music, speeches, background music, announcements, and parties. Featuring: Six speakers are hidden in the landscaping at Oak Tree Terrace to provide music or amplified voices for the ceremony and guests., fifteen speakers are hidden in the landscaping to give guests an immersive sound experience, just like Disneyland. Your selected music follows them through the lawns and patio areas. A high-powered hidden party system at the bandstand with hidden speakers and subwoofers. Dance outside to great music under the bistro lights and stars or the high-powered hidden party system in the walls and ceiling of the Ballroom.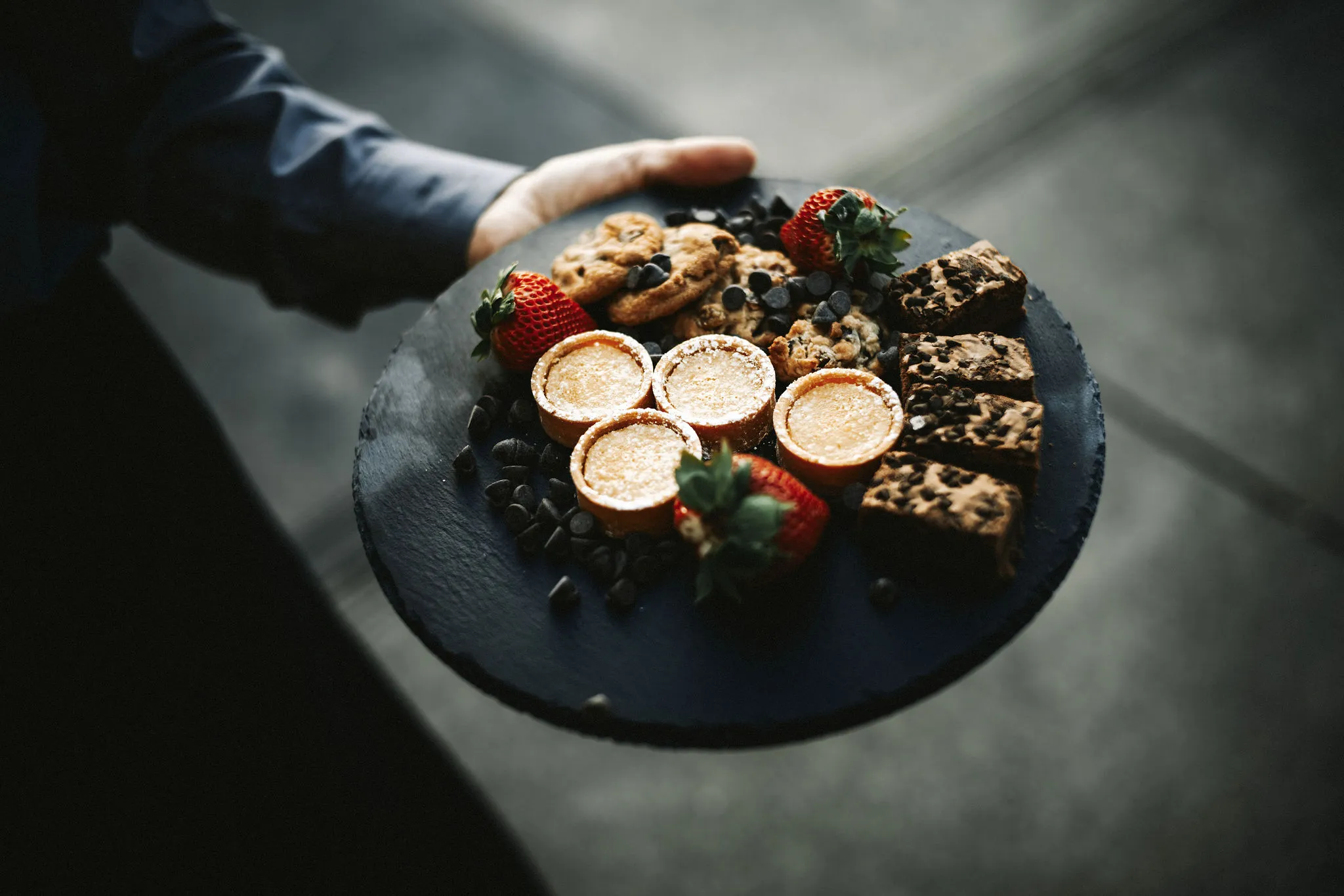 Our caterer's kitchen saves you $1,000 – $3,000 in equipment rental. The caterer's kitchen is 600 square feet, giving plenty of room for caterers to prepare a multi-course plated meal. It was intentionally placed to keep the kitchen noises and odors away from the guests. Caterers back their trucks in, unload the needed equipment and food, and then work. Some venues do not have a dedicated catering space or are missing critical items that cost you extra money to the caterer.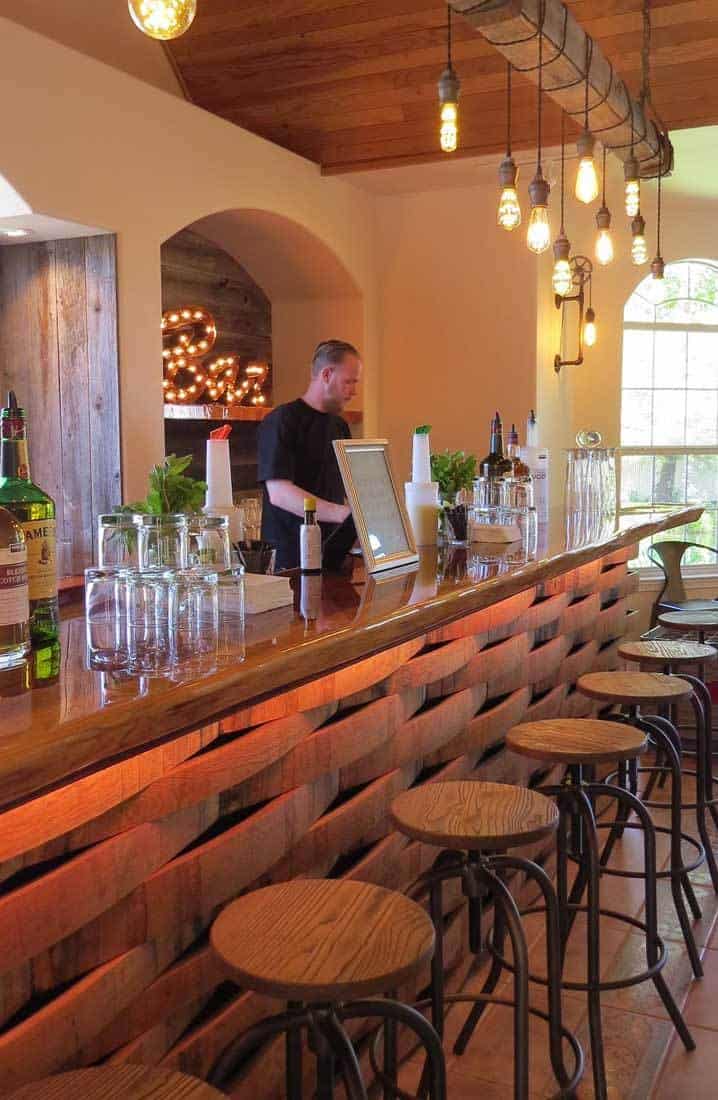 Our custom bar has decor and items that save you $1,000 – $3,000. Custom 21′ single-slab live-edge redwood bar with under-lighting, custom 14′ L-shaped redwood bar, kegerator holds two "slim sixth" pony kegs with double taps (CO2 is provided). Kegs and CO2 cylinders are recycled. Wine refrigerator, commercial 3-basin bar sink, extra-large ice chest, 14 bar stools, custom wine barrel trash cans, custom lighted "Bar" sign, custom-built light fixtures featuring reclaimed hand-split redwood posts, hanging Edison lights with a dozen different shapes, sizes, and filaments, custom-made black iron light sockets hanging from a vintage-looking twisted cloth-covered wire. This hangs from a large vintage rusty chain, custom-made black iron pipe sconces with Edison lights, and LED track lighting highlights the back bar used for decor, glass display, and wine display. The front of the bar features wine barrel staves treated with bee wax and oil in a basket weave horizontal pattern. A vintage redwood bridge timber with spikes stands in an alcove with a lavender floral display and lighting from above. A large sliding barn door separates the bar from the Ballroom. We're big on reveals, so when the barn door slides open to welcome your guests, it's a new area they haven't seen until that time. The L bar has been used in many ways – from a place for desserts, beverages, wedding gifts, specialty drinks, and more.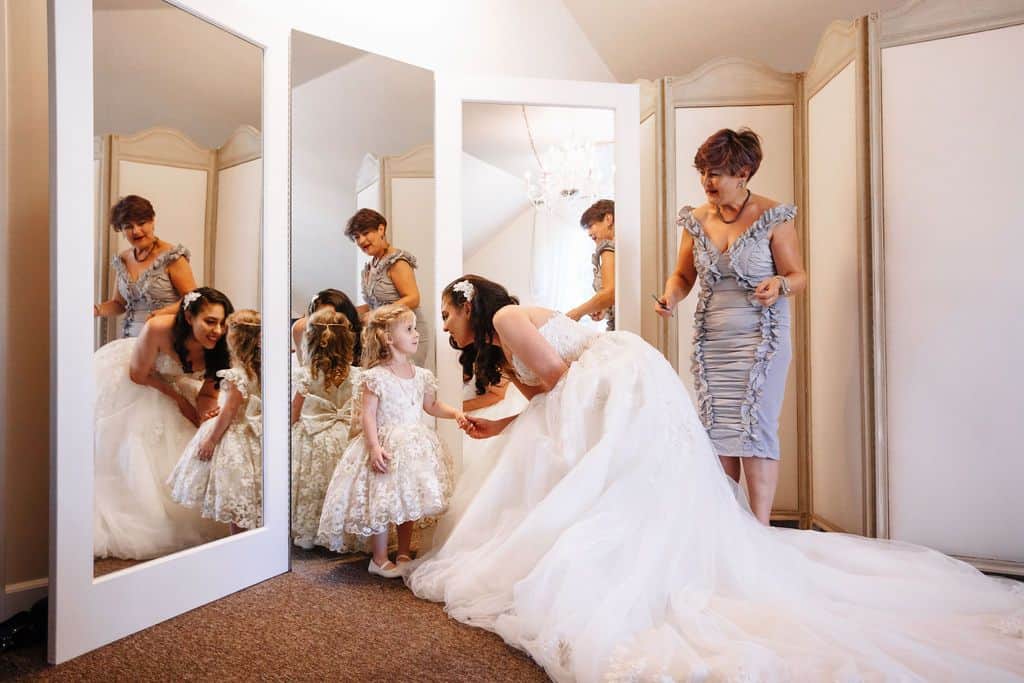 The Oasis has decor, rentals, and inclusions that save you $1,000 – $3,000. Full-length gorgeous tri-fold mirror so you can get ready and see yourself at all angles. Beautiful crystal chandelier hanging from a vaulted ceiling, four makeup stations with softly lighted mirrors, two directors chairs for the hair and makeup vendors, a large semi-circle white couch and chairs, and views of the pond and lawn through a large picture window (great for photos!) Extra high rods in the closet for long dresses, Iron, ironing board, and steamer for last-minute details. There is a small refrigerator to store snacks, wine, champagne, or whatever you like, a folding modesty screen for your comfort, and a private bathroom away from other guests or vendors.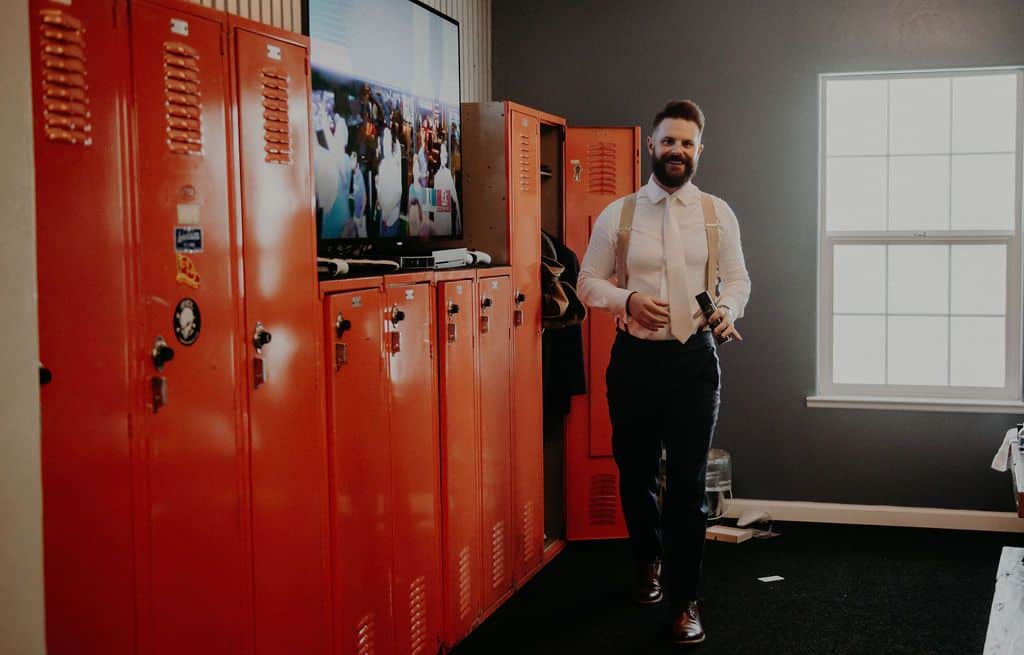 The Hangout has games, inclusions, and decor that save you $1,000 – $2,000. Custom poker table made from recycled electrical wire spools, Six metal chairs and two large couches, Shuffleboard, Foosball table, three huge TVs, and an Xbox, Custom benches made from recycled beams with steampunk-inspired galvanized pipe fittings, and recycled aluminum plate feet, Mini Refrigerator, Custom-made, recycled, orange lockers from the Cordelia Fire Station, Custom made stained glass window (great photo opp), Sliding mirror wall, Three-door sections slide to the right or left. Both sides are mirrored so those in the Hangout can check to ensure they are looking their best. Custom faux pressed tin ceiling, Corrugated steel wainscoting with recycled barn wood and small mirrors in the knotholes, Bathroom with a steamer, iron, ironing board, Galvanized trash pails, Custom cabinet with vintage games.
The Smokin' Olive Lounge (our designated smoking area) has decor items that save you $500 – $1,000., Three custom wine barrel tables with umbrellas, tabletops made from recycled wood, 12 distressed orange bar stools (matching the lockers inside The Hangout), a custom cigar bar, bistro lighting, and it is surrounded by olive trees in galvanized troughs for privacy.
We Value Transparency & Honesty
Does this sound amazing?
We know it's information overload, but we'd rather you know all the details about our venue now. Please scroll down to see our packages and pricing.