Mountain House Estate is a top choice for couples searching for Napa Valley wedding venues vineyard wedding venues in Northern California.
You deserve a
stress-free

wedding with customizations & options.
here's why you'll love mountain house estate:
– 40 private acres with rolling hills & redwood/oak trees
– your wedding, your way. byob & byo vendors (including food trucks)
– outdoor and indoor ceremony and reception locations
– gorgeous dressing suites
– custom-designed lighting, decor & rentals
– unlimited photo opportunities
Why couples looking in Napa choose Mountain House Estate
You want to have your wedding in wine country without a crazy price tag
You want to have your ceremony and reception in the same place with indoor and outdoor options
You want a romantic setting that is off the beaten path
Mountain House Estate, outside of Sonoma, is the perfect ranch wedding venue to escape to for your local destination wedding. Known for our relaxed vibe and flexibility, here are a few things our wedding couples love about our venue:
Multiple indoor and outdoor ceremony and reception locations (great for social distancing) and indoor options for inclement weather
No hidden fees, no unwanted surprises down the road from us like some outdoor wedding venues
We operate exclusively as a wedding venue, meaning you have our undivided attention (read more here)
We have a gorgeous bridal suite with a trifold mirror and a large area to do your hair & makeup
We have an amazing groom's room with video games, large screen tv, and more.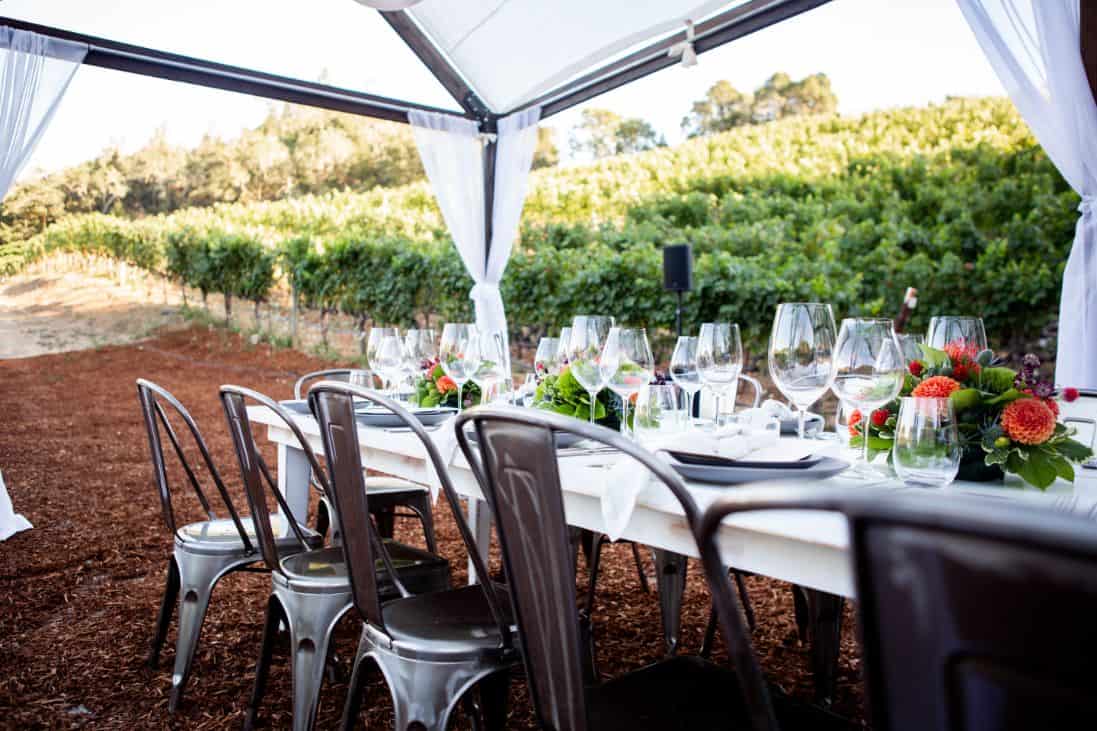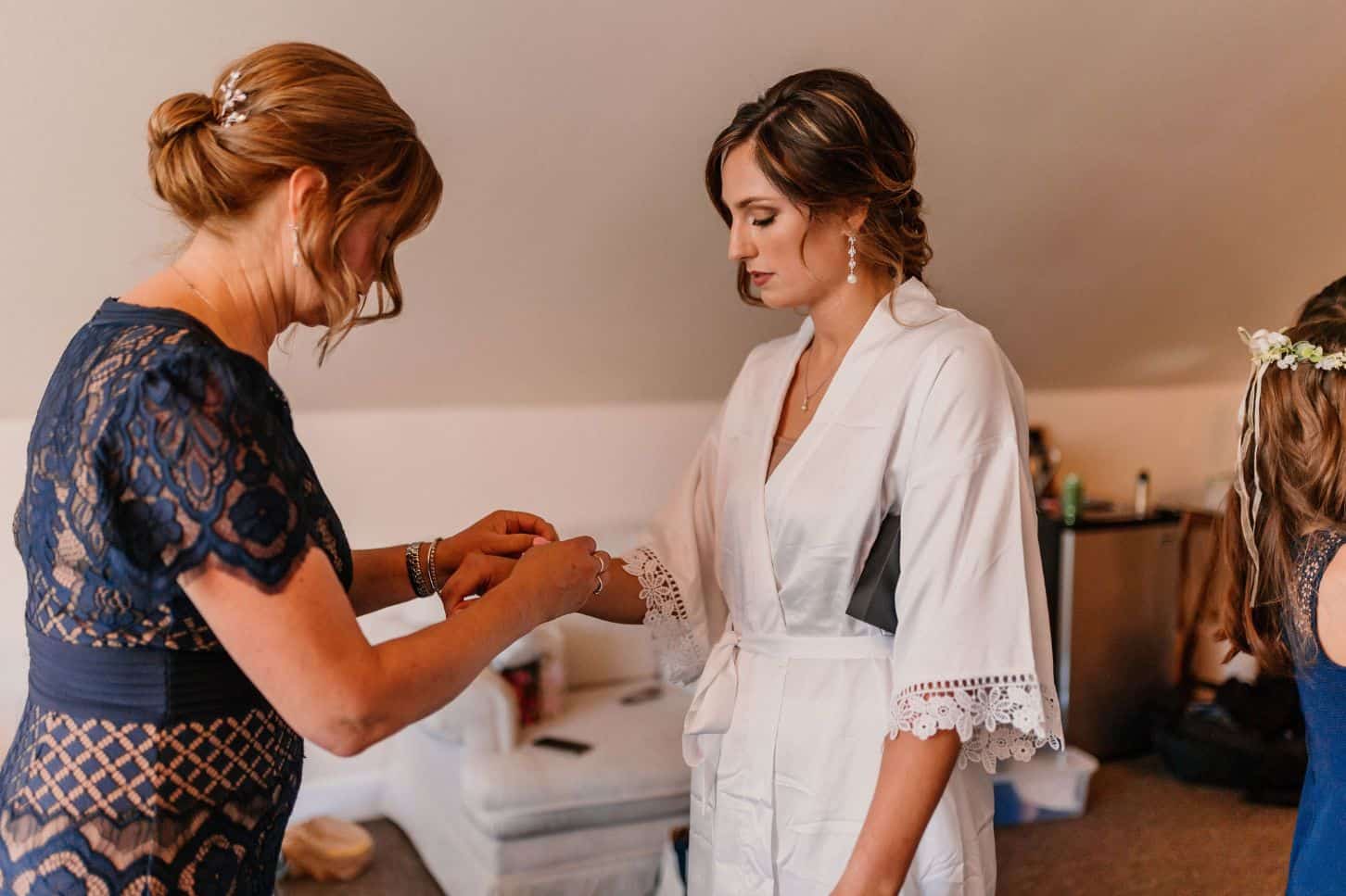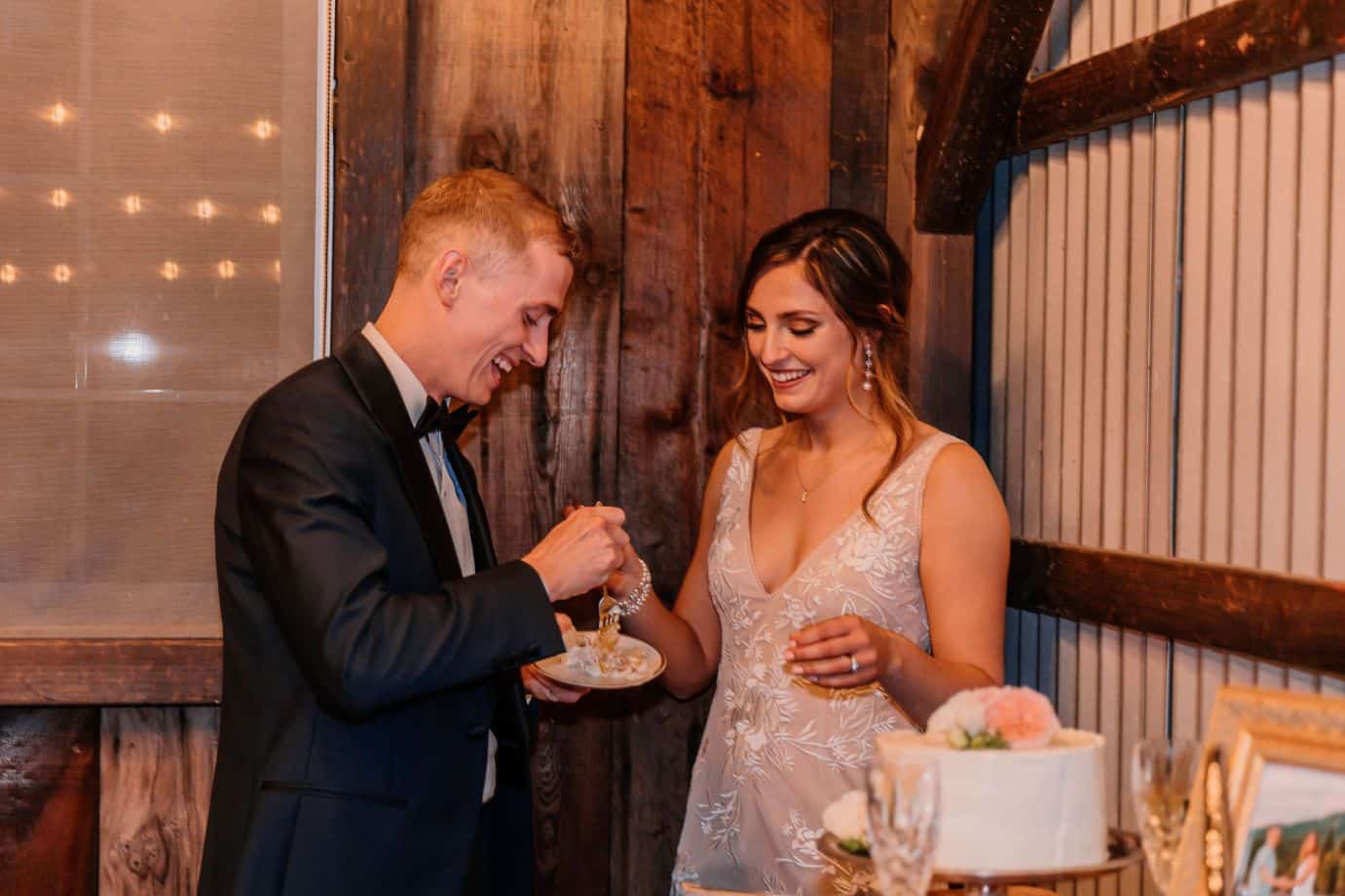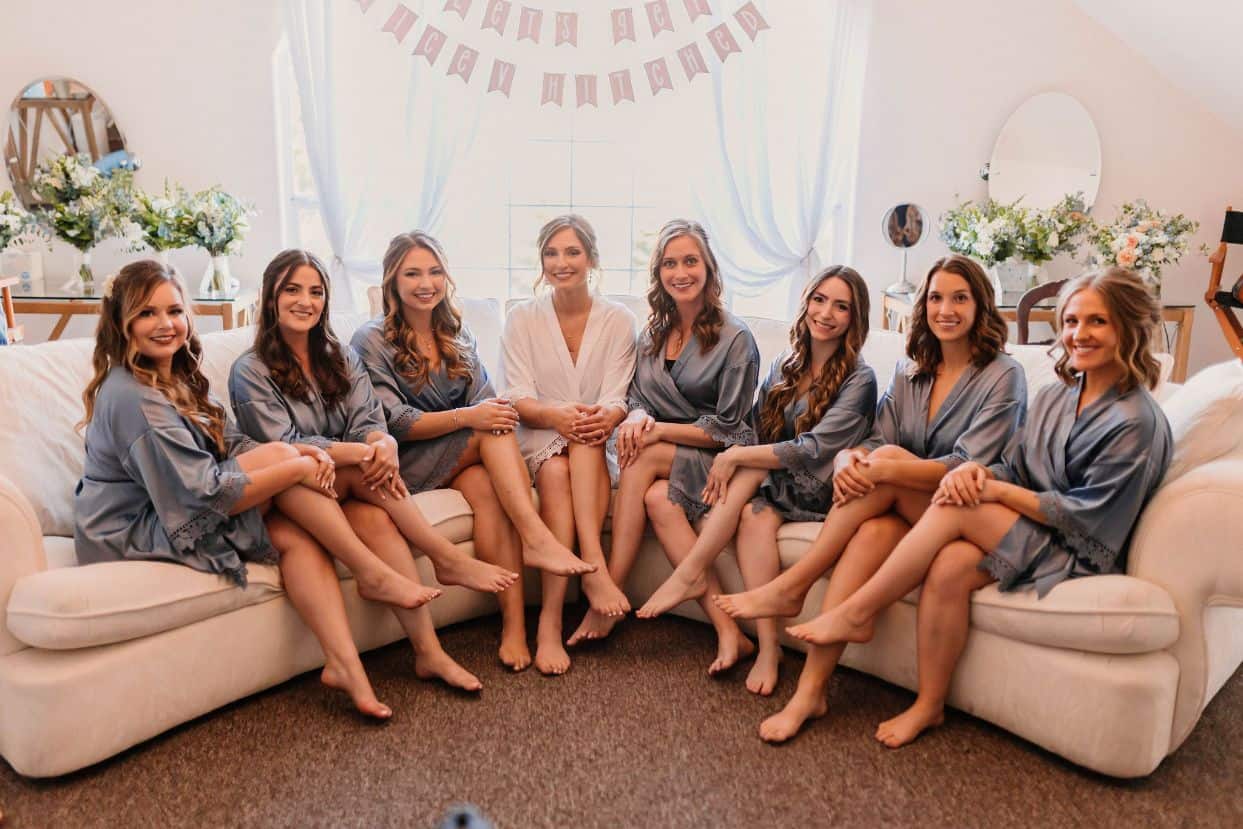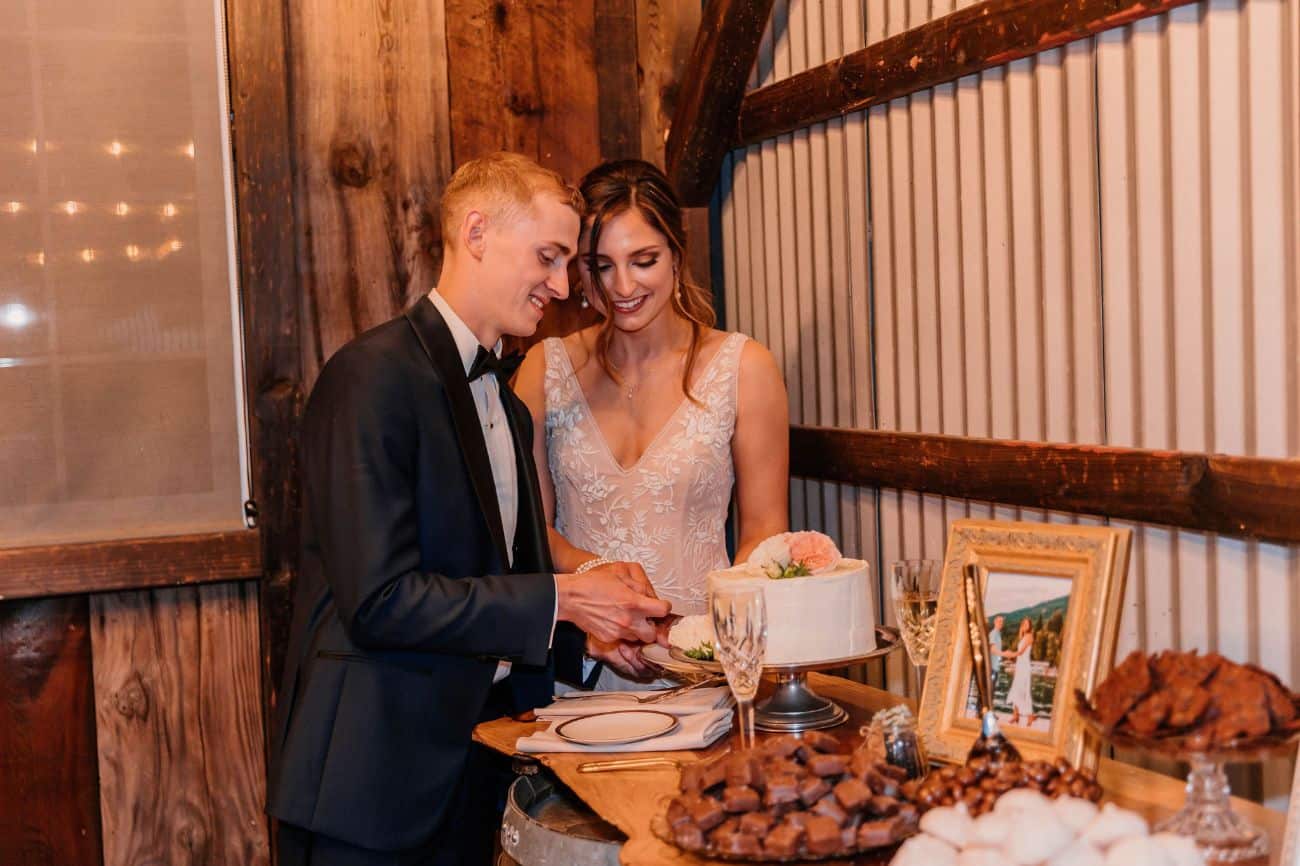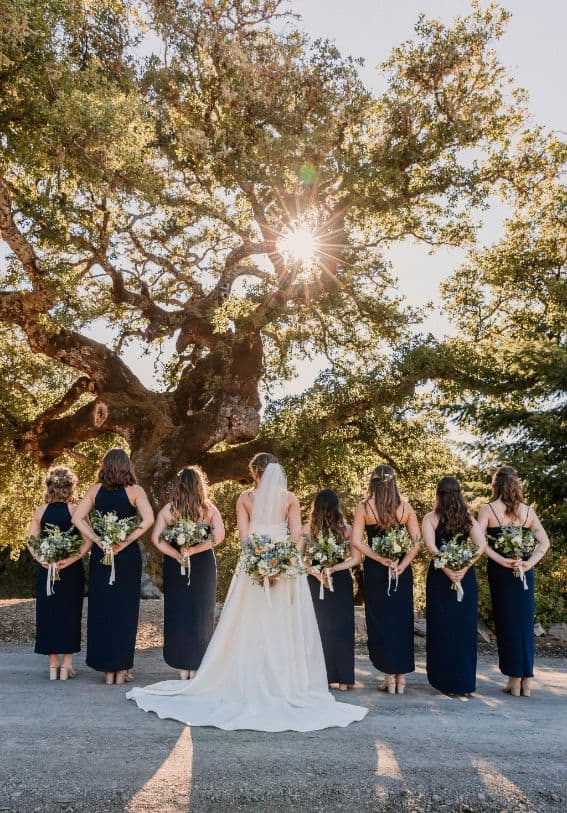 Where is the best place to look for a wine country wedding?
The best place to look for a wine country wedding is in Sonoma, where the price tag is smaller than in Napa, and you have more flexibility with venues and budget.
Where is the best place to look for vineyard wedding venues?
We also recommend Sonoma to search for vineyard wedding venues for the same reason as above: budget, flexibility, and venue choices.
We wish you all the luck and love in the world in finding the perfect venue + your happily ever after 🧡
Maybe you're a California wine aficionado, visiting wine country vineyards in Napa and Sonoma on the weekends. If you've just started wedding planning, perhaps you're dreaming of an alfresco reception dinner at a historic estate, wine caves, or a vineyard in Napa and Sonoma to host your wedding ceremony and outdoor reception with a backdrop of wine country and a gorgeous terrace.
Wherever you are in your wedding planning journey, we want to help you in your quests for wedding venues in Napa/Sonoma.
1. Wedding venues in Napa are very, very expensive.
If you're looking for affordable venues, you're not going to find them in Napa wine country or the surrounding area. Because Napa, CA is a popular destination with a brand name, weddings tend to be on the pricier side. Some of the Napa wineries even cost more just for tastings.
How much does a Napa wedding cost?
Want to know how much does a wedding in Napa Valley cost? The starting price for just your wedding venue and 100 guests can cost around $13,000-$18,000 for the least inexpensive option without any inclusions. If you want the wine country wedding experience without the price tag, a venue on the outskirts of Napa/Sonoma can be a more affordable option.
2. Only a few winery/vineyard locations can hold a wedding in Napa.
Can you have a wedding in Napa? Are weddings allowed in Napa?
Yes, but you're only going to find a handful of winery locations in the area that are legally allowed to operate as an event space in Napa, CA due to an obscure law enacted way back in 1989.
That law, the Winery Definition Ordinance (WDO) prohibits weddings at wineries, leaving all but a few (that were grandfathered in) to hold them.
These wineries charge a premium for the right to hold your nuptials there, making these venues the exact opposite of an affordable wedding venue.
Where can I get married in Napa Valley?
Napa Valley was severely impacted by wildfires in 2020, which forced some beloved wedding venues (including Calistoga Ranch) to close their doors for good. However, there are still a few venues that can host weddings in Napa, CA, and St. Helena.
Auberge du Soleil – Resort & Restaurant
Culinary Institute of America

The starting cost of a wedding at the Culinary Institute of America is $8,250 for 50 guests ($165 per guest) and does not include alcohol.

Charles Krug Winery (Private Estate Winery, Vineyard, and Historic Landmark)

The rental fee starts at $8,000 for just the venue (no catering, alcohol, decor, etc.) The Historic Carriage House which dates from 1881 offers a completely renovated Ballroom and Dining Room.

Farmstead at Longmeadow Ranch – Restaurant, Garden, Wedding Venue
Hotel Villagio – Resort, Spa, and Restaurant
Hiddenbrooke Golf Club (Golf Course/Country Club)
Silverado Resort and Spa
Some also search for the Castello di Amorosa wedding cost, which if you didn't know, the castle was tragically affected by the 2020 fire :(
3. Hotel and food expenses are outrageous in Napa/Sonoma.
Also, knowing that there are only a handful of wineries that can legally host weddings, the surrounding hotels in Napa/Sonoma charge some of the highest rates per room in the entire country and may require a minimum two-day booking.
If you have lots of money to spend, a Napa wedding may be for you.
But if you'd rather spend your money on a great wedding experience instead of markup wedding venues and hotels, you may want to look in the outskirts of Napa and Sonoma or elsewhere.
The national average hotel room rate is $100.00. The average in Napa? $325.00. That's 3.25 times higher, a financial burden that you'll be putting on all the wedding guests you invite to your Napa wedding. And you won't find any cheap hotels or motels either – they don't exist there. But not far north, the average hotel room rate in Sonoma is $148 as of July 2021. So if you're deciding between Napa/Sonoma, Sonoma is more affordable.
4. Napa is heavily trafficked with tourists.
Long lines of tourists in their cars on the two-lane Highway 29 is a harsh reality. It's the only highway that travels the length of Napa, serving all the small towns (Calistoga, Rutherford, St. Helena, Yountville, and Oakville) as well as the city of Napa itself. You'll find long lines at any reasonably priced eatery, like the famous Gott's Roadside in Napa.
What do locals do? They don't travel in the mid-afternoon when your guests will be trying to get to your Napa wedding. They use winding back roads unknown to anyone who doesn't live in Napa Valley. We have dozens of stories about guests missing the wedding ceremony because they were caught in traffic trying to get to the event space.
Napa has been overrun by corporate America.
Years ago, visiting St. Helena was like 'going out to the country' but, these days, it's more like a corporate urban area with nice decorations.
Gone are the days of the little old winemaker selling his wine, made from his grapes. He's been replaced by corporate wineries that have more in common with Las Vegas Casino's than they do with farming.
Your wedding may not be the rustic, authentic, & elegant experience you desire – so keep this in mind in your search for venues.
5. The weather is fickle, at best.
If you've ever had the pleasure of seeing a sunset on a beautiful day, you know that it can be spectacular. The problem is, the river is part of the San Francisco Bay, where the weather can be as fickle as a feather, with fog and cold that can roll in and stick around for days on end.
St. Helena and Napa, CA wedding venues are highly sought after.
Wine country, rolling vineyards, bookend mountain ranges, and sunsets that will blow your socks off are some of the reasons why Napa, St. Helena, and Napa Valley are most coveted for weddings – and there is certainly a lot to like.
But if you're thinking about a wine country wedding or searching for Napa venues in St. Helena, you may want to think again.
Rather than a dream Napa wedding, it could turn out to be more of a nightmare for you, your family, and your friends.
Keep reading to learn 6 reasons why a Napa wedding and wedding venues may not be a great fit for you so that you can make the best decision for yourself. After all, you only get one chance to do your wedding.
It's one of the reasons the area is great for growing wine grapes. But if one of those days happens to be the day you picked to exchange vows at your wedding venue of choice, well, let's just hope you and your guests brought sweaters.
6. Small, intimate, and tiny wedding venues in Napa and Calistoga don't exist.
Looking for small wedding packages at an event space or a Napa Valley elopement package? There's practically no such thing. As we mentioned, there are only a handful of winery wedding venues to choose from, and they aren't exactly small or intimate.
Plus, with only a few available, you'll need to book your wedding far in advance! There's so much demand for wedding venues and the immediate surrounding area, including Sonoma, that booking a wedding venue means planning at least a year out, if not longer.
7. You'll find a number of wineries that will not let you have your ceremony, just your wedding reception.
Dreaming of that indoor and outdoor ceremony and reception at one location? Think again! Many wineries require that you have your wedding ceremony at a different location. But why do you have to have your ceremony elsewhere?
They are trying to skirt the Ordinance. But if they get caught, what will happen to your wedding plans? It might ruin your special day. You might possibly have to rehire your wedding vendors, change your wedding date, your rehearsal dinner, and redo all your wedding planning.
Don't trust Airbnb or VRBO to host your wedding.
Another sketchy trick is for some short-term rentals (Airbnb, VRBO) to offer you a space for your wedding and some guests to stay the night. They are trying to skirt not having the proper permits to host events, by saying they only rented the rooms and you are having the reception.
Of course, if they were just renting the rooms and space to you, but charged you more money for ceremony and reception, what is everyone going to tell the governmental officials when they show up at this private estate or home? Not a great interruption to your wedding ceremony or reception!
Napa is the destination for wine, not weddings.
In the wine world, Napa Valley is one of the most coveted destinations. A famed retreat for wine aficionados and tourists alike, the region is home to countless wineries and thousands of acres of vineyards.
Event venues in Napa take advantage of these gorgeous outdoor features to create picturesque ceremonies – at an unbelievably high cost. It's no surprise that most of the wedding venues that exist are wineries.
Is there an affordable wedding and event venue in wine country or Northern California?
Go ahead and scratch any winery venue and wines caves off your wedding venue list (wine caves are dark and damp, anyway). If you have your heart set on a winery and terrace, you can still look elsewhere.
P.S. – you can have wine at your wedding at Mountain House Estate (and we're BYOB).
A winery will typically charge outrageous corkage fees anyway. We also offer the option to host rehearsal dinners.
Although, we advise against having your wedding at a California vineyard, winery, resort, hotel, historic property, spa, barn, or golf course.
Which is better Sonoma or Napa?
Napa is certainly more expensive and has the "branding" appeal, but Sonoma is more spread out, less expensive, and usually less crowded. Sonoma has a more laid-back style than Napa.
Searching for an outdoor wedding venue in California?
If you're searching for an affordable wine country wedding venue, a smaller wedding venue, an elopement wedding venue, or an outdoor venue only, you can search on The Knot, but it may be overwhelming.
Your event reception can take place at a vineyard, hotel, winery, banquet hall, garden, or wherever else your heart desires.
Another plus about going somewhere besides Calistoga, Napa, or American Canyon if you're looking for wedding venues is that you can actually find smaller wedding venues and more affordable destination wedding and event spaces.
In the Anderson Valley in Sonoma County, for example, the countryside is beautiful and there are plenty of winery event venues to choose from for your ceremony and reception.
You'll find event spaces with wedding packages in Sonoma, Alexander Valley, Geyserville, Healdsburg, and Cloverdale – all excellent choices as well, with affordable hotels, far less traffic, mountain views, and a 'country experience'.
UPDATE: It's with heavy hearts that we inform our readers that Calistoga Ranch burned in the 2020 Glass Fire.
Can you have a wedding in Napa Valley?
Yes, you can have a wedding in Napa Valley but it does come with lots of restrictions and stipulations as laid out in this blog including that only a handful of Napa venues are even allowed to host weddings.
Can you have a wedding at a winery in Napa?
You can, but be prepared to see unwanted guests, pay corkage fees, and have an inauthentic experience if you have your wedding at a winery in Napa.
Here are some more Napa and St. Helena Wedding Venues
If you've taken a tour of Mountain House Estate and wish to choose another venue, here are some other beautiful options.
Crocker and Starr Winery
700 Dowdell Ln, St Helena, CA 94574
Meritage Resort
875 Bordeaux Way, Napa, CA 94558
Merryvale Vineyards (vineyard views)
1000 Main St, St Helena, CA 94574
V. Sattui Winery
1111 White Ln, St Helena, CA 94574
Beringer Vineyards
2000 Main St, St Helena, CA 94574
Charles Krug Winery (historic Carriage House)
2800 MAIN STREET, ST. HELENA, CA 94574
Sea Ranch Lodge
60 Sea Walk Drive, The Sea Ranch, CA 95497
Meadowood Napa Valley (sadly affected by the Glass Fire)
900 Meadowood Ln, St Helena, CA 94574
Hotel Villagio
6481 Washington St, Yountville, CA 94599
Calistoga Ranch
580 Lommel Rd, Calistoga, CA 94515
River Terrace Inn
1600 Soscol Ave, Napa, CA 94559
Culinary Institute of America
500 1st St, Napa, CA 94559
Churchill Manor Napa
485 Brown St, Napa, CA 94559
Triple S Ranch
4600 Mountain Home Ranch Rd, Calistoga, CA 94515
Napa Valley Inn
Vintners Inn / Vintners Room
How do I pick out the best among so many Napa Valley wedding venues?
That's tough! The best way to narrow down Napa Valley wedding venues is to think about what you want your guests to experience. Do you want a large ceremony space where people can mingle and dance? Or do you prefer smaller, more intimate spaces for the ceremony and reception?
Do you want your ceremony to be outside? Or inside with an open-air feel, where guests can still see the sky and stars?
Why should I not choose a wine cave, winery venues, or winery weddings?
We'll keep it short. Wine caves are dark and horrible for photos. Winery venues usually force you to buy their wine and there may be unwanted guests. They also often charge corkage fees. You see, they are a WINERY first, not a wedding venue first (like us!). Their bottom line: sell wine.
Why do so many people search for Napa Valley weddings?
Napa is a name known everywhere, so it comes with prestige. People search for Napa Valley weddings for that reason or because they associate it with wine country.
Where can I look at more Napa weddings?
The best place to look at Napa weddings is on Google, The Knot, and WeddingWire. You can see different styles, themes, and colors for Napa weddings and narrow down your preference.
Get with a wedding planner to help you pick your perfect venue.
If you're on the hunt for an event space that hosts rehearsal dinners, has a gorgeous garden, all-inclusive wedding package, olive trees, a banquet hall, winery, vineyard, hotel, resort, catering outdoor wedding reception area, or whatever else your heart desires, we recommend hiring a wedding planner. They can help you pick the perfect venue, whether it's in Sonoma or elsewhere in Northern California. Some specialize in winery wedding venues and other reception event spaces.