San Francisco Food Truck Wedding
& Bay Area Food Truck Catering Wedding
San Francisco Food Truck Wedding & Bay Area Food Truck Catering Wedding
Mountain House Estate is one of the few Sonoma county wedding venues that can host a food truck reception. As a matter of fact, most Northern California wedding venues don't offer that option. If you're here reading this, you've likely considered having a food truck at your wedding to create a unique vibe and atmosphere.
What once were the homes of short-order cooks are now the domain of exceptionally talented chefs offering the foods of every ethnicity, as well as tasty treats including ingredients that are often organic, vegan, and farm to table. Mountain House Estate offers greater San Francisco Food Truck Wedding & Bay Area Food Truck Catering Wedding and somewhat started the trend in wine country. We even have a designated pad for those wanting to incorporate food trucks into their wedding or event. Here are a few things to keep in mind:
Location, location, location
Our beautiful paved location is a relatively good size for parking a few food trucks. We have found that seating for guests is best set away from the vehicles. You may scatter a few cocktail tables nearby, but because of generator fumes you want dining a little farther away, generally in proximity to the dance floor and DJ.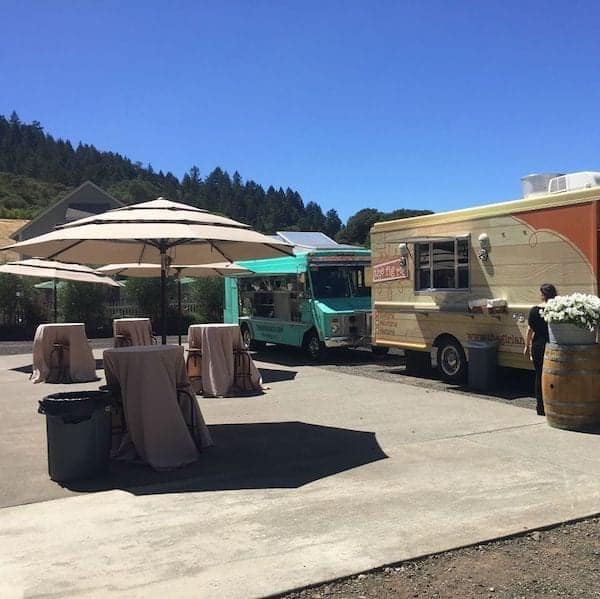 Timing Is Everything
Food trucks can be fun for unique late-night snacks or a light cocktail reception. However, if you are considering them for the main event, you want to make sure to have several trucks, so guests have variety and aren't left waiting for food.
Picking Your Menu
Much like designing any reception menu, you want to keep your selections in mind. While a total tailgating party can be fun, you want to think about options to please all of your guests. Include not just snack type foods but some salad, and side dish options, maybe some vegetarian options too. Be sure not to go with all spicy or fried foods. You know your family and friends better than anyone.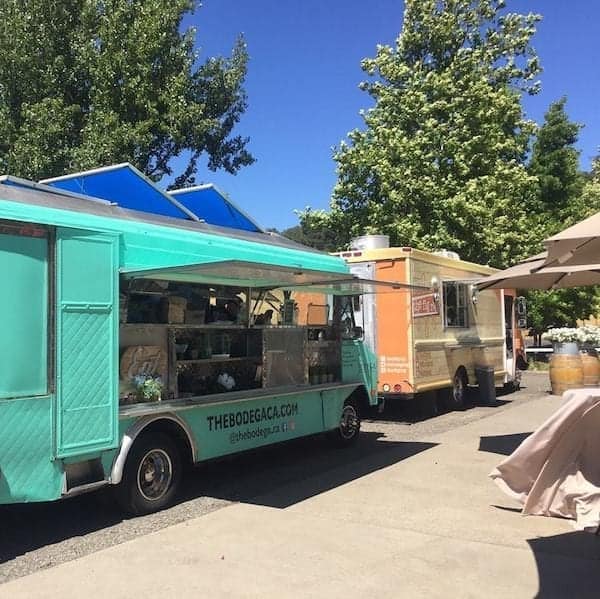 Time Of Year
Keep in mind that while most days of the year here in the Mendocino and Sonoma wine regions are relatively comfortable, in our cooler seasons, the guests will be standing outside while ordering their food. Your San Francisco food truck wedding or Bay Area food truck catering wedding would be best off in the spring, late summer or early fall months.
Service
While the companies providing the food do a great job of serving their food, you may need staff to set up tables, to clear dirty dishes, and pick up trash. You will still want to consider your beverage service and a licensed and insured bartending company for your alcoholic beverages.
Thinking of Having a San Francisco Food Truck Wedding or Bay Area Food Truck Catering Wedding?
Food trucks can be an excellent addition to your event; they take a little thought and planning. Be sure to ask our Mountain House Estate team about our designated food truck area. We are happy to share recommendations, companies we have worked with, and suggestions for what has worked well.