Tools & Resources to Search for Wedding Venues in Northern California
Searching for wedding venues in Northern California? Start here!
Planning

Tools & Resources
You deserve a
stress-free

wedding with inclusions & benefits.
As a bride, you want nothing more than an intimate outdoor ceremony with all the natural splendor that wine country has to offer – 40 beautifully landscaped acres complete with ancient Oak trees and Redwoods, manicured lawns, and a pond,  framed by majestic rolling hills as far as the eye can see. You'll have access to our entire property, including multiple indoor and outdoor ceremony and reception options. Husband and wife team John & Lane work diligently to keep their property pristine for you, making it one of the most rustic and elegant wedding venues in Northern California.
– our wedding venue highlights:
multiple ceremony + reception  sites
gorgeous bridal suite + ready rooms
BYOB + spirits, food trucks allowed
chairs, tables + decor options
BYO vendors
no hidden fees, upfront pricing
"Mountain House Estate is the first and only venue I needed to look at it. It was love at first site! From the
absolute perfect

and beautiful scenery to working with John and Lane."
Our Oak Tree Terrace offers an intimate setting for small or large gatherings and is truly a unique setting compared to other ceremonies at wedding venues California. The rolling green hillside freckled with trees will be the perfect place for your guests to stroll between the ceremony and the reception and talk about how beautiful your wedding is.
As the night moves on, enjoy a drink and appetizers in the bar area with a magnificent live-edge redwood bar top and an alluring wooden ceiling. End your evening by dancing under the stars in the landscaped patio with sparkling lights or you can create your own dance club atmosphere inside the Grand Ballroom.
– our amenities include:
separate dressing areas (bridal suits & grooms room)
a spacious dance floor  & a podium and/or stage
tables and chairs, outdoor market lighting
full kitchen facilities & a large parking lot
air-conditioned and heated indoor ceremony and reception locations
patio lounge furniture, bistro lighting, market umbrellas (10)
on-site venue manager on the day of your wedding
– tools to help you pick the best venue
Questions to Ask a Venue Before Taking a Tour
Here are some common FAQs from WeddingWire for wedding venues in Northern California and our answers.
There are many sources of information on the web to help you plan your wedding.  We thought we'd answer some of the essential questions to ask before you book any wedding venues in Northern California.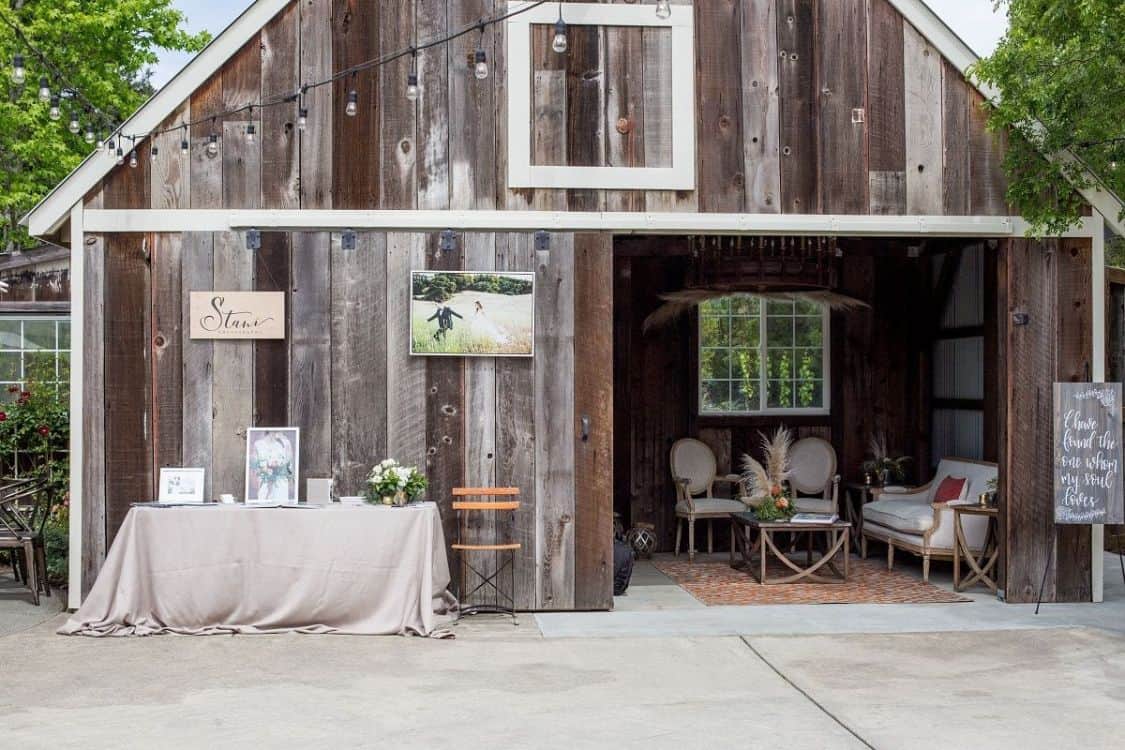 1. Is Mountain House Estate available on your target date?  
Maybe, but it's always best if you are flexible and simply have a desired month or season.  We recommend that you look to book your wedding venue far in advance if you have a particular wedding date in mind, like 2/2/2022.  In our case, the couple that booked that date booked two years in advance.
2. How much does it cost?  
Prices will vary depending upon the guest count, day of the week, and season. But what you should want to know is the value of our wedding venue or other wedding venues in Northern California? At MHE, when you add up the value of all the features, if you were to rent them and have a wedding in your backyard, what's included has a value above the venue rental fee.  Yup, it's cheaper to have your wedding at our professional wedding venue than it is to have it in your backyard.  And you don't have to go through the effort of making it pretty ahead of time.
Cost if one question, but another is, how is the payment made?  We're a bit unique in that your initial payment is $1500, and then we divide the balance of the fees so that it's a manageable monthly payment.  You'll get email reminders when it's due, and you can pay digitally.  Cash, check, charge?  Sure.  Our goal is to reduce friction and make this easy for you.
3. Is the venue's location convenient?
This question depends on your personal preference. Do you want a venue within a very short drive of home?  Some people do. But consider that most of the local guests will have likely been to the local venues multiple times. How are you going to make your wedding experience different from the others they've attended there?
Click Here to Read Our Favorite Mendocino County Activities to Plan Around Your Wedding at Mountain House Estate >>
Most of the couples that get married at Mountain House Estate are from the San Francisco Bay Area, with others come from a longer distance.  We are in the popular tourist destination of wine country:
 Napa Valley

Alexander Valley

Dry Creek Valley

Russian River Valley

and more
Many couples choose to have a local destination wedding because we are a convenient hour and a half drive from the Golden Gate Bridge. Guests want to visit the wine country in the first place, and you are giving them a good reason to do so.  You can also organize wine country experiences for them to do together while they are in the area.
Click Here to Read Why A "Local Destination Wedding" is the Safest and Best Experience for Bay Area and California Wedding Couples >>
4. What's the venue's capacity?
We host events that have from 2 people (just you) to 250.  We have multiple indoor and outdoor areas, so if you desire to have a more intimate wedding experience, you can use our blank canvas to select sites that suit your guest count.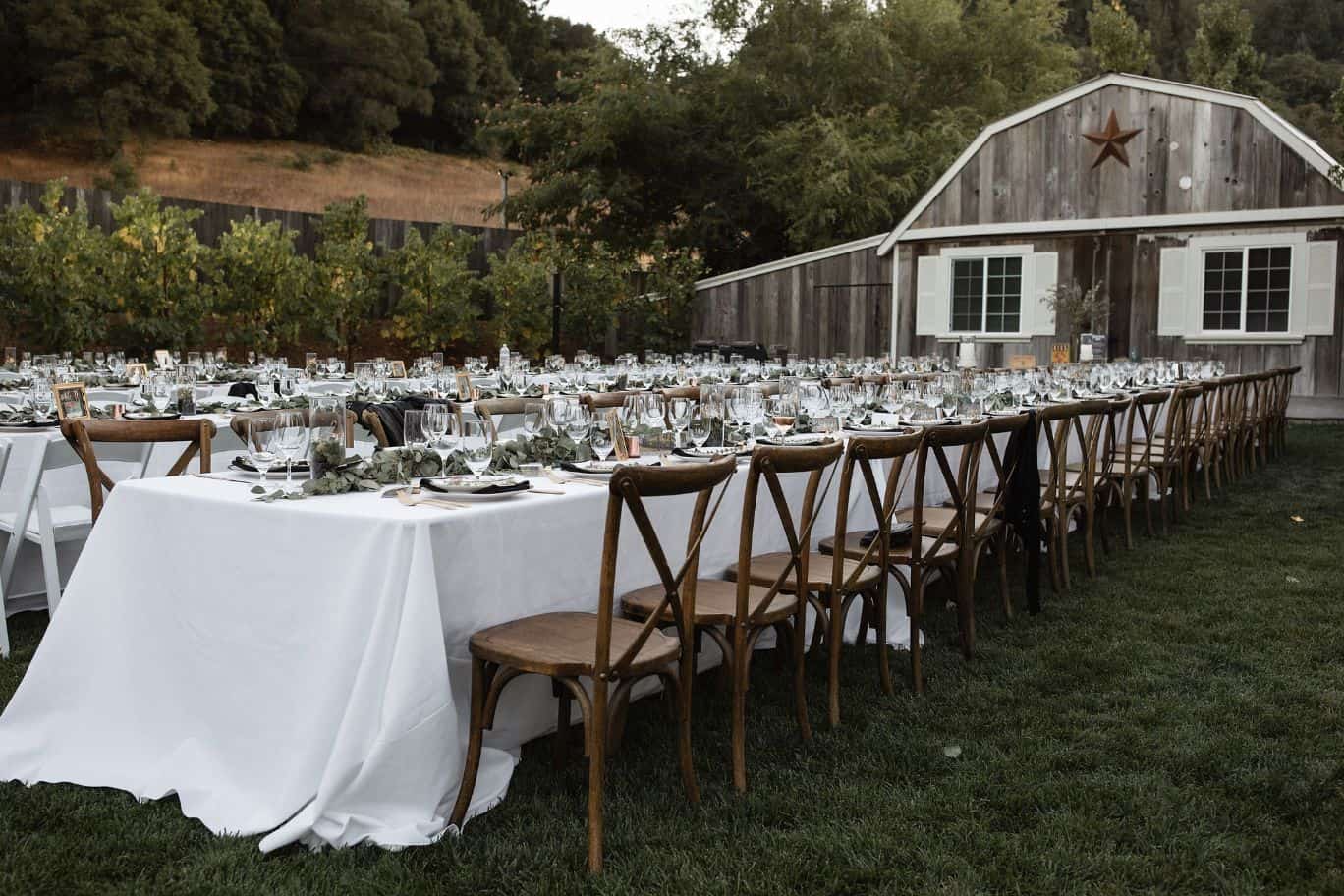 5. What does the venue look like?
As we designed and created the spaces, we kept in mind "Rustic Elegance."  The goal was to create a canvas on which you could paint your perfect wedding day.  We're not an old animal barn where you will house your guests in the animal pens.  We've seen that, and it doesn't work for us.
Click Here to Read Thinking of Having a Rustic Barn Wedding? Think Again >>
No, our ancient barn wood accents and backdrops were fabricated to create a warm and elegant wedding for you. Even better, take a look at the videos and pictures on our website.  Frequently when a couple comes for a tour, we're told that it's even better in person.  See for yourself.
Click Here to Take a Virtual Tour >>
Something we believe is essential, but not mentioned, is to make sure that being a wedding venue is the main or only business.  Many locations have a primary function (winery, lodging, equestrian facility, restaurant), and then it's "Oh, and we also do weddings."  Should your wedding day be an afterthought or the main focus of the venue?  Our primary focus is on your wedding.
Click Here to Read Choose an Event Location that is "Venue Only" >>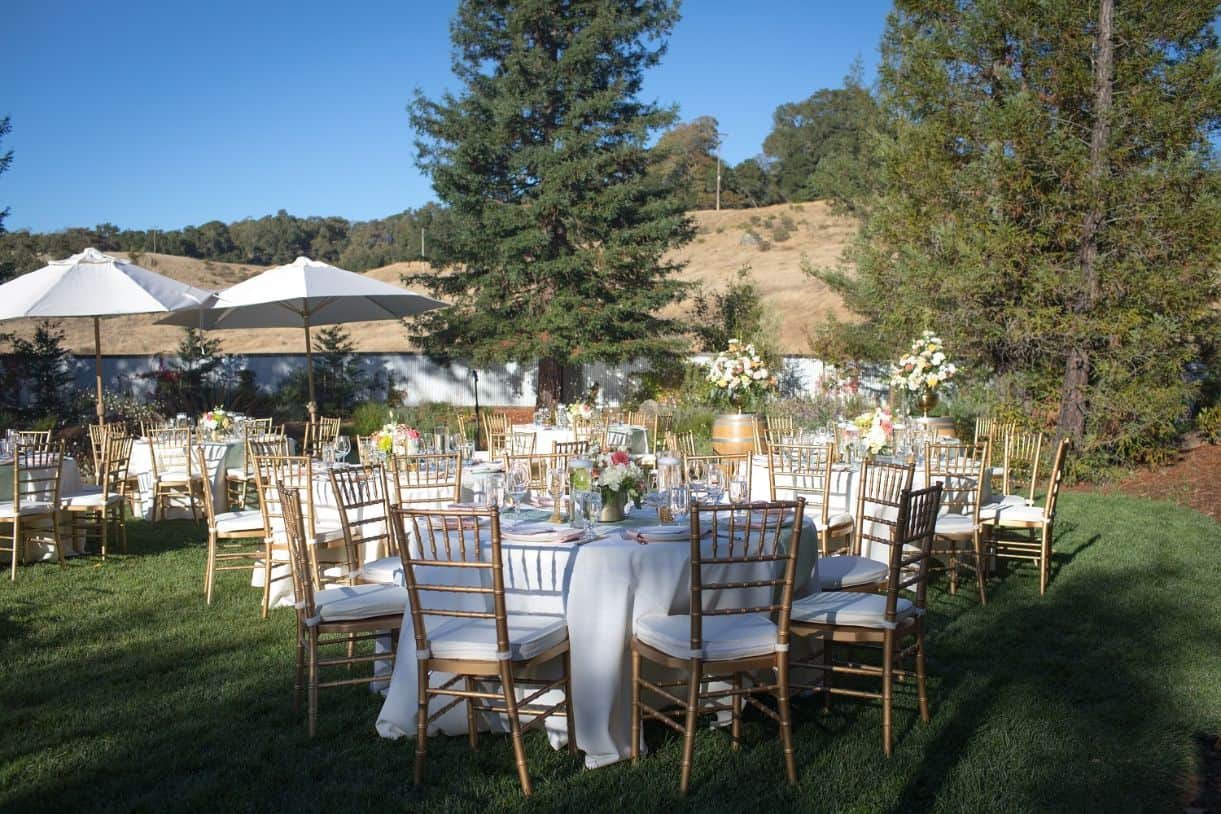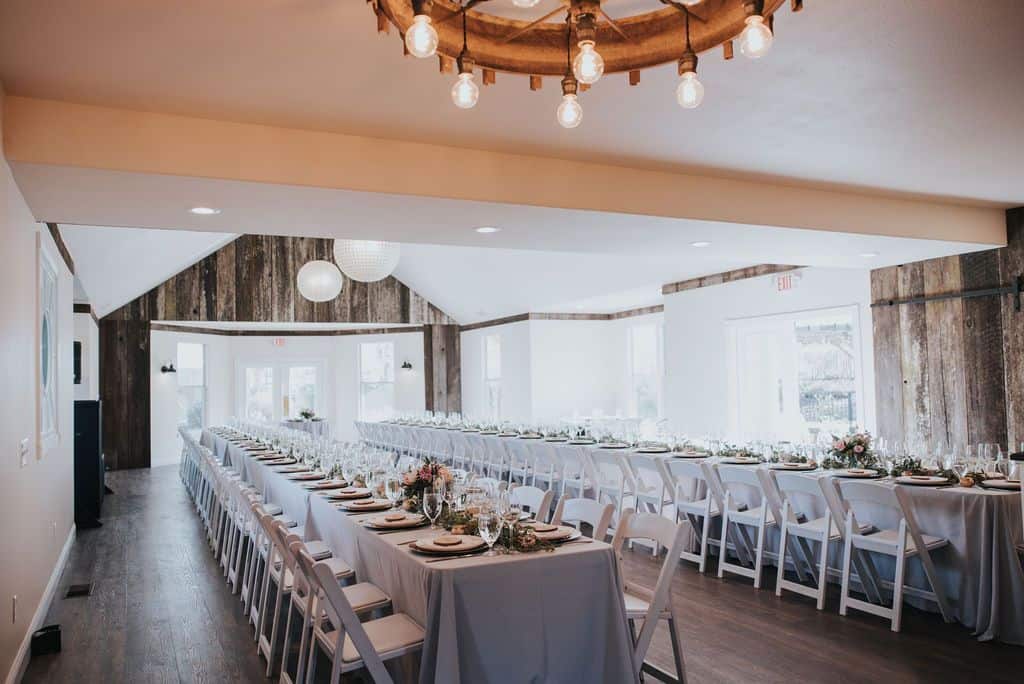 6. How much work will we have to put into decorating the space?
Very little.  Because of the beauty designed into the spaces, minimal decor or florals are needed to create your vision.  We've spaces that are easily transformed into your vision of an elegant, rustic, boho chic, sophisticated wedding day.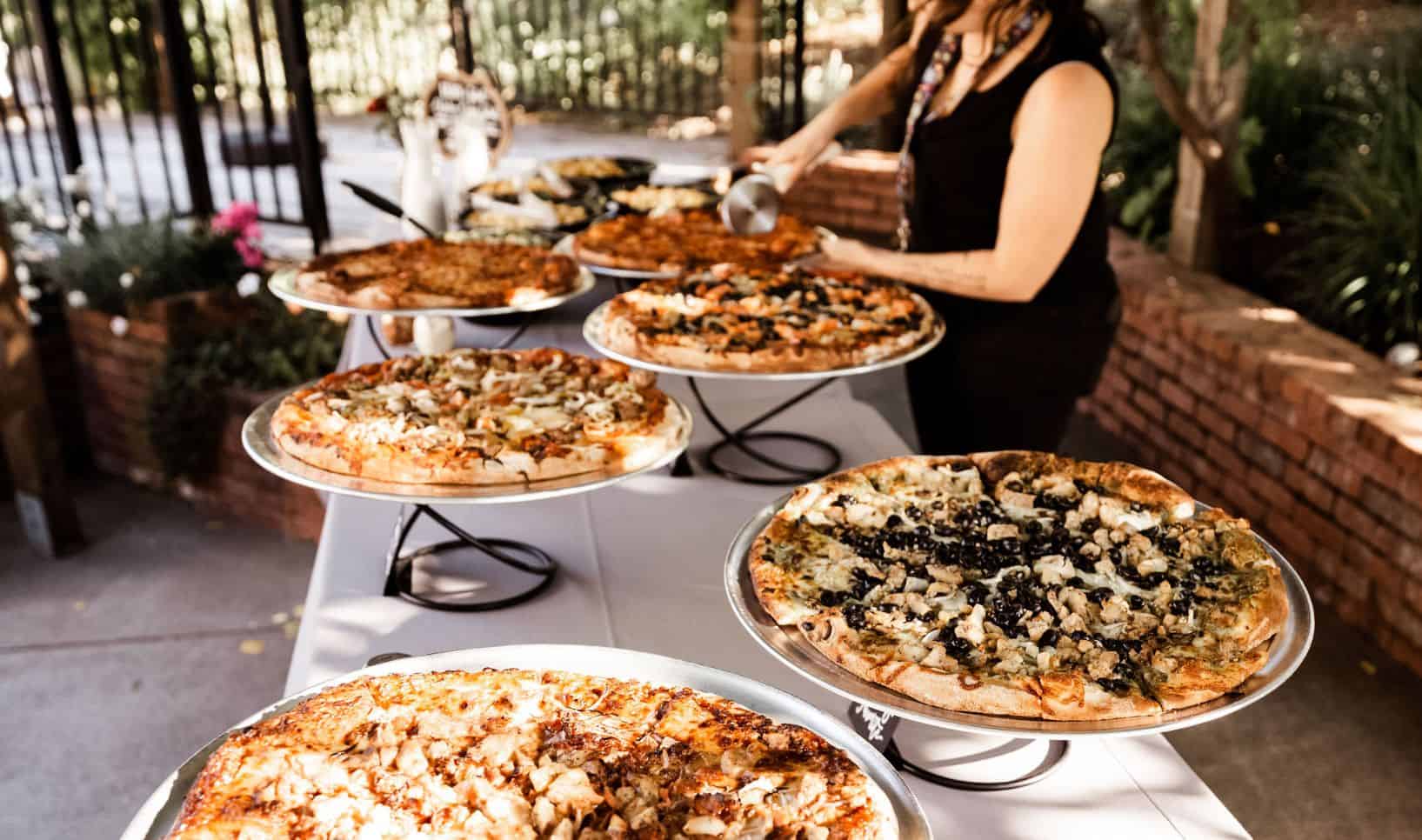 7. What's the catering situation?
The short answer is that we can work with about any caterer. We only work with professionals that have worked here and done a fantastic job.  There's a selection of caterers in all price ranges and styles, such as:
Buffet, taco bar, grazing tables

BBQ

Wood-fired pizza, or have pizza delivered from our favorite Papa's Pizza Cafe.

Plated, multi-course service

Paella – one of our favorites – it's a meal and a show in one.

Food trucks – we have room for up to six at a time.

Seafood, oyster bar

Family style, tasting tables, or fully seated – we do it all.
And, we can offer you an All-Inclusive package if you desire – it's just that ours aren't cookie-cutter. After we chat with you, we team you up with one of the professional Wedding Planners, and after discussing the vision of your wedding day, a customized package is created.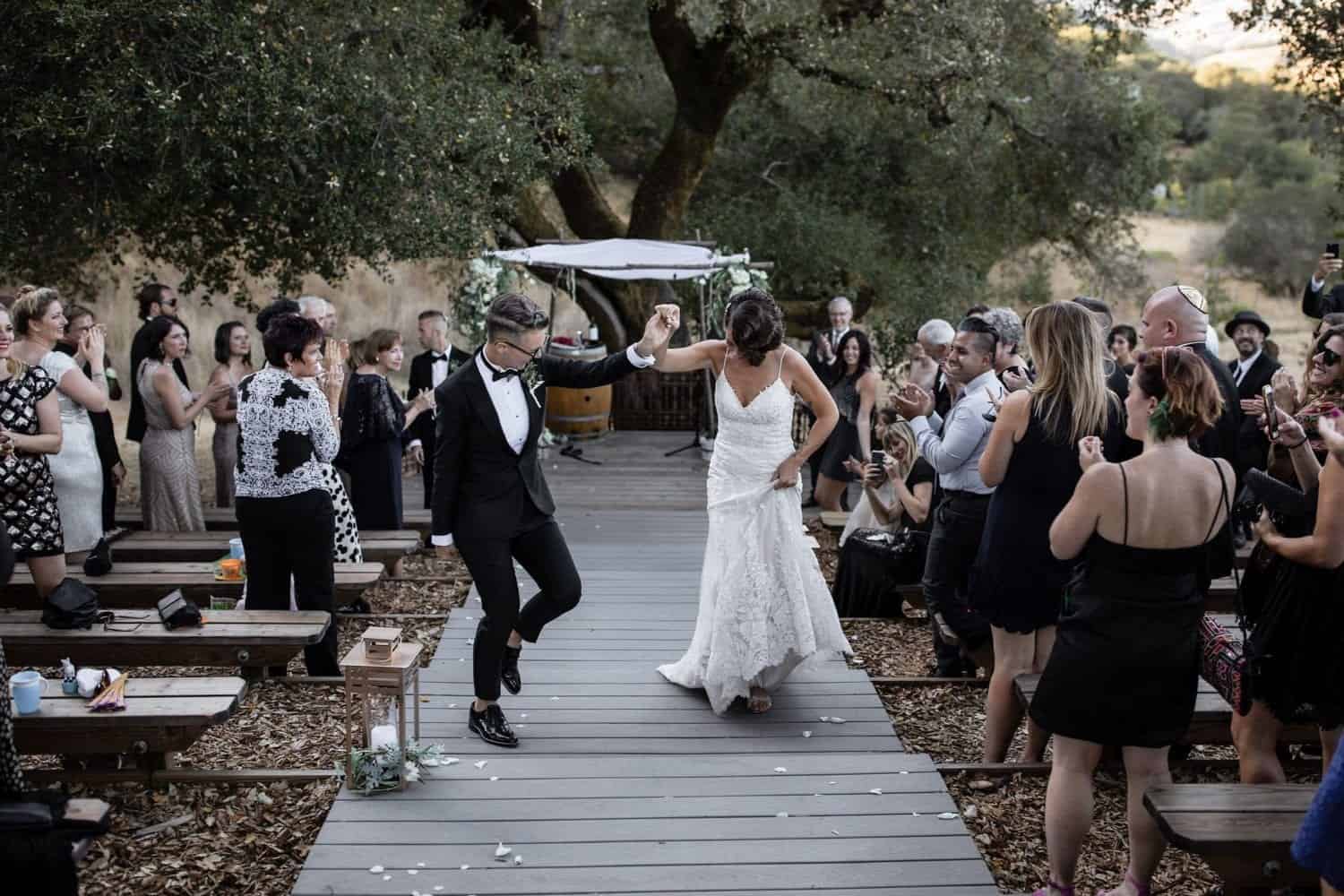 8. Can I hold my ceremony there?
Absolutely – most of our couples do. We've created multiple ceremony locations, so you have your choice of backdrops and styles. We don't force everyone into the only spot – no, we're about custom – your wedding, your way.  We have:
The Barn – featuring weathered barn wood that's over 100 years old from the historic barns on the property

The Pond – a water feature with a lighted floating fountain 

Redwood Trees – a green oasis

Vineyard – Wine grapevines planted on a hillside to create a lush green backdrop.

Oak Tree Terrace – majestic oak trees with stadium seating

The Ballroom – an indoor space with barn wood accents

And more – it's your wedding, we let you decide what you'd like to use.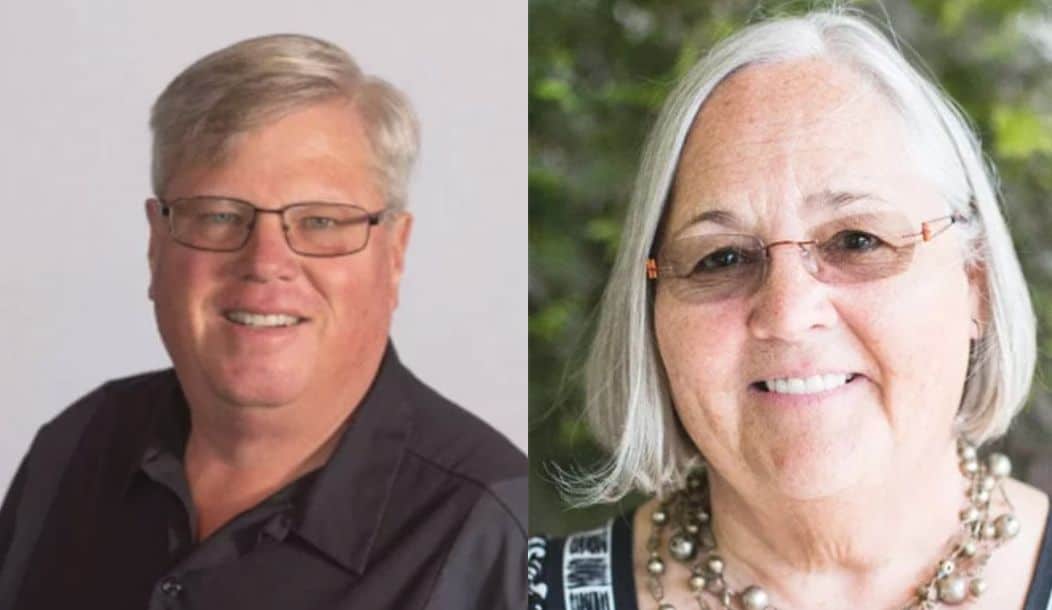 9. Is there a coordinator on staff?  Who will be my main point of contact?
Owners John and Lane live on property – so we're here for you. With years of experience, we help guide you, answer questions, and provide information to make your day spectacular.
Here's some advice, if you contact a venue and don't hear back within hours – or at max, 24 hours, run, don't walk.  We regularly listen to couples' stories about venues that don't respond to their inquiry in short order. It makes us shudder to think – if the venue doesn't respond quickly to someone that wants to book a wedding at the venue, just what kind of service can the couple expect after the venue has their money?
We can communicate with you via email, text, or phone. 
When you first contact us, we'll respond to you through email.

When you decide to reserve a date at the venue, we use Honeybook, a customer relationship management program designed specifically for the wedding industry.  Through it, you'll digitally receive the Agreement, Venue Guidelines, sample timeline, Nice List, and many other tools to help you plan your wedding day.  We'll communicate with you through Honeybook, and you'll be able to quickly access past emails and information.  

To help you plan your wedding, we use Allseated.  This specialized platform has a digital floor plan of the

venue

.  On that floor plan, you can place the tables, chairs, and other decors so that your wedding planner and caterer know what you want.  You can assign seating, check-in RSVPs, and more.  
John and Lane act as venue managers, handling all the aspects of the venue itself.  For actual wedding planning, a professional wedding planner is required.  We recommend using someone from our Nice List – they earned their way onto the list by doing an excellent job for couples at past estate weddings.  Can you use a wedding planner that isn't on the list – yes, but they need to be a professional.  We don't want you to risk your special day to someone that doesn't know what they are doing.  We've seen it; it isn't pretty.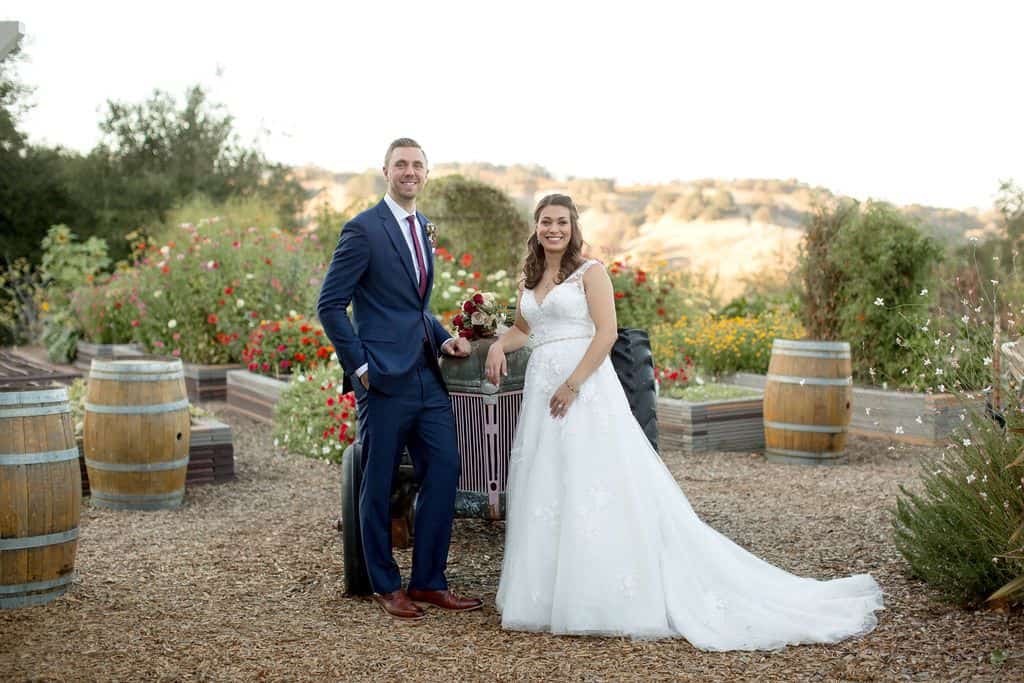 10. Is there a list of approved vendors, or can I use vendors I wish?
We've already mentioned the Nice List.  These vendors don't pay to be on the list; they don't just get placed on the list because they made a request; they have to earn their way there.  We're pretty picky about who is on the list and who isn't.  Everyone on the list is licensed, insured, a professional, and has done wedding(s) here that was an excellent experience for all involved.  Have some fires needed to be put out along the way – yes.  But it's the way the issue was handled that makes all the difference. Usually, the couple and guests don't even know about the hiccup.  What's why we stress, use a professional.  We can help you find that person.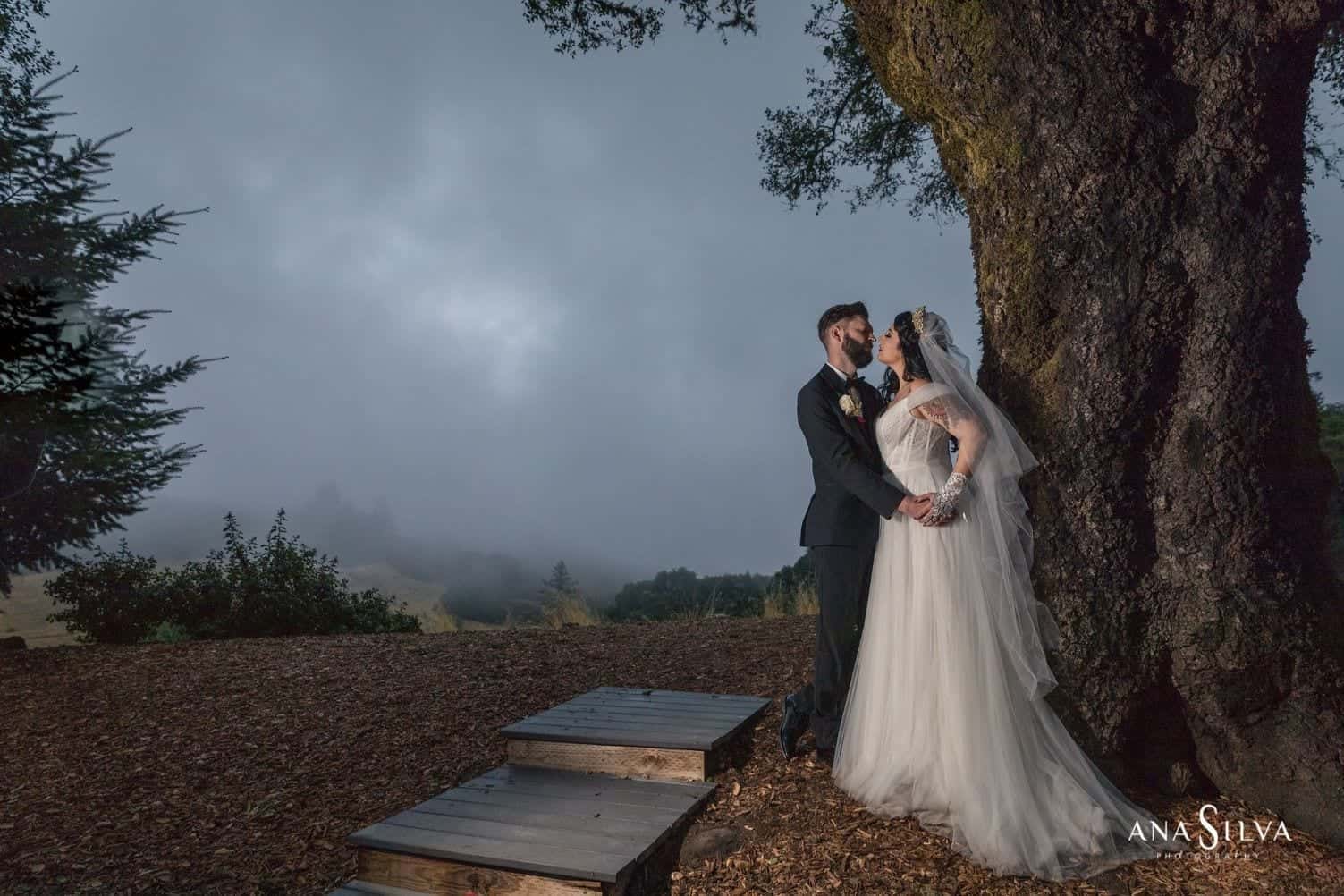 11. What's the rain plan?
We have indoor and outdoor wedding spaces. 
Outdoor wedding ceremony space?  Check, we have multiple for you to use.
Outdoor wedding reception space?  Check.  We have a large lawn and patio space.
Can we dance outdoors?  Check—bandstand with plenty of power and lights.
Can we dance indoors?  Check.  The ballroom turns into a dance club.
Indoor wedding ceremony space?  Check, the ballroom can accommodate 200.
Indoor cocktail hour space?  Check.  We have a custom-made bar you have to see to believe.
Indoor reception space?  Check. The ballroom can seat 125 people at tables.
Rain Plan?  Check. We have room for tents too.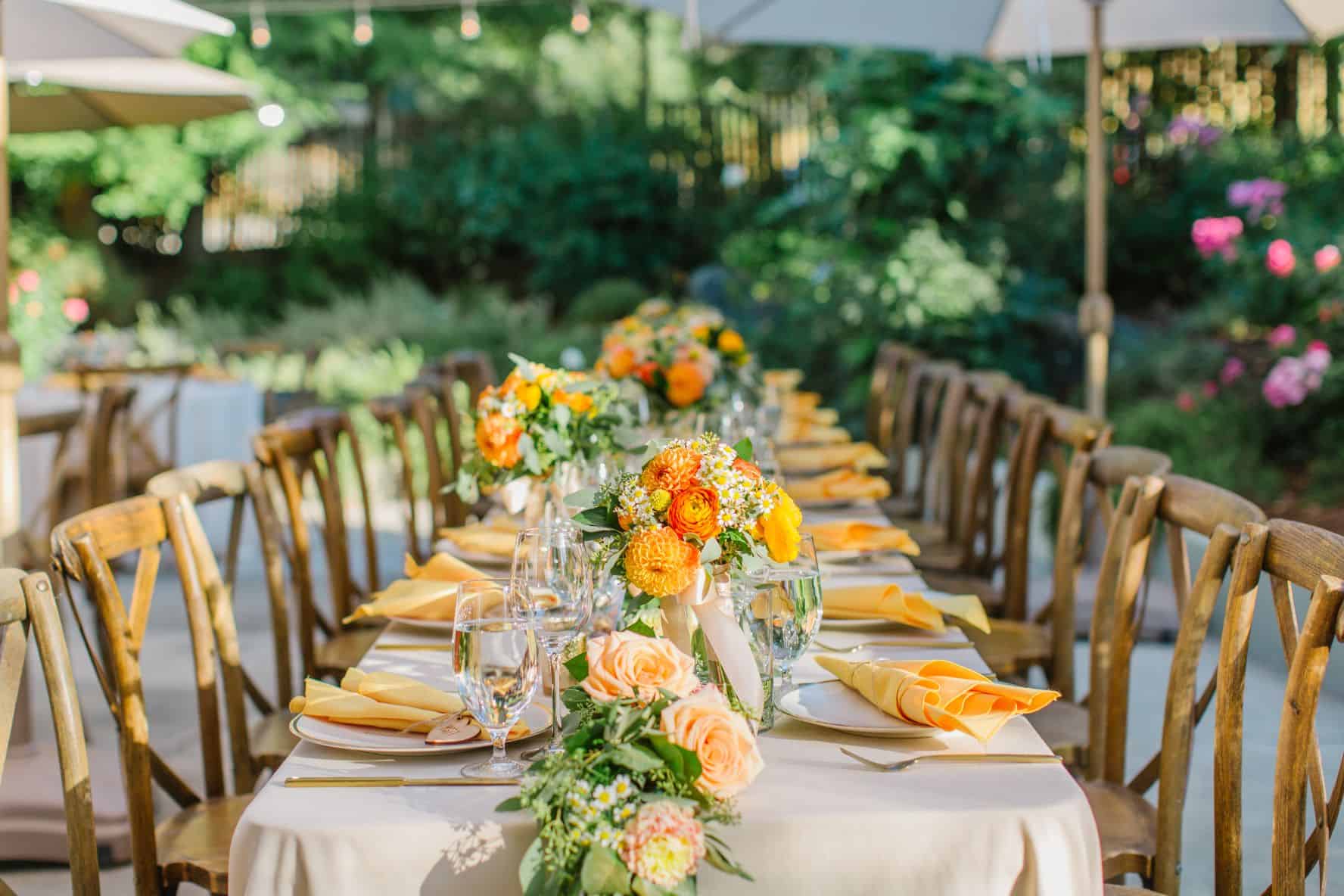 12. Consider your guest's convenience. Here are a few more questions: 
What's the bathroom situation?

Great question and sometimes forgotten.  Did you know that portable bathrooms can cost you more than $1000?  And then there is the ick factor.  Not an issue here though, we have:

Main Women's Bathroom with two regular stalls, one ADA stall, and a baby changing table

Main Men's Bathroom with urinals and ADA toilet stall

The Oasis – Bride and tribe prep room with a bathroom

The Hang-Out – The guy's prep room with ADA bathroom

The Mom's Room – Another bathroom

Employees bathroom

That makes 10 in total. No porta-potties are needed.
How's the parking?

We have plenty of room in multiple parking lots for up to 250 guests.  More importantly, the parking lots are out of sight and won't impact your wedding celebration.
Climate Control?

Yes, all event spaces have heat and air conditioning.
Stairs?

Only the Mom's Room and the Oasis are upstairs.  All spaces that have stairs also have ramp access.
Something most venues don't have is intimate spaces for guests to get off by themselves and chat.  In many cases, they haven't seen each other in a long time and want to catch up.  We have private nooks where they can get away from music and reconnect.
Mountain House Estate Highlights
Your Wedding at Mountain House Estate
Mountain House Estate's features and amenities promise you a relaxed and stress-free wedding. Bring in your own alcohol and food trucks if you'd like. Get beautified in the comfort and privacy of the upstairs bridal suite with your bridesmaids. Choose where you'll exchange your vows from several of our breathtaking locations, both indoor and outdoor. Mingle and relax with signature cocktails and hors d'oeuvres in the contemporary bar area. Dine on the beautiful patio or inside in air-conditioned comfort. Dance the night away under a blanket of stars. We'll take care of you and make sure everything is exactly how you want it. Here are a few of our favorite highlights about our Northern California wedding venue:
Multiple ceremony and reception locations, both indoor and outdoor
No hidden fees
No unwanted surprises (corkage fees, service fees, and more)
We operate exclusively as a wedding venue (read more here)
BYOB and we also allow food trucks
Get ready in the Oasis (four makeup stations, many mirrors, including a full-size tri-fold mirror, a private bathroom with an enviable closet)
Get ready in the Hangout (60-foot gaming TV, two to 40-inch sports TVs, a shuffleboard table, a foosball table, and even a poker table and more)
The Latest from Our Journal
We cover everything from relationship advice to researching wedding venues Northern California and resources to make your wedding planning stress-free.
All the Hidden Costs to Look Out For at Wedding Venues in California
As someone who has planned and hosted many weddings at our venue, I want to make sure you're aware of all the hidden costs that come with wedding venues in California.
Weddings are something that many people dream of, like you! There's a lot to consider when planning one, and the costs can be surprising in some cases! For example, if you're having your wedding at a California vineyard wedding venue, they may require citronella candles, so guests don't get bitten by bugs while eating their hors d'oeuvres.
So do you want to have a perfect wedding? Then make sure that you're well informed about hidden costs before booking any wedding venues in California. You may be surprised at how much it'll cost if there are unwanted surprises when planning your day!
Inform yourself and learn more about the different wedding venues in California. What might they charge for services like corkage fees, generators, permit fees, setup charges, or even just parking access (it's tough to find free spots at some downtown venues!)? Make this information helpful to you by looking up prices ahead of time and asking the venue about these extras, so you're not caught off guard down the road.
Hidden Costs of California Barn Wedding Venues
Barns are a warm, idyllic backdrop for your rustic, romantic affair. But shaping them into the wedding of your dreams can be a lot of extra headache and work. More often than not, you'll end up spending more than the original plan.
Don't be caught off guard if the nearest restroom is more than a hop and a skip away from your barn. You'll want to get luxury portable restrooms instead of those basic port-a-potties if you don't want to leave a bad (and stinky) impression on your guests. Of course, they cost an arm and leg to rent and haul to most barn wedding venues in California.
If you're cozied up in your warm bed with a cup of tea, looking at winter weddings on Pinterest, remember that you and your guests will be exposed to the elements, and there will be a chill in the air! 🥶 Some barn wedding venues in California don't have climate-controlled indoor areas, meaning your guests will be very uncomfortable. This means you'll have to bring in heat lamps, space heaters, and possibly blankets. And barn wedding venues in California can give "hot girl summer" a whole new meaning – your venue may require fans or A.C. units to haul in to beat the heart. What does all this mean? The extra cash you have to fork out probably isn't in your budget. 
P.S. – We're all about hot girl summer, but Mountain House Estate has completely climate-controlled indoor areas so that you can heat the dance floor instead!
Generators are the lifeline of any event. They provide power to a whole host of things, from catering services to D.J.s and bands. But what if you're looking for venues in California and they don't have the proper equipment? You might have run into some issues, and you'll want to fork out some cash for a generator. Nothing is worse than the power cutting out when you're in the middle of the Cupid Shuffle, or your maid of honor is making a sentimental speech. 
P.S. – You don't have to fight for your fight to party at Mountain House Estate. We have a huge generator to keep the party going in case the power ever shut off. 
Don't let pesky pests and dirt get in the way of your perfect wedding day. If you want to go rustic at some barn wedding venues in California, a commercial cleaning service may cost extra so they can keep these icky things out of sight.
Hidden Costs of California Outdoor Wedding Venues
You may dream of having your wedding outdoors and enjoy the beauty of nature. An outdoor wedding is a beautiful option! But you'll need to be prepared for the extra expenses of being exposed to nature's (sometimes unkind) elements.
Plan B for Rain: Planning a wedding can be stressful, but it doesn't have to be! Imagine your perfect day – the service is flawless and beautiful. The food is delicious, and all of your guests are having a fantastic time. Now picture one negative detail: it's an overcast afternoon with some raindrops on their way down. You're making your grand entrance from that rustic-charm barn into this magnificent garden for your outdoor ceremony. But you don't have a Plan B in case of rain. All of your guests get drenched, and your plans have to get put on hold! A tented pavilion is a MUST if your wedding is taking place outdoors. So if you're looking at wedding venues in California and they don't provide one, yes, you'll have to spend more money on this. But not only will you have to pay for the tent, but you'll also want to get lighting, decor, florals, and other items to dress it up.
Permits and sound systems: When you think about it, getting married in a public place can be pretty costly! It can even cost you most than some wedding venues in California. You need permits to get the event space and insurance and sound amplification equipment if your party has music playing at it.
P.S. If getting married outside sounds like an excellent idea but not so much when there are extra expenses that come with it – let us help out! We have gorgeous outdoor spaces and don't have any hidden costs! 
Flooring: You've probably got a big dance planned for your wedding night. And you want to make sure it goes off without any problems. The last thing you want to worry about is getting stuck in the mud! You'll need to buy some outdoor flooring and deliver it before the event starts so that no one will have to deal with their heels sinking into the wet ground or, even worse- dirt!
Sound system: Did you know that you may have to pay for a sound system at your outdoor wedding? Well, imagine what it's like outside, and cars are driving by, birds chirping, and other outdoor noises. You'll need some heavy-duty sound equipment so that people can hear the D.J., not to mention all of those essential vows!
Hidden Costs of California Hotel Wedding Venues
The convenience of preset wedding packages at many hotels is excellent, but not everything you need want is included, especially if you want a custom wedding.
Extra power: You'll need to pay extra for power drop charges if your party gets wilder than expected. For instance, you have a D.J. booth with subwoofers that are so good they shake the ground and colored lights programmed to match every beat of the music. 
To avoid a headache at California hotel wedding venues, you should probably use their in-house alcohol. Otherwise, they might charge an outrageous price for outside alcohol or even refuse it! Don't get us started on corkage fees – we think those are outrageous. At Mountain House estate, you can BYOB, even spirits!
You're going to have so much fun at the end of this night that you might beg for one more song. Most hotels will charge by the hour if they run over your allotted time, but a full-service venue typically includes clean-up and garbage removal in their contract. If it goes past midnight, though, then there's always an expensive bill! At Mountain House Estate, we encourage our wedding couples to have an after-party off-site because often, the wedding couple is exhausted from the day's excitement, and they can bow out at any time.
Bonus: Hidden Costs of a Destination Wedding Outside of the U.S.
 There are some other hidden costs you want to watch out for when booking a destination wedding outside of the U.S.
Pre-wedding trips can be expensive, but you'll want to see your wedding venue before your actual wedding day. You might be able to save if you opt for an Airbnb or ask friends and family to split the lodging costs with you. And don't forget about accommodations for your guests while at home; hotels usually charge higher rates during peak travel weeks like Thanksgiving and Christmas, so keep that in mind as well when picking a wedding date.
If you're planning to import any decorations, be prepared for the fees and extra charges that come with it. The same goes for flying in your photographer, planner, and other vendors.
Your wedding day is one of the most memorable days in your life. We suggest that you research regional marriage requirements in advance to avoid any surprises or added expenses. For example, many countries require couples to have a minimum amount of time spent on their home turf before they can get married there – which means those two to five extra nights at a hotel may be necessary!
Exchange rates and taxes could potentially make every single expense pricier than you expect. On the other side, depending on where you go, it might save money, so this is a toss-up.
Do your homework before you book at any wedding venues in California or have a destination wedding!
We wish you the best of luck in your search for wedding venues in California! If you have any questions, don't hesitate to reach out to us.
What Is Your Venues  Value? A True Story of One Disaster Wedding
A true story about one family's disaster wedding on their property and why free or cheap wedding venues in Northern California are not the best value for you.
Recently, I watched a wedding video where the couple used a "free" wedding venue. It was on the grandparent's property, and it looked like a great wedding day. But I started to wonder how much it cost to convert the grandparent's property into a wedding venue for a single day.  
In talking to the family, I found out that the grandparents wanted the day to be spectacular for their granddaughter and began fixing up the property a year in advance. They wanted everything to be perfect for the summer wedding and spent countless hours manicuring everything each month and paid a landscaper to do what they could not.
The rental company delivered all of the rented furniture, decor, and other items for 150 guests the day before the wedding. Multiple large delivery trucks arrived with all the workers to set everything up and the bride tribe arrived to direct all the activities to get everything in the right place. The bride was crying and stressed the day before her wedding as countless issues arose and they had to make on the spot changes to her wedding day vision.
Click here to read why we want you to have a wedding planner to take care of you >> (5 min read)
The bride tribe was completely rushed because they only had a few hours before the wedding party arrived for the rehearsal dinner. Things felt tense, rushed, and there was anxiety lingering in the air. Because the bride chose to forgo a wedding planner and have her best friend help her plan her wedding, they didn't have the experience to handle the countless issues and last-minute changes.
After the grandparents had a second to think about it, they decided not to allow 150 guests into their house to use the bathroom. So, they ordered "luxury restroom trailers" at the last minute. Unfortunately, they arrived late in the day and the family had to coordinate moving other vehicles around for hours to get the bathrooms into place.
On the day of the wedding, the bride tribe arrived early to get their hair and makeup done. While doing their hair and makeup, a bridesmaid dropped a curling iron on the carpet, creating a significant burn, but no one admitted the damage to the grandparents which caused them tremendous grief as the carpet was original to the house.
The best man arrived a little later than expected with borrowed chairs and tables. He enlisted some of the other friends to haul all of the tables and chairs, which took several trips and set them back even further on their timeline. 
As they set up the tables and chairs, they all soon realized that the backyard wasn't as large as it appeared when empty, and the tables had to be set up very tightly to accommodate all of the guests. Even more tables were brought in for the buffet, bar, gift table, guest book table, heard table, dessert table, and DJ table. By the time it was all set up, it was borderline claustrophobic.
Grandpa had made a beautiful wedding arbor, and Aunt Mary, who had taken a night class, decorated it with flowers, made the boutonnieres and bouquets.
With over 100 guest and vendor vehicles, parking was a bit tight but everyone found a spot. Not all the neighbors were happy about the invasion. Some called the County to complain, but fortunately, Grandpa had obtained the needed permits.
Guests arrived to find an open bar, free choice beverages (beer in a large tub with ice) and made themselves at home. As everything was running a little late, they had plenty of time to catch up with the groomsmen who had been taking advantage of the free beer during the morning prep and were all intoxicated.
Click here to read about our alcohol recommendations for your wedding day >> (5 min read)
The ceremony went off without a hitch.  The bride was beautiful, the music was timed just right, and the karaoke system provided enough volume that the guests could hear.  The father of the bride served as the Officiant after obtaining his registration from an online company.
Wedding photos followed the ceremony, bride and groom, bride's family, groom's family, friends, bridesmaids, groomsmen, etc. It was a little unorganized without a wedding planner there to direct everyone, but it worked. The delay in having to round up the people for the photos just meant the guests had an extra long cocktail hour, so many of the guests were intoxicated.
To save some money, a personal friend that does BBQs was hired to cook. He used the kitchen in the home for meal preparation and it was tight, but he was able to put the meal together.  Unfortunately, he used the same cutting board for the raw and cooked chicken.  At least that's where they think all the guest's upset stomachs came from.
The DJ was a friend that played at some parties. He had his equipment and a bit of experience, but none with weddings. Thinking he was the star of the show, he talked a lot, sung into the microphone with his favorite songs, and played the music he liked. Maybe that's why a lot of the older family members left early.
The party lasted until the sheriff arrived. Neighbors had complained about the noise, and the Deputy reminded Grandpa that the permit said the music stopped at 10 pm. After the warning, the Deputy left with the assurance that everything would end.
But recall the beer being freely available This was when they figured out that was a mistake.  There were red solo cups all over the neighborhood, as guests were drinking on the way back to their cars.  Hooting, hollering, and littering as they walked. The neighbors noticed.
Click Here to Read What You Need to Know About Serving Alcohol at Your Wedding (<5 Min Read)
This is about the time the two Sheriff's patrol cars arrived – this time with lights that were flashing. The four Deputies weren't nearly as lovely as they had been earlier in the evening.  One groomsman got mouthy with a Deputy and almost got hauled to jail to sleep off his public intoxication.  After making it understood, the Deputies left the area.  But as a couple of guests found out, they stationed themselves a couple of blocks away, just in case anyone was naive enough to drive under the influence.
It was the next morning when everyone heard about the wreck.  It was terrible, and people in the car and the one they hit were injured. Grandpa called his Home Owners Insurance company only to find out that he wasn't covered. When his insurance agent heard that beer was available in unlimited quantities, not being served by a licensed bartender, he advised Grandpa not to speak with anyone until he talked to an attorney. He explained the "Reasonable Person" Standard in the law – that it's a standard created to provide the courts with an objective test that's used when deciding whether a person's actions constitute negligence.  He again told Grandpa to call his attorney.
Grandpa argued that he didn't provide the beer and found out that made little difference.  It highlighted that the couple provided most of the beer (they allowed friends also to contribute) and didn't buy any wedding event insurance. Attorneys are now questioning everyone that provided alcohol to the party.  Likely they'll want everyone to pay – you see, the person the drunk guest hit – died.
This wedding example was made up of instances that have happened to people trying to have a cheap wedding.  Tring to find a wedding location that's "free."  These, and many more, disasters have occurred before, during, and after weddings.  Trying to save money by having it at an unlicensed wedding venue without proper wedding venue insurance may turn out fine, but it may not.  Saving money by not hiring wedding industry professionals to help guide you through the maze may also work.  But there are these disasters and many more that have occurred in couples trying to save money. Oh, and a few of the other disasters we didn't mention earlier?
Many of the borrowed tables and chairs broke. One of the chairs broke and injured Aunt Ruth. Another chair sunk into a gopher hole and cause injury to a guest.

A fight broke out between two drunk wedding guests which caused quite a commotion, and the party had no security guards.

The power system on the property couldn't take all of the lights, DJ, and sound, so it kept tripping off and the PGE power safety shut-off occurred.

The wedding cake cutting didn't happen, because it had already been cut by an unknown guest. Whoops!
My advice?  Hold your wedding at any number of wedding venues Northern California that are licensed and insured using professional wedding vendors to provide services.  Let your wedding planner know your budget and follow their guidance. Saving money may mean a smaller guest count, but that's better than some of the alternatives we mentioned above. And it may end up costing you more in the long run…just like grandpas family. No, it does not 100% guarantee that a snafu won't arise, but it makes for a lot less stressful day.  – John Alden, Owner, Mountain House Estate
Other Northern California Wedding Venues
If you're dreaming of having a wedding at any number of Northern California wedding venues, you probably have great taste. Northern California wedding venues include wineries and vineyards, Victorian-style and historic hotels, garden and golf course venues, rustic and barn style wedding venues, and more for your wedding day.
If you're planning to host your wedding in San Francisco or along the Sonoma Coast up high, prepare yourself for some fog. Otherwise, you're probably going to get some great sunshine on your wedding day. Sunny weather is always favorable for your wedding day, and you can plan for the sun at most Northern California wedding venues. But if you're planning on not having your wedding outdoors, you can consider an indoor wedding venue, so you don't have to worry about the weather.
There are many indoor Northern California wedding venues in Napa County, Sonoma County, Santa Rosa, San Francisco and San Jose, East Bay, South Bay, Santa Cruz, and Sacramento. Maybe you're thinking about something quirky like a museum or park, or even the zoo! Tons of businesses operate secondly as a wedding venue, and although we don't think that's the best choice for your wedding day, you may think otherwise. 
Sonoma & Napa Wedding Venues
When thinking about Sonoma County or Napa County wedding venues in Northern California, you might first think about a winery wedding. But did you know that there are many other stunning venues? Well, Mountain House Estate, for one, is a gorgeous outdoor venue, and we consider ourselves to be rustic elegant. But you may also be thinking about gardens, golf clubs, hotels, lodges, barns, and other bright ideas. Whatever your choice, when looking at Northern California wedding venues, there's simply something magical about escaping from the hustle and bustle of San Francisco or Sacramento with your guests and celebrating in wine country. Maybe it's in the countryside landscape or the wine, but we think you'll be well suited off searching here for a venue.
San Francisco Wedding Venues
When looking at Northern California wedding venues in San Francisco, you probably want something more urban, such as a historic hotel or vies of the Golden Gate Bridge. 
The East Bay of San Francisco simply refers to the eastern shores of the San Francisco Bay. Here lies the city of Oakland, the largest city and home to countless businesses that operate secondly as a wedding venue: museums, golf clubs, hotels, and event centers. But if you venture out further to Walnut Creek or Berkley, you can also find more venues with rural charms such as wineries and barn wedding venues. 
The South Bay is also known as the Silicon Valley. Silicon Valley is the tech capital of the world and an excellent place for an upscale or urban wedding. 
Sacramento Wedding Venues
Sacramento is the capital of California, and it strikes a beautiful balance of urban and suburban charm. In Sacramento, Northern California wedding venues include ballrooms, clubs, golf courses, event centers, hotels, and more. If you decide to look just outside of Sacramento, you can find more rural wedding venues such as ranches, vineyards, and rustic farms.
Wedding Venues Northern California
Say "I Do" at our gorgeous rustic wedding venue in Cloverdale, CA. Among hundreds of Northern California wedding venues and Sonoma County wedding venues, we always promise to be upfront with our inclusions and pricing. You won't have any hidden fees or unwanted surprises when you work with husband/wife team John and Lane at Mountain House Estate. With multiple ceremony and reception locations (no groomsmen rushing to relocate chairs or any grunt work on YOUR wedding day), our private estate offers you rustic elegance and comfort.
Wedding Venues in California
Mountain House Estate is consistently ranked as one of the top wedding venues in California. Located in Cloverdale, CA, in Mendocino County, we are more closer to Sonoma County. If you're looking for a luxury elopement at Mountain House Estate, we're one of the few wedding venues in California that can offer anything from a laidback vibe to a more upscale, luxury wedding. We're also the only wedding venues in California that is Diamond Certified.
Wedding Venues California
We are the perfect location among other wedding venues California. People travel from far and wide to have their destination wedding here. Some are simply looking for a rustic wedding venue where they can have a private wedding in a gated estate. Others are looking at wedding venues California with the best photo opportunities. Still, others are looking for wedding venues California or wedding venues Northern California without the winery wedding venue price or restrictions. Speaking of, did you know that Mountain House Estate is also the home of Mountain House Winery? However, our primary focus is to be the best among wedding venues Northern California.
Santa Cruz County

Aptos, Ben Lomond, Boulder Creek, Brookdale, Capitola, Davenport, Felton, Freedom, Los Gatos, Mount Hermon, Santa Cruz, Scotts Valley, Soquel, Watsonville

Monterey County

Aromas, Big Sur, Bradley, Carmel, Carmel By The Sea, Carmel Valley, Castroville, Chualar, Gonzales, Greenfield, Jolon, King City, Lockwood, Marina, Monterey, Moss Landing, Pacific Grove, Pebble Beach, Salinas, San Ardo, San Lucas, Seaside, Soledad, Spreckels
San Benito County: Morgan Hill, Holister, San Juan Bautista, Gilroy
Yolo County

Brooks, Capay, Clarksburg, Davis, Dunnigan, Esparto, Guinda, Knights Landing, Madison, Rumsey, West Sacramento, Winters, Woodland, Yolo, Zamora
Sonoma, Petaluma, Santa Rosa, Healdsburg, Geyserville, Sebastopol, Rohnert Park, Windsor, Cotati
Bloomfield, Bodega, Bodega Bay, Boyes Hot Springs, Carmet, Cazadero, El Veranom, Eldridge,m Fetters Hot Springs-Agua Caliente, Forestville, Fulton, Geyserville, Glen Ellen, Graton, Guerneville, Jenner, Kenwood, Larkfield-Wikiup, Monte Rio, Occidental, Penngrove, Roseland, Salmon Creek, Sea Ranch, Serena del Mar, Temelec, Timber Cove, Valley Ford, Annapolis, Asti, Bodega Harbor, Bridgehaven, Buena Vista, Cadwell, Camp Meeker, Carneros, Cozzens Corners, Cunningham, Diamond A Ranch, Duncans Mills, El Bonita, Forest Hills, Freestone, The Geysers, Guernewood Park, Hacienda, Hessel, Hilton, Hollydale, Jimtown, Kellogg, Knowles Corner, Korbel, Lakeville, Lytton, Mark Westm, Mark West Springs, Mercuryville, Mesa Grande, Mirabel Heights, Mirabel Park, Mission Highlands, Monte Cristo, Montesano, Noel Heights, Northwood, Oakmont, Odd Fellows Park, Rancho Abajo, Rio Dell, Rio Nido, Rolands, Russian River Terrace, Schellville, Soda Springs, Stewarts Point, Summerhome Park, Two Rock, Vacation Beach, Venado, Villa Grande, Vineburg
Mendocino County, California
Albion, Boonville, Branscomb, Calpella, Caspar, Comptche, Covelo, Dos Rios, Elk, Fort Bragg, Gualala, Hopland, Laytonville, Leggett, Little River, Manchester, Mendocino, Navarro, Philo, Piercy, Point Arena, Potter Valley, Redwood Valley, Talmage, Ukiah, Westport,Willits, Yorkville
Clearlake, Clearlake Oaks, Clearlake Park, Cobb, Finley, Glenhaven, Hidden Valley Lake, Kelseyville, Lakeport, Lower Lake, Lucerne, Middletown, Nice, Upper Lake, Witter Springs
Solano County, California
Benicia, Birds Landing, Dixon, Elmira, Fairfield, Rio Vista, Suisun City, Vacaville, Vallejo
Belvedere Tiburon, Bolinas, Corte Madera, Dillon Beach, Fairfax, Forest Knolls, Greenbrae, Inverness, Lagunitas, Larkspur, Marshall, Mill Valley, Nicasio, Novato, Olema, Point Reyes Station, Ross, San Anselmo, San Geronimo, San Quentin, San Rafael, Sausalito, Stinson Beach, Tomales, Woodacre
Contra Costa County, California
Alamo, Antioch, Bethel Island, Brentwood, Byron, Canyon, Clayton, Concord, Crockett, Danville, Diablo, Discovery Bay, El Cerrito, El Sobrante, Hercules, Knightsen, Lafayette, Martinez, Moraga, Oakley, Orinda, Pinole, Pittsburg, Pleasant Hill, Port Costa, Richmond, Rodeo, San Pablo, San Ramon, Walnut Creek
Placer County and El Dorado County
Tahoe, Incline Village, South Lake Tahoe, Stateline, Truckee, Alta, Applegate, Auburn, Carnelian Bay, Colfax, Dutch Flat, Emigrant Gap, Foresthill, Gold Run, Granite Bay, Homewood, Kings Beach, Lincoln, Loomis, Meadow Vista, Newcastle, Olympic Valley, Penryn, Rocklin, Roseville, Sheridan, Tahoe City, Tahoe Vista, Weimar, Camino, Coloma, Cool, Diamond Springs, Echo Lake, El Dorado, El Dorado Hills, Garden Valley, Georgetown, Greenwood, Grizzly Flats, Kyburz, Lotus, Mount Aukum, Pilot Hill, Placerville, Pollock Pines, Rescue, Shingle Springs, Somerset, South Lake Tahoe, Tahoma, Twin Bridges
Amador City, Butte City, Drytown, Fiddletown, Ione, Jackson, Sutter Creek, Plymouth, Volcano
Bangor, Cherokee, Forbestown, Honcut, Magalia, Paradise
Arnold, Angels Camp, Camanche, Carson Hill, Copperopolis, Murphys, San Andreas
Cameron Park, Camino, Coloma, Diamond Springs, El Dorado, El Dorado Hills, Georgetown, Lotus, Placerville, Pleasant Valley, Pollock Pines, Rescue, Shingle Springs, Somerset
French Corral, Grass Valley, Nevada City,  North Bloomfield, Smartsville, Timbuctoo, Relief Hill, Rough and Ready, Washington
Auburn, Colfax, Foresthill, Meadow Vista, Mount Aukum, Newcastle, Plumas County, Spanish Ranch
Alleghany, Downieville, Tuolumne County, Columbia, Groveland-Big Oak Flat, Knights Ferry, Jamestown, Sonora
Brownsville, Camptonville, Clipper Mills, Dobbins, Marysville, Strawberry Valley, Oregon House, Woodleaf
Amador City, Angels Camp, Auburn, Big Oak Flat, Cameron Park/Shingle Springs, Camino, Chinese Camp, Colfax, Coloma, Columbia, Cool, Copperopolis, Coulterville, Diamond Springs, Downieville, Dutch Flat, Drytown, El Dorado, El Dorado Hills, Fiddletown, Folsom, Foresthill, Garden Valley, Georgetown, Grass Valley, Greenwood, Grizzly Flat, Hornitos, Ione, Jackson, Jamestown, Malakoff Diggins, Mariposa, Mokelumne Hill, Murphys, Nevada City, Pine Grove, Placerville, Plymouth, Pollock Pines, San Andreas, Sierra City, Sonora, Sutter Creek, Vallecito, Volcano