Frequently Asked Questions

Everything You Want to Know
Yes!
But why is this important to me?
If a wedding venue doesn't have these permits, it's not operating legally and any event it hosts is at risk, which may result in the venue being closed. These closures by governmental agencies happen without warning, resulting in the cancellation of events with no regard to paid deposits or impending event dates. This has happened to several other venues located near us in California wine country and weddings have been relocated to other venues, including ours.
Mountain House Estate was conceived, designed and constructed to be a gorgeous wine country wedding and event venue. Prior to obtaining a building permit, a Major Use Permit UR 2014-0006, expiring in 2034, was obtained from the County of Mendocino in California. In addition, Mountain House Estate is licensed and insured. The permit details the approved uses for the site and includes hours of operation, types of business activities that are allowed, maximum size, type and the total quantity of allowed events.
Mountain House Estate is located seven miles west of Cloverdale on Hwy 128, heading towards the coast.  We advise that you use "Mountain House Estate" for your GPS search rather than a street address. Some mapping programs are incorrect and we want you and your guests to arrive at our wedding venue without difficulty.
All-inclusive is a big buzzword these days! We are venue-only but have lots of lighting, chairs, tables, and more that are included. We do not specialize in cookie-cutter, all-inclusive weddings. Rather, we focus on making sure that each couple has an individual, unique wedding experience. We make this experience possible by allowing couples to choose their own vendors that can make their dream wedding happen. Our wedding couples work with a planner closely to bring their wedding vision to life.
Our wine country wedding venue can serve a maximum of 250 people.
We reserve our wedding venue just for you and your guests on your special day during your celebration.
BYOB and no corkage fees. The couple provides all the alcohol. You can bring your own beer, wine and liquor. Properly licensed and insured bartending staff is required for all bartending services.
The standard event end-time is 10:00 pm. If you'd like to celebrate into the wee hours, you can extend as late as 2:00 am!
Once you've booked your wedding at our venue, we will provide you with an extensive list of approved local vendors. These vendors have worked at our wedding venue multiple times and earned the right to be on our list by taking excellent care of our guests.
What's unique about our wine country wedding venue is that we have both indoor and outdoor options. In case of rain, the indoor space can comfortably seat up to 124 at tables. With larger groups, you have the option to rent a tent. In the case of heat, the indoor space is air-conditioned and we provide some market umbrellas to create shade on the patio or lawn. As with rain, tents can also provide shade options in various areas for your celebration.
Absolutely! We have three prep rooms – The Juliet, The Oasis and The Hangout. The Juliet is included in all wedding packages beginning at 2:30 pm. The Oasis and The Hangout are available for an additional fee. When included, the Oasis opens at 10:00 am for the wedding party to begin preparations and The Hangout is available at 1pm. The Oasis has four makeup stations, many mirrors, including a full-size tri-fold mirror, a private bathroom with an enviable closet designed for your wedding dress, and much more.
Mountain House Estate is the perfect wedding venue to accommodate those who smoke or vape. We have an area called The Smokin' Olive Lounge. This area includes wine barrels with table tops and umbrellas, bistro lighting, and an 8' long 'cigar bar' where you can have custom hand-rolled cigars prepared for your guests. Smoking and vaping are allowed in this area only.
Yes, and we're one of the few California wine country wedding venues that do allow food trucks. We have a concrete pad area, easily accessible to guests, where multiple food trucks can park. In addition, we have a second area that we call the 'show-off kitchen', which can accommodate additional trailers, BBQs, paella preparation, wood-fired pizza ovens, fresh-made donuts, or photo booths just to name a few options.
Our prices are the same year 'round.
Your guests will most likely choose an Airbnb, VRBO or motel for their weekend stay. We have lodging next door for up to 34 guests, which is very convenient.
The areas they might choose from would be as far North as Ukiah, West as far as Mendocino, East as far as Cloverdale, and South as far as Santa Rosa. Our wedding venue is in a rural area in wine country with the closest town being Cloverdale, about 15 minutes away.  Healdsburg is only 30 minutes away, and Windsor is about 45 minutes away.
We allow fur babies on a case-by-case basis :)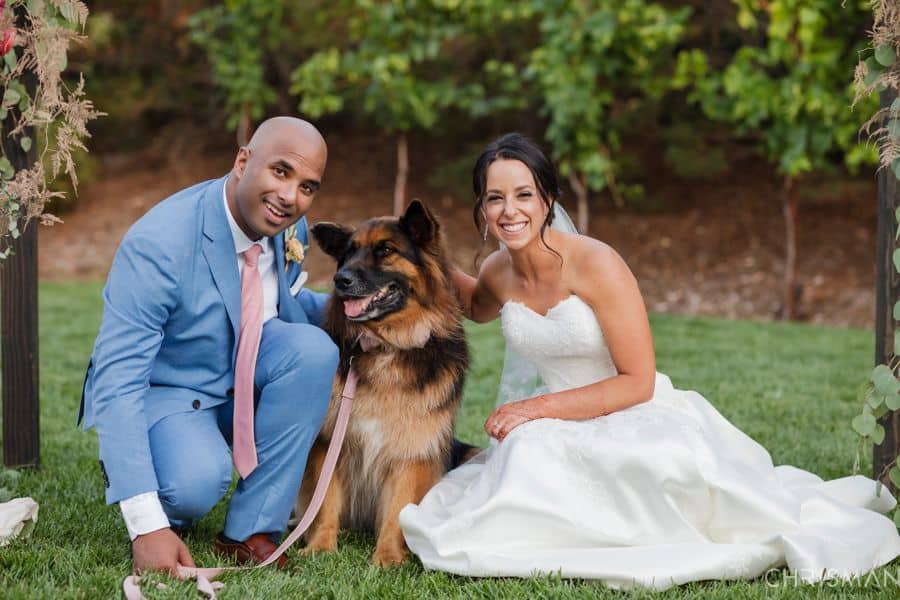 Yes. Scroll down the page to see all of our amenities and inclusions.
We don't have any hidden fees. We also offer monthly payment options to make it easier for you. We do require insurance, but it's a small cost.
Definitely! We actually have sound across the property to create a magical and immersive experience.
We have many memorable photo opportunities around the property including a 1932 Ford truck with wine barrels, a vintage flatbed truck 1937 Chevy with a 12′ bed for pictures of larger groups (once a prune plum truck from Cloverdale), 1941 Ford tractor stationed at the vegetable garden with the seat moved back to accommodate wedding dresses, a Windmill, custom wood and wrought iron arch on the pathway leading to Oak Grove (made from upcycled redwood trees), a wrought iron topper (recycled), Adirondack chairs are set around the pond, so photographers can use them for pictures no matter where the sun is, rock seating areas, barn with vintage hubcap collection (Most hubcaps are from automobile brands that no longer exist from the 1920s to 1960s). Blooming vegetable and flower gardens, Gorgeous orchards, The orchard (features many fruits, citrus, and nut trees, including chestnuts, cane berry, blackberry, blueberries, kumquat, and pomegranate), balcony overlooking the patio, gorgeous trees, and landscaped gardens, vineyards, an open field, a large pond with floating up-lit fountain, small lighted fountain by the front doors with multiple pools and a waterfall, The Grove, An oak grove with bench and wine barrel privacy fence, the rustic arch near The Grove (This area features a bench movable by photographers to set up the perfect photo in the oak trees or the surrounding fields. A wall of wine barrels stacked two high provides a unique image, engagement, or elopement backdrop.), The Oasis, and The Hangout. Just to name a few!