Your wedding venue is likely the first (and most important) choice for your wedding day. What look and style do you want to achieve on your wedding day? Your venue is one of the most critical roles in this. When you're looking at wedding venues, all have one thing in common – they will likely account for nearly half of your budget.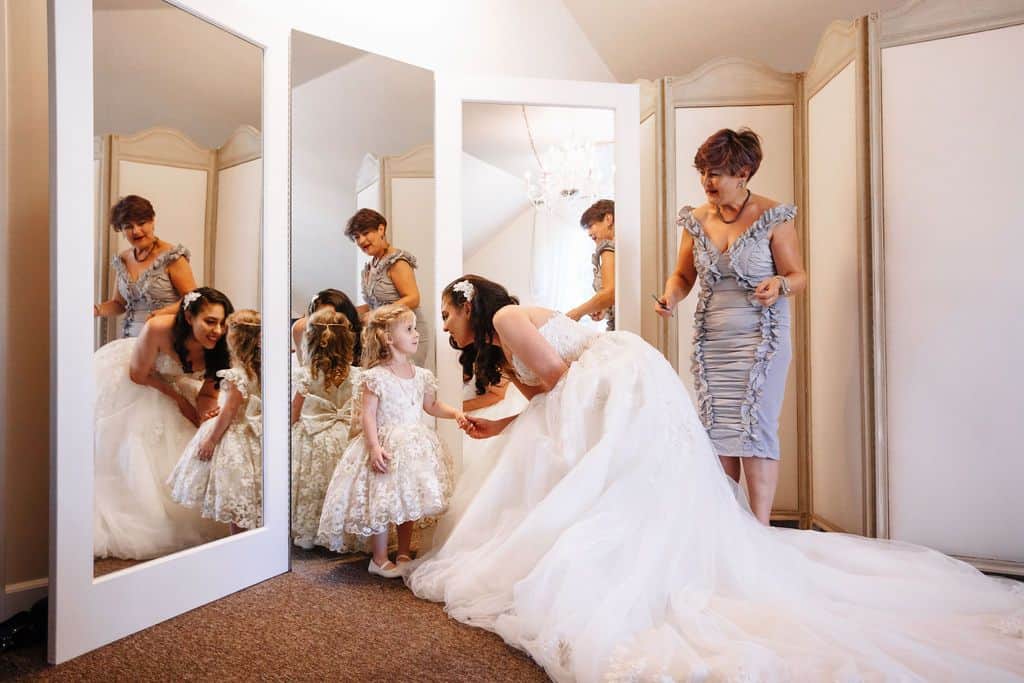 In this blog, we'll ask you 11 questions that you should consider when looking at wedding packages from wedding venues.
1. Will this venue help me to stay within my budget?
Surprises are great for proposals but not so fun with it comes to your wedding venue cost. In your venue search, make sure that your venue is entirely upfront about budgeting and any added costs.
The best wedding venues in California offer wedding packages that lay it all out there.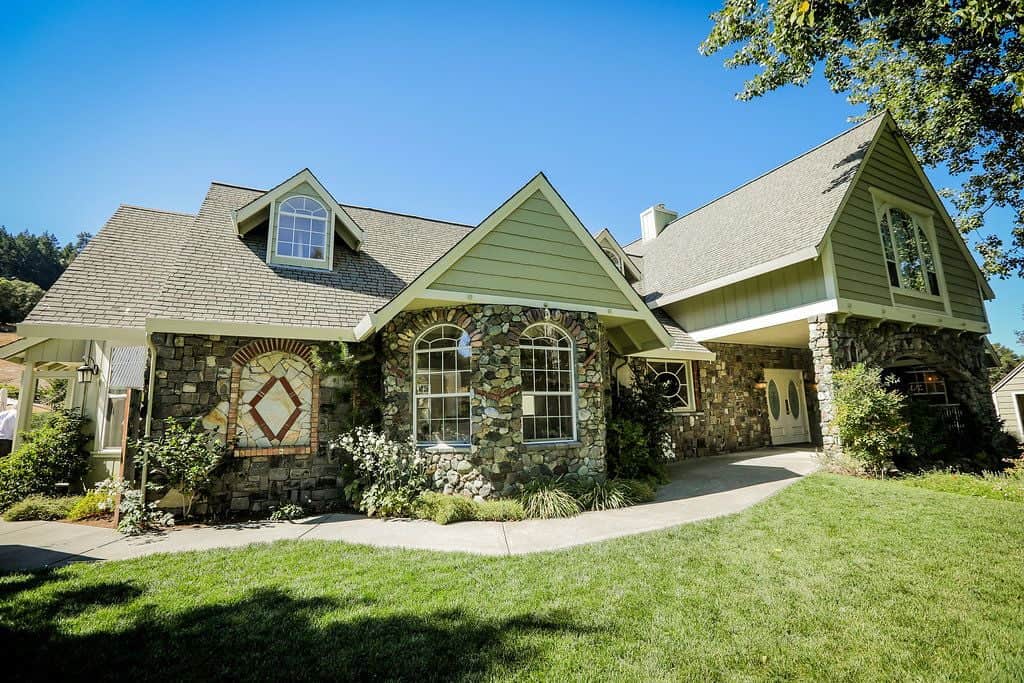 Unwanted surprises and hidden costs to look out for
For instance, if your venue is at a barn, do they provide restrooms? Will you need to provide climate control, lighting, and generators?
If your venue is outdoors, will you need to shell out extra money for a tent, permits, dance floor, or high-powered sound system?
If you're marrying at a hotel, will you have to pay extra for a corkage fees, external vendor fees, power drop charges, and overtime?
What about the damage caused by guests, and alcohol-related instances? Yes, these can affect your budget down the road.  These are just a few examples of hidden fees or surprises that can come later from wedding venues.
We recommend talking to a few wedding planners to help you in your search.
We're 100% upfront about our costs.
At Mountain House, we cover everything from generators to restrooms and lighting. We're so comprehensive; we might even be a little overboard because we've seen it all. We consider events such as wildfires, earthquakes, other natural disasters, and even human disasters (such as your Uncle Frank who drank too much and is starting a fight on the dance floor).
We prepare for everything to make sure your day is seamless. And those things we don't cover (such as event insurance that we'll recommend you to purchase in case Uncle Frank does indeed cause a scene) will be factored into your overall budget, so you aren't overwhelmed or surprised.
And for more ways to save money upfront at our venue, check out this article.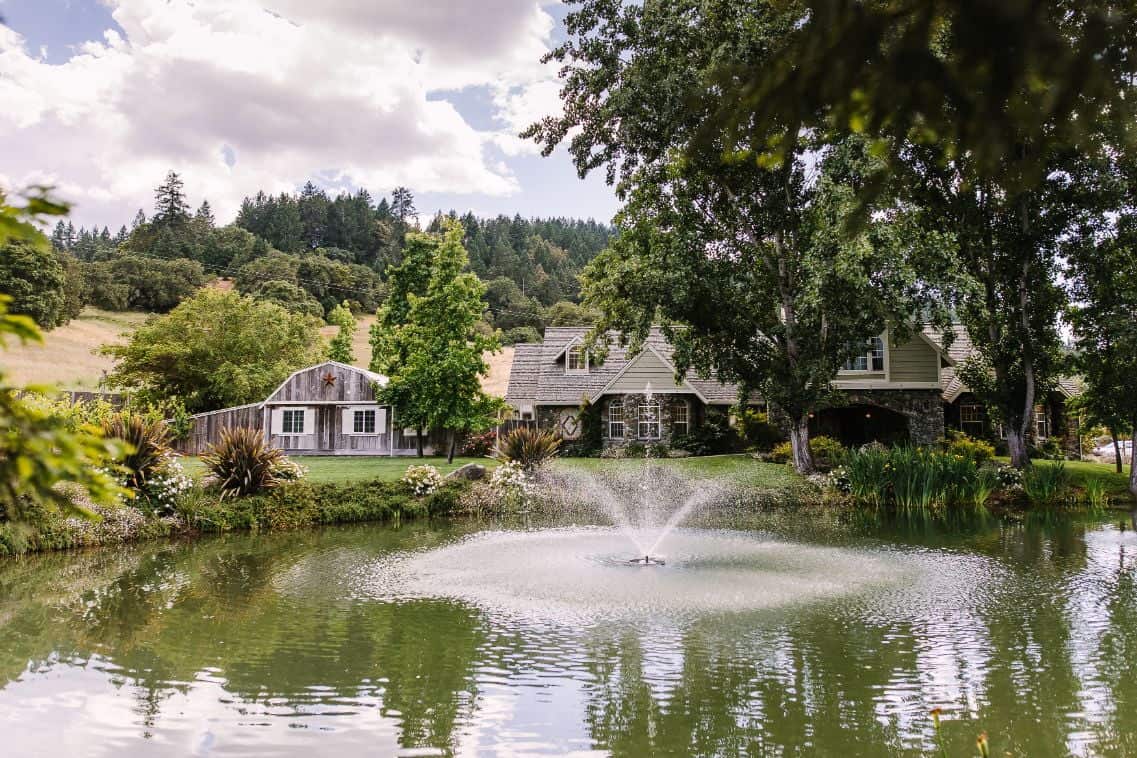 2. Is the venue sharing all facts with you upfront?
Look out for venue limitations and restrictions when researching and on your site tour. You shouldn't sign a contract with a venue until you feel completely comfortable and knowledgeable about the venue's guidelines. When you're on tour, you'll likely be in awe at some of the unique features, but don't forget about essential facts such as bathrooms, payment options, weather issues, and security needs.
A few other examples of questions you should ask include:
What safety precautions do you have in place for my guests and me?
Are there changing areas for the bride, groom, and wedding party?
Can I have my rehearsal dinner here?
Make sure you find out all restrictions when touring wedding venues.
If the venue has restrictions, make sure they're sincere and upfront so you don't face disappointment down the road. Talking about your wants and needs on your wedding day will open up the dialogue, and the venue may be flexible on some policies or rules in place.
Don't be afraid to ask.
A venue should be willing to consider your request or provide you with a reason for their answer if your request is within reason. Some things that may be fun at a party with 10 friends (like beer pong!) can go terribly wrong with 150 wedding guests of various ages.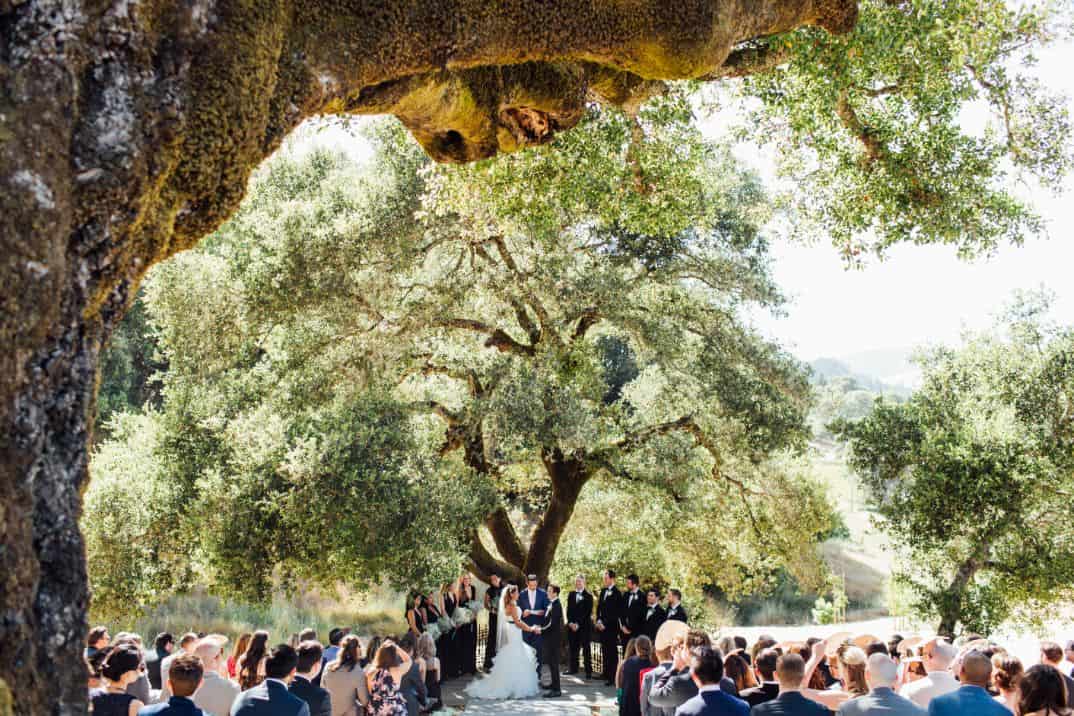 Wedding ceremony at our favorite spot, the Oak Tree Terrace
3. Does the venue provide you valuable resources to make wedding planning easier for you?
When searching for California wedding venues, you should want to work with a venue that provides resources to make your life easier. Expect them to be a wedding expert and nothing less.
We want to provide valuable resources to you, from relationship advice to your wedding checklist and beyond. If you want to learn more head over to our planning resources page.
The bride and father exiting for the ceremony
4. Is the venue completely honest in its communication?
This ties into question #2, "Is the venue sharing all facts with you upfront?" but it also has to do with a gut feeling. Always trust your gut and if you feel that the venue is hiding something from you, ask and don't avoid it.
We know that you want the location to look the same on your wedding day (unless booking in another season) without any unexpected changes. For instance, is the venue planning on upgrades, remodeling, or landscape changes before your wedding? Make sure you talk about any of this upfront, so you know if a feature will be removed or changed.
Wedding Venues: Ownership, Covid, and other questions
Is the wedding venue for sale or lease to others? Will you be dealing with the person giving the tour, or some other person in the corporate entity when planning your wedding? If the venue does sell, what happens to your wedding?
Some of the best wedding venues in San Francisco, Sonoma County, and Mendocino County venues have gone out of business, others are in escrow, a few are actively listed on the MLS for sale, and some are having severe financial problems that may lead to closure.
Who will you be working with for your wedding day?
A newbie venue owner, an experienced venue owner, or an onsite planner? If they offer you a big discount for booking or want ⅓ or more of the venue fee up front, you might want to think about why they need the cash.
When we talk to our wedding couples and planners, we communicate all limitations as clearly as possible, so you have no surprises down the road. Our venue is very accommodating, from your rehearsal dinner and outdoor weddings to food trucks and BYOB. Still, we also don't allow certain things such as fireworks and sparklers (due to wildfire danger in Northern California, and California law).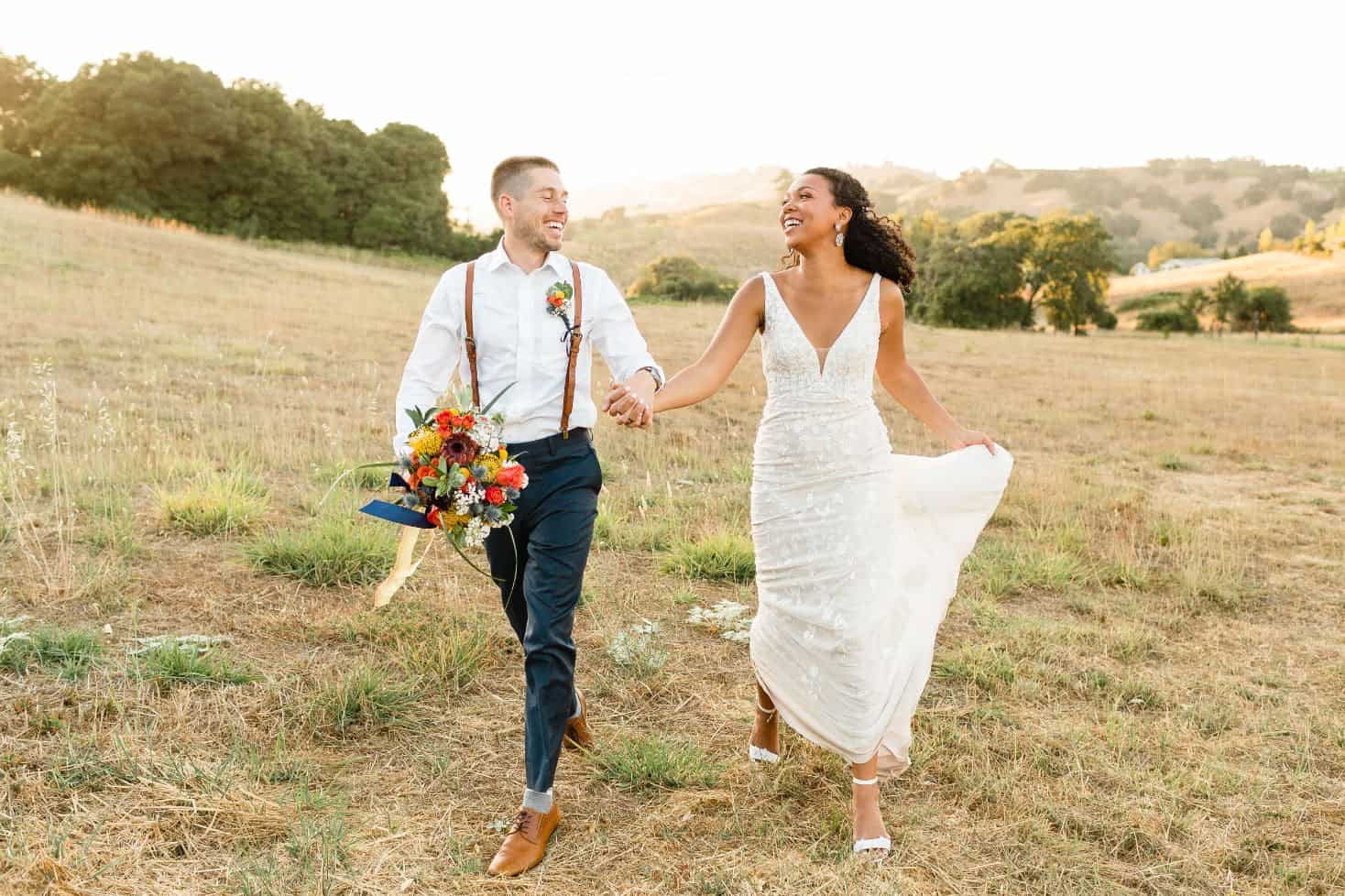 Jillian & Justin taking their post-ceremony photos while their guests enjoy a cocktail hour
When speaking to venues, make sure they share details about electricity needs, lighting, sound systems, and setup procedures required for events. You might want to these questions:
Do you have a footprint limit for outdoor tents?
Hint: we can host up to 250 guests.
Does the County require a permit for tents and governmental inspections?
Mendocino County doesn't require a permit, but our Fire Marshal does inspect for safety. We have never failed an inspection.
Will the outdoor electric setup accommodate the caterer's refrigeration and stoves? Will there be enough space for my caterer to prep the food?
Hint: we have two kitchen facilities for your caterer's ease of access. No extra costs.
Will there be other events taking place or strangers walking around during my wedding (Think hotels, wineries, tasting rooms, equestrian facilities, golf courses, fairgrounds, etc.)
Hint: never. It's your day. And it's all yours here. 
Is the venue handicap accessible? What adjustments can be made if not?
Hint: We are handicap accessible.
What is your capacity for my ceremony, cocktail hour, reception, and dance floor?
Hint: we can host 125 indoors seated at tables, 200 for the seated reception, and 250 standing indoors. Outdoors, we can host 250 guests. You get both.
Speaking of, do we have to "flip" the room, or can we have our ceremony, reception, cocktail hour, etc. in separate locations?
Hint: We have many reception/ceremony locations for you to choose from, and you will never have to "flip" a room for the next event—NO work on your wedding day. Our belief is you should be a guest at your wedding.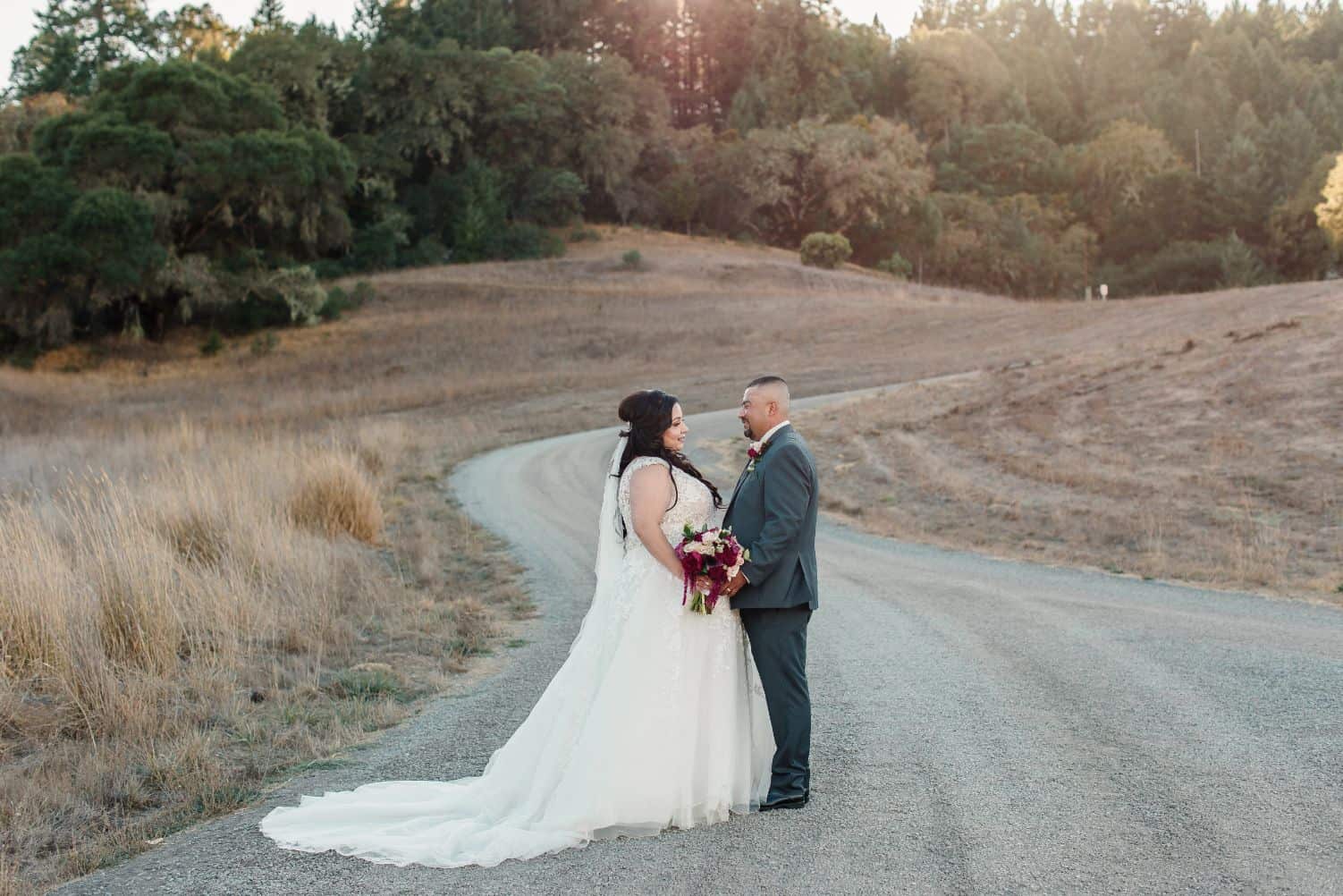 Our venue is situated on 40+ acres of rolling hills, Redwood and Oak trees, and gorgeous views
5. Is the venue accessible? Does it have transportation options?
Logistics play such an essential part of your wedding day. Transportation options and parking access should be a deciding factor when looking at wedding venues.
At Mountain House Estate, we have a large all-weather parking lot for guests and are located off a highway, not a 4×4 dirt road or something not easily accessible that many "barn venues" offer. Our roads are wide, and can easily be used by party bus transportation providers.
For example, if you wanted to make your grand entrance in a classic car (see below photo), will the classic vehicle be able to make it down the road to the venue without busting an oil pan?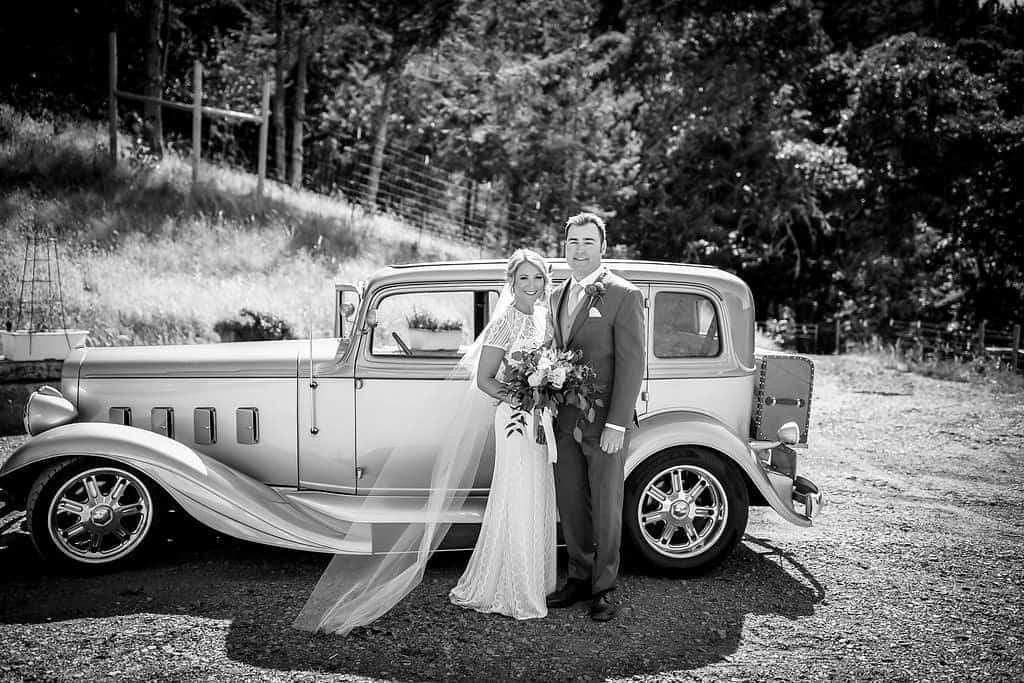 We have resources available to get your guests to and from your wedding, from limousine to shuttle services. And you won't have to worry about your guests getting lost or not being able to drive home after drinking at your reception.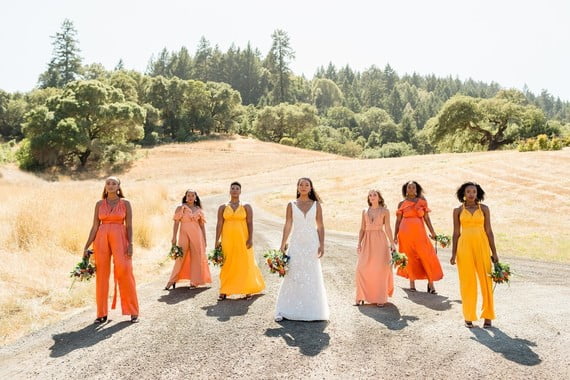 Jillian & her bridesmaids posing for a group photo
6. Does the venue work with you to help you visualize your wedding day?
The best wedding venues should be able to paint a clear picture of your wedding day. When planning your reception/ceremony, the venue should take great care of you to make things less stressful. But don't be blinded by "special treats" at venues such as champagne, lunch, or other treats. Keep the logistics and your wedding day vision in mind – although an excellent snack or drink is ideal for keeping your brain thinking straight during a tour!
Ask about all the photo opportunities.
When touring the venue, make sure you're looking at all of the different photo opportunities, backdrops, ceremony spaces, reception spaces, and gardens.
The best wedding venues should also show you their top portrait locations and discuss lighting and weather (read our article about sunset photography at our venue here). From here, you can figure out your "must-have" pose list at the venue to discuss with your future photographer.
Speaking of, here's our best advice on how to choose a wedding photographer.
In the event of inclement weather, will the venue be able to accommodate your guests indoors? Better yet, can you make the most of a bad weather situation at this venue?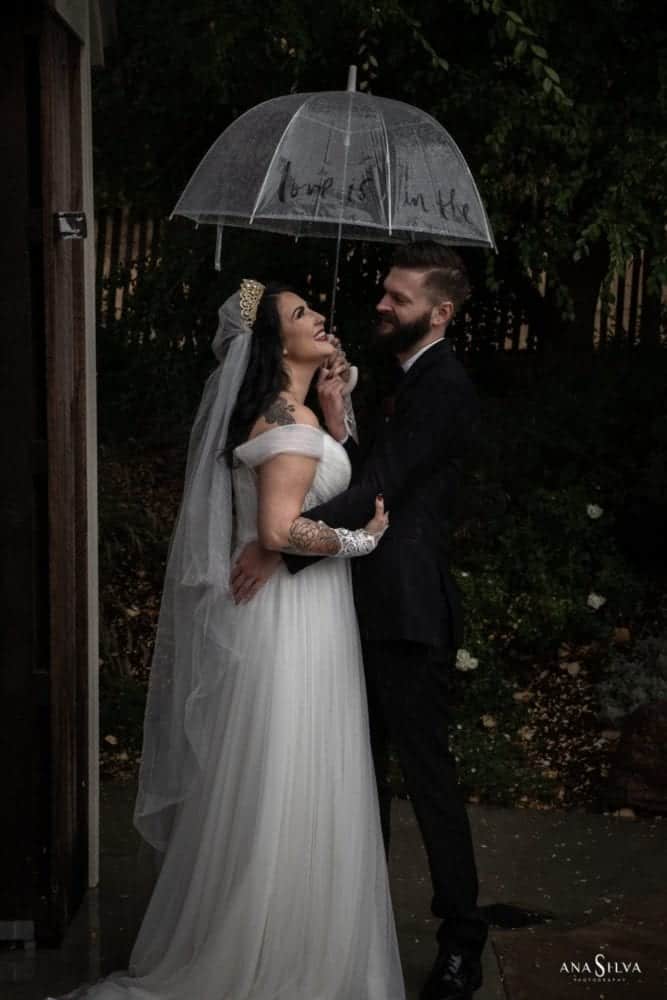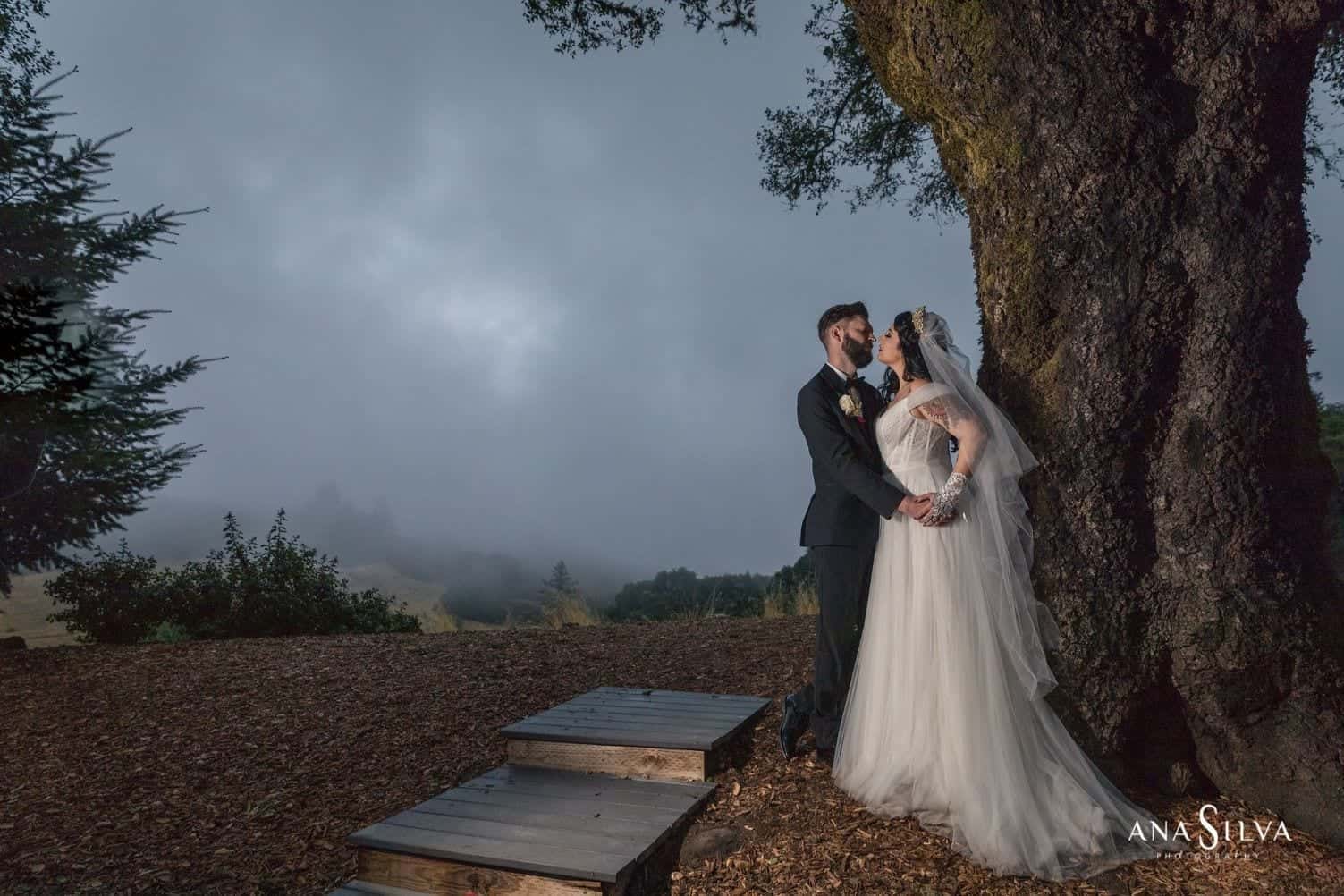 The best wedding venues will be able to show the confidence and ability to meet challenges that may arise during your wedding day. If the venue doesn't offer, ask them to snap some photos of you as you tour the venue so you can keep it in your planning journal (or on Instagram if you choose the venue!)
A father-daughter dance on our Patio
7. Does the venue have fantastic references and rave reviews?
It goes without saying that the best wedding venues have great reviews online. And we can tell you all about why we are the best of all wedding venues all day, but we think our couples say it best.
And did we mention we are the only wedding venue, let alone wedding industry business that is Diamond Certified?
Outside of the Oak Tree Terrace, we have a gorgeous garden and shed featuring antique hubcaps and a vintage tractor
8. Is the venue legally permitted and insured?
Not sure what this means? If the venue you're looking at is hard to find online, doesn't have a website, or doesn't prove that they are a legally permitted wedding venue, you could be in trouble. Mountain House Estate has saved many wedding couples who decided on a venue that was ultimately shut down due to not having the right permits to operate as a wedding venue.
It happens more than you'd think. Northern California, Lake Tahoe, and San Francisco have hundreds of wedding venues; not only are they not created equally, but yes, some operate illegally. The last thing you want is for your venue to shut down before your wedding or, god forbid, the night before or on the day of.
If you look around at venues in San Francisco and NorCal, and you don't see numerous fire extinguishers, ramps for the disabled, ADA bathroom provisions, lighted Exit signs with backup lights should the power go out, and large access and turnaround areas for fire trucks and ambulances – they likely do not have the proper permits to operate as an event venue.
It's worth looking into by simply calling the County Planning Department and asking. Unfortunately, those that are operating without permits will tell you stories that make the sound legitimate, but stories are just that, stories. Permits are facts.
We are legally permitted and insured to host your wedding.
Before obtaining a building permit, a Major Use Permit UR 2014-0006, expiring in 2034, was obtained from the County of Mendocino in California. Also, Mountain House Estate is licensed and insured. The permit details the approved uses for the site. It includes hours of operation, types of business activities allowed, maximum size, type, and a total number of events.
Jillian's bridesmaids in matching silk robes getting ready in the Oasis
9. Do you feel that the venue will WOW your guests?
We know that your main goal is to share your love and celebrate with your friends and family. But you also want to have a rustic, elegant wedding, right? Your dream wedding is dependent on the venue, catering, and wedding planner.
We have a list of hotel, dining, and activity recommendations to wow your guests beyond our venue. Sonoma wine country's relaxed vibe has so much to offer, and we want to give you the best experience possible. Many of our guests come from San Francisco and Southern California.
A romantic dance on the lawn under the starlit sky
10. Is the event venue flexible to accommodate you and offer inclusions to save you time and money?
The best wedding venues will not charge for outside vendor fees, parking, bathrooms, or rentals if they don't offer any. This may come as a surprise (better now than later), but not all services and equipment are included in your rental fee at several California wedding venues.
Sadly, you can get nickeled and dimed for outside vendor fees, tables, chairs, linens, a dance floor, cake cutting fees (why is this still a thing!?), corkage fees, required wine purchases, valet service, parking, and so much more. That doesn't add up to a dream wedding.
All these additional venue charges can add up and destroy your budget, so save yourself a big headache by understanding what's included in the venue rental fee and before you sign a contract.
Some of our inclusions and amenities are:
Two separate dressing areas (The Oasis and the Hangout)
a dance floor
a podium and stage
tables and chairs
Custom made lighting
full kitchen facilities
a large parking lot
air-conditioned/heated indoor ceremony and reception locations
patio lounge furniture
bistro lighting
market umbrellas (10)
an on-site venue manager on the day of your wedding
landscaping and fountain lighting
multiple outdoor event spaces
beautifully manicured gardens
summer wedding or winter wedding – we're open all season
venue coordinator
towering Redwoods
blank canvas for you to make your own ideal event space
ballroom for an indoor reception
A few other things we offer are:
Late hours
Food trucks
BYOB & Spirits allowed
No corkage fees
No cake cutting fees
One of our couple's favorite photo opportunities on our property
11. Can you picture yourself having your wedding at the venue?
This is the ultimate question you have to ask yourself and it may be a gut feeling. But you can also ask yourself these questions (some we already asked and answered above):
Is the venue available for my date?
Or is it such an incredible venue that I'm willing to change my date?
Does it have a great variety of photo opportunities that I can look back on time and time again?
Will my photos be unique to my wedding, or the same as all the other couples?
Is the location ideal for my guests and me?
Do the online reviews support everything the team and website say?
Does it fit my style?
Does it fit my budget?
Or is it such an incredible venue that I want to create wiggle room elsewhere to host my wedding here?
Will it be able to handle my guest capacity? (Hint: we can host up to 250 guests)
Was the venue love at first sight?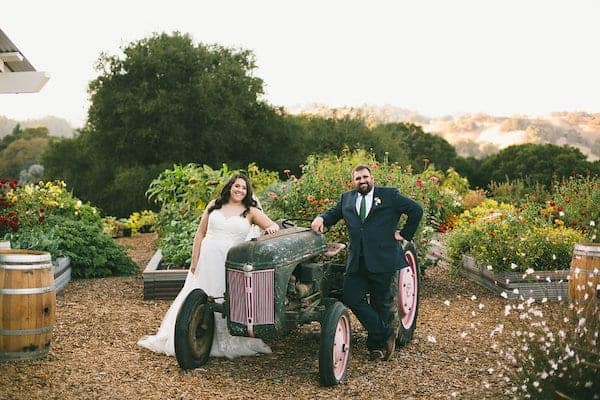 A greater photo opportunity on our property at the vintage tractor by the Oak Tree Terrace
Don't leave it up to chance: pick the wedding venue that serves your best interest with a team dedicated to your happiness.
What it comes down to is this: is this the ideal venue for you to exchange vows? You deserve an unforgettable experience. And you get to define what that means to you. Whether you're swooned by a gorgeous outdoor space, crystal chandeliers, lush gardens, fine dining options, on-site catering, an ideal location, exclusive access, or looking for rustic ranches, you have to answer that question for your big day.
Not all wedding venues are created equally, and we understand that it's overwhelming to search for wedding venues when you aren't exactly sure what questions to ask and what to look for. We wish you the best in your wedding venues search and are here if you have any questions or need anything from us.
About Mountain House Estate
If you love the romance of wine country and prefer rolling hills over majestic mountains, we're the perfect setting for your big day. About an hour from Napa Valley's hustle and bustle, we're located in Cloverdale, CA. We are 30 minutes from the Russian River Valley. We only host weddings; we don't operate as a banquet hall, spa, country club, or anything else.
Many of our couples come from Los Angeles, Palm Springs, Newport Beach, downtown San Diego, San Francisco, Santa Monica, Lake Tahoe, and beyond. They take engagement photos at the Golden Gate Bridge before they host their wedding here. We have many indoor and outdoor event spaces for your ceremony and reception. This is the ideal setting in California for you to exchange vows at your ceremony with a gorgeous backdrop.
Our reception area is a beautifully appointed ballroom and we also have gorgeous outdoor spaces for your ceremony and special day.
If you don't live in California or you're far away in San Diego, Palm Springs, Los Angeles, Santa Barbara, Lake Tahoe, or Santa Monica, we have several virtual tours on our website right here to help you visualize your wedding.
Although we are not technically a wedding venue in the central Bay Area, Mountain House Estate is a short drive (1.5 hours from the Golden Gate Bridge) and provides the quintessential Sonoma wine country experience in our North Bay Area location.