Mountain House Estate is a prime choice when searching for Calistoga wedding venues.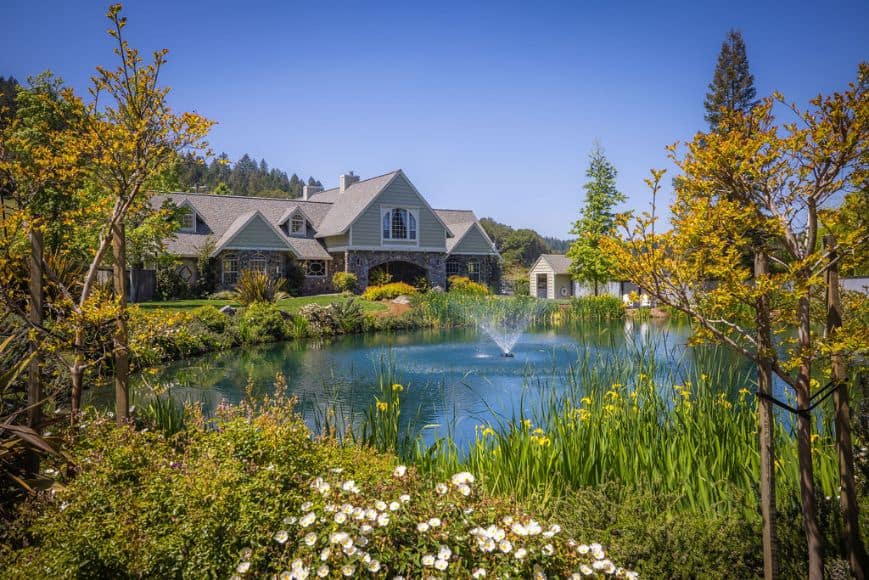 Mountain House Estate is close to the Bay, Napa, and Sonoma and offers so much built-in value incomparable to other venues.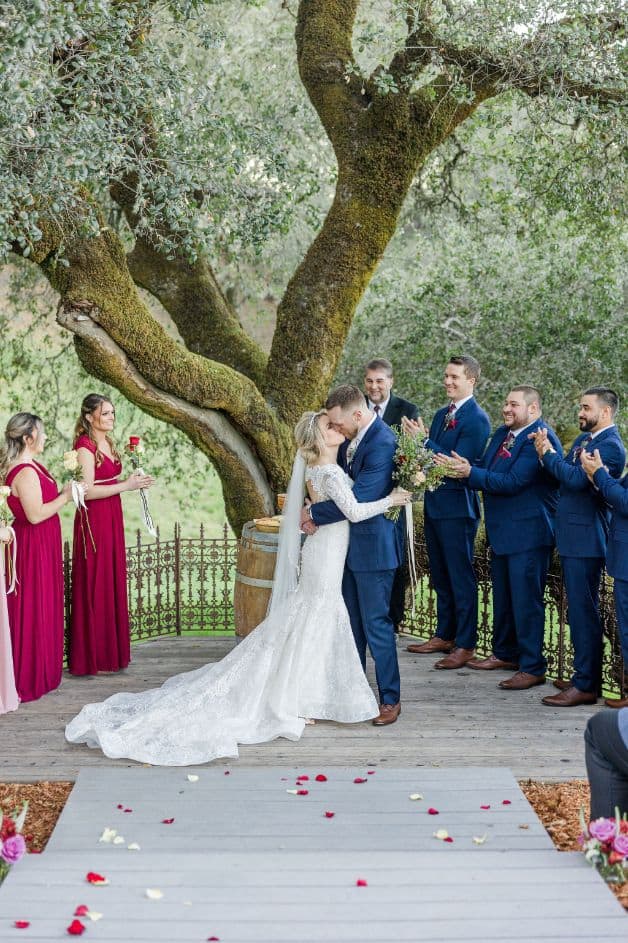 Choosing a wedding venue is one of the most challenging and important decisions you will make for your wedding. Our goal is to make Mountain House Estate the most straightforward choice with up-front pricing and no hidden fees. Our Estate's natural, built-in beauty combined with luxury inclusions furthers your wedding budget since you don't have to dress up our space to make it unforgettable.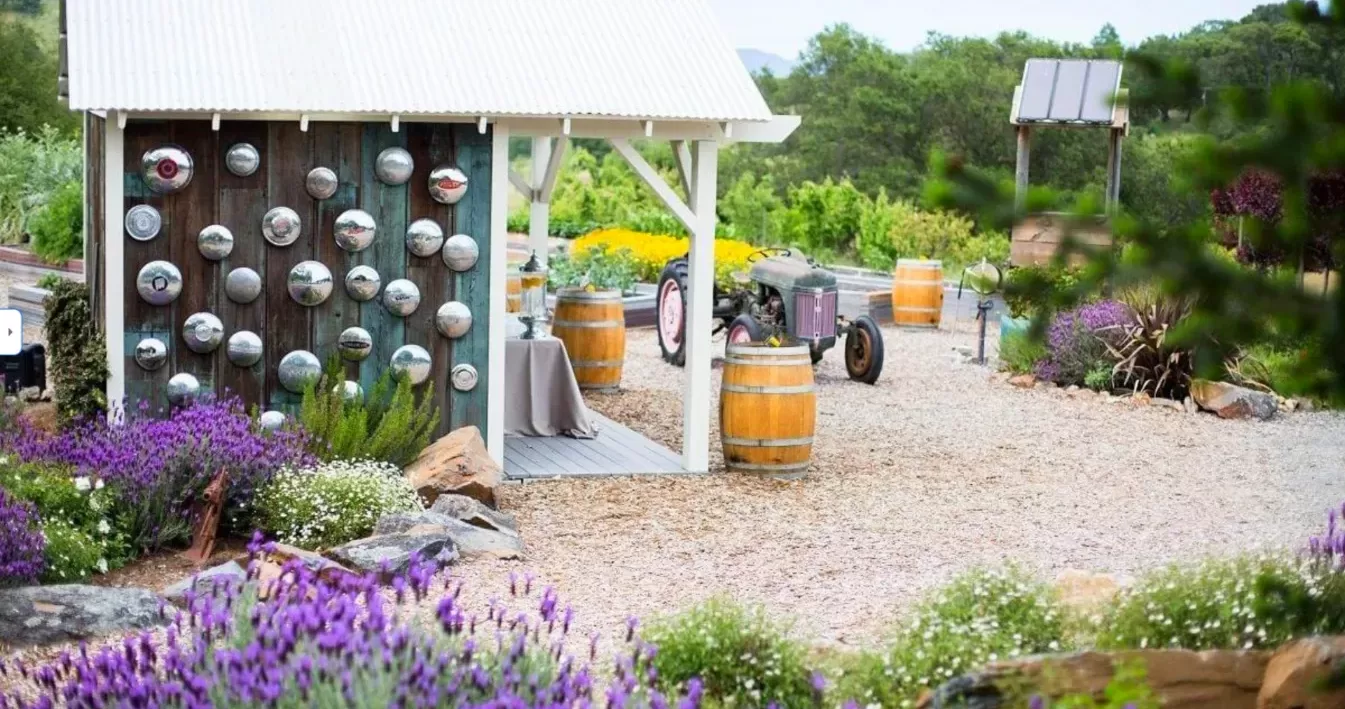 Check out our most recent weddings.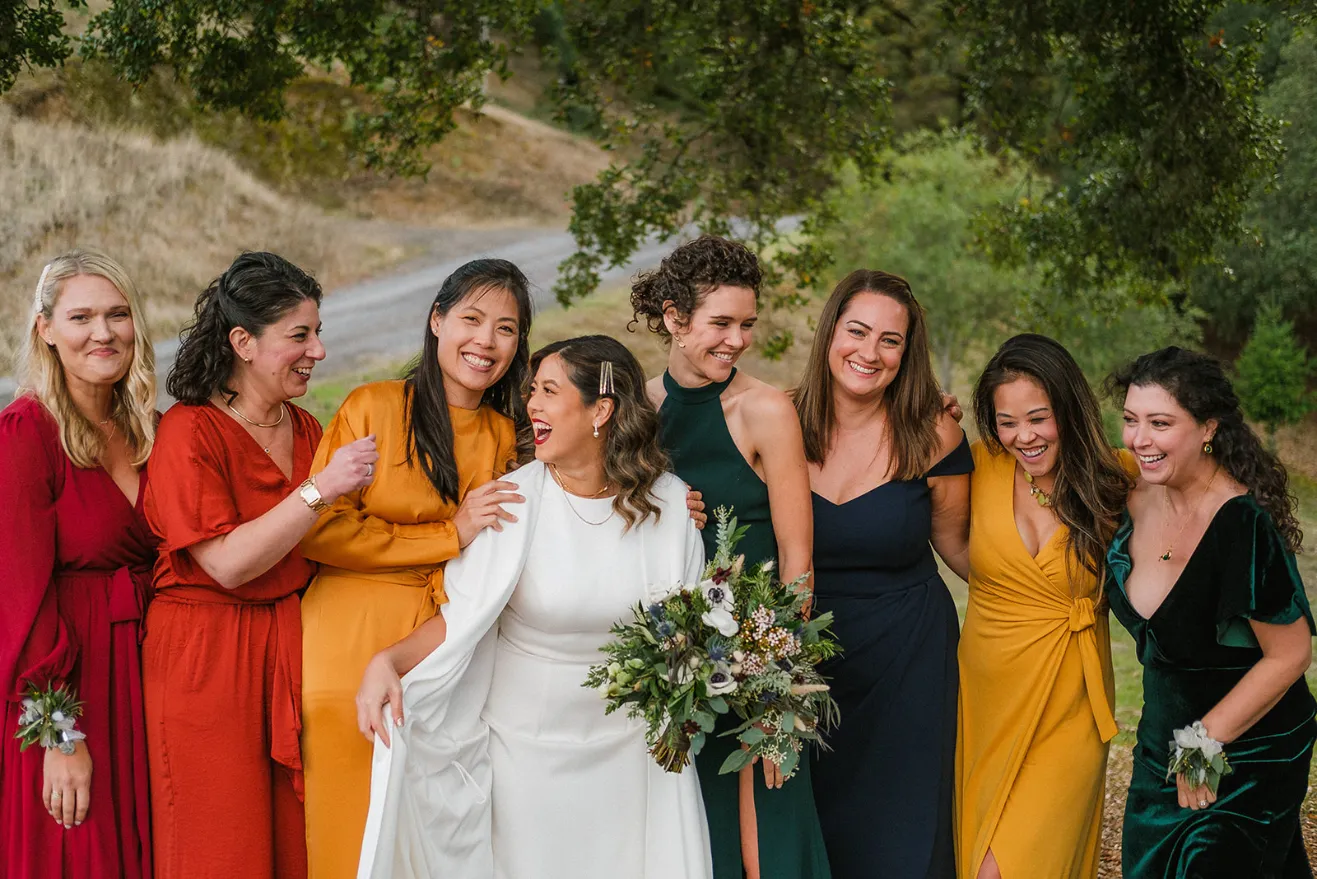 View all of our inclusions and amenities,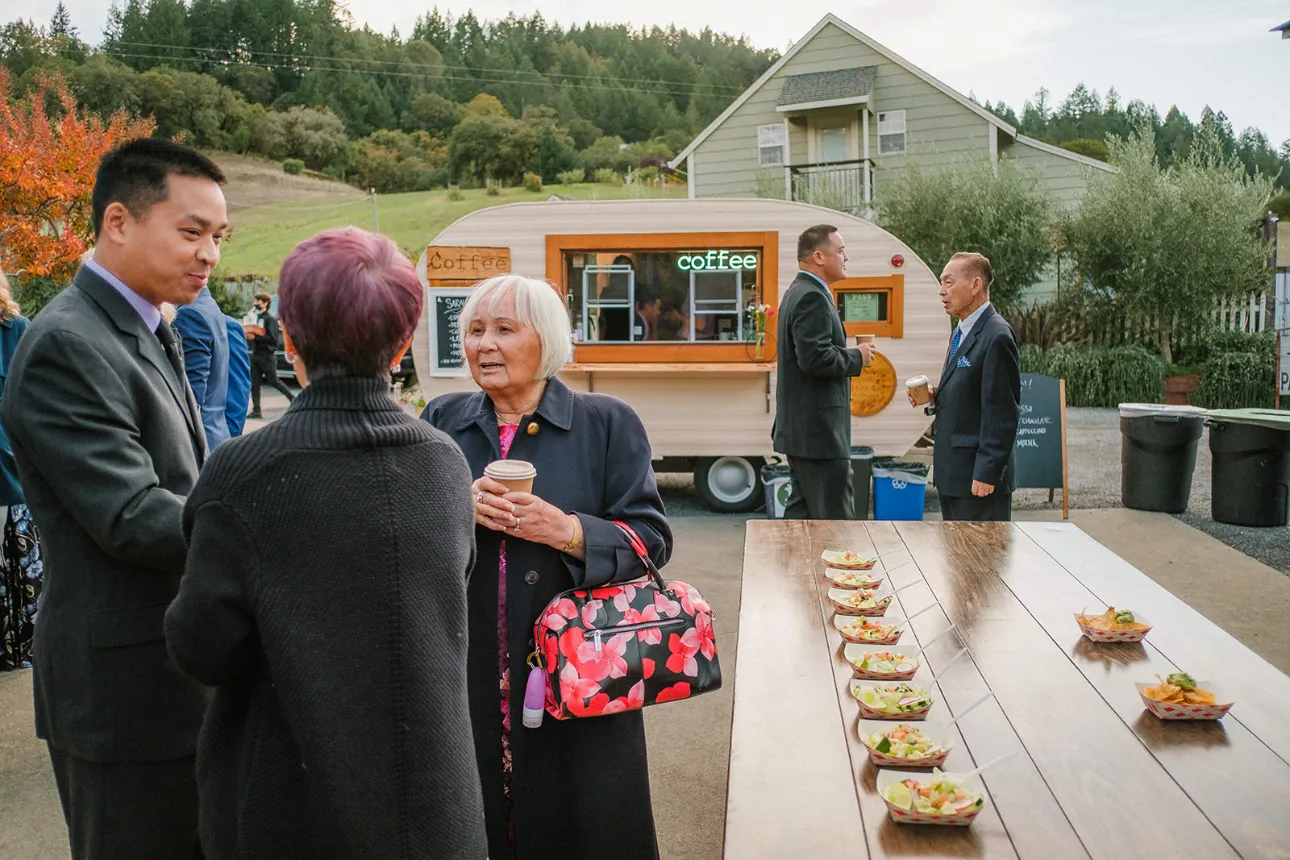 Wedding Vendors in Calistoga
You will need to consider many different vendors when planning your wedding in Calistoga. Some of the top vendors in the area include:
– Calistoga Bridal Salons
– Calistoga Beauty Salons
– Calistoga Caterers
– Calistoga DJs
– Calistoga Florists
– Calistoga Reception Venues
– Calistoga Videographers
Each vendor offers different services you will need to consider when making your final decisions. Make sure to do your research and choose the best vendor for each category that fits within your budget.
Clos Pegase Winery
Clos Pegase Winery is a winery and event venue that offers a hidden gem experience. The winery is located minutes away from downtown Santa Rosa, California. Clos Pegase Winery offers wine varieties from both Italy and Sonoma County. The venue is famous for couples who want to host weddings or other private gatherings.
Landmark Vineyards Kenwood Estate
Landmark Vineyards Kenwood Estate is a wedding venue with ties to Damaris Deere Ford, the great-great-granddaughter of John Deere. The estate was founded in 1974 and is located in Kenwood, California. The estate has a range of amenities that can be used for weddings, including wine tastings, gardens, and more. The estate has been featured in various magazines and newspapers and has been used for events such as weddings and corporate functions.
Merryvale Vineyards
Merryvale Vineyards is a vineyard and winery wedding venue in Saint Helena, California. The rustic and elegant atmosphere creates a perfect setting for romantic receptions with couples and their loved ones. Two stories of century-old 2,000-gallon casks line the stone walls of the historic barrel room, where guests can enjoy wine tastings. Nestled at the base of the Mayacamas Mountain Range in the Sonoma Valley, Landmark Vineyards epitomizes the rustic grace and beauty of Sonoma County.
Poppy Bank Epicenter
Poppy Bank Epicenter is a unique wedding venue located in the heart of Calistoga Springs. The epicenter of food and wine, Calistoga Springs is an ideal location for weddings due to its unique features and surroundings.
Poppy Bank Epicenter is an excellent choice for small weddings in Sonoma County (50-60 people). It's located near West county—Bodega Bay, Jenner, Half Moon Bay, and other popular wedding spots in the area.
Solage, Auberge Resorts Collection (Special Occasion Events)
Solage, Auberge Resorts Collection is a wedding venue offering panoramic vineyards views. It can accommodate up to 200 guests for a seated event and up to 230 guests for a standing event.
Triple S Ranch – WORTH a Visit
Triple S Ranch is a beautiful and serene wedding destination in Calistoga. The ranch offers a range of accommodation options to suit your needs, including cabins, suites, and cottages. Triple S Ranch is an excellent choice for a wedding venue because it has a beautiful natural setting and is comfortable and spacious. The ranch also has an on-site event coordinator to help you plan your big day.
Chateau de Vie – Romance and Overnight Options
Chateau de Vie is a luxurious wedding venue that offers breathtaking views of Napa Valley.They offer a variety of wedding packages that are perfect for couples who want to celebrate their love uniquely and especially. The venue has luxurious rooms that can accommodate up to 50 guests and a semi-private patio that is perfect for enjoying your wedding day moments with your loved ones.
Castello di Amorosa – Attention to Detail and Plenty of Space Options
Castello di Amorosa is a wedding venue in Napa, CA. The castle offers two stories of their historic Old Stone Building that hosts old-world masonry and rustic wood beams.
Fairwinds Estate Winery – Wine Interest and Wine Aficionados
Fairwinds Estate Winery is a winery that offers a range of wine options. The interior layout is simple and loaded with technology. There are no corkage fees. The views are endless and there are dozens of photo opportunities. It is a short drive from other Calistoga wedding venues.
Sterling Vineyards – Temporarily Closed
Sterling Vineyards is currently closed for renovations but will reopen in the future with gorgeous renovations.
Indian Springs – Calistoga Wedding Venue (Amazing for Photos)
The Indian Springs Resort is a historic, family-owned resort and spa in the Napa Valley. The property is blessed with rare natural resources – four thermal geysers and an Olympic mineral pool.
Indoor and outdoor event spaces are available at the resort, each designed to give you an authentic Napa Valley experience. The event team at the resort is anxious to partner with you for any special occasion by assisting with menu selections, event styling, and choice of our distinctive settings.
Hacienda Guest House – California Calistoga
The Hacienda Guest House offers a variety of amenities and services that make it a great choice for weddings, including:
– Catering services
– A wide variety of rooms
– Complimentary breakfast
– Free parking
– Wi-Fi
These rooms provide everything that guests need to be comfortable during their stay. The Hacienda Guest House also offers catering services that make it easy for wedding guests to eat on-site. This is an excellent option for guests who do not want to leave the venue.
Related Searches in Calistoga, CA 94515
There are several great wedding venues in and around Calistoga, CA 94515. American Canyon, Angwin, Deer Park, Napa, Oakville, Rutherford, and St. Helena all have beautiful venues that would be perfect for your big day. There are many things to consider when choosing a venue, such as the size of the venue, the price, the location, and the amenities. Make sure to take your time and look at your options before making a final decision.
SSS Ranch, Napa – Wedding Event Gatherings
SSS Ranch is a private 20-acre property offering a tranquil and gorgeous wedding setting. You are free to do whatever you want with the entire property, including the main house, gardens, pool area, and bocce court. The Victorian vibe of the property provides a fantastic experience for your guests. The grounds are beautifully landscaped with flowers, trees, and shrubs. There is also a gazebo and an outdoor fireplace.
Hans Fahden Vineyards – Natural Beauty and An Excellent Location
Hans Fahden Vineyards is a charming wedding venue located in Calistoga, CA. The vineyards of Hans Fahden are located in the Mayacamas Mountains, just outside of the town of Calistoga. The Hans Fahden is an ideal and intimate setting for your special day. You will get access to both indoor and outdoor areas within the site. The wine cave is the highlight of this location, and it is an ideal space for a reception.
The Four Seasons | Calistoga Weddings Great for Groups
The Four Seasons Resort and Residences Napa Valley is one of the top wedding venues in Calistoga Springs. The vineyard barn is the main venue for receptions, but there are a range of other amenities that make it an ideal choice for weddings. These include:
– Impeccable service that makes your guests feel welcome,
– A light-filled barn that can be used for parties or wine cellars for farm-to-table dining,
– A variety of outdoor spaces perfect for photo opportunities, and
– Luxurious accommodations for your guests.
French Oak Ranch – Wedding Venues in Calistoga
The French Oak ranch is one of the most beautiful Calistoga wedding venues. The ranch is located right by Annadel State Park in the heart of Sonoma County, California. The ranch offers stunning ancient oak trees, lawns, and a lush landscape.
The Vineyard Estate – Calistoga Events
The Vineyard Estate is located in the mountains and offers stunning views. The vineyard and its surroundings are beautifully landscaped and the perfect backdrop for a romantic and relaxing evening. Two lovely large rooms are ideal for a cocktail reception. A lovely patio that overlooks the vineyard adds to its beauty. The Vineyard Estate is one of the most picturesque wedding venues in Calistoga.
Charles Krug Winery – Winery Wedding Property
Charles Krug Winery is one of Calistoga's most classic wine country wedding venues. The St. Helena winery has indoor and outdoor options to say, "I do," and an events manager to assist with all the special details.
Calistoga Wedding Venues in Napa
Calistoga, CA is a small quintessential town in Napa, CA. Calistoga is famous for the Castello di Amorosa, hot springs, mud baths and wineries.
Calistoga Vineyard Estate
Tank Garage Winery
Solage Calistoga
Double R Ranch, aka Ross Ranch
Brannan Cottage Inn
Calistoga Ranch – An Auberge Resort
Clos Pegase Winery
Hans Fahden Vineyard
Indian Springs Resort
Mayacamas Ranch
Triple S Ranch
Envy Vineyard
wedding venues near Calistoga
Mountain House Estate is a short 43-minute drive from Calistorage and other wedding venues near Calistoga.
wedding barn venues in Calistoga
Mountain House Estate is not in Calistoga, so it's technically not considered wedding barn venues in Calistoga, but it's less than an hour scenic drive from Calistoga.
wedding venues in Calistoga CA
Other wedding venues in Calistoga CA are hard to come by or possibly burned down in the Glass Fire, which is tragic. Because 2020 brides had to rebook their weddings in 2021 due to Covid, you may have to search hard to find wedding venues in Calistoga CA that are available for your desired date.
wedding venues Calistoga ca
wedding venues Calistoga CA is a limiting search; try searching in Mendocino, Sonoma, and other parts of Northern California to get more unique and intriguing results.
Calistoga winery wedding venues
Many winery wedding venues have unwanted fees such as corkage fees for their wine. Don't limit yourself to searching for Calistoga winery wedding venues.