Welcome to an enchanting journey through the best Healdsburg wedding venues, where love and beauty intertwine to create unforgettable moments. Nestled in the heart of Sonoma County's picturesque wine country, Healdsburg offers a captivating backdrop for couples seeking a truly remarkable setting for their special day.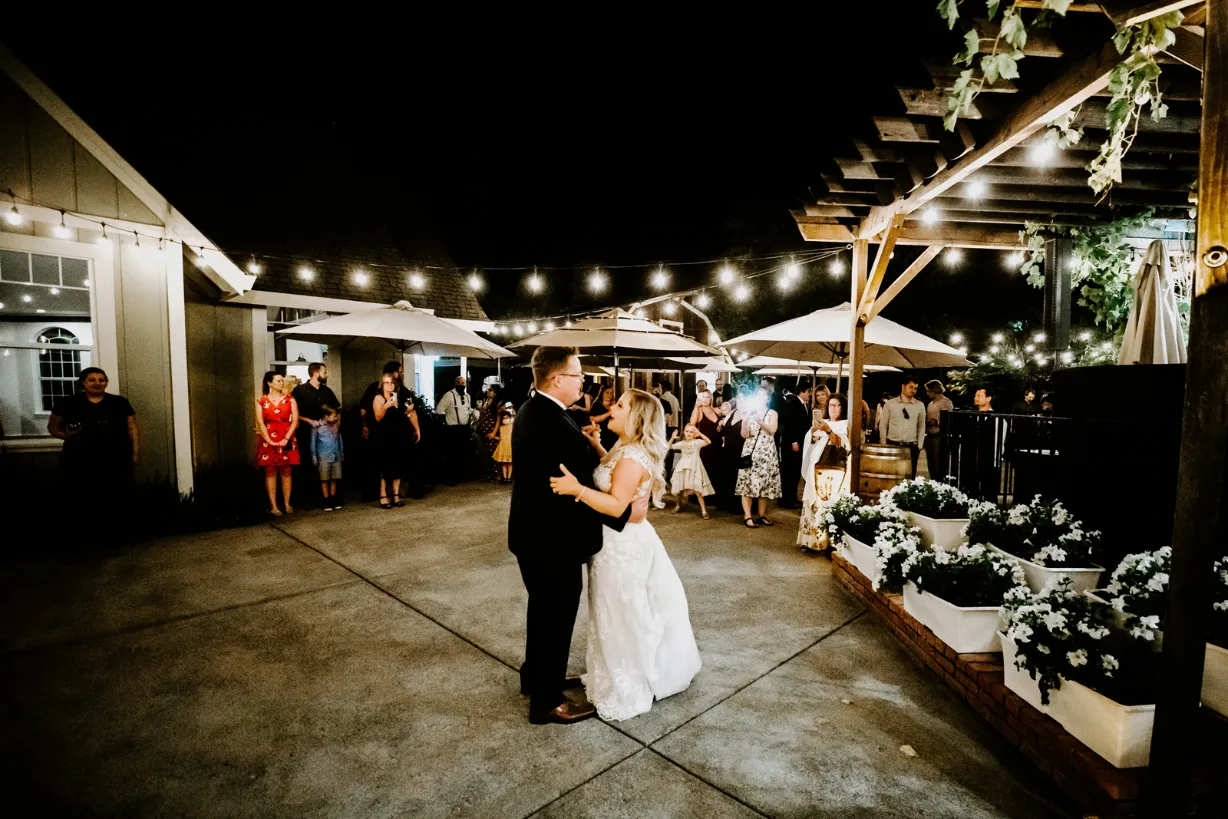 11 Breathtaking Healdsburg Wedding Venues
From elegant vineyards and charming gardens to rustic barns and luxurious estates, this blog unveils a curated selection of Healdsburg wedding venues that will inspire your imagination and leave you breathless. Join us as we celebrate romance, showcasing the most enchanting places where dreams become reality and love stories unfold.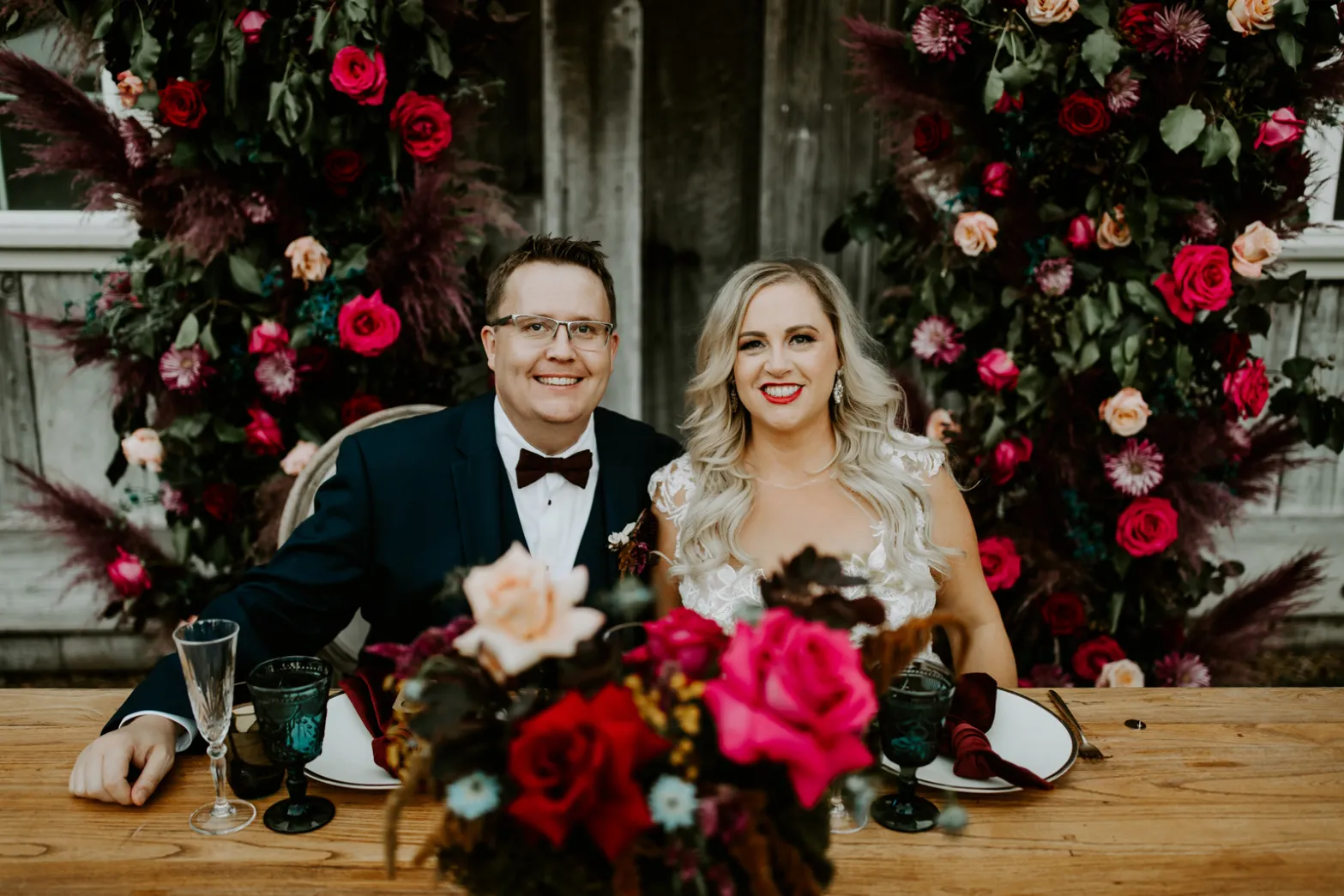 1. Mountain House Estate
Highlights:
BYO Vendors or All-Inclusive Package
Wine Country splendor without the price tag or forced wine purchase
Unmatched service and hospitality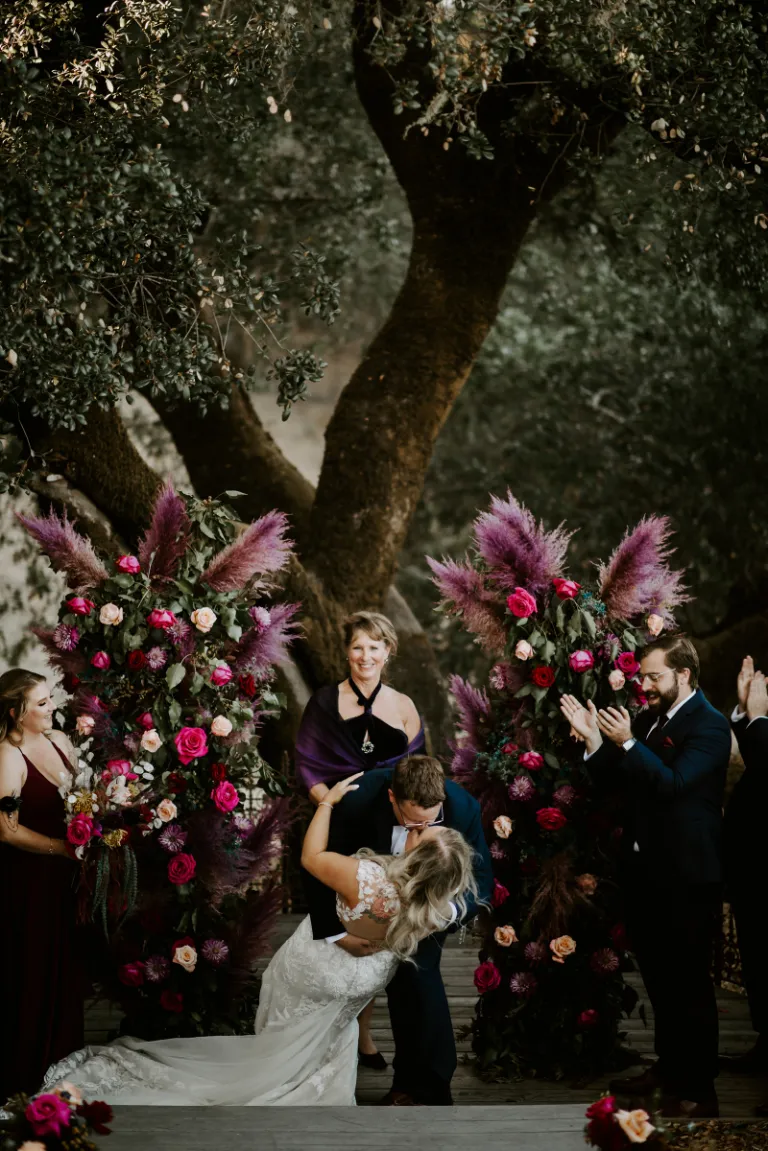 Mountain House Estate is a beautiful wedding venue in Cloverdale, CA, just a short drive from Healdsburg and the Mendocino coast. With multiple ceremony and reception sites, a gorgeous bridal suite and ready rooms, and the option to bring your own vendors and food trucks, Mountain House Estate offers a stress-free and customizable wedding experience. The Healdsburg wedding venues outdoor ceremony space and indoor reception area provide a picturesque backdrop for any wedding, and its rustic charm and historic features make it a unique and memorable choice. Ideal for couples who want to mix wine country splendor with Mendocino coast adventure, Mountain House Estate is the perfect place to frame your dream wedding vision.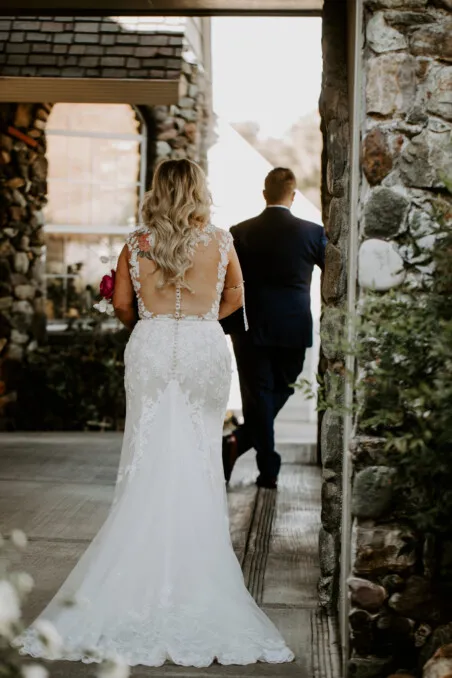 Our Wine Country Wedding Venue Amenities & Inclusions
| | |
| --- | --- |
| Venue Features | Details |
| Property & Venue | Exclusive use of our 40-acre property on your wedding day. |
| | Lodging options for up to 34 guests in five separate homes located next door. |
| Choice of Ceremony and Reception | Indoor and outdoor options for your ceremony, cocktail hour, and reception, including the Oak Tree Terrace, the Pond, and the Indoor Barn. |
| Planning App | State-of-the-art event planning platform using Allseated software at no cost to you. |
| Wedding Vendors | A carefully curated list of wedding professionals with the flexibility to bring in your own vendors. |
| Getting Ready Suites | Three separate Ready Rooms, including the Juliet Prep Room (included) and the Oasis and Hangout (can be added separately). |
| Other Fees After Signing Contract | No hidden, corkage, or other fees. |
| Extra Hours | Option to add additional early prep hours or late hours. |
| Lighting features | Custom-built, dimmable lights and Edison bulbs indoors, market lights on the patio and lawn, uplighting in trees, vineyard, and Barn. |
| Fire Pits, Music, and Entertainment | Two fire pits with propane provided, a built-in surround sound speaker system, a freestanding selfie photo booth, two dance floors, lawn games, and high-speed WiFi. |
| Food & Alcohol | BYOB policy with no required alcohol purchase recommended caterers, and allowance for food trucks with a dedicated parking area. |
| Photo Opportunities | Dozens of locations on the property for photo ops, providing a wide range of backdrops. |
| Tables and Chairs | Stylish tables and chairs to seat 250 guests. |
| Furniture and Large Decor Items | Heptagon and triangle arches, market umbrellas, bar stools, moveable wine barrels, lounge furniture, and more. |
| Rehearsal Time | 90-minute rehearsal time included. |
| Smoking/Vaping Area | Stylish smoking and a vaping area called the Smokin' Olive Lounge, along with a Cigar Bar. |
| Parking Attendant and Security | Complimentary parking in a lit, gated parking lot with a parking attendant and security attendant for guest safety. |
| Payment Plan | Acceptance of an initial payment with monthly payment options available. |
| Sustainability Efforts | Use of sustainable practices, upcycled materials, water conservation, and recycled materials in gardens. |
| Safety Details | Legal permits, commercial insurance, staff CPR & AED certified, and backup generator in case of a power outage. |
| What We Don't Include | Wedding planner, catering, additional decor, insurance. |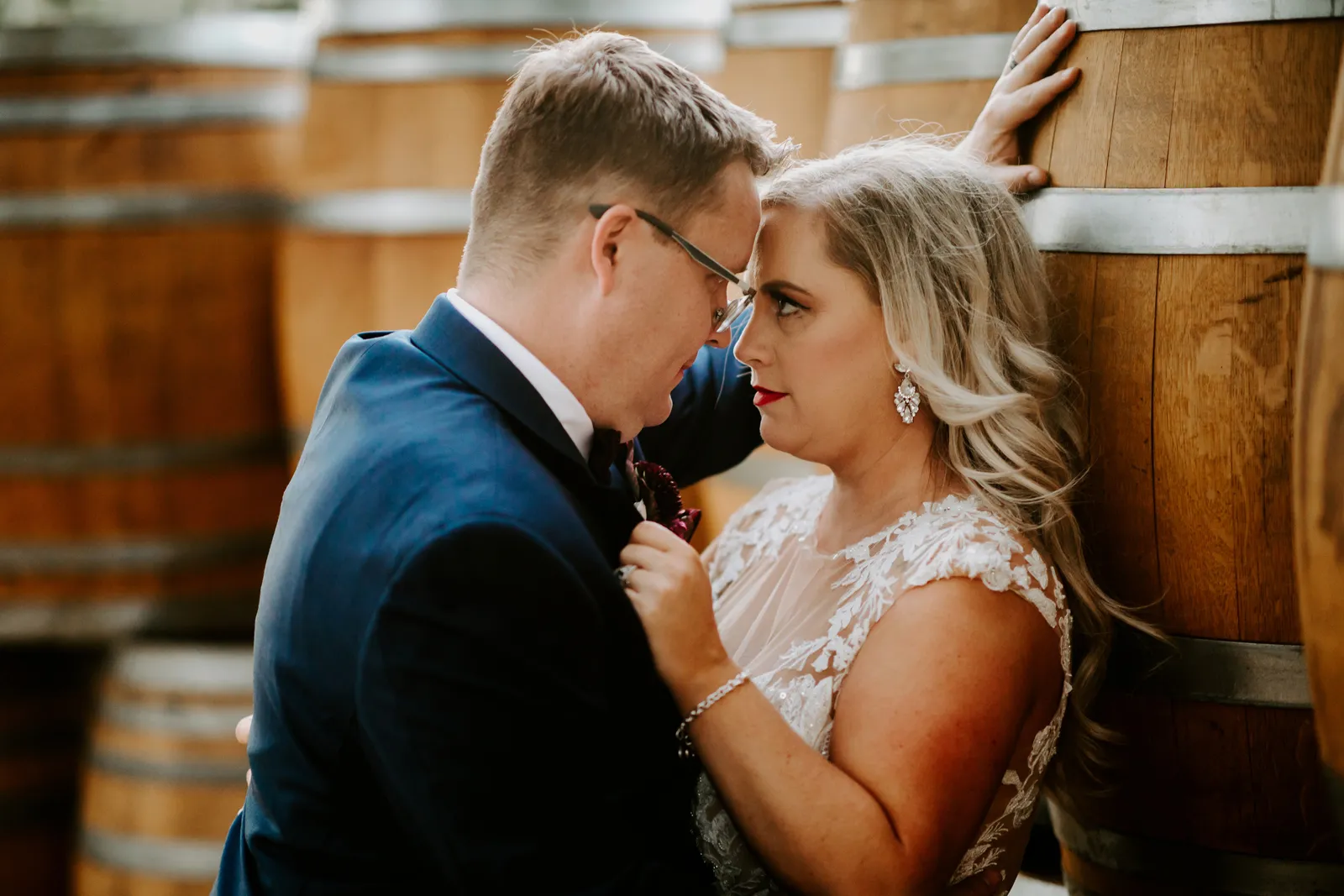 2024 Pricing
| | | |
| --- | --- | --- |
| Guest Count | April 16 – November 15 | November 16 – April 15 |
| Up to 125 | Saturday: $9,500 | Saturday: $8,500 |
| | Fri/Sun: $8,500 | Fri/Sun: $7,500 |
| | Mon – Thurs: $7,500 | Mon – Thurs: $6,500 |
| Up to 150 | Saturday: $10,500 | Saturday: $9,500 |
| | Fri/Sun: $9,500 | Fri/Sun: $8,500 |
| | Mon – Thurs: $8,500 | Mon – Thurs: $7,500 |
| Up to 200 | Saturday: $11,500 | Saturday: $10,500 |
| | Fri/Sun: $10,500 | Fri/Sun: $9,500 |
| | Mon – Thurs: $9,500 | Mon – Thurs: $8,500 |
| Up to 250 | Saturday: $12,500 | Please ask for availability |
| | Fri/Sun: $11,500 | |
| | Mon – Thurs: $10,500 | |
| Up to 50 | $5,500 | Available Sundays through Fridays, year-round |
2. Villa Chanticleer
Villa Chanticleer: A historic wedding venue atop Fitch Mountain in Healdsburg, CA.
Panoramic views: Enjoy breathtaking vistas of Northern California's famed wine country.
Rustic charm: Surrounded by old-growth oaks and Redwood groves, the venue offers a unique and rustic ambiance.
Versatile capacity: Accommodates groups of 20 to 500 people, perfect for intimate and grand celebrations.
Outdoor and indoor spaces: Features an outdoor garden and an indoor reception hall, ideal for weddings and other events.
Diverse event options: Hosts weddings, fundraisers, holiday parties, celebrations of life, and picnics/barbecues.
Responsive staff: The dedicated team ensures a successful and memorable event.
Winter wedding destination: Villa Chanticleer is perfect for a magical winter wedding.
Beautiful ambiance: The venue's natural flow and stunning surroundings create enchanting atmosphere.
3. Thunderbird Ranch
Thunderbird Ranch is a slice of heaven in Northern California's famed wine country, offering an idyllic setting for your special day.
Immerse yourself in the ranch life with cozy accommodations and a Western flair that'll make you feel like you've stepped into a cowboy movie!
Ghostly Good Times: This ranch has a working ghost town featuring a general store, a blacksmith shop, covered wagons, a train depot, and even plush interior railroad cars. How's that for a unique backdrop?
With a spacious capacity of 205 guests, Thunderbird Ranch can accommodate all your loved ones, ensuring a memorable celebration.
Thunderbird Ranch offers top-notch catering and event planning services, relieving stress from your big day.
ay "I do" surrounded by the enchanting beauty of majestic old oaks, lush gardens, and sprawling lawns. The rustic and charming aesthetic sets the perfect stage for outdoor ceremonies and receptions.
Thunderbird Ranch is for couples seeking a one-of-a-kind and genuine experience. If you appreciate the beauty of nature and love to soak up history, this venue is your ticket to an unforgettable wedding adventure.
4. Trentadue Winery
| | | | | | |
| --- | --- | --- | --- | --- | --- |
| Venue Name | Location | Event Spaces | Capacity | Amenities | Unique Features |
| Trentadue Winery | Healdsburg, CA | Vineyard Pavilion | Up to 200 guests | Catering, event coordination | Picturesque location surrounded by vineyards |
| | | Fountain Courtyard | Up to 150 guests | | Old-fashioned hospitality from the staff |
5. Chalk Hill Estate Vineyards & Winery
| | | | | | | |
| --- | --- | --- | --- | --- | --- | --- |
| Venue Name | Location | Views | Spaces | Capacity | Amenities | Additional Perks |
| Chalk Hill Estate Vineyards & Winery | Healdsburg, CA | Breathtaking panoramic views of wine country | Multiple spaces available | Varies based on space | Catering, event planning services, PA system, dressing rooms, use of bar glassware | Flexibility in accommodating various styles and sizes |
6. Barndiva
| | |
| --- | --- |
| Venue Name | Barndiva |
| Location | Healdsburg, CA |
| Description | Picturesque wedding venue |
| | Rustic charm |
| | Elegant sophistication |
| Spaces | Spacious indoor dining room |
| | Outdoor patio with stunning views |
| | Forest, vineyards, landscaped grounds |
| Amenities | Hourly rental options |
| | Jazz music |
| | Professional staff |
| | Attention to detail |
| Features | Panoramic views |
| | Fountain |
| | Pool area |
| | Lush gardens |
| Perfect for | Celebrating your special day |
7. Duchamp Hotel
| | |
| --- | --- |
| Venue Name | Duchamp Hotel |
| Location | 421 Foss St, Healdsburg, CA |
| Description | Charming and elegant mansion |
| | Perfect setting for a dreamy wedding weekend |
| Event Spaces | Garden |
| | Historic landmark building |
| | Patio |
| | Private estate |
| Ambiance | Romantic and intimate |
| Accommodation | Luxurious rooms, suites, and cottages |
| | Comfortable accommodation for guests |
| Restaurant | On-site restaurant |
| | Caters to your culinary needs |
| Capacity | Ideal for intimate weddings |
| | Capacity of 40 guests |
| Connectivity | Free WiFi |
| Features | Beautiful natural surroundings |
| | Outstanding customer service |
| | Unique and memorable features |
| Ideal for | Couples looking for an unforgettable wedding |
| | Dreamy wedding experience in Healdsburg, CA |
8. Quivira Vineyards & Winery
Get ready to fall in love with Quivira Vineyards & Winery, the ultimate wedding venue in Healdsburg, CA. Check out what makes it the perfect choice for your special day:
Serene Views: Say "I do" overlooking the breathtaking Russian River Valley. The stunning backdrop will create an unforgettable ambiance.
Picturesque Outdoor Setting: Tie the knot surrounded by beautiful gardens and vineyards. Quivira Vineyards & Winery offers the perfect location for an enchanting outdoor wedding.
Versatile Event Spaces: Choose from multiple options, like the charming barn or the stylish tasting room. With a capacity of up to 200 guests, there's plenty of room to celebrate with your loved ones.
Stress-Free Planning: Enjoy peace of mind as Quivira Vineyards & Winery provides catering and event coordination services. Sit back and relax while their experienced team takes care of every detail.
Rustic Charm: The overall atmosphere of Quivira Vineyards & Winery is rustic and charming, setting the stage for a romantic and intimate wedding. It's the perfect blend of elegance and natural beauty.
9. Francis Ford Coppola Winery
Stunning wedding venue located in Healdsburg, CA, overlooking the picturesque Russian River Valley.
Warm and welcoming staff dedicated to providing consummate service.
Serene and romantic ambiance perfect for personal celebrations and business meetings.
Available for private events.
Unique features include expressive grapes for their house wines.
Wholehearted commitment to accommodating guests.
Opportunity to taste the wine and experience the winery firsthand.
10. The Wild Orchid
| | |
| --- | --- |
| Property Details | Amenities and Features |
| Location: Healdsburg, CA | Full-day rental |
| Setting: Idyllic and picturesque | Elegant patio |
| Surroundings: Eight acres of enchanting grounds | Wraparound porch |
| View: Breathtaking Dry Creek Valley | Grassy estate gardens |
| Features: Luxurious vineyards, expansive lawns | Majestic cork oak tree |
| Atmosphere: Ultimate paradise, hidden among the city | Refreshing cocktails and delicious food |
| Rental: Full-day availability | Historic charm and Victorian elegance |
| | Perfect for a magical and dreamy countryside wedding |
11. Copain Wines
From intimate dinners and large group tastings to corporate gatherings, Copain Wines offers an ideal location to create an unforgettable experience for your upcoming event.
That wraps up our 11 top Healdsburg wedding venues! Keep reading for FAQs.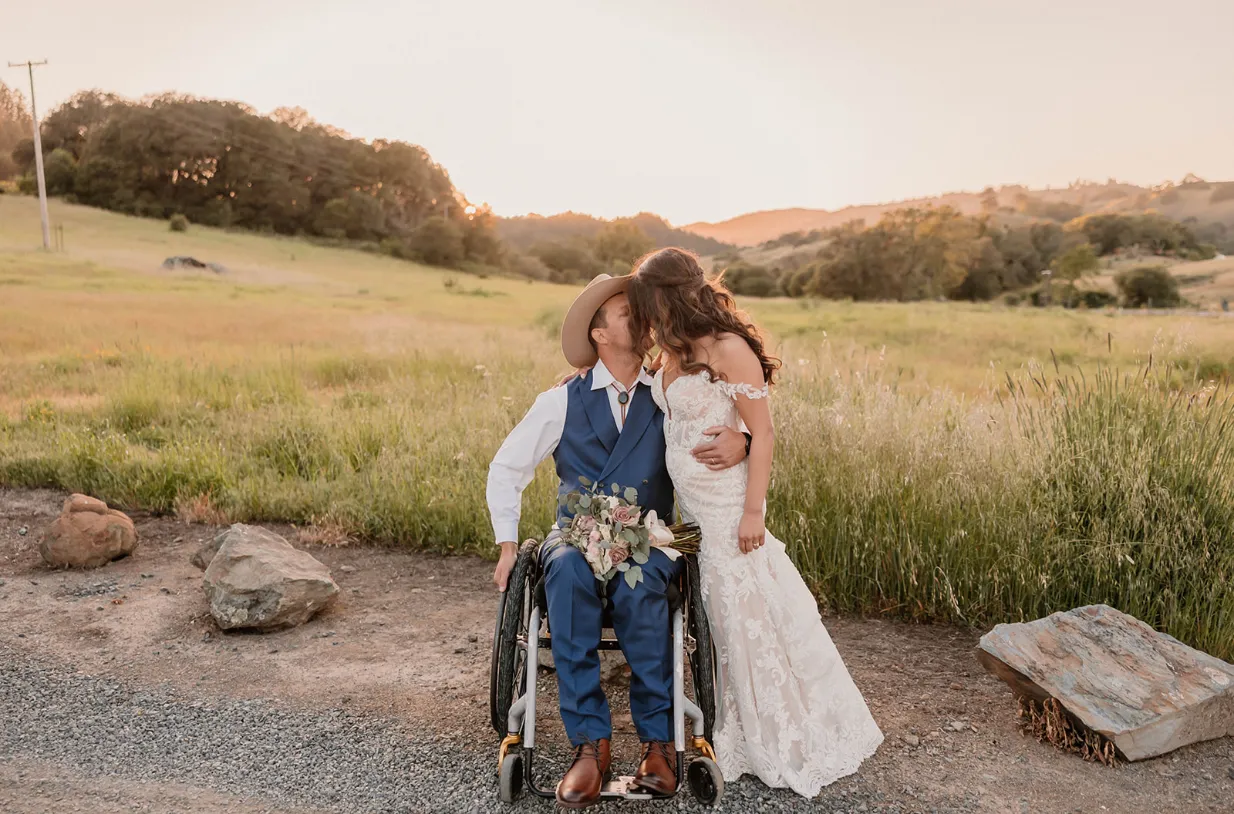 FAQs And More Information About Healdsburg CA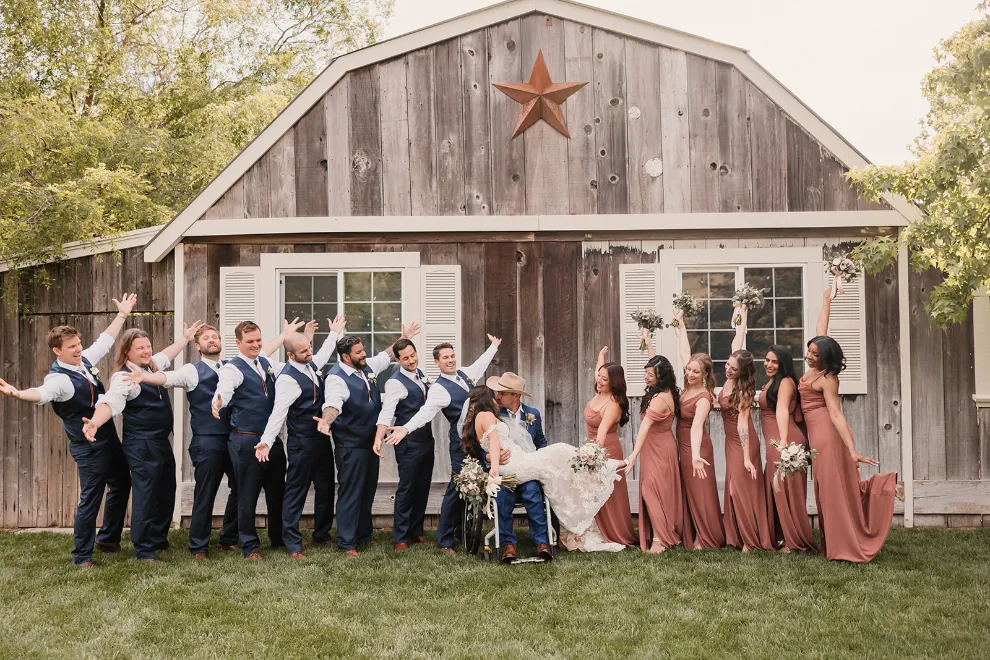 Near Healdsburg, you'll find a variety of charming cities and towns worth exploring or considering for your wedding. Here are a few:
Santa Rosa: Just a short drive south of Healdsburg, Santa Rosa is the largest city in Sonoma County. It offers a vibrant downtown area with shopping, dining, and cultural attractions, including the Charles M. Schulz Museum.
Windsor: Located east of Healdsburg, Windsor is known for its picturesque town square and family-friendly atmosphere. Explore local parks, enjoy outdoor activities, and visit the unique shops and restaurants.
Geyserville: Situated to the north, Geyserville is a small town known for its wineries and scenic beauty. It's a great place to discover boutique wineries, indulge in farm-to-table dining, and soak in the relaxed countryside ambiance.
Cloverdale: Nestled in the northern part of Sonoma County, Cloverdale offers a charming downtown area with historic buildings, art galleries, and antique shops. Enjoy the Cloverdale Sculpture Trail and explore nearby vineyards and natural attractions.
Sebastopol: Located southwest of Healdsburg, Sebastopol is a quirky and artistic town renowned for its organic farms and vineyards. Discover local art galleries, enjoy farm-to-table cuisine, and explore the stunning landscapes of the surrounding region.
Calistoga: Just across the county line in Napa Valley, Calistoga is known for its hot springs, world-class spas, and exquisite wineries. Relax in luxurious resorts, rejuvenate in mud baths, and savor exceptional wines in this renowned wine-country destination.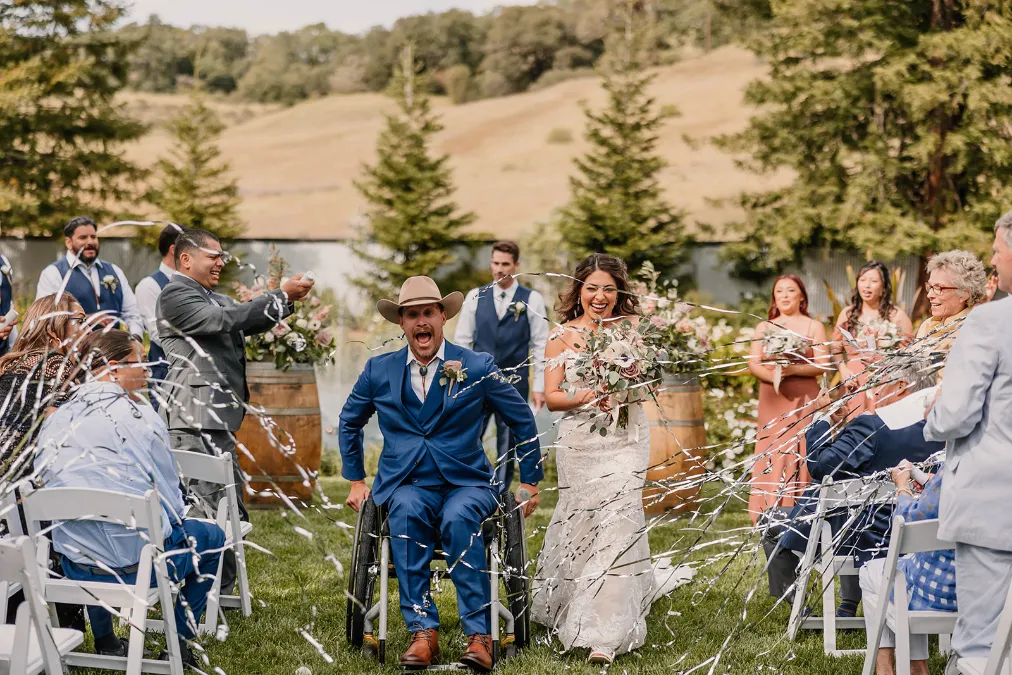 Fun Facts About Healdsburg CA
Healdsburg is in Sonoma County, California, approximately 70 miles north of San Francisco.
Healdsburg is known for being part of the renowned Sonoma County Wine Country, with over 60 wineries and tasting rooms.
Size and Population: As of the 2020 census, Healdsburg has a population of approximately 12,200 residents.
The city of Healdsburg has a rich history dating back to the mid-1800s. Its downtown area is home to several well-preserved buildings from that era, showcasing Victorian architecture.
Healdsburg has gained recognition as a culinary hotspot, with numerous acclaimed restaurants, farm-to-table eateries, and local food artisans offering diverse culinary experiences.
The surrounding area of Healdsburg offers abundant opportunities for outdoor activities. Nature enthusiasts have plenty of options, from hiking and biking in the nearby Russian River and Dry Creek valleys to kayaking on the Russian River.
Healdsburg embraces its artistic side with a vibrant arts community. The city features art galleries, theaters, and cultural events that showcase local talent.
Healdsburg is committed to sustainability and has implemented various initiatives to preserve the environment. These efforts include renewable energy programs, water conservation measures, and recycling initiatives.
Healdsburg residents are actively involved in their community. The city hosts annual events such as the Healdsburg Farmers' Market, Jazz Festival, and Wine Country Film Festival, fostering a strong community spirit.
Tourism plays a significant role in Healdsburg's economy. Visitors worldwide experience the region's wine, food, and natural beauty, contributing to the city's prosperity.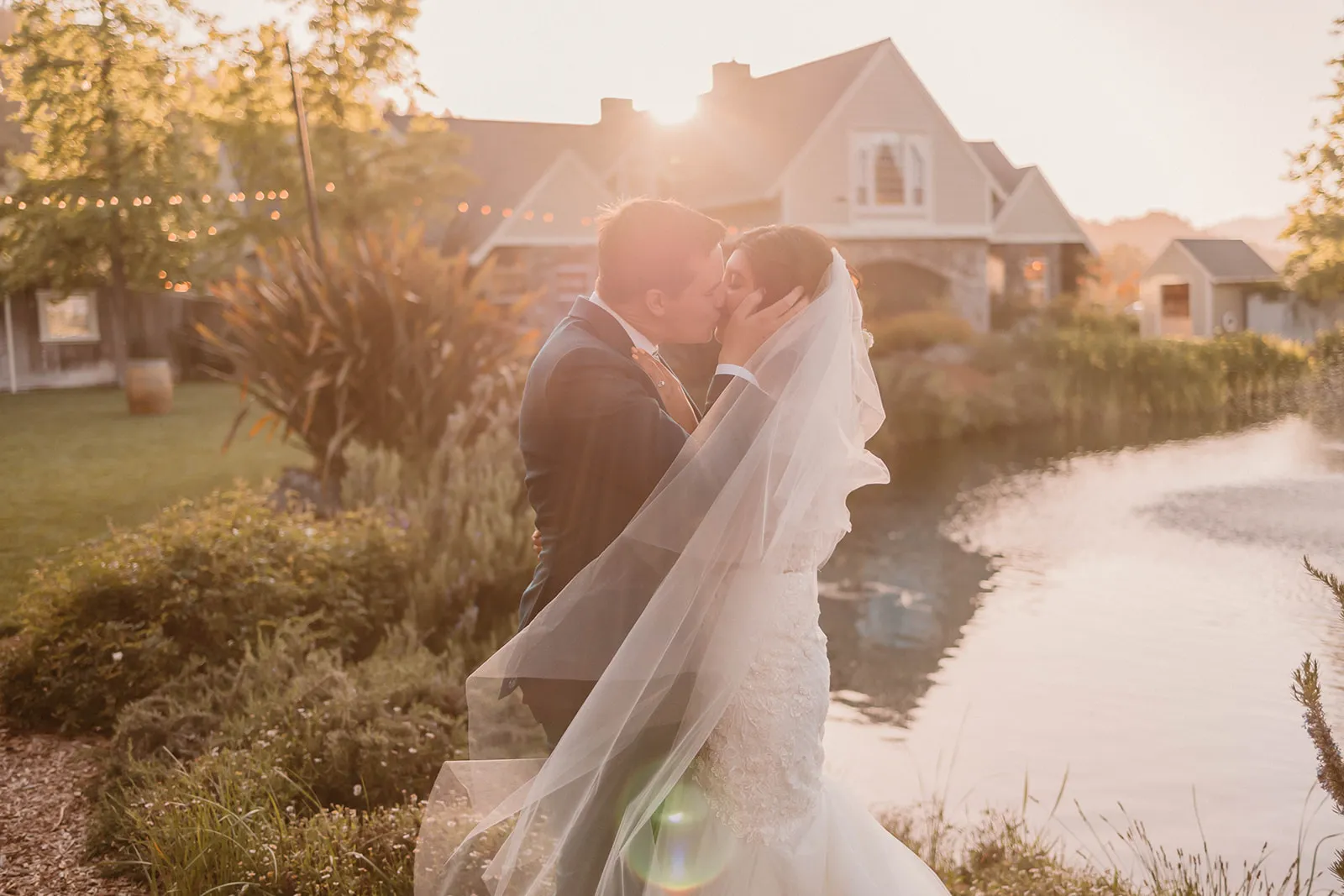 More Cities and Towns Near Healdsburg
Windsor
Santa Rosa
Cloverdale
Geyserville
Sebastopol
Calistoga
Guerneville
Forestville
Ukiah
Rohnert Park
Sonoma
Napa
St. Helena
Lakeport
Clearlake
Middletown
Glen Ellen
American Canyon
Kelseyville
Fulton
Angwin
Cazadero
Monte Rio
Lower Lake
Windsor
Occidental
Upper Lake
Rio Nido
Yountville
Pope Valley
Jenner
Cobb
Healdsburg
Kenwood
Hidden Valley Lake
Cloverdale
Penngrove
Boyes Hot Springs
Hopland
Tomales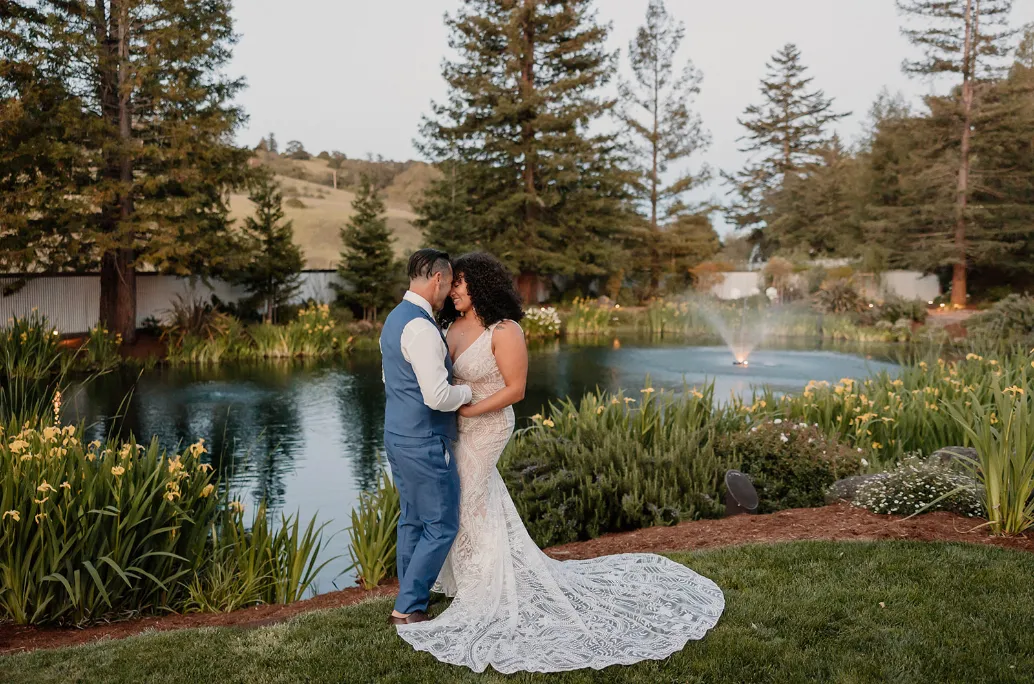 Good Luck Finding Your Perfect Venue!
Embarking on the search for your perfect wedding venue is an adventure filled with anticipation and excitement. Healdsburg, CA presents many options, each with its own distinct charm and ambiance. As you delve into this thrilling journey, remember your needs and desires. Consider the venue's capacity, the amenities it offers, and the associated costs. Armed with this knowledge, venture forth with confidence, knowing that the ideal venue to weave unforgettable memories on your special day awaits you. May luck be on your side as you discover the venue of your dreams!