Why an Elopement in Sonoma is Better than a Napa Valley Elopement
And a list of Sonoma County experiences, entertainment, restaurants, and hotels to enhance your elopement in Sonoma
Napa is crowded, touristy, and overpriced.
With over three million tourists visiting Napa Valley per year, it's the most crowded wine region in California –– not ideal for an exclusive, secluded, and private luxury elopement. And a Napa Valley elopement will cost you –– the wine, lodging, restaurants, and scenery that can be found elsewhere (like Sonoma and Mendocino) for half the price. When wedding couples ask us for ways to enhance their wedding or elopement experience, we urge them to skip a Napa Valley elopement, and instead opt for a wine country elopement idea.
Eloping to Sonoma Valley
An elopement at Mountain House Estate allows you to experience all that Healdsburg, CA, has to offer, so we highly recommend eloping to Sonoma Valley. Condé Nast Traveler Magazine named Healdsburg a top place to visit in 2021. And we couldn't agree more, which is why we want to share our favorite luxury accommodations, spas, restaurants, wineries, experiences, and more in and around Healdsburg, CA.
This private home sits on 4.25 acres in the heart of Healdsburg, CA. It's the perfect accommodation before or after your wedding or elopement at Mountain House Estate; featuring gorgeous interior spaces, gardens, a swimming pool, jacuzzi, and much more, it's truly a private oasis.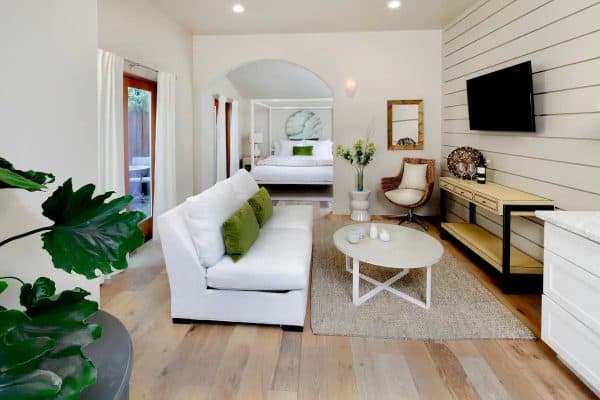 If a downtown condo is more your style, this Suite will suit you perfectly. Just a minutes walk to Healdsburg Plaza, and in the heart of downtown Healdsburg, the Cloud Suite is surrounded by locally-owned shops and galleries, restaurants and eateries, and of course, tasting rooms.
Note: If the Cloud Suite is booked for your dates, this Suite is also located near the Healdsburg Plaza.
Our favorite luxury hotels in Healdsburg, CA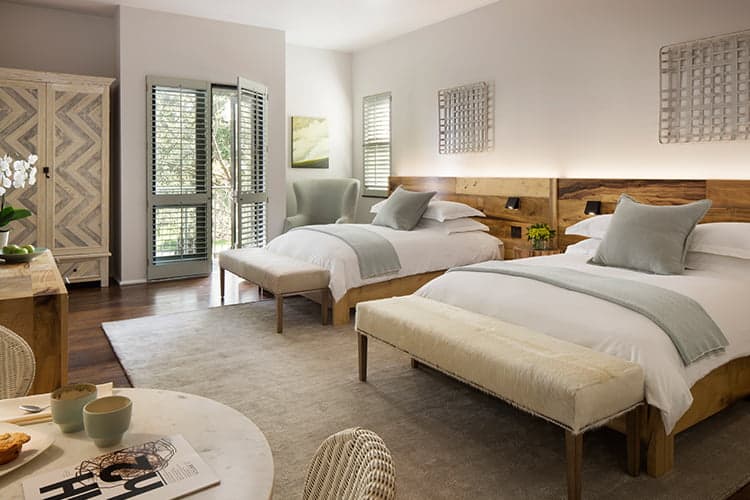 Hotel Healdsburg puts you right at the center of the action and offers luxury accommodations and so much more. Rooms range from $400-$1,000 per night. Some of our favorite features of Hotel Healdsburg are:
The Spa (skip to the next section to read about the Spa at Hotel Healdsburg)

Dry Creek Kitchen

Dry Creek Kitchen offers Progressive American fare and over 500 handpicked wine selections. Boasting views of the Healdsburg plaza, the restaurant will open the floor-to-ceiling doors to expose the trellised terrace when the weather permits.

Garden Pool

The Garden Pool features sun-shaded chaise lounges surrounded by a garden of olive and fig trees, hydrangea, boxwood, and roses. And if you want refreshments by the pool, the pool bar offers drinks and dining services during the summer months.

Complimentary Harvest Breakfast

The Harvest Breakfast includes freshly baked goods from the kitchen, fresh fruit, smoked salmon, coffee, juice, and made-to-order eggs.

Spirit Bar

The Spirit Bar is a great place to mingle with locals or try out their menu of small bites, craft cocktails and beer, a broad sampling of wine, and live music on Fridays and Saturdays.

Fireplace Lounge

The hotel serves wine, cocktails, bites to eat, and beer in the Fireplace Lounge, adjacent to the courtyard garden.
Hotel Trio
Hotel Trio is the newest luxury hotel in Healdsburg. Like Hotel Healdsburg, it features a complimentary breakfast and equally as important, a heated pool. If you're looking to explorer Healdsburg or the Healdsburg Plaza, their complimentary shuttle will get you there. If you have wedding guests and they don't want to spend as much, the Best Western is nearby and close enough for you to gather and plan activities together.
The Spa at Hotel Healdsburg
If you're looking for a luxury spa experience, The Spa at Hotel Healdsburg is just that. We love most of the massages, body wraps and scrubs, and facials that feature local products from Sonoma County farms. Our favorite is the Wine and Honey Wrap, which sources local honey and organically-farmed Sauvignon Blanc from Quivira Vineyards.
If you want a less expensive option than Hotel Healdsburg that is more quaint, Bella Villa Messina is an excellent option for your wedding or elopement. Bella Villa Messina overlooks Healdsburg and offers panoramic views of picturesque Sonoma Wine Country. They also offer a wine & cheese cocktail hour from 5:30 pm – 7 pm.
Our favorite restaurants and eateries in Healdsburg, CA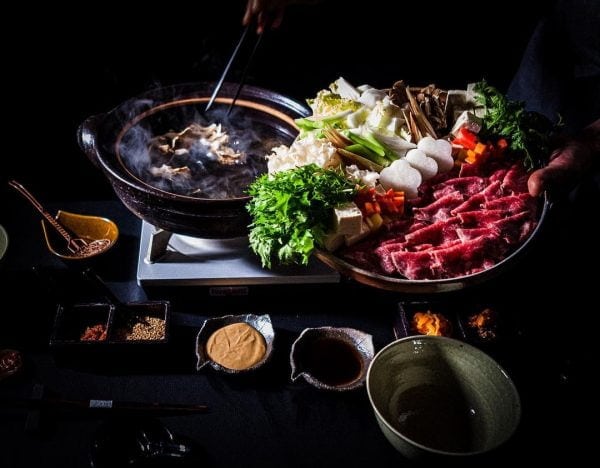 You don't have to go to Napa for a 3 Michelin Star restaurant like the French Laundry (famous for Governor Newsom's dinner); we have one right here in Healdsburg.
The SingleThread Farms restaurant offers an eleven-course tasting menu showcasing the seasonal bounty and customized to your dietary needs. The restaurant was awarded 3 Michelin Stars in 2019 and 2020 from the Michelin Guides San Francisco, Bay Area and Wine Country Restaurants. SingleThread is the first restaurant in Sonoma County to win this honor, and the second year it's been awarded 3 Michelin Stars. Every detail has been taken into account, and the experience is worth every penny. 
For those who don't know, Michelin awards zero to three stars based on anonymous reviewers' inspections. The reviewers concentrate on the quality of the food, mastery of culinary technique, restaurant personality, and consistency of the food. Two stars mean 'excellent cuisine, worth a detour,' while one star means an excellent restaurant in its category.'
This restaurant is usually booked weeks in advance, so if you want to check for reservations, visit this website.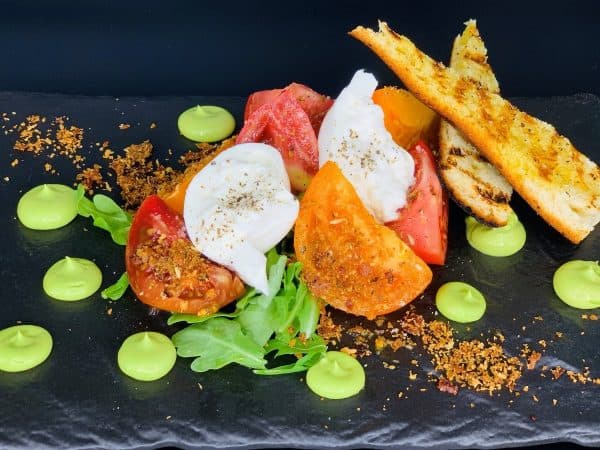 Valette is the second-highest-rated Healdsburg restaurant on TripAdvisor, and for a good reason. The owner and head chef, Dustin Valette, makes it a point to use locally sourced and grown ingredients for his menu and features various wines. The restaurant is approachable, inviting, and offers delectable seasonal fares. 
Wine tasting experiences in Healdsburg, CA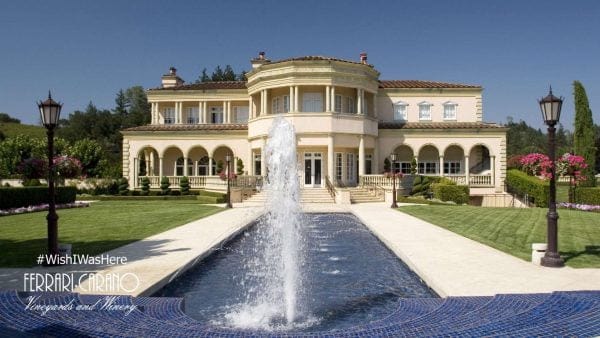 Designed and inspired by Tuscany, Ferrari-Carano is a marvel for architect-lovers. At the winery, visitors may taste classic and limited release wines in the Villa Fiore Wine Shop, in the Enoteca located in the underground cellar, or on Il Terrazzo, the outdoor terrace overlooking the vineyards. Their gardens are spectacular, and visitors come from all over the world to take photos and walk amongst the flowers.
And they're serious about their gardens. In the springtime, they plant over 1,000 tulip bulbs, a beautiful feature. If you want a status update on their tulips, they have a hotline dedicated to that: (707) 433-6700.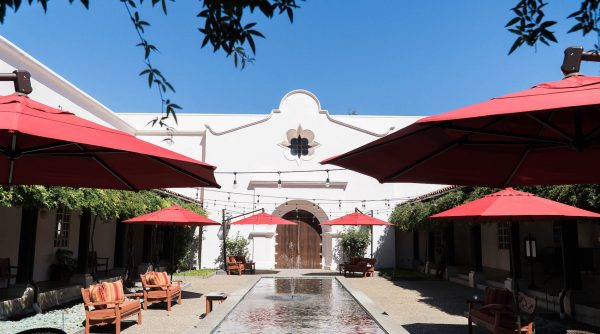 The Estate's mission-style architecture pays homage to Michel-Schlumberger's European roots while honoring the Spanish's influence in Northern California's early history. The winery's distinct look –white stucco walls, natural terracotta tiled roof, a bell tower, and grand courtyard, offer a panoramic view.
Our favorite places to taste wine at the Estate are in the salon, courtyard, and terrace overlooking the vineyards. They also offer local cheeses, artisan salumi, and seasonal accouterments along with their flights of wine.
Private wine tasting tours in Healdsburg, CA
Healdsburg Wine Tours is a company that offers an exploration of Sonoma Wine Country by private transportation. Whether you want to plan your itinerary yourself or take advantage of their knowledge and expertise, your private tour includes an in-depth look at vineyards, gorgeous olive groves, organic and sustainable gardens, and barrel cellars. They also teach you about the history of winemaking, sustainable farming, and winemaking practices.
Are you looking for an off the beaten path experience in Healdsburg? Or a private, secluded vineyard picnic lunch? How about artisanal food, wine, cheese, and olive oil pairings? If you want a luxury experience, Designated Drivers Sonoma can provide you an exclusive experience. Most importantly, this allows you to safely drink and have a designated driver transport you to each wine tasting experience.
Experiences that are Unique to Healdsburg, CA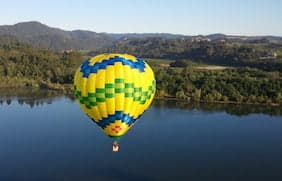 Perhaps the best way to view Sonoma Wine Country is from the sky – and a hot air balloon ride is just perfect for that! Imagine yourself above the valley floor at sunset, taking in the views with your sweetheart. The "Private Flight for 2" package offers just that.
 Shop at the Historic Healdsburg Plaza
Whether you're looking for the perfect souvenir or want to find upscale attire and clothing, you'll find many quaint shops in the historic Healdsburg Plaza that offer everything from antiques and jewelry to books, home goods, wine, and more. During the Summer and Fall, the Healdsburg Farmers Market showcases local artisanal foods and handcrafted goods from vendors all around Sonoma. It makes for a truly unique experience when considering your eloping to Sonoma Valley.
The Healdsburg Plaza has a wide array of art galleries providing different art mediums and styles. We recommend visiting The Paul Mahder and Arena Gallery.
Although hundreds of incredible wineries are in Healdsburg, the Healdsburg Plaza allows you to visit multiple tasting rooms one day. We recommend visiting Williamson Wines, Seasons of the Vineyard, and GC Lurton Vineyards while exploring the square. 
Other food & drink tasting experiences in Healdsburg, CA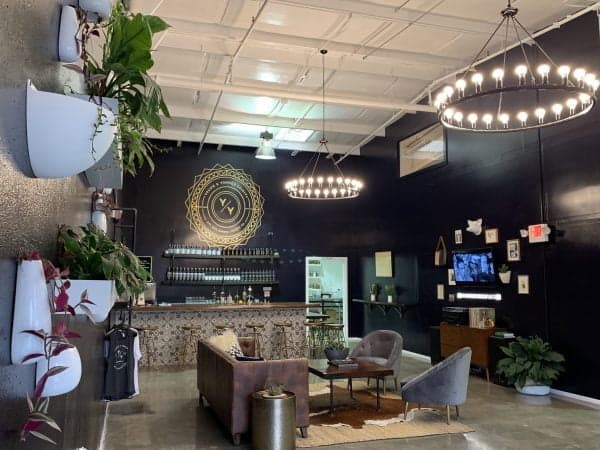 Young & Yonder is a Sonoma County Distillery located in Healdsburg, CA, offering a great selection of spirit tastings and cocktails. Our favorite spirit is their Lime Vodka. Two blocks from the downtown Healdsburg Plaza, it's worth a visit if you want to taste something different than wine. 
This coffee shop is a little off the beaten path and away from downtown Healdsburg, but it's worth the drive. They roast their beans at their Cloverdale, CA, location. In addition to caffeinated substances, many visitors love their baked goods. It's a great start to your day!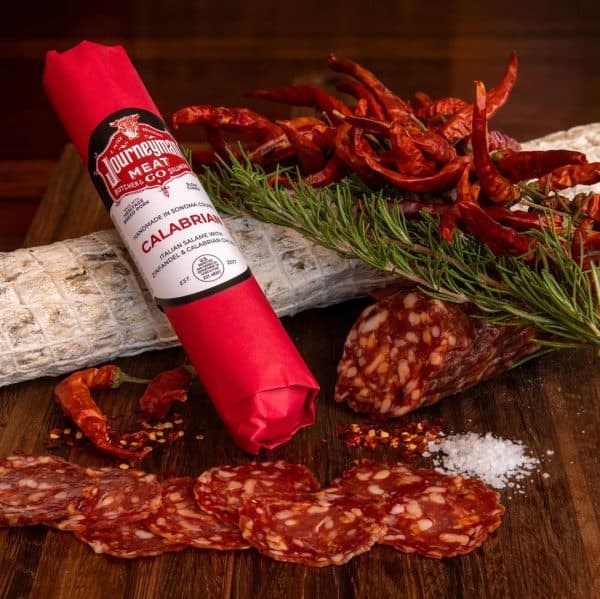 If you're a fan of charcuterie boards, you'll want to pay a visit to Journeyman Meat. Whether you want a souvenir for your return trip home or want something to snack on during your Healdsburg adventures, Journeyman Meat offers unique tasting experiences, gift baskets, and more. All of the meat is locally sourced.
Don't lose your time researching a Napa Valley elopement; instead opt for a "Sonoma County elope" package or experience to have an exclusive, secluded luxury elopement.
If the words "private, exclusive, luxurious, distinct, local, organic, and sustainable" resonate with you, then an elopement at Mountain House Estate with luxury accommodations, dining, and experiences in Healdsburg, CA perfectly suits you. Less boastful and offering more than Napa Valley, eloping to Sonoma Valley is a genuinely unprecedented experience for your destination wedding or elopement. Contact us to learn how to plan a luxury elopement experience with Mountain House Estate.
The Latest from Our Journal
We cover everything from relationship advice to researching wedding venues Northern California and resources to make your wedding planning stress-free.
Elopement Napa Valley Wedding
Typically when you are looking into a luxury elopement Napa Valley wedding, you can expect to receive:
A Sonoma wedding venue or Napa wedding venue for your ceremony

A bottle of wine or champagne

A wedding officiant

Your bouquet

Boutonniere for the groom (or florals for your partner)

Hair and makeup

Professional photography

A petite cake or cupcakes

An elopement coordinator

And other add-ons, such as an arch or select catering options.
But each venue and company offers something different and unique to their region or area. An elopement Napa Valley wedding could be ideal for wine lovers or those trying to escape the hustle and bustle of San Francisco. Still, Napa Valley is only more popular than Sonoma because of its aggressive marketing campaigns over the past few decades. It's more of an industrial, corporate vibe than you'd anticipate. Whereas your wallet would be better suited with an elopement in Sonoma Valley or anywhere across Sonoma, especially Healdsburg. 
Elopement in Napa Valley
Traditionally, elopement in Napa Valley and elsewhere just included the wedding couple. But Covid changed all of that, and now many wedding couples are looking to have a safer, smaller, more intimate wedding or elopement. And while we can accommodate just the two of you, we can also handle your wedding guests. Mountain House Estate can host your ceremony, reception, photoshoot, rehearsal dinner, bridal brunch, and more. An elopement in Napa Valley will end up costing you more time and money, and usually more hidden fees. This is because Napa Valley has changed tremendously over the last few years and is now even more of a tourist trap. Many Napa wedding venues have hidden fees, corkage fees, and other surprises that you won't want to find out about later. That's why we feel an elopement in Napa Valley may not be the best option for you. Instead, look into eloping in Sonoma Valley for a friendlier, more relaxed, and more affordable vibe. 
Napa Valley Elopements
You'll have a more enjoyable experience if you skip researching Napa Valley elopements and instead opt for an elopement in Sonoma, especially at Mountain House Estate. Our team can help you select the best vendors to suit your taste and style. And we can coordinate a wedding planner for you to handle the contract, coordination, and correspondence with all vendors. Once you have your dream elopement decided on, your wedding is designed accordingly. We'll do all the heavy lifting, so you don't have to worry about a thing. So sit back and relax, and put your phone from researching Napa Valley elopements. We've got you covered and promise your elopement will be a dream come true.
Here are some things that might be included in your elopement:
Ceremony (15-30 mins)

Wedding Venue

Officiant

Photography with downloadable photos

Marriage certificate

Choice of wedding cake

Champagne toast

1-2 planning meetings

Assistance obtaining licensing

Accommodations and dining recommendations to suit your budget
Eloping to Napa Valley
If you're looking at eloping to Napa Valley, you're likely a wine aficionado, or perhaps you've taken a previous trip to Napa Valley and want to return. Maybe you've never visited the wine region but heard great things. Whatever your case, eloping to Napa Valley may be better on paper than it is in reality. In reality, Napa Valley is quite expensive, overcrowded, and especially hard to elope during Covid. It may be hard to compare the two if you've never been, but Sonoma wine country is more much laid back, less expensive, less crowded, and has better boutique winery options.
And as far as wine is concerned, the Sonoma region is home to more than 425 wineries and twice the size of Napa. The region offers more grape varieties and conditions to create more diverse and nuanced wines. Sonoma viticultural areas offer everything from mid-range to high-end accommodations, restaurants, and experiences. 
Mendocino California Elopement Packages
Mountain House Estate falls under the category of "Mendocino California Elopement Packages" as our wedding venue is technically located in Mendocino County, CA. Although, we are really on the border of Sonoma County and Mendocino County. Our unique location makes it easy for you to have a destination wedding or elopement at our venue and then choose accommodations, activities, experiences, restaurants, and more in Sonoma County or Mendocino County. We recommend Sonoma County for a more luxury elopement experience as there are more options for spa experiences, Michelin-starred restaurants, and more.
Whereas we can design a more "Mendo Mello" elopement package where you enjoy the architecture of Maine while staying in the artist community of Mendocino, visit small family run wineries, taste the olive oils of the area and marvel at the magnificent redwoods in Navaro  Everyone has their own idea of the perfect wedding day, and we're here to help craft yours.  
Other Mendocino County Elopement packages may include things such as your:
Wedding ceremony

Bouquet/boutonniere

Wedding officiant

Photography

Champagne or wine

A mini cake

Accommodations

Dinner
But every venue and company offering elopement packages has something different to offer. At Mountain House Estate, we won't box you into a cookie-cutter elopement package; we'd rather help you customize a luxury elopement to your taste and needs.
Mendocino County Elopement packages allow you to have a quieter, more private, secluded, and exclusive experience. Unlike Napa or areas in Southern California, the region is less crowded and not touristy. The dynamic and beautiful landscape makes for a distinct elopement experience, unlike any other place in California. That's because, in Mendocino and Sonoma, you can have coastal and inland experiences – all within the same day!
Here in Mendocino, our breathtaking wedding venue is one of the most romantic places to elope in California. With an intimate setting, ideal climate, and a panoramic wine country landscape, you'll be amazed at how lovely your special day will be in Northern California.
When you experience all that Sonoma and Mendocino have to offer together, you'll feel closer and more connected through the intimate experiences and adventures the region has to offer.
How to pick your elopement destination:
What feels right in your gut

Sometimes you just have to trust your gut. If a venue or company tries to force you into a package or purchasing something, it may not be a good sign. Take some time to decide on your elopement destination and do what feels right.

A meaningful place vs. a new experience

Is there a meaningful place you and your partner have visited or traveled to before that would be significant for your elopement? Or would you rather experience something new and exciting? Many of our couples have never experienced Sonoma before, and an elopement is a perfect chance to do so.

Crowds, privacy, and safety

Some locations, like Napa, or Yosemite, or Southern California, are filled with crowds. And right now, with Covid, the crowds and wait time are even worse. If you want to avoid the crowds and be safer, head for Sonoma County.

Seasons and weather

Is there a specific time of year you want to elope? Perhaps you want to experience the Fall colors or see wildflowers in the springtime. Make sure you take the season and weather into account when picking an elopement destination.

Experience and activities

What sort of activities and experiences do you want to experience during your elopement? If you plan to honeymoon after you elope, consider a road trip and the areas surrounding your elopement venue. 
Winery wedding venue how to pick California
If you're searching for the winery wedding venue how to pick California forum, you may be interested in our article about why a Napa wedding can be a nightmare.
And if you're still on the hunt for a "winery wedding venue how to pick California" after that, you can also check out this article: Napa Valley Wedding Venues & Businesses Affected by Glass Fire to make sure your desired venue is still open for weddings.
Sonoma wedding venues for two
When searching for Sonoma wedding venues for two, you may be interested to know that Mountain House Estate is the perfect place to have a tiny wedding or elopement, with just the two of you.
luxurious wedding venues in California
When searching for luxurious wedding venues in California, Mountain House Estate is near the top of the list. Not for being a castle or a ritzy property, but because our upscale indoor and outdoor ceremony and reception areas are modern, renovated, and give you the feel of rustic elegance.
Some luxurious wedding venues in California may not be all they display; some have hidden fees, surprises, and other costs down the road that they avoid. mentioning. If you want to work with a luxurious wedding venues in California with 100% upfront costs and no unwanted surprises, contact John and Lane with Mountain House Estate.