Here are some common FAQs from WeddingWire for wedding venues and our answers.
There are many sources of information on the web to help you plan your wedding.  We thought we'd answer some of the essential questions to ask before you book a venue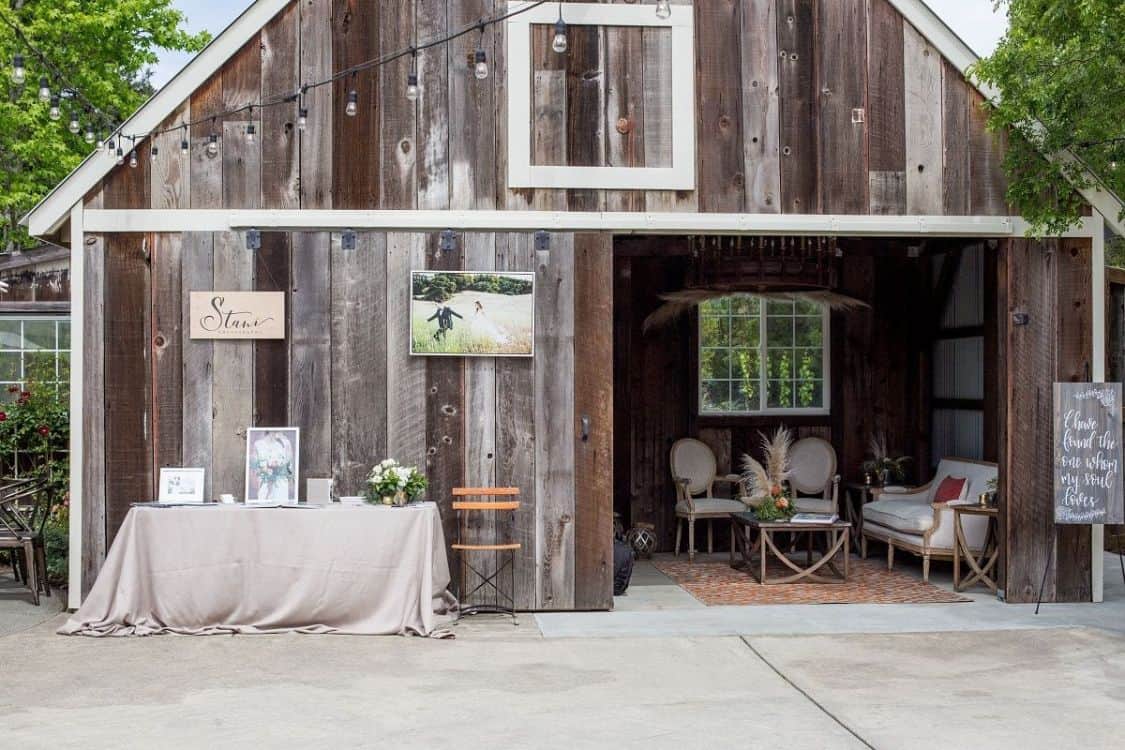 1. Is Mountain House Estate available on your target date?  
Maybe, but it's always best if you are flexible and simply have a desired month or season.  We recommend that you look to book your wedding venue far in advance if you have a particular wedding date in mind, like 2/2/2022.  In our case, the couple that booked that date booked two years in advance.
2. How much does it cost?  
Prices will vary depending upon the guest count, day of the week, and season. But what you should want to know is the value of our wedding venue or other wedding venues in Northern California? At MHE, when you add up the value of all the features, if you were to rent them and have a wedding in your backyard, what's included has a value above the venue rental fee.  Yup, it's cheaper to have your wedding at our professional wedding venue than it is to have it in your backyard.  And you don't have to go through the effort of making it pretty ahead of time.
Cost if one question, but another is, how is the payment made?  We're a bit unique in that your initial payment is $1500, and then we divide the balance of the fees so that it's a manageable monthly payment.  You'll get email reminders when it's due, and you can pay digitally.  Cash, check, charge?  Sure.  Our goal is to reduce friction and make this easy for you.
3. Is the venue's location convenient?
This question depends on your personal preference. Do you want a venue within a very short drive of home?  Some people do. But consider that most of the local guests will have likely been to the local venues multiple times. How are you going to make your wedding experience different from the others they've attended there?
Click Here to Read Our Favorite Mendocino County Activities to Plan Around Your Wedding at Mountain House Estate >>
Most of the couples that get married at Mountain House Estate are from the San Francisco Bay Area, with others coming from a longer distance.  We are in the popular tourist destination of wine country:
 Napa Valley
Alexander Valley
Dry Creek Valley
Russian River Valley
and more
Many couples choose to have a local destination wedding because we are a convenient hour and a half drive from the Golden Gate Bridge. Guests want to visit the wine country in the first place, and you are giving them a good reason to do so.  You can also organize wine country experiences for them to do together while they are in the area.
Click Here to Read Why A "Local Destination Wedding" is the Safest and Best Experience for Bay Area and California Wedding Couples >>
4. What's the venue's capacity?
We host events that have from 2 people (just you) to 250.  We have multiple indoor and outdoor areas, so if you desire to have a more intimate wedding experience, you can use our blank canvas to select sites that suit your guest count.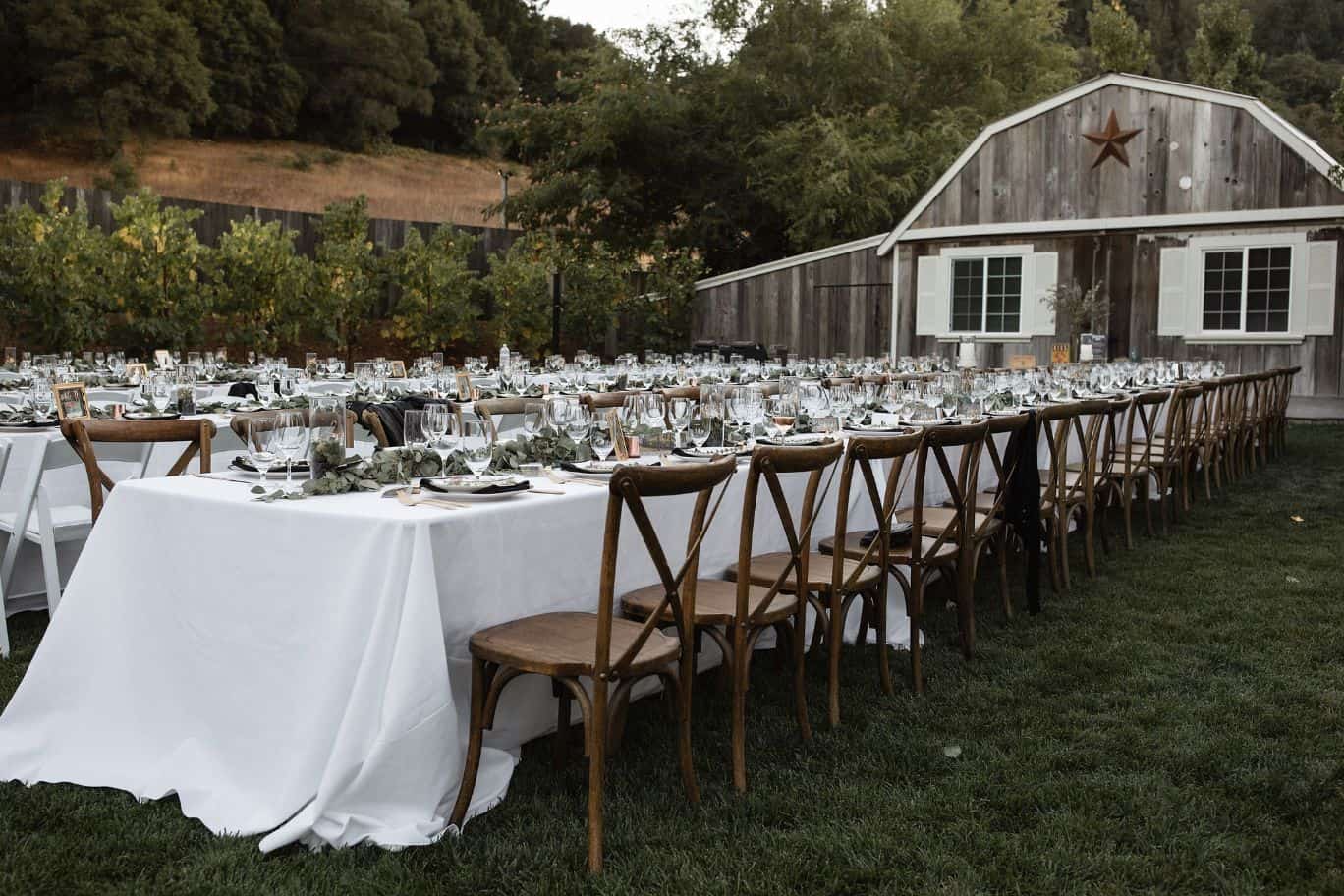 5. What does the venue look like?
As we designed and created the spaces, we kept in mind "Rustic Elegance."  The goal was to create a canvas on which you could paint your perfect wedding day.  We're not an old animal barn where you will house your guests in the animal pens.  We've seen that, and it doesn't work for us.
Click Here to Read Thinking of Having a Rustic Barn Wedding? Think Again >>
No, our ancient barn wood accents and backdrops were fabricated to create a warm and elegant wedding for you. Even better, take a look at the videos and pictures on our website.  Frequently when a couple comes for a tour, we're told that it's even better in person.  See for yourself.
Click Here to Take a Virtual Tour >>
Something we believe is essential, but not mentioned, is to make sure that being a wedding venue is the main or only business.  Many locations have a primary function (winery, lodging, equestrian facility, restaurant), and then it's "Oh, and we also do weddings."  Should your wedding day be an afterthought or the main focus of the venue?  Our primary focus is on your wedding.
Click Here to Read Choose an Event Location that is "Venue Only" >>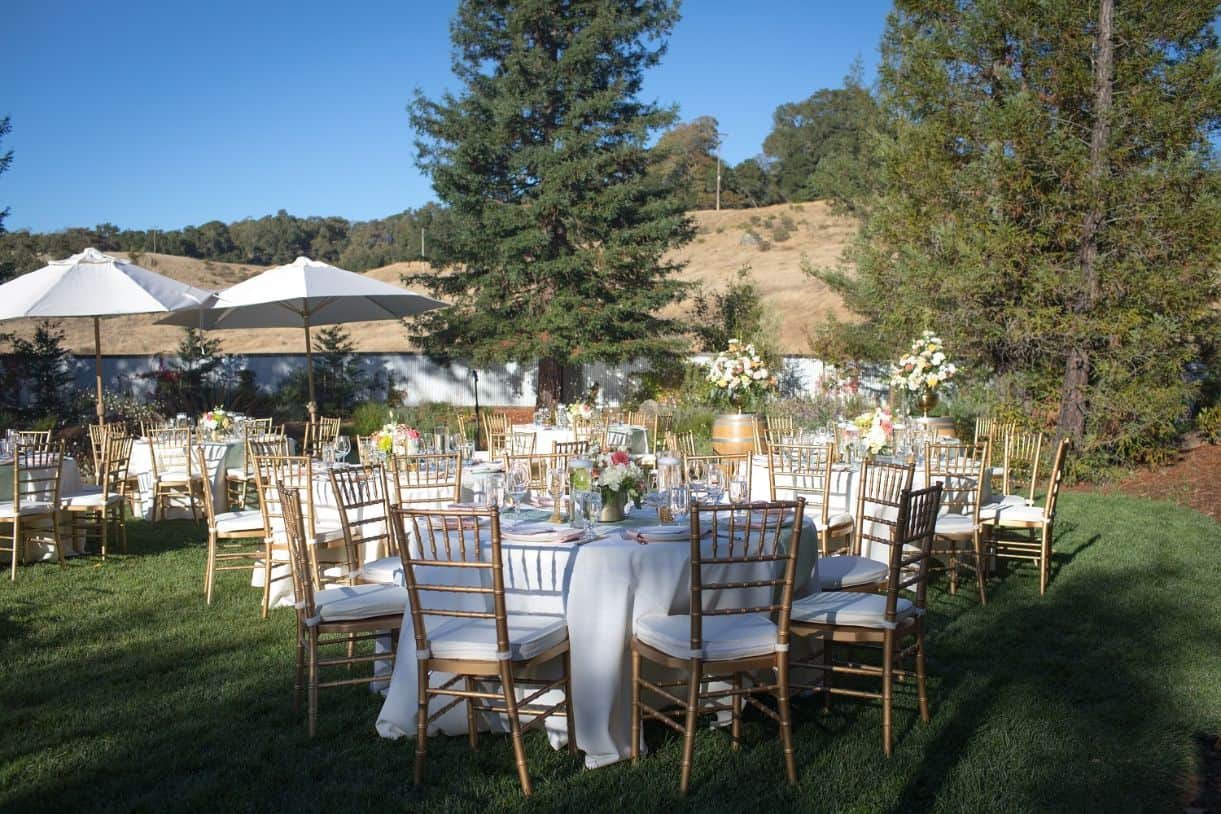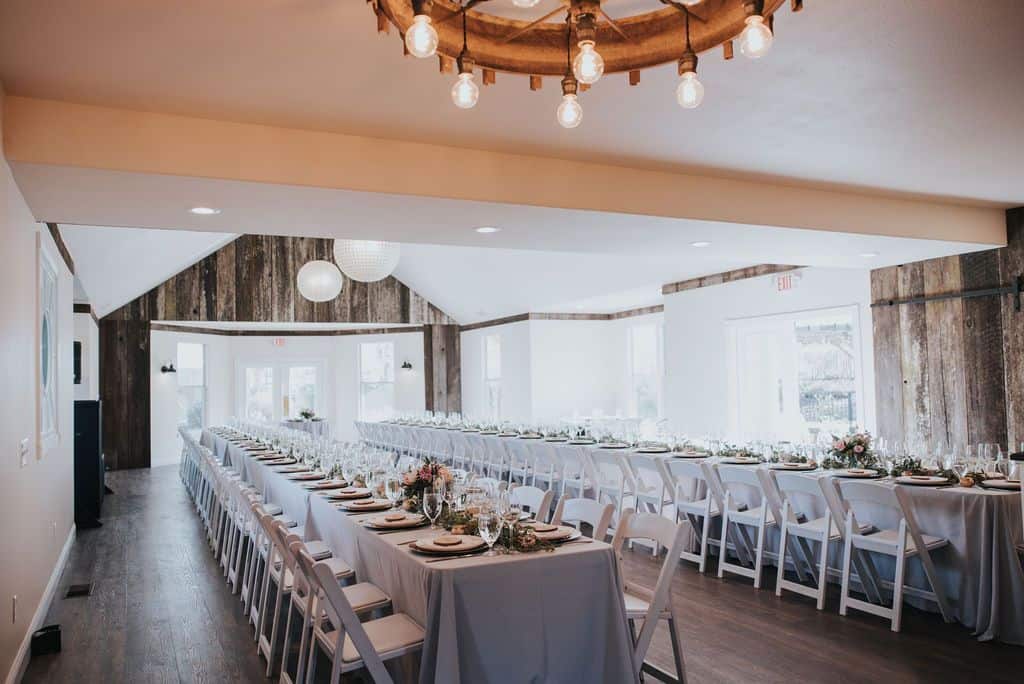 6. How much work will we have to put into decorating the space?
Very little.  Because of the beauty designed into the spaces, minimal decor or florals are needed to create your vision.  We've spaces that are easily transformed into your vision of an elegant, rustic, boho chic, sophisticated wedding day.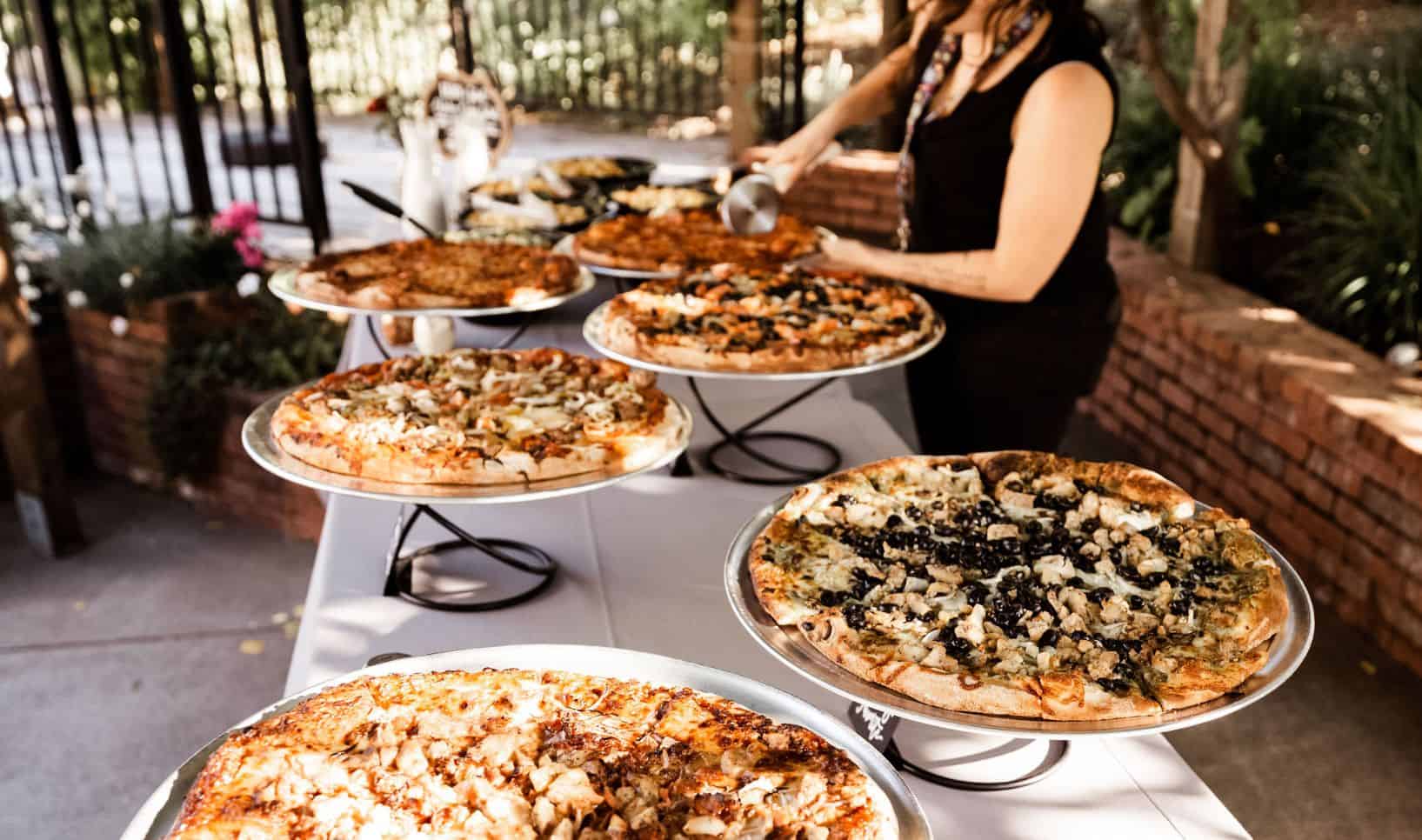 7. What's the catering situation?
The short answer is that we can work with about any caterer. We only work with professionals that have worked here and done a fantastic job.  There's a selection of caterers in all price ranges and styles, such as:
Buffet, taco bar, grazing tables
BBQ
Wood-fired pizza, or have pizza delivered from our favorite Papa's Pizza Cafe.
Plated, multi-course service
Paella – one of our favorites – it's a meal and a show in one.
Food trucks – we have room for up to six at a time.
Seafood, oyster bar
Family style, tasting tables, or fully seated – we do it all.
And, we can offer you an All-Inclusive package if you desire – it's just that ours aren't cookie-cutter. After we chat with you, we team you up with one of the professional Wedding Planners, and after discussing the vision of your wedding day, a customized package is created.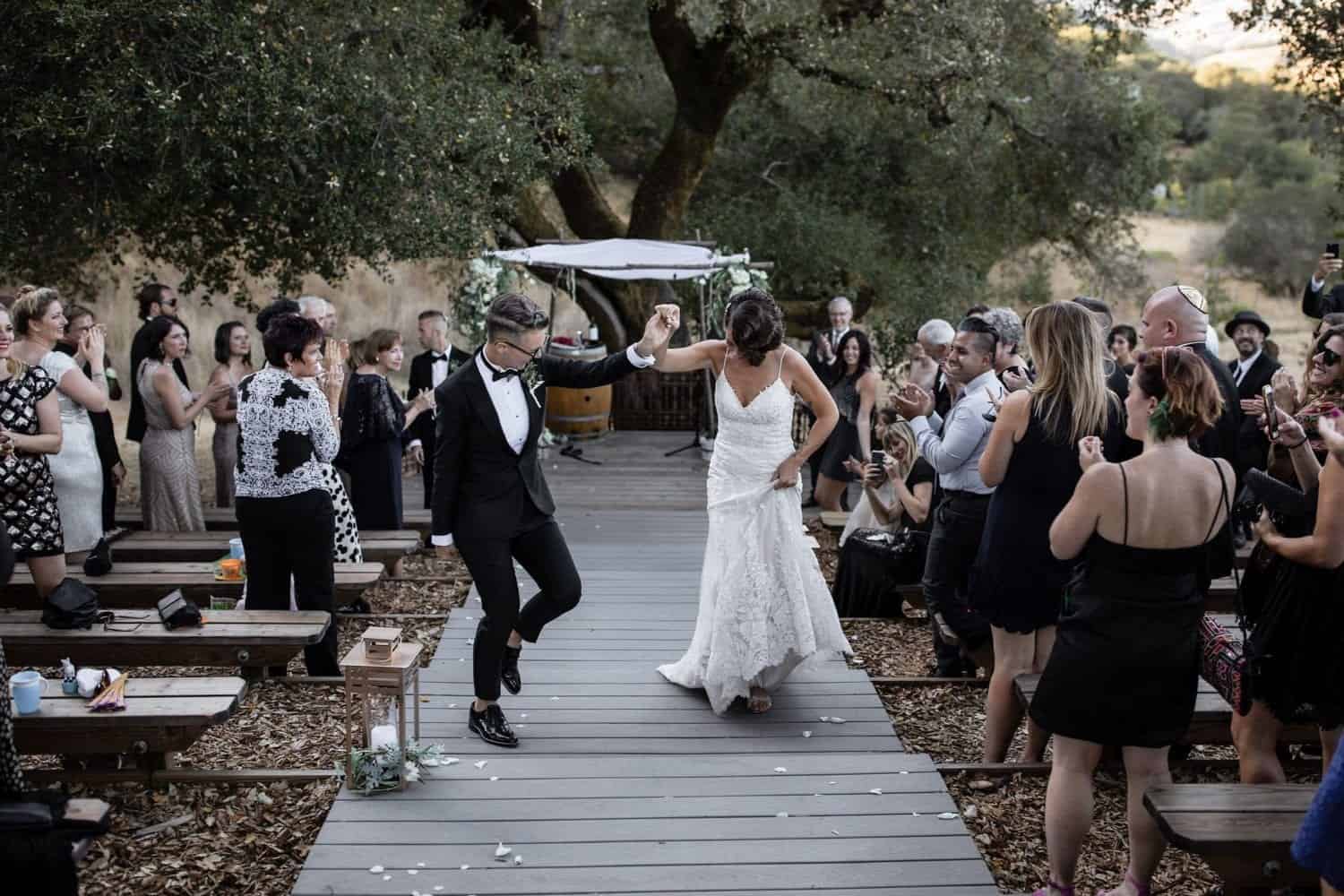 8. Can I hold my ceremony there?
Absolutely – most of our couples do. We've created multiple ceremony locations, so you have your choice of backdrops and styles. We don't force everyone into the only spot – no, we're about custom – your wedding, your way.  We have:
The Barn – featuring weathered barn wood that's over 100 years old from the historic barns on the property
The Pond – a water feature with a lighted floating fountain
Redwood Trees – a green oasis
Vineyard – Wine grapevines planted on a hillside to create a lush green backdrop.
Oak Tree Terrace – majestic oak trees with stadium seating
The Ballroom – an indoor space with barn wood accents
And more – it's your wedding, we let you decide what you'd like to use.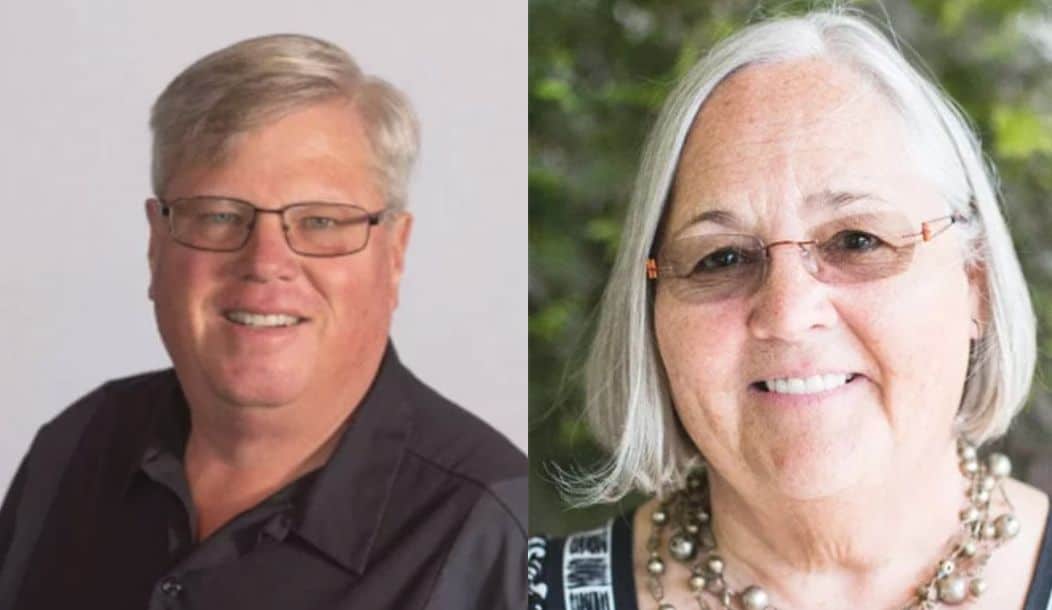 9. Is there a coordinator on staff?  Who will be my main point of contact?
Owners John and Lane live on property – so we're here for you. With years of experience, we help guide you, answer questions, and provide information to make your day spectacular.
Here's some advice, if you contact a venue and don't hear back within hours – or at max, 24 hours, run, don't walk.  We regularly listen to couples' stories about venues that don't respond to their inquiry in short order. It makes us shudder to think – if the venue doesn't respond quickly to someone that wants to book a wedding at the venue, just what kind of service can the couple expect after the venue has their money?
We can communicate with you via email, text, or phone.
When you first contact us, we'll respond to you through email.
When you decide to reserve a date at the venue, we use Honeybook, a customer relationship management program designed specifically for the wedding industry.  Through it, you'll digitally receive the Agreement, Venue Guidelines, sample timeline, Nice List, and many other tools to help you plan your wedding day.  We'll communicate with you through Honeybook, and you'll be able to quickly access past emails and information.
To help you plan your wedding, we use Allseated.  This specialized platform has a digital floor plan of the venue.  On that floor plan, you can place the tables, chairs, and other decors so that your wedding planner and caterer know what you want.  You can assign seating, check-in RSVPs, and more.
John and Lane act as venue managers, handling all the aspects of the venue itself.  For actual wedding planning, a professional wedding planner is required.  We recommend using someone from our Nice List – they earned their way onto the list by doing an excellent job for couples at past estate weddings.  Can you use a wedding planner that isn't on the list – yes, but they need to be a professional.  We don't want you to risk your special day to someone that doesn't know what they are doing.  We've seen it; it isn't pretty.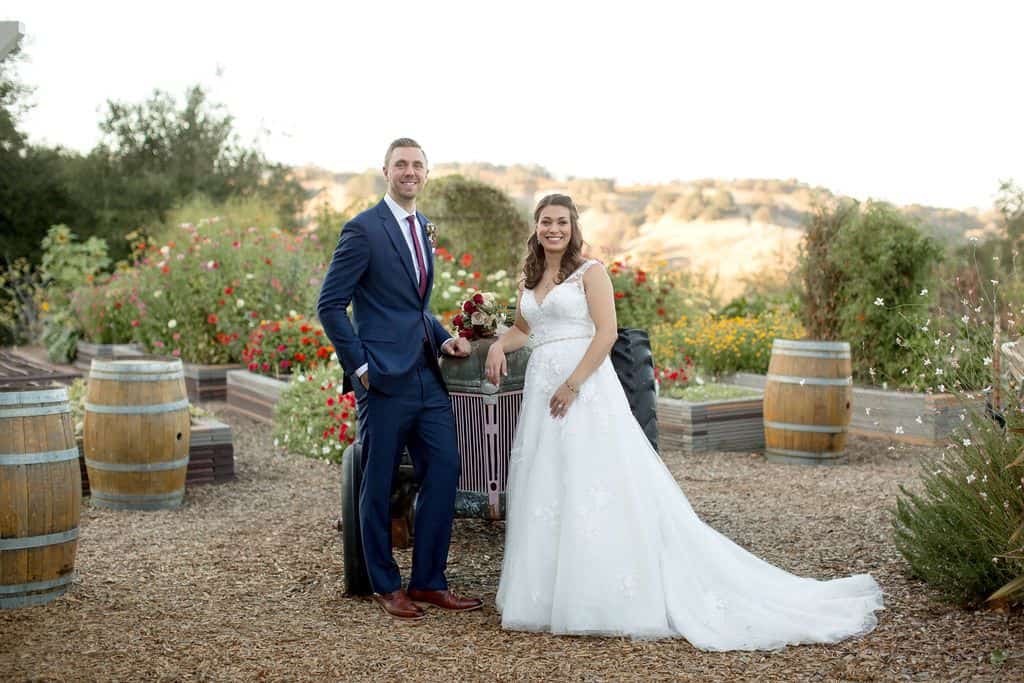 10. Is there a list of approved vendors, or can I use vendors I wish?
We've already mentioned the Nice List.  These vendors don't pay to be on the list; they don't just get placed on the list because they made a request; they have to earn their way there.  We're pretty picky about who is on the list and who isn't.  Everyone on the list is licensed, insured, a professional, and has done wedding(s) here that was an excellent experience for all involved.  Have some fires needed to be put out along the way – yes.  But it's the way the issue was handled that makes all the difference. Usually, the couple and guests don't even know about the hiccup.  What's why we stress, use a professional.  We can help you find that person.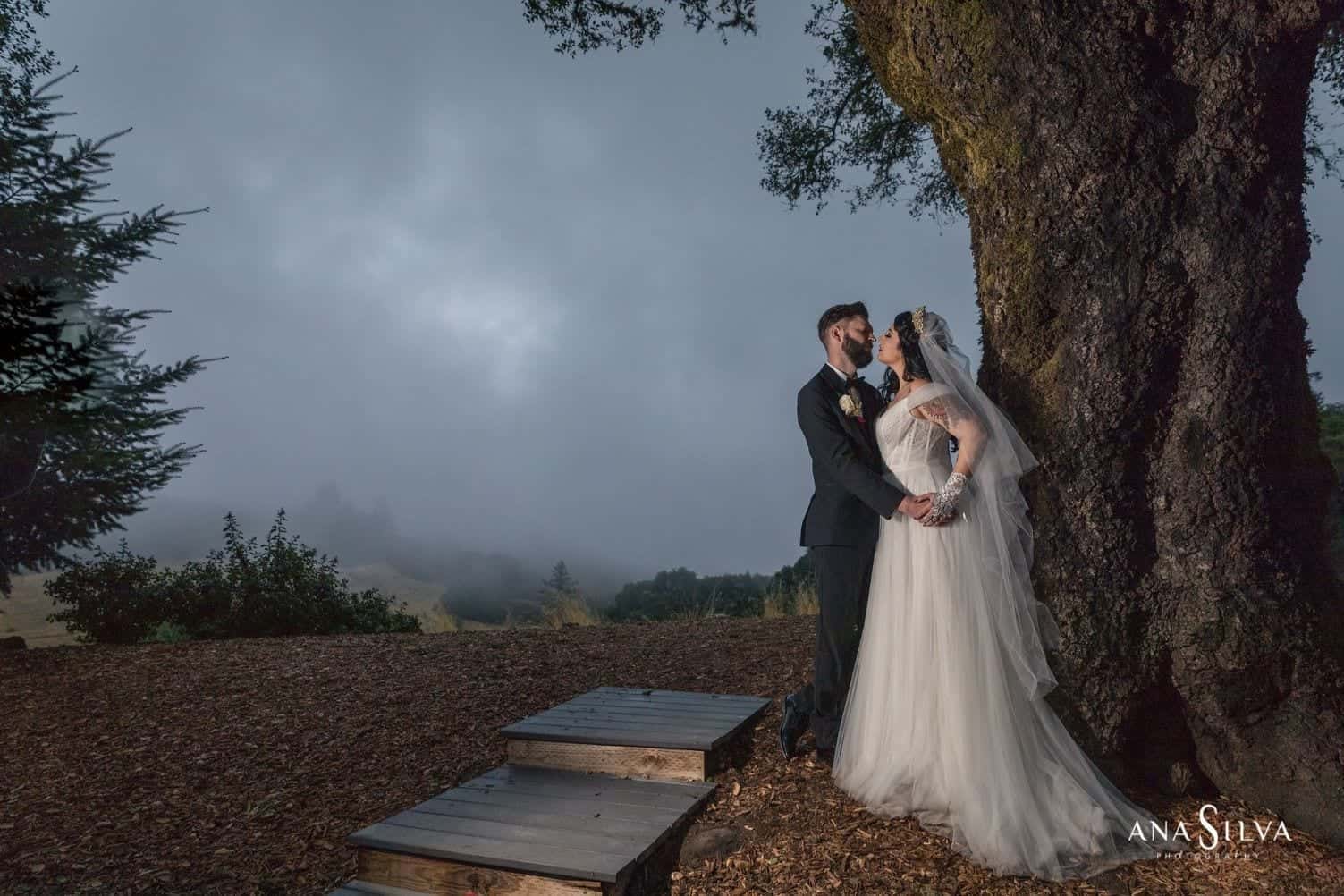 11. What's the rain plan?
We have indoor and outdoor wedding spaces.
Outdoor wedding ceremony space?  Check, we have multiple for you to use.
Outdoor wedding reception space?  Check.  We have a large lawn and patio space.
Can we dance outdoors?  Check—bandstand with plenty of power and lights.
Can we dance indoors?  Check.  The ballroom turns into a dance club.
Indoor wedding ceremony space?  Check, the ballroom can accommodate 200.
Indoor cocktail hour space?  Check.  We have a custom-made bar you have to see to believe.
Indoor reception space?  Check. The ballroom can seat 125 people at tables.
Rain Plan?  Check. We have room for tents too.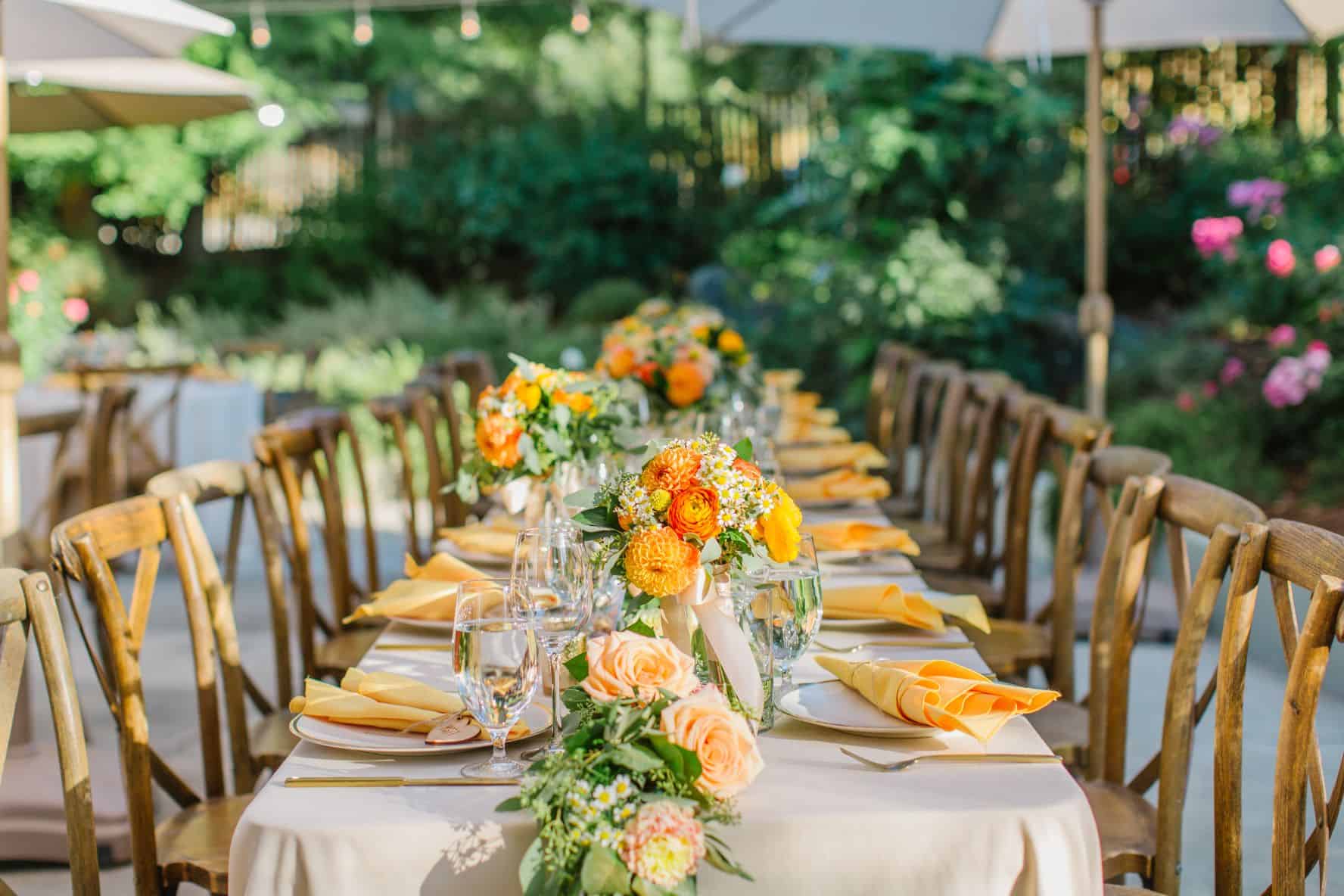 12. Consider your guest's convenience. Here are a few more questions: 
What's the bathroom situation?

Great question and sometimes forgotten.  Did you know that portable bathrooms can cost you more than $1000?  And then there is the ick factor.  Not an issue here though, we have:
Main Women's Bathroom with two regular stalls, one ADA stall, and a baby changing table
Main Men's Bathroom with urinals and ADA toilet stall
The Oasis – Bride and tribe prep room with a bathroom
The Hang-Out – The guy's prep room with ADA bathroom
The Mom's Room – Another bathroom
Employees bathroom

That makes 10 in total. No porta-potties are needed.
How's the parking?

We have plenty of room in multiple parking lots for up to 250 guests.  More importantly, the parking lots are out of sight and won't impact your wedding celebration.
Climate Control?

Yes, all event spaces have heat and air conditioning.
Stairs?

Only the Mom's Room and the Oasis are upstairs.  All spaces that have stairs also have ramp access.
Something most venues don't have is intimate spaces for guests to get off by themselves and chat.  In many cases, they haven't seen each other in a long time and want to catch up.  We have private nooks where they can get away from music and reconnect.