Why A "Local Destination Wedding" is the Safest and Best Experience for Bay Area and California Wedding Couples
And why Mountain House Estate is the best choice among thousands of Bay Area wedding venues to choose from
Planning a wedding is already a monumental task for any wedding couple. And now, with COVID and the uncertainty of our future, that question is even more challenging for wedding couples. It's still safe and viable to get married, and we encourage you to do so, but we want to help you do it in the safest way possible while having the experience of a lifetime.
What's Trending with Our Wedding Couples during Covid  (←If you want to get creative with your married and keep you and your guests safe and entertained, you need  to read this)
When you begin your search for Bay Area wedding venues, you might feel overwhelmed with all the considerations to take into account. Metropolitan Bay Areas will have more limitations and restrictions than a rural wedding venue. 
Just a short distance from the Bay Area are Sonoma, Napa, Mendocino, and other closeby areas in Northern California with notable Bay Area wedding venues. Mountain House Estate takes you into a completely new world, far from the city's hustle and bustle, and allows you to relax and have an exclusive wedding experience. 
In this article, I'm going to touch on "local destination weddings," discuss the benefits to a wedding venue outside of the metro Bay area, budget considerations, venue considerations, climate considerations, and so much more to get your wheels turning.
Let's define a "local destination wedding" – a short distance to the Bay Area: Sonoma, Napa, Carmel Valley, Mendocino, and Northern California.
Let's first define a destination wedding; any wedding you and your guests will need (or want) to stay overnight because you are 1-3 hours from your home. Therefore, having your wedding in the North Bay, East Bay, or South Bay can technically be a destination wedding, depending on the traffic. Still, because it's not too far from home if you live in the Bay Area, we call it a "local destination wedding." You don't have to travel to Bermuda, Hawaii, or Europe, or even Las Vegas,  to have a destination wedding. It's merely a wedding where you need to get overnight accommodation. Think of it as a staycation with your loved ones. 

A local destination wedding near the Bay Area allows your guests to choose to stay overnight or not. 
What if you want to have a wedding in Napa Valley, Carmel Valley, Mendocino, or Sonoma? You don't have to stay overnight here. Wedding guests who aren't dancing the night away and partying all night to celebrate your love can get home at a reasonable time. However, we think that reserving a block of rooms in a good hotel and giving your guests a fun list of local activities before or after your wedding can give them the ultimate experience. You can let them know what you plan to do before or after your wedding day and even include them in the activities. 
The best destination wedding is not the most distant location, but rather a wedding located in a place where there are special local activities where guests can participate in activities they don't have access to at home. These activities can be fun for quality time and an excellent way for the wedding couple's families to get to know each other more.  And speaking of activities…
A local destination wedding allows you to create unforgettable memories with your closest wedding guests.
A local destination wedding in or near Sonoma offers you coastal and inland experiences, so you get the best of both worlds. Without getting into too much detail, here's a quick overview of some of our favorite things to do, places to eat, and overnight accommodations.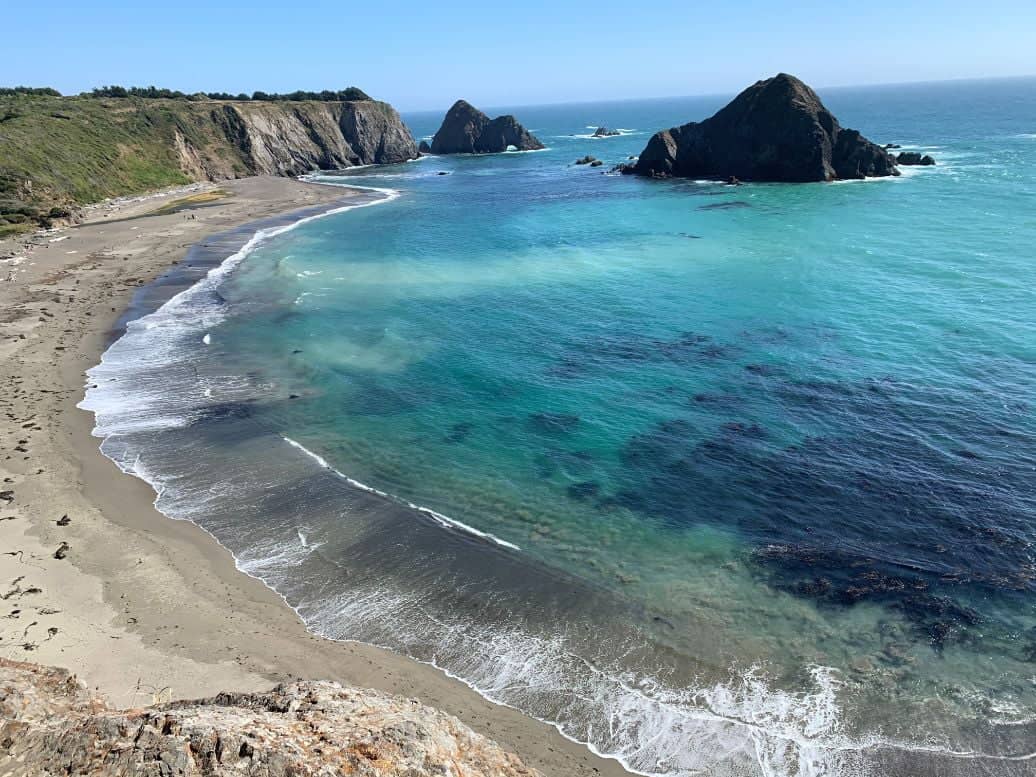 Our favorite things to do: Sonoma Coast
Visit historic Fort Ross.

Check out the rock formations and beach at Sonoma Coast State Park: Schoolhouse Beach, Portuguese Beach & Goat Rock Beach.

Hike at Bodega Head

Whale watching between January – May

Hike at Sea Ranch
Our favorite things to do: Inland Sonoma County
Visit Florence Avenue in Sebastopol

Walk through the Sonoma Plaza

Tour the Mission San Francisco Solano in Sonoma

Gawk at the redwoods at Armstrong Redwoods State Natural Reserve

Visit Cornerstone Sonoma (Marketplace offering shops, casual dining, picturesque gardens & winery & distillery tasting rooms)

Take a stroll through downtown Petaluma (Victorian-era buildings, antiquing, riverfront dining, etc.)

Go wine tasting and antiquing in Healdsburg (excellent restaurants, wine tasting rooms, boutique shopping, antiques, spas, museums, etc.)
Our favorite places to eat in Sonoma County
Oakville Market for a great deli lunch

The Barlow (an outdoor market made up of over 30 restaurants, cafes, and other merchants in Sebastopol)

Fishetarian Fish Market (Fish & chips, chowder & other favorites, served with beer in a waterfront market with picnic tables.)

the girl & the fig (upscale and diet-friendly)

Diavola Pizzeria

Amy's Drive-Thru (yes, like the brand of vegetarian mac & cheese that you either love or hate at your local California grocery store)

Catelli's (upscale Italian with a twist)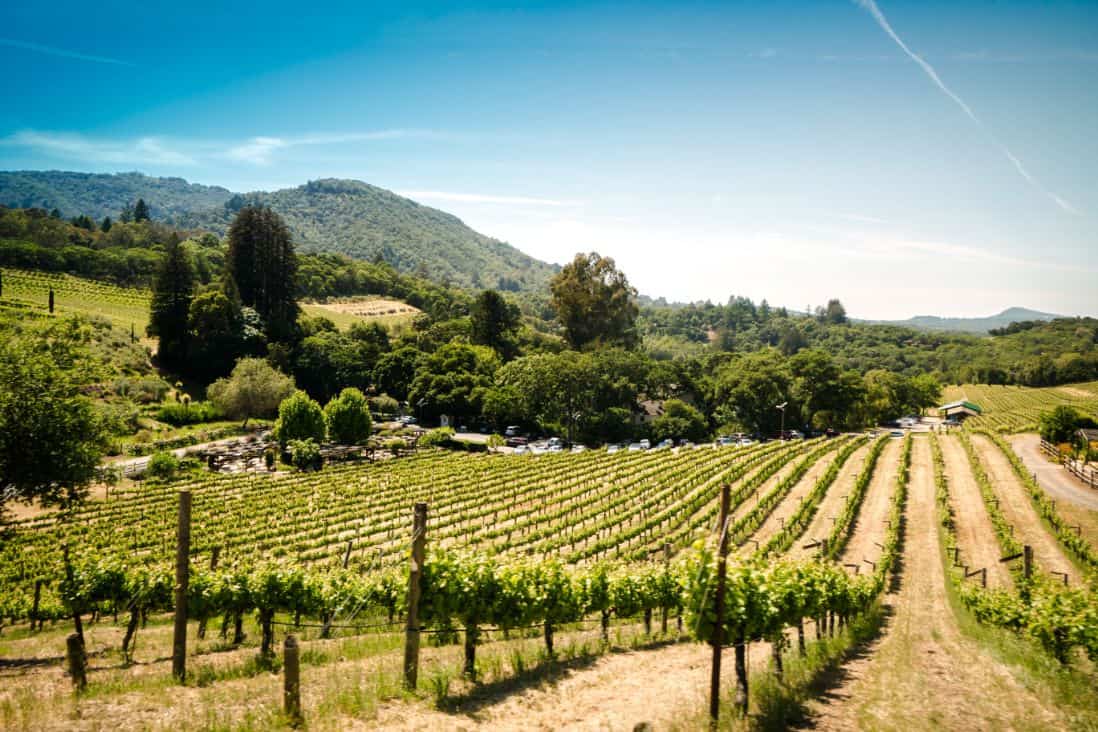 And we can't talk about Sonoma experiences without talking about Sonoma Wine Country: a more relaxed, affordable experience than Napa.
People often compare Sonoma and Napa, but there is simply no comparison. Sonoma wine country is more spread out, laid back, intimate, with fewer crowds (and therefore safer from germs and COVID) and offers lower tasting fees than Napa. Sonoma also offers a wider variety of wines, whereas Napa tends to focus on Cabs Bordeaux varietals. Some of our favorite areas to go wine tasting are Dry Creek Valley, Russian River Valley, Alexander Valley and Yorkville Highlands. All AVA's have their specialties, and we will touch on that some more in another article.
There are tons of tasting rooms within the city and bay views, but it doesn't compare to a few days in wine country (just our opinion 😉). And speaking of the busy city…
Quick: Read our favorite activities in Mendocino County, from mushroom ice cream tastings to the Skunk Train. 
Metropolitan Bay Area wedding venues usually aren't "event only."
If you decide to stay in the metro to tour Bay Area wedding venues, you won't be short of styles to choose from. And if you've lived in San Francisco or the Bay Area long enough, you've probably been to a few weddings, memorials, or other parties and gatherings at a venue in the Bay Area.
But most of these Bay Area wedding venues fall into categories where the location is not "event only (← if you haven't read this article, please click and read it)."
We don't love venues that aren't venue only (hotels, wineries, golf courses, museums, restaurants, etc.) because your wedding is an afterthought. We call these "afterthought venues." They have their primary source of business and income, and just because they have the floor, ceiling, and four walls, they decide to host weddings and private events to make more money.  But what is their real reason for hosting weddings – to sell your guests their primary business – for wineries, get your guests on their wine club list.  For hotels, to sell rooms.  For museums, to increase their guest counts.  Each has its own priorities, and it's not your wedding.
Parking can also be a nightmare at many of these downtown or metropolitan Bay Area wedding venues. That means people are running late to (and interrupting) your wedding ceremony.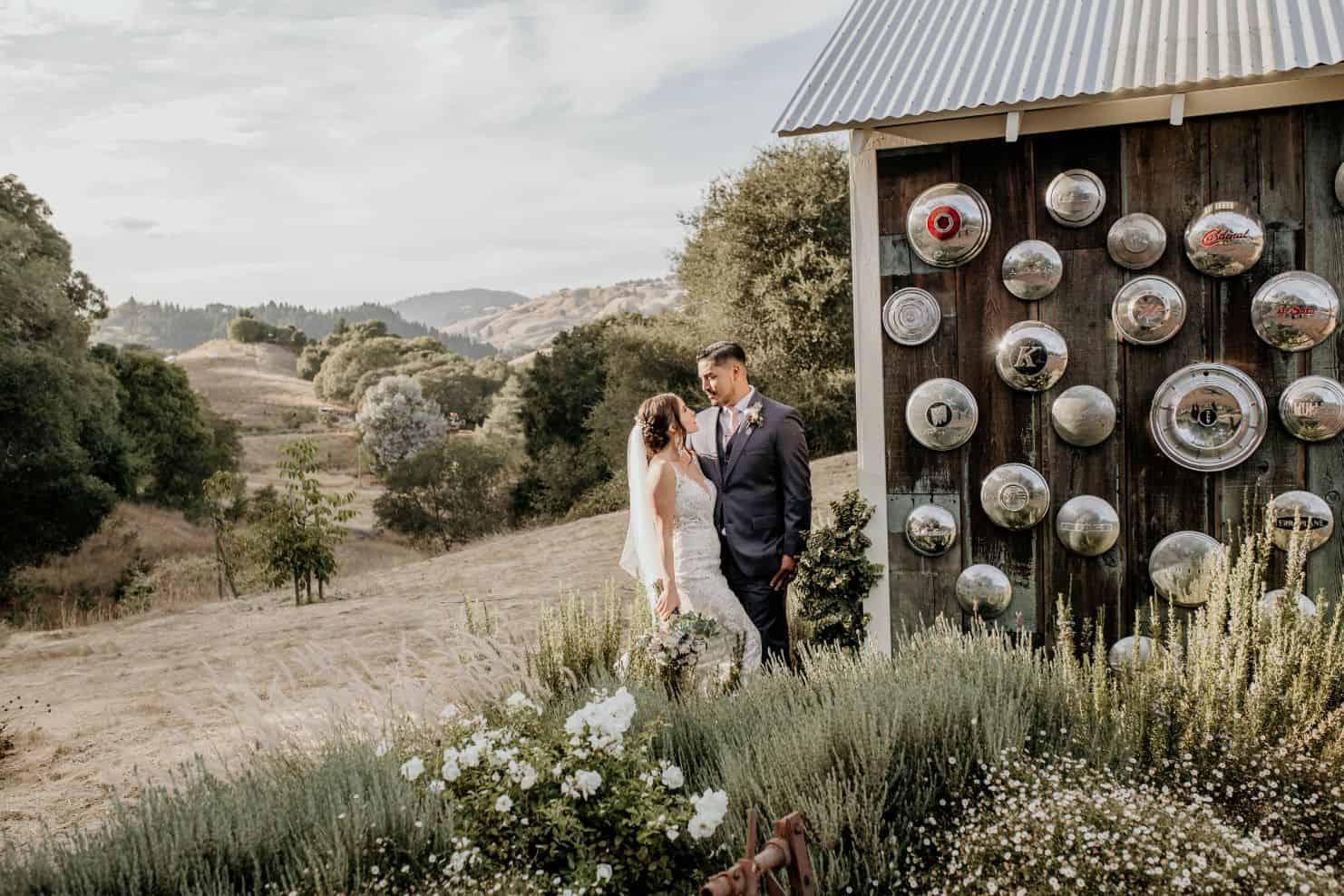 Mountain House Estate is "event only" and anything but an afterthought.
Mountain House Estate was dreamed, designed, and envisioned just to be a wedding venue – not a store, B&B, or anything else. We are a wedding venue, plain and simple. Our venue was conceived to give you the best possible experience without much of the oversight at businesses that also host weddings as an afterthought. 
Because of that, everything has been taken into consideration:
a private and gated experience (no public, no strangers, less risk to COVID exposure)

40 gorgeous acres to allow for socializing and social distancing at the same time

the choice of multiple ceremony and reception areas

concrete pads to host quirky or specialty food trucks (because COVID has also changed how you may want to handle your wedding catering, such as avoiding sharing/buffet style)

the proper licensing for you to BYOB (no corkage fees, such as a winery)

Private bathrooms (no strangers or the public using your guest's facilities like at a golf course, winery, hotel, or other "afterthought venue")
And speaking of wedding photography…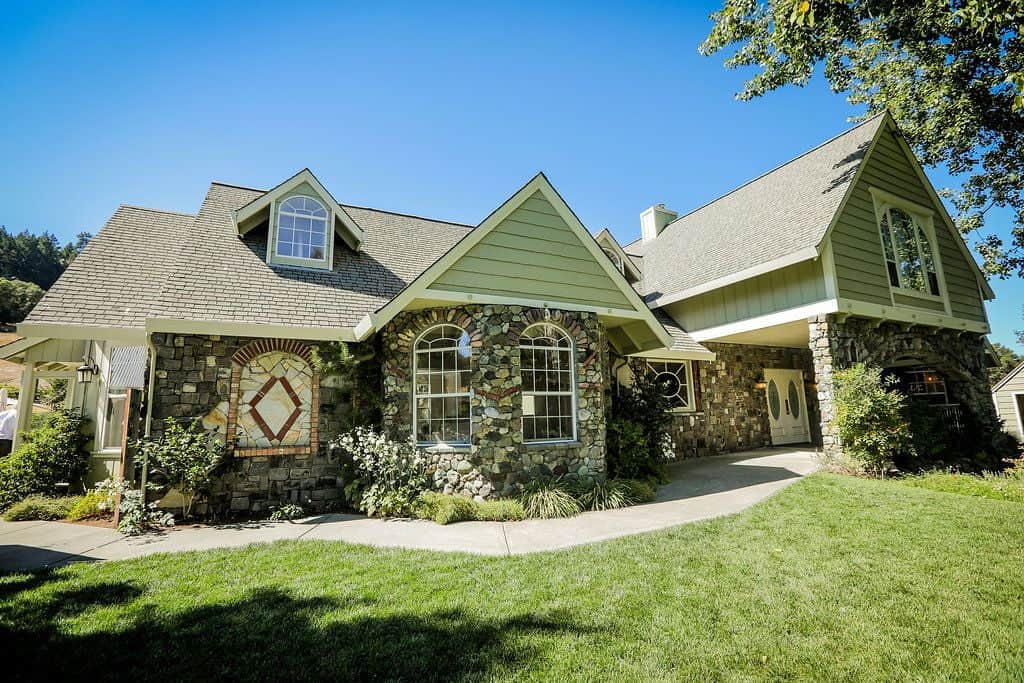 Bay Area wedding venues may not be the most distinct or breathtaking backdrop for your wedding photos.
Something else to consider is your wedding photography. After your wedding is said and done, your photography is the most important and visual way to look back on your wedding. You could hire the best wedding photographer in the world, highly rated by Wedding Wire, The Knot, and Martha Stewart Weddings. Still, if you don't have a beautiful backdrop, your wedding photos will look just like everyone else's wedding photos taken at that location, such as San Francisco City Hall, the Palace of Fine Arts, or the San Francisco Mint. Everyone's photographs have the same backgrounds, and it's easy to tell where the person was married. If this place is unique to you for a particular reason, that can change your viewpoint on it, but here's something else to consider…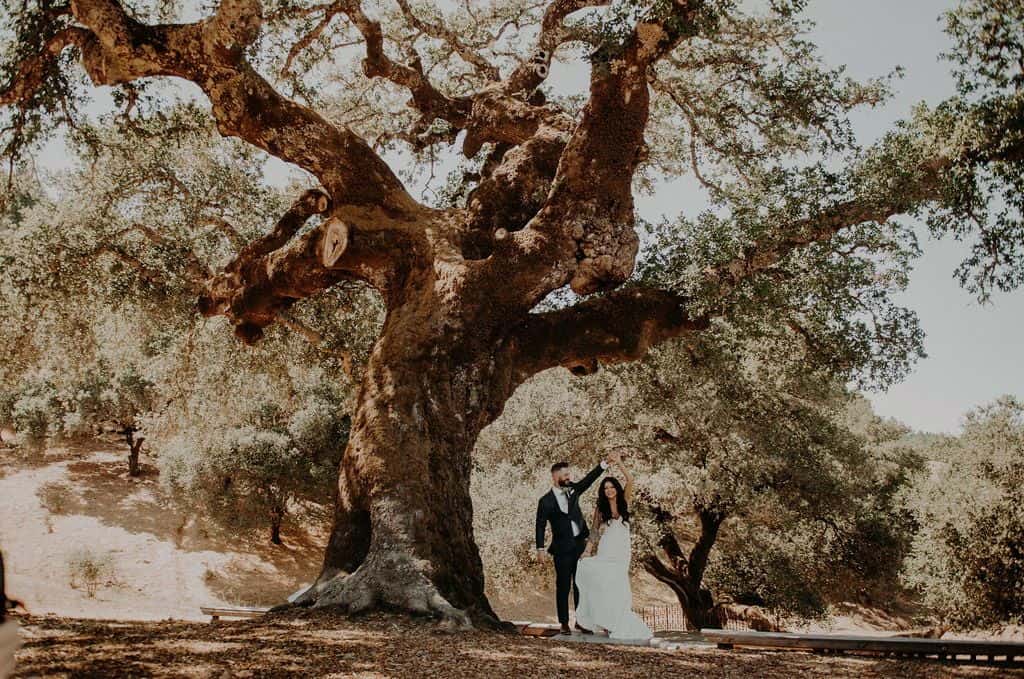 Most Bay Area wedding venues simply can't prioritize your wedding day (and they aren't as experienced in weddings).
And here's yet another consideration: because these businesses double as Bay Area wedding venues, places like the San Francisco City Hall are essentially "wedding mills" AKA afterthought venues, AKA the Walmart of weddings.  
In other words, you're given an exact time to be in and out if you're running late or stuck in traffic, or a wedding vendor is late, tough luck. It's no different than the Little White Chapel in Las Vegas; wedding couples in and out, one after another.  Expect to be pushed and rushed.  Or like a hotel or some other venues, there may be other weddings taking place during yours, which can get hectic, not to mention, unsafe. Trust us, and you don't need that stress.
Suppose you want photos from a spectacular architectural location like the Palace of Fine Arts or St. Patrick's; book an hour for engagement or wedding photographs. We've had wedding couples take photos at landmark locations such as these and then have their actual wedding take place here at Mountain House Estate. 
And for wedding locations that host multiple weddings at the same time, there can be other issues.  Recently we heard about two weddings with timelines ending at the same time.  This dumped everyone into the parking lots together, where the resulting traffic jam resulted in fists flying.  What a wedding memory to have…
Here's the harsh reality of having your wedding at a golf course or other public venue in the Bay Area.
Going back to businesses that double as a wedding venue, such as golf courses and wineries, their main focus will always be their members and guests. At a golf course, for instance, they'll force you to use their in-house catering. Some can be pretty tasty, but others are comparable to waiting in line at the middle school cafeteria and having the lunch lady slop on a scoop of mashed potatoes with canned green beans and rubber chicken. Ew. 
All-inclusive wedding catering packages reduce your wedding planning time expenditure, but it also reduces your ability to customize and match your wedding vision. We're talking customizations such as food trucks (yes, we offer food trucks and have a designated space for them), wood-fired pizza, paella, and other culinary experiences simply are not available to you. Why limit yourself to an in-house caterer and pre-selected packages?
If you get married at a venue such as a golf course in the Bay Area, will it be closed to the public and members during your wedding? I can just see it now, and a stray golf ball headed straight for one of your guests. Will the bar be closed and available for wedding guests only? And how do they monitor wedding guests vs. members/other guests? The 19th hole is a somewhat infamous place at most golf courses for people wanting not to go home – if you know what I mean. ⛳️   Have you ever seen movies with wedding crashers hitting on the wedding guests?
And speaking of people who are drinking and maybe not having the safest transportation back home…
Here's the harsh reality about a winery wedding venue in Sonoma, Napa, Mendocino, and elsewhere in California.
Wineries in Sonoma, Napa, Mendocino, and elsewhere in the greater Bay Area present their own unique set of challenges. First and foremost, their focus is on making and selling wine, which we will touch on more in a bit. Your wedding is not their main priority.   At Mountain House Estate it is.
The wine industry tries hard to maintain the farmer and winemaker's image picking their grapes, stomping on them with their feet, and then fermenting them into beautiful wine bottles to sell. Even as you enter Napa, the main sign illustrates a winemaker pressing grapes by hand.
But let's talk about a winery's reality today – because that single winemaker pressing grapes couldn't be further from the truth. Most wineries are owned by a giant, multinational corporation that holds dozens of vineyards and wineries, making tens of thousands of wine cases under multiple brand names. Napa is where big-money vintners such as Mondavi, Gallo, Trefethen  and Chandon come to play, building monuments to excess (see: the medieval castle at Castello di Amorosa or the Persian columns at Darioush)
When you tour a winery for your wedding, you're unlikely to be meeting with a person who specializes in weddings. This person is usually a winery employee with the title of event manager, or wedding coordinator, who has to check with their managers if you have any special requests or needs for your wedding day. Is this person going to be the coordinator for your wedding? Will they be there the night of your wedding? Wineries can have a high turnover rate of employees, so what if the person you met with is no longer with the winery a year from now?  How many weddings has this person actually successfully completed at the winery?
If the tasting room is still open during your wedding, will drunk folks be wandering into your wedding purposely or accidentally? Are you required to pay extra to keep the public away?  These are all questions you have to ask yourself when considering hosting your wedding at a winery instead of a real wedding venue.
A winery is a large, noisy industrial facility.
We'll be the first to tell you that many wineries are gorgeously designed and are spectacular locations. You may be considering a winery for your wedding venue if you love Sonoma or Napa wine country. But a winery is an industrial facility, unlike a venue that is "event only." At wineries, grapes are pressed, and juice is fermented into wine. Dozens of people are working at a winery to make tens of thousands of wine cases that are then forklifted into semi-trucks and shipped across the country. And if your wedding takes place during fall Harvest season when grapes are picked, expect the winery to be even busier…and your wedding definitely won't be at the forefront of their minds. Your wedding deserves priority.
A Napa or Sonoma winery wedding venue wants to sell wine to you and your wedding guests (which is a no brainer when you think about it).
So why do wineries host weddings? It's simple, two reasons. First, they want to sell wine to you. Most wineries will quote you a low wedding venue fee but require you to buy their wine to serve your guests. How much wine you want to purchase is not your decision – it's entirely up to the winery. And many don't allow beer or any outside beverages. Because, as we mentioned, they want to sell wine. And even fewer will allow hard alcohol or spirits because their licenses do not allow it. Did we note that we allow beer, wine, and spirits? What if you wanted to bring a special wine in to serve, such as the one on the night of your engagement? They'll tack on a corkage fee for that. 
How do you feel about wedding crashers? Winery weddings are famous for them. And during COVID, now is not a time for unexpected guests and strangers to crash your wedding. Any place open to the public all day, inviting people into the tasting room, touring the facilities, and using the bathrooms will have people dropping in, whether purposely or accidentally. There are dozens of stories about the public innocently crashing expensive winery weddings in Sonoma and Napa wine country.
Take your guest's budget into consideration when marrying at a Napa, San Francisco, or Carmel Valley wedding venue.
No, I'm not just talking about your budget. I'm talking about your guest's budget. What if potential guests want to attend your wedding, but the cost of the location you selected makes them second guess attending your wedding? Some notorious areas in the Bay Area come with steep prices, such as Napa, San Francisco, and Carmel. If they are willing to drive far away enough from the Napa wedding venue or another expensive area, they may get a reasonably priced room, but it may not be in the best part of town.
Whereas in Sonoma County, which is close to where Mountain House Estate is located, most everything is reasonably priced.
Speaking of budgets, watch out for unwanted surprises or hidden fees from Bay Area wedding venues, wineries, and other public venues.
Okay, back to you and your budget, cause it's your day anyway, right 😜? That all-inclusive wedding venue will let you know what your wedding will cost (and hopefully without hidden fees or surprises down the road), but what about the things they don't mention or discuss?
11 Things to Watch Out for When Touring California Wedding Venues (← 👀 if you're about to start touring Northern California wedding venues or already are in the process,  you need to read this.
 Ask if they allow sparklers, confetti cannons, glitter, or other dazzling options. Most wedding venues will tell you no, but what you want to watch out for is how they reply to your questions. Do they give you an explanation or an alternative? If they can't consent to a simple request, imagine how your entire wedding planning process will be with them – a long bumpy road.
And consider Bay Area wedding venues here too. Because as we discussed, most are afterthought venues, and there can be some severe limitations or hidden fees to look out for:
Forced to use their caterer or pay extra for your caterer of choice

Corkage fees

Cake cutting fees

Decor and rentals (we have tons here at Mountain House Estate)

Backup power in case of a power outage or PG&E safety shutdown
Just to name a few. Because of Mountain House Estates location and being an "event only," you won't experience those same limitations here. Most wedding couples ultimately choose us for our views, privacy, flexibility, and knowledge of how to make your wedding vision come to life. Not to mention, our weather here is pretty favorable. Speaking of inclement weather…
Here are some climate considerations at your Bay Area wedding venue of choice because crazy high winds and your hair/makeup won't get along. 💇🏼‍♀️
Okay, this section might be a tad boring to some of you. Still, we're serious; the weather is so drastically varying in all parts of the Greater Bay Area that we want you to know what you're getting yourself into, from the smell of garlic lingering in the air to cow patty aromatics and wild gusts of wind.
But suppose you want to skip this section. In that case, the gist is that surprise fog, rain, and cold weather (congested narrow roads, smog, and other fun factors) can interrupt or ruin your wedding day and is more likely in some microclimate than others. In contrast, Mountain House Estate has one of the ideal climates in the greater Bay Area.  
Because of the greater Bay Area's proximity to the ocean and mountains, hills, valleys, and other geographic features, every part of the greater Bay Area has its unique microclimate. What time of year do you want to get married? What areas in the Bay Area are you considering? Here's what each part of the greater Bay Area is known for: 
Bay Area Peninsula

The days are typically warm and mild. Still, the cold, damp fog moves into many Pacific Ocean border areas at night because the Pacific Ocean borders it on the west and the fork of the San Francisco Bay on the east.

San Francisco

It's known for its cold foggy nights when the wind blows in through the Golden Gate.

East Bay

Along the waterfront are Alameda, Oakland, Berkeley, Emeryville, Hayward, Fremont, Martinez, and Alamo. These areas are subject to the Bay's coastal influence, so breezy and chilly evenings are a reality.

On the east side of Oakland Hills bordered by Altamont Pass are Pleasanton, Livermore, Concord, Dublin, Walnut Creek, and Brentwood. The Livermore Valley microclimate is hugely variable, so you need to study the location of the wedding venue you are considering. Some areas are more affected by the San Juaquin and Sacramento Valley than the others. This is because when California's inner valleys heat up, the air rises, and a cool ocean area is drawn into the central valley.  Because of this daily occurrence, you'll find a lot of windmills to generate electricity in these wind tunnels (so yes, your wedding day will be windy, and your hair will likely be blown all over the place).  But there's another effect that not many people talk about. During the day, there's a lot of air pollution generated by the Bay Area's metro areas.  As the coastal air is drawn over the Central Valley's metro area, the pollution is moved toward the inland valleys between the Oakland Hills and then passes into the Central Valley.  If you choose to have your wedding at a Livermore Valley wedding venue, you'll have air quality issues and

Spare the Air days

that surrounding areas in the Bay Area won't experience.

South Bay

The climate in the Southern Bay Area needs to be divided into two different areas:

Silicon Valley

is a Metroplex of approximately 4 million people.

San Jose and Santa Clara get some coastal influence from the finger of San Francisco Bay that touches the South Bay, but this coastal influence is cut off by the Santa Cruz Mountains to the south, except along the Hwy 101 corridor.  

Highway 101 goes through a mountain pass towards Morgan Hill, Hollister, San Juan Bautista, and Gilroy to the Greater Bay Area Southern Inland.

The further down this valley you go,

the dustier and warmer it will be in the summer.

It goes from warm to scorching hot because it's further away from the Bay and ocean influence. It's dustier because the fields are tilled in the summer for the crops in this agricultural area.

Picture a tractor plowing a field surrounded by a dust cloud.

Gilroy is famous for its garlic, and during certain seasons, you can smell garlic everywhere.

That's now how you want to remember your wedding.

 Hollister and the surrounding area are famous for their earthquakes, averaging about two per day of a magnitude 1.5 or higher. Much of the Bay Area is impacted by the Hayward Fault as well as the San Andreas Fault, but in Hollister, you can see roads and sidewalks that no longer align with one another.

North Bay

Coastal Marin and Sonoma County offer scenic rolling hills and some ocean views.

But with the ocean influence comes the colder evenings. And if you get within a couple of miles of the coast, the damp fog can roll in at night.

The Highway 101 corridor from the Golden Gate Bridge to Petaluma influences The Bay to consider.

Petaluma was once known for chicken ranches and dairies – and still has a few. You can see the cows grazing on the hillsides, which can present a very idyllic setting. 

But remember, with cow poop comes odor and flies.

So we recommend that you take your wedding venue tour during the summer months so you'll have an idea of what to expect.

Odors and flies don't travel during the winter.

Just north of Petaluma, you'll go over a hill into Rohnert Park and Santa Rosa, which is the gateway to wine country.

Napa is interesting in that it has its coastal influence due to the Napa Valley.  The Napa River was once a thriving waterway with large industry producing items to be carried away on barges into the Bay and beyond. The Napa Pipe yard used to build offshore oil rigs floated under the Golden Gate on their way to their destination. But because of the Napa River and the Napa Valley that runs up to Calistoga, fog can get trapped in the valley; it's the reason they planted grapes there in the first place, but moisture and condensation may not be great for your hair, makeup, and wedding photography as you move up the Napa Valley to St. Helena, Rutherford, and Calistoga, the coastal influence moderates.

Monterey Bay

This area is essentially a bowl rimmed by mountains. Overall, it has a lovely climate, and there's great diversity from Redwood trees to sandy beaches.

Santa Cruz, Aptos, La Selva Beach:

Anytime you get close to the coast, you get coastal influence. This is great because it moderates temperatures. Some areas are known for, and love, their fog – La Selva Beach, for instance. In the afternoons, the fog will come in full force across Highway 1.

I hate wildfires, but it needs to be mentioned here.  Much of the area above Santa Cruz burned in 2020, including Felton, Boulder Creek, and Ben Lomond.
Fortunately, some wedding venues survived, but the devastation may be visible as you and your guests arrive.
Side note: having a wedding anywhere around Santa Cruz, and you'll have to deal with the "Trolls" – that's what people in Santa Cruz and the surrounding area call the substantial homeless population. Just walk through the Santa Cruz downtown mall in the evening, and you'll see.

Or don't and just take our word for it, which we prefer.

Most aren't aggressive but don't walk alone if you are female.

Monterey County is home to Castroville, the artichoke capital of the world. It's also home to Carmel-by-the-Sea, Carmel Valley, Pebble Beach, Pacific Grove, Cannery Row, Big Sur, and Monterey.

Carmel Valley has the best climate of all of these locations because it's a valley that doesn't empty into another area.

Yes, if you drive far enough, you end up in the Salinas Valley, but it's a narrow pass, so the wind doesn't become an issue. There's a reason the rich and famous live here – it's beautiful!

 But, there are two downsides to consider:

It's a tourist attraction that results in many tourists wandering around with cameras; with that comes bumbling, oblivious foot traffic. You'll know what I mean when you get trapped behind them on the notoriously narrow, one-lane roads.

It's where the rich and famous live – it's expensive—hotels, food, experiences, and everything costs extra. Fill up your gas tank before you get to Carmel Valley, or you'll be reaching into your pockets. Keep your guest's budget in mind when choosing to get married in Monterey County.

Sonoma Wine Country

Just follow Highway 101 north, through Santa Rosa, Larkfield, and Windsor, where you will enter Alexander Valley, Russian River Valley, and Dry Creek Valley.

This area's advantage is it's close enough to the Pacific Ocean for temperature moderation but not affected by inland valleys that cause daily wind as you see at the Altamont Pass, as evidenced by the wind turbines.

Even better, the area hasn't been overrun by corporate wineries like Napa. And you can still find reasonably priced hotels. 
Mountain House Estate has one of the best microclimates in the Bay  Area. 
Before you even set off for a wedding venue tour, google the average temperature, rainfall, wind, and other climate factors. When you arrive, ask the venue to see how knowledgeable they are. For instance, you'll notice that our climate information is for Yorkville here at Mountain House Estate. You see, our mailing address is Cloverdale, but as we are almost 1,000 feet in elevation above Cloverdale and are located right on the mountain pass (Mountain House – get it?) between Alexander Valley and Anderson Valley, we have a unique microclimate that is most like Yorkville to our west, rather than Cloverdale, Geyserville, and Healdsburg to our south.  On a hot summer day, we'll be 10 degrees cooler than those down in the valley. How cool is that? Pun intended. 😎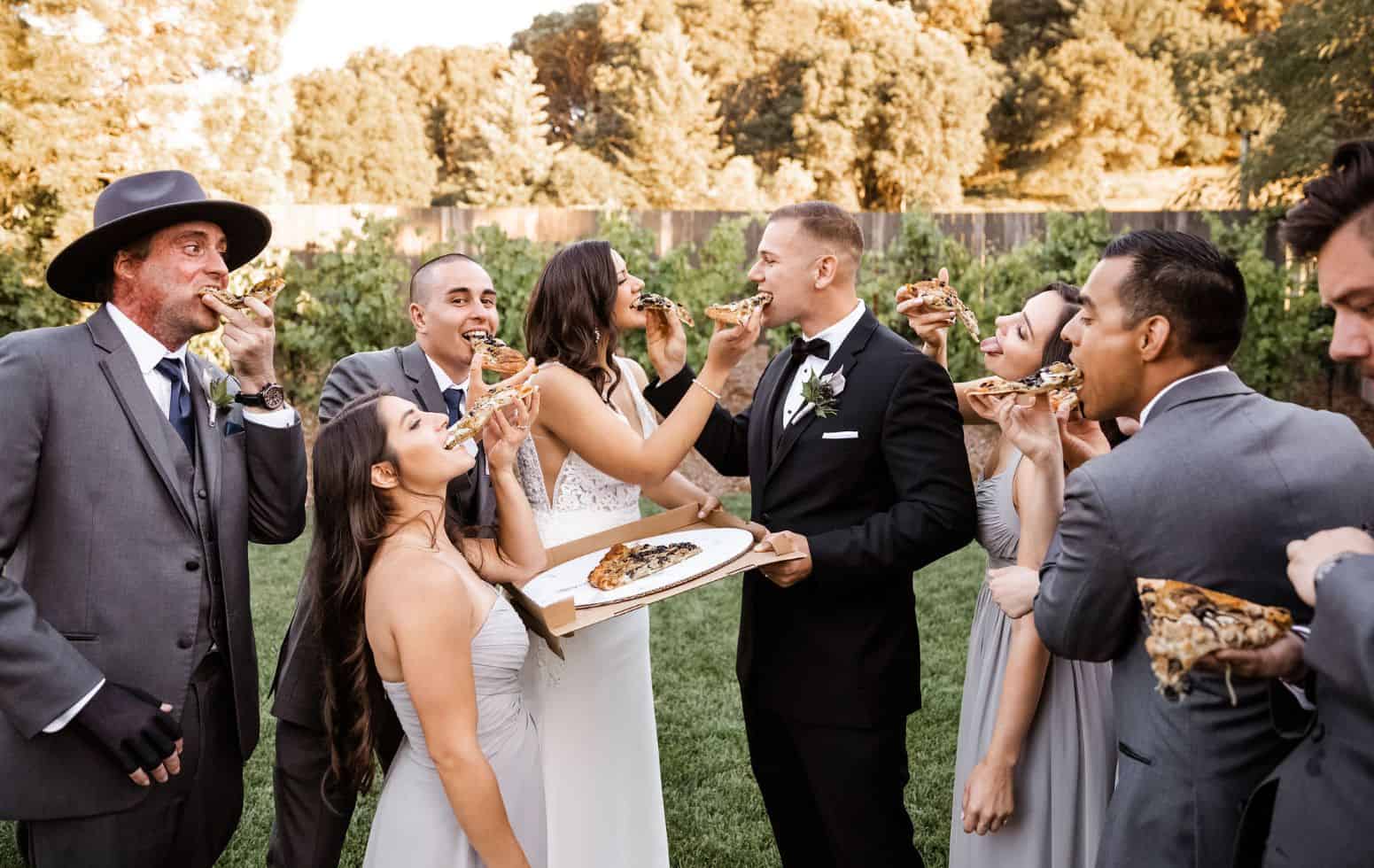 Having your ceremony and reception at Mountain House Estate is a breeze, literally. 
It wasn't until we lived here that we understood the uniqueness of our microclimate. As Mountain House Estate is the mountain pass at 1,220' in elevation on Highway 128, from here to the Mendocino Coast is downhill.  It's a 1.5-hour drive to Mendocino's artist community, and it's a winding valley the entire way. This provides a cooling breeze on many summer afternoons from the coast as the sun sets, which stops at sunset.
And we're far enough away from the coast that we don't get much fog at all. The fog we do get comes in from Bodega, past Petaluma, Santa Rosa, and up Hwy 101.  Sometimes we do get fog from Ft. Bragg and Mendocino, but many times it will just be high enough that we're looking down on top of the fog in the valley below.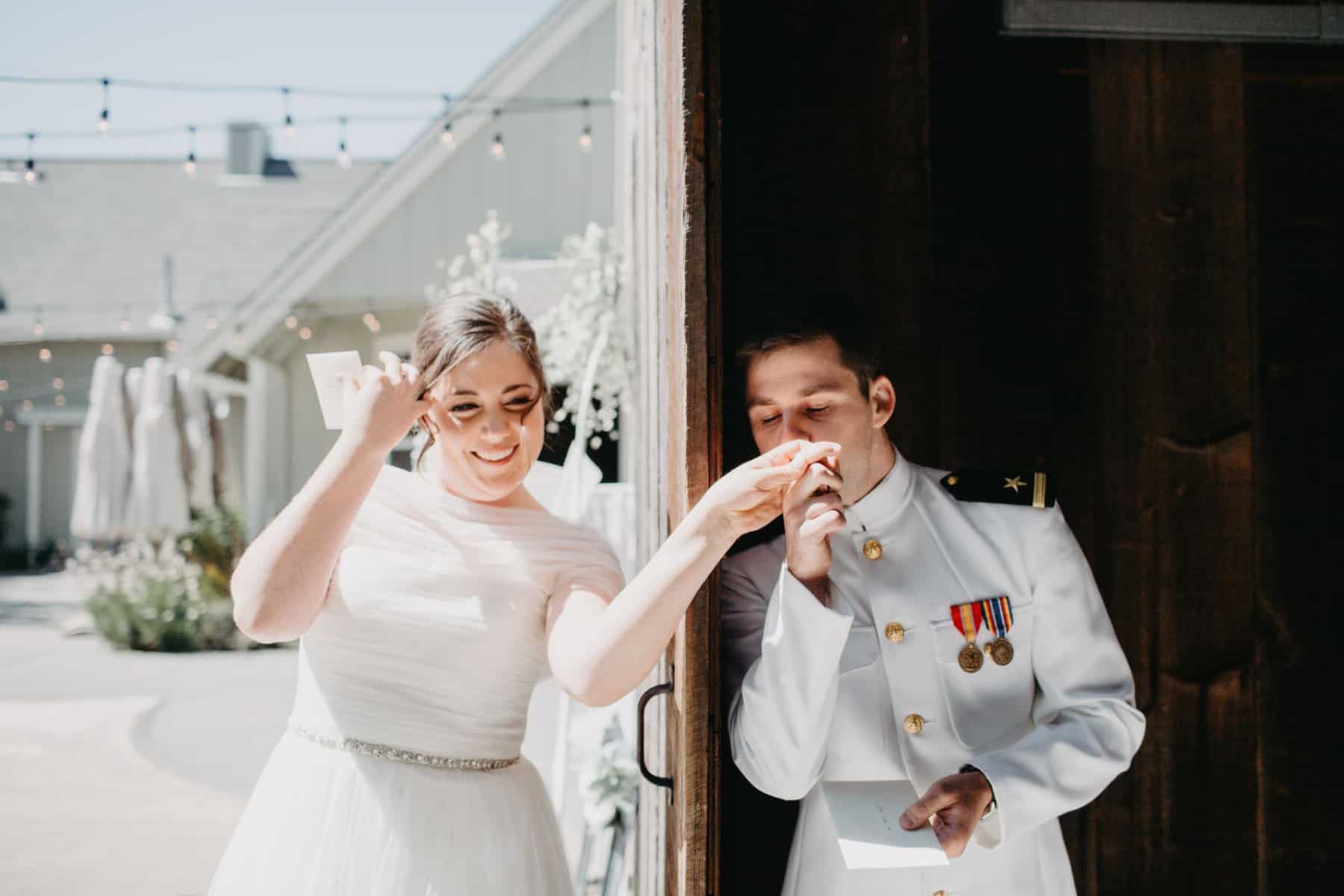 Here's why I know so much about all of the different microclimates within the Bay Area.
So how do I know about these different areas, why do I give this advice? I grew up in Santa Cruz County, Watsonville, and Aptos (Corralitos), to be specific. My grandparents lived in Santa Cruz, and we rode horses through the Graham Hill Horseshow Grounds into the surrounding parks and to Felton. From Corralitos through the Santa Cruz mountains and up to Loma Prieta.
Later in life, I got a job in Livermore and commuted to San Leandro – ick.  My responsibilities were to sell arc welders and robotics through a third of California, allowing me to travel weekly through a significant portion of the state. This allowed me to observe different areas and their climates.  
Later, I had real estate offices in Marina, Monterey, and Carmel, where we serviced Big Sur, Carmel Valley, Pebble Beach, Laguna Seca, and Seaside. I lived in Carmel, just down from Clint Eastwoods' Hog Breath Inn, and he'd come to my condo complex to talk to the Pine Cone newspaper below my condo. I moved to Marina, just north of Fort Ord (now UC Monterey Bay) – what a cold, miserable place it can be.
So later in life, I had a choice, where do I want to live? I got out a map, crossed off areas I had visited and didn't care for (high humidity, tornadoes, snow, metroplexes, desert), and decided I wanted to stay in the Bay Area, specifically in Mendocino County Wine Country.  And here I am. Don't tell anyone; I'm trying to keep the secret of this beautiful place to myself.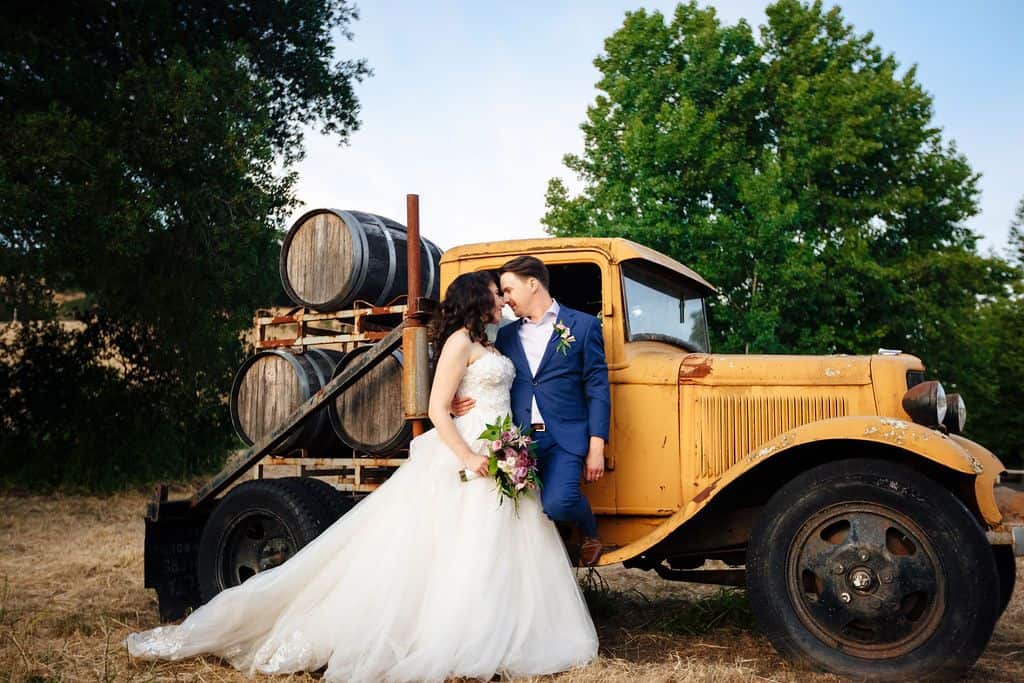 So that settles it; a wedding at Mountain House Estate is the best way to have the ultimate wedding experience without compromise. 
You will be happy, and your guests will be more than satisfied. And you will walk away with a lifetime of memories. That's why we don't have to use crazy sales tactics, slash pricing, or other desperate measures that some Bay Area wedding venues do to lure you in.
Don't leave your wedding up to chance with variables such as bad weather, COVID concerns in public places, traffic and parking, hidden fees down the road, and all the other downsides of other venues we mentioned in this article. Take a private, uninterrupted tour at Mountain House Estate and enjoy the fresh air and gorgeous views. You won't regret it.
Wedding Venues in Oakland California
Mountain House Estate is located in Cloverdale, CA. We are 1.5  hours from Oakland California. If you're looking into wedding venues in Oakland California, Mountain House Estate may be a better option for you, and it's not a far drive. Wedding venues in Oakland California may not offer you the rustic elegance you deserve or give you a blank canvas to design your dream wedding from. If you need help searching for venues, or are looking for something other than wedding venues in Oakland, contact Mountain House Estate.
The San Francisco Bay Area is generally broken down into: 
North Bay: Sonoma County, CA, Marin County, CA, Napa County, CA, Solano County

East Bay: Contra Costa County, CA, Alameda County

South Bay: Santa Clara County

Peninsula: San Francisco County and San Mateo County 
You might be considering having your wedding at a venue outside of the metropolitan Bay Area and in the greater San Francisco Bay Area, CA, or in Northern California. You  may also be looking at wedding venues  in Oakland California: 
Santa Cruz County

Aptos, CA, Ben Lomond, CA, Boulder Creek, CA, Brookdale, CA, Capitola, CA, Davenport, CA, Felton, CA, Freedom, CA, Los Gatos, CA, Mount Hermon, CA, Santa Cruz, CA, Scotts Valley, CA, Soquel, CA, Watsonville

Monterey County

Aromas, CA, Big Sur, CA, Bradley, CA, Carmel, CA, Carmel By The Sea, CA, Carmel Valley, CA, Castroville, CA, Chualar, CA, Gonzales, CA, Greenfield, CA, Jolon, CA, King City, CA, Lockwood, CA, Marina, CA, Monterey, CA, Moss Landing, CA, Pacific Grove, CA, Pebble Beach, CA, Salinas, CA, San Ardo, CA, San Lucas, CA, Seaside, CA, Soledad, CA, Spreckels
San Benito County: Morgan Hill, CA, Holister, CA, San Juan Bautista, CA, Gilroy
Yolo County

Brooks, CA, Capay, CA, Clarksburg, CA, Davis, CA, Dunnigan, CA, Esparto, CA, Guinda, CA, Knights Landing, CA, Madison, CA, Rumsey, CA, West Sacramento, CA, Winters, CA, Woodland, CA, Yolo, CA, Zamora
Sonoma, CA, Petaluma, CA, Santa Rosa, CA, Healdsburg, CA, Geyserville, CA, Sebastopol, CA, Rohnert Park, CA, Windsor, CA, Cotati

Bloomfield, CA, Bodega, CA, Bodega Bay, CA, Boyes Hot Springs, CA, Carmet, CA, Cazadero, CA, El Veranom, CA, Eldridge, CA,m Fetters Hot Springs-Agua Caliente, CA, Forestville, CA, Fulton, CA, Geyserville, CA, Glen Ellen, CA, Graton, CA, Guerneville, CA, Jenner, CA, Kenwood, CA, Larkfield-Wikiup, CA, Monte Rio, CA, Occidental, CA, Penngrove, CA, Roseland, CA, Salmon Creek, CA, Sea Ranch, CA, Serena del Mar, CA, Temelec, CA, Timber Cove, CA, Valley Ford, CA, Annapolis, CA, Asti, CA, Bodega Harbor, CA, Bridgehaven, CA, Buena Vista, CA, Cadwell, CA, Camp Meeker, CA, Carneros, CA, Cozzens Corners, CA, Cunningham, CA, Diamond A Ranch, CA, Duncans Mills, CA, El Bonita, CA, Forest Hills, CA, Freestone, CA, The Geysers, CA, Guernewood Park, CA, Hacienda, CA, Hessel, CA, Hilton, CA, Hollydale, CA, Jimtown, CA, Kellogg, CA, Knowles Corner, CA, Korbel, CA, Lakeville, CA, Lytton, CA, Mark Westm, CA, Mark West Springs, CA, Mercuryville, CA, Mesa Grande, CA, Mirabel Heights, CA, Mirabel Park, CA, Mission Highlands, CA, Monte Cristo, CA, Montesano, CA, Noel Heights, CA, Northwood, CA, Oakmont, CA, Odd Fellows Park, CA, Rancho Abajo, CA, Rio Dell, CA, Rio Nido, CA, Rolands, CA, Russian River Terrace, CA, Schellville, CA, Soda Springs, CA, Stewarts Point, CA, Summerhome Park, CA, Two Rock, CA, Vacation Beach, CA, Venado, CA, Villa Grande, CA, Vineburg
American Canyon, CA, Angwin, CA, Calistoga, CA, Deer Park, CA, Napa, CA, Oakville, CA, Pope Valley, CA,  Rutherford, CA, Saint Helena, CA,Yountville
Mendocino County, CA, California
Albion, CA, Boonville, CA, Branscomb, CA, Calpella, CA, Caspar, CA, Comptche, CA, Covelo, CA, Dos Rios, CA, Elk, CA, Fort Bragg, CA, Gualala, CA, Hopland, CA, Laytonville, CA, Leggett, CA, Little River, CA, Manchester, CA, Mendocino, CA, Navarro, CA, Philo, CA, Piercy, CA, Point Arena, CA, Potter Valley, CA, Redwood Valley, CA, Talmage, CA, Ukiah, CA, Westport, CA,Willits, CA, Yorkville
Lake County, CA, California
Clearlake, CA, Clearlake Oaks, CA, Clearlake Park, CA, Cobb, CA, Finley, CA, Glenhaven, CA, Hidden Valley Lake, CA, Kelseyville, CA, Lakeport, CA, Lower Lake, CA, Lucerne, CA, Middletown, CA, Nice, CA, Upper Lake, CA, Witter Springs
Solano County, CA, California
Benicia, CA, Birds Landing, CA, Dixon, CA, Elmira, CA, Fairfield, CA, Rio Vista, CA, Suisun City, CA, Vacaville, CA, Vallejo
Marin County, CA, California
Belvedere Tiburon, CA, Bolinas, CA, Corte Madera, CA, Dillon Beach, CA, Fairfax, CA, Forest Knolls, CA, Greenbrae, CA, Inverness, CA, Lagunitas, CA, Larkspur, CA, Marshall, CA, Mill Valley, CA, Nicasio, CA, Novato, CA, Olema, CA, Point Reyes Station, CA, Ross, CA, San Anselmo, CA, San Geronimo, CA, San Quentin, CA, San Rafael, CA, Sausalito, CA, Stinson Beach, CA, Tomales, CA, Woodacre
Contra Costa County, CA, California
Alamo, CA, Antioch, CA, Bethel Island, CA, Brentwood, CA, Byron, CA, Canyon, CA, Clayton, CA, Concord, CA, Crockett, CA, Danville, CA, Diablo, CA, Discovery Bay, CA, El Cerrito, CA, El Sobrante, CA, Hercules, CA, Knightsen, CA, Lafayette, CA, Martinez, CA, Moraga, CA, Oakley, CA, Orinda, CA, Pinole, CA, Pittsburg, CA, Pleasant Hill, CA, Port Costa, CA, Richmond, CA, Rodeo, CA, San Pablo, CA, San Ramon, CA, Walnut Creek
Placer County and El Dorado County
Tahoe, CA, Incline Village, CA, South Lake Tahoe, CA, Stateline, CA, Truckee, CA, Alta, CA, Applegate, CA, Auburn, CA, Carnelian Bay, CA, Colfax, CA, Dutch Flat, CA, Emigrant Gap, CA, Foresthill, CA, Gold Run, CA, Granite Bay, CA, Homewood, CA, Kings Beach, CA, Lincoln, CA, Loomis, CA, Meadow Vista, CA, Newcastle, CA, Olympic Valley, CA, Penryn, CA, Rocklin, CA, Roseville, CA, Sheridan, CA, Tahoe City, CA, Tahoe Vista, CA, Weimar, CA, Camino, CA, Coloma, CA, Cool, CA, Diamond Springs, CA, Echo Lake, CA, El Dorado, CA, El Dorado Hills, CA, Garden Valley, CA, Georgetown, CA, Greenwood, CA, Grizzly Flats, CA, Kyburz, CA, Lotus, CA, Mount Aukum, CA, Pilot Hill, CA, Placerville, CA, Pollock Pines, CA, Rescue, CA, Shingle Springs, CA, Somerset, CA, South Lake Tahoe, CA, Tahoma, CA, Twin Bridges
Amador City, CA, Butte City, CA, Drytown, CA, Fiddletown, CA, Ione, CA, Jackson, CA, Sutter Creek, CA, Plymouth, CA, Volcano
Bangor, CA, Cherokee, CA, Forbestown, CA, Honcut, CA, Magalia, CA, Paradise
Arnold, CA, Angels Camp, CA, Camanche, CA, Carson Hill, CA, Copperopolis, CA, Murphys, CA, San Andreas
Cameron Park, CA, Camino, CA, Coloma, CA, Diamond Springs, CA, El Dorado, CA, El Dorado Hills, CA, Georgetown, CA, Lotus, CA, Placerville, CA, Pleasant Valley, CA, Pollock Pines, CA, Rescue, CA, Shingle Springs, CA, Somerset
French Corral, CA, Grass Valley, CA, Nevada City, CA,  North Bloomfield, CA, Smartsville, CA, Timbuctoo, CA, Relief Hill, CA, Rough and Ready, CA, Washington
Auburn, CA, Colfax, CA, Foresthill, CA, Meadow Vista, CA, Mount Aukum, CA, Newcastle, CA, Plumas County, CA, Spanish Ranch
Alleghany, CA, Downieville, CA, Tuolumne County, CA, Columbia, CA, Groveland-Big Oak Flat, CA, Knights Ferry, CA, Jamestown, CA, Sonora
Brownsville, CA, Camptonville, CA, Clipper Mills, CA, Dobbins, CA, Marysville, CA, Strawberry Valley, CA, Oregon House, CA, Woodleaf
Amador City, CA, Angels Camp, CA, Auburn, CA, Big Oak Flat, CA, Cameron Park/Shingle Springs, CA, Camino, CA, Chinese Camp, CA, Colfax, CA, Coloma, CA, Columbia, CA, Cool, CA, Copperopolis, CA, Coulterville, CA, Diamond Springs, CA, Downieville, CA, Dutch Flat, CA, Drytown, CA, El Dorado, CA, El Dorado Hills, CA, Fiddletown, CA, Folsom, CA, Foresthill, CA, Garden Valley, CA, Georgetown, CA, Grass Valley, CA, Greenwood, CA, Grizzly Flat, CA, Hornitos, CA, Ione, CA, Jackson, CA, Jamestown, CA, Malakoff Diggins, CA, Mariposa, CA, Mokelumne Hill, CA, Murphysm, CA, Nevada City, CA, Pine Grove, CA, Placerville, CA, Plymouth, CA, Pollock Pines, CA, San Andreas, CA, Sierra City,  Sonora, CA, Sutter Creek, CA, Vallecito, CA, Volcano
If you want to get married at a wedding venue in the Bay Area, CA, there are hundreds,  if not thousands, of wedding locations to choose from. You  may also be looking at wedding venues in Oakland California. What's going to be the best option for you?
The first question you have to ask yourself is,  what is your wedding dream? You have to answer this to yourself before you even begin looking for wedding venues. Because you don't want to look at something that isn't the backbone of your wedding dream, and many wedding venues will try to coerce you with sales tactics – price slashing and more, which could force you into a wedding venue choice that doesn't match your vision. And we don't want you to regret the most important day of your life. Contact Mountain House Estate to start creating your dream wedding experience.