Stirring up excitement for your big day and sharing your photos in real time is easy when you use a unique and memorable wedding hashtag. However, creating an "epic" hashtag can be challenging because it must be distinctive and memorable. But don't stress about it! The best approach to get a distinct, unique, inventive, and brag-worthy wedding hashtag is to work with professional writers like those at Wedding Hashers. 
Having the ideal wedding hashtag requires creativity. So, unless you have a knack for coming up with clever quotes and catchphrases, it's generally best to let experienced writers come up with the name for your wedding hashtag because it's one of the most essential elements of a wedding hashtag is how memorable it is.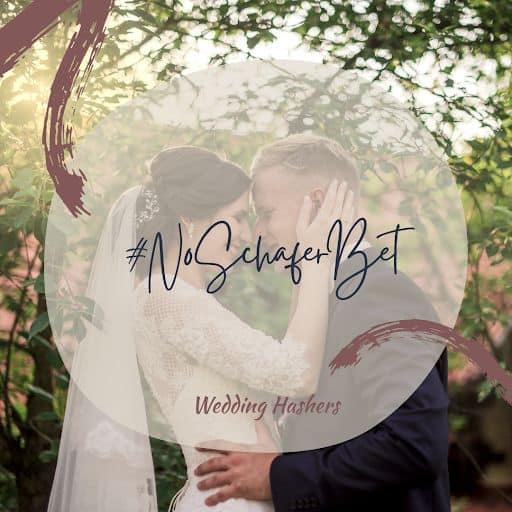 And when it comes to creating a wedding hashtag worthy of your love story, you have to do it right. Your wedding is a once-in-a-lifetime event, so you need a once-in-a-lifetime hashtag to document it. And once you find the perfect one, you need to shout it from the rooftops. A hashtag no one uses is worthless; here are some great ideas to display your wedding hashtag to encourage everyone to use it.
7 Ways To Display Your Wedding Hashtag
If you've whipped up the perfect hashtag for your wedding and are looking for ways to display it, you've come to the right place. Wedding planning is hard enough without having to add another to-do to your list. So, we've done the work for you. Here are the best ways to display your wedding hashtag.
Broadcast On Social Media
Social media is one of the best places to display and share your hashtag. From the moment you get engaged and create your hashtag, you should start sharing it. The more you share it, the more people will connect with and remember it. When creating a viral social media wedding album, the "old adage" less is more does not apply – so share as many times as you can. Use Facebook, Instagram, TikTok, and Twitter to share your engagement photos and wedding details, to allow your guests and friends to follow your love story as it unfolds and grows.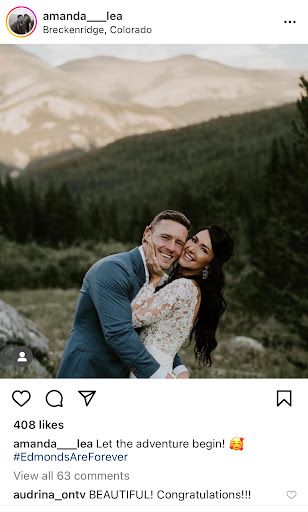 Wedding Website 
In today's modern times, as we move to live more in the digital realm, most couples create a wedding website. This is a great place to share information on your relationship, the proposal, the wedding, and yes! Your wedding hashtag. 
It's a great place to keep everything together, so make sure to add your wedding hashtag front and center on the homepage and then on every page after that. 
On The Ceremony Program
Wedding stationery items are always a great place to display important information, and the ceremony program is one of the best for advertising your wedding hashtag. During this time of the wedding, your guests will be sitting and waiting for the ceremony to start, so they are a captive audience—a perfect time to remind them about your hashtag.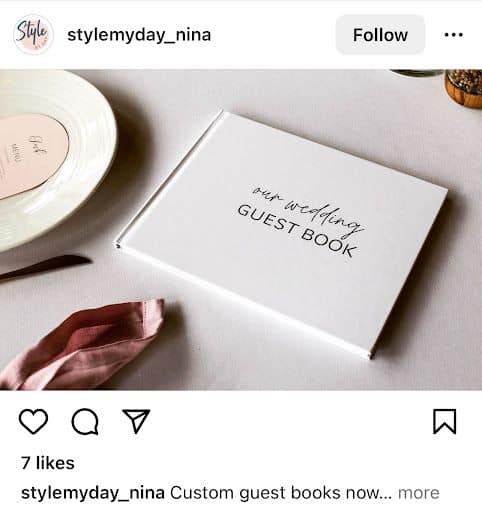 On The Guest Book Table
Signage is vital at any wedding because it informs your guests. You can use signage to welcome your guests, such as directional signs, ceremony signage, cute on-theme signage in the bathroom, and even oversized and bold neon signage at the reception. 
But that's not all. Having bartop signs with your signature drinks and even on your guest book table are all fantastic places for signage to give your guests information or direction on what you'd like them to do. And they are the perfect place to, yet again, showcase your wedding hashtag. 
Acrylic Signage
One of our favorite types of signage is the pretty acrylic signs. They can be used anywhere and throughout your event and can be designed to match your theme. And because everyone looks at signs for help and information, they're one of the best places to add your hashtag. 
Photobooth Background
This is absolutely one of the best and most FUN places to advertise your wedding hashtag. And the best part about it is these photos will go home with them, which will continue to remind them to use your hashtag. This means it won't only be a hashtag for your wedding, but it also can be your slogan for life. So use it for all your significant milestones!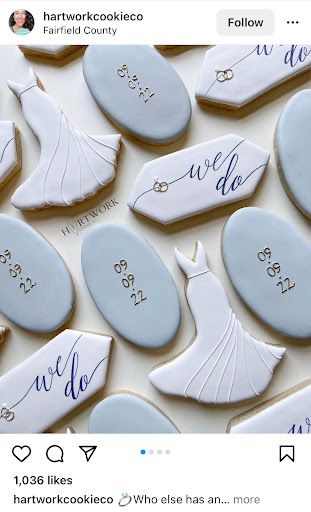 Wedding Treats
Wedding favors or treats are something that not all couples include in their weddings today, but if you do, make sure to add your hashtag to it. Your guests will likely take the wedding favor home, which is probably where they'll spend more time looking at the photos they took. So, having your wedding hashtag on the wedding favor will encourage them to tag you in the images.
How To Come Up With A Wedding Hashtag
A unique wedding hashtag is essential if you want your wedding to be the event of the year. And there are many ways to create one that'll be unique to your love story; you can use rhymes, inside jokes, crowdsourcing, combining names, and puns. But if the thought of coming up with your own hashtag has you stressed, don't worry. You can hire a professional writing service or use a free wedding hashtag generator. 
These services make the process easy and stress-free. 
8 Best Wedding Hashtag Examples 
Finding original concepts for creative wedding hashtags can be a little tricky. You, therefore, naturally desire a distinctive hashtag. One that's novel and would stick out significantly amid a sea of hashtags. Use a variety of well-liked, trending hashtags if you have a sizable social media following. Here are some clever wedding hashtag suggestions to get your creative juices flowing.
#SheFinallySaidYes
#ThisDayTakesTheCake
#HappilyHitched
#ItWasKentToBe
#ForButlerOrForWorse
#MATCHrimony
#WeddySetGo
#StillTheJuan
Get To Hashtagging
Although your photographer will take stunning professional pictures, nothing compares to seeing your wedding through the eyes of your guests on social media! It creates a fun and exciting way for you, your spouse, and your guests to reflect on a special day. You can use your wedding hashtag on social media from the moment you announce your engagement until the big day.